₹2,400,000 in rewards at Rizk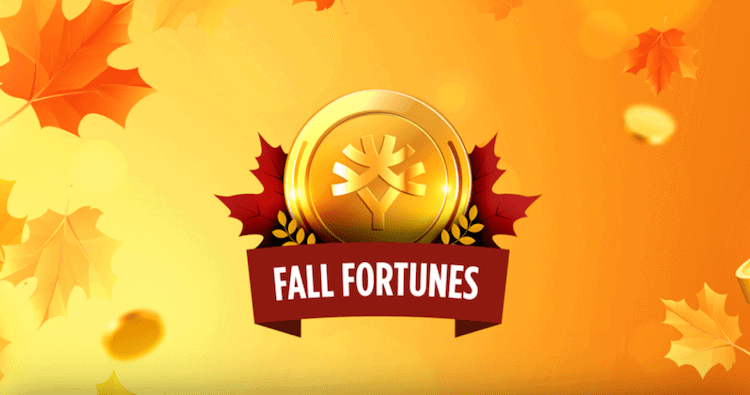 Get Flashy This Fall at Rizk Casino
Fall is a time when many casinos offer cool new promotions. It happens for every change of seasons, but there's something about fall that makes online casinos go crazy.
One of those who regularly update their fall promotions line-up is Rizk casino. The popular Indian casino site is hosting the Fall Fortunes Yggdrasil Gaming promo this year with a total of ₹2,400,000 in rewards.
To qualify, you need to opt-in and play the qualifying Yggdrasil games between 07.09 and 14.09.2020 and you can win one of the 450 real money prizes. Summer may be dying and no one's happy about it, but Rizk's Fall Fortunes promotion is enough to keep the blues away.
A Massive Prize Pool
The best thing about this fall Rizk promo is its prize pool. Set at a massive ₹2,400,000, it offers 450 cash rewards for all Rizk casino customers. That's a whopping prize pool if you ask us, making this promotion worth it.
There's a total of 450 real money prizes. No bonuses, cashbacks, reloads, or free spins in this promo. Not that you'll miss it, with ₹400,000 reserved for the top player. Here's how the prize pool is organized:
1x ₹400,000
2x ₹160,000
3x ₹80,000
9x ₹40,000
15x ₹16,000
20x ₹8,000
50x ₹4,000
150x ₹1,600
300x ₹800
The tournament has just gone underway, so you have full week to get the top reward. You'll need to opt-in and play any of these Ygddrasil Gaming's hits:
Valley of the Gods
Golden Fish Tank
Jackpot Express
The more real money bets you place, the higher your chances at the biggest portion of the prize pool.
Yggdrasil Slots
Terms & Conditions
Any bet made on Yggdrasil's three exciting online slots during the promo period (which runs from 07.09-14.09.2020) can trigger a single cash prize. Click on the Join Now button to enter the promotion and play the participating games to claim any of the rewards.
Nearly all rewards will be available for the full course of the promotion. However, the top three cash prizes will be awarded during the last 5% of the promotional period.
The prize list is refreshed every minute, so you can keep track of what's left while playing your game.
Good news for those who plan to enter the Fall Fortunes promotion. Any player can win multiple prizes during the promotional period.
With a total of ₹2,400,000 up for grabs and some of Yggdrasil's biggest hits on offer, this may end up being one of our favourite fall promotions.
With a full week to go before the promotion ends, you'll have plenty of chances to win a nice cash prize or too. If fortune is by your side, you might even claim the top reward – a cool ₹400,000 just for you.
Relevant news