While the entire online casino world is at the chase for 21, Diamond Casino & Resort at Grand Theft Auto has increased Player Spending by a whopping 23 percent! Bigger is surely better!
The players in Grand Theft Auto (GTA)  are in the virtual city San Andreas, where crime is their new best friend. It is common knowledge to GTA players that the game is the brain baby of Rockstar Games as they are greeted with the brand name every time they load the game.
The release of Grand Theft Auto: San Andreas was without doubt a humongous milestone for Rockstar Games.
The parent company of Rockstar Games, Take-Two Interactive, recently claimed during their Q2 earnings that the online casino at San Andreas had increased its recurrent consumer spending by 23 percent. This is a record, folks!
A recurrent consumer spending, according to Gamasutra, is the metric that is used in order to keep track of the revenue derived from in-game spending on stuff like digital content and goods, as well as premium currency.
Strauss Zelnik, Take-Two's CEO says, [su_quote]"This update was Grand Theft Auto Online's biggest content launch ever, delivering record player engagement across daily, weekly, and monthly active users in July, and then again in August."[/su_quote]
The Diamond Truly Shines!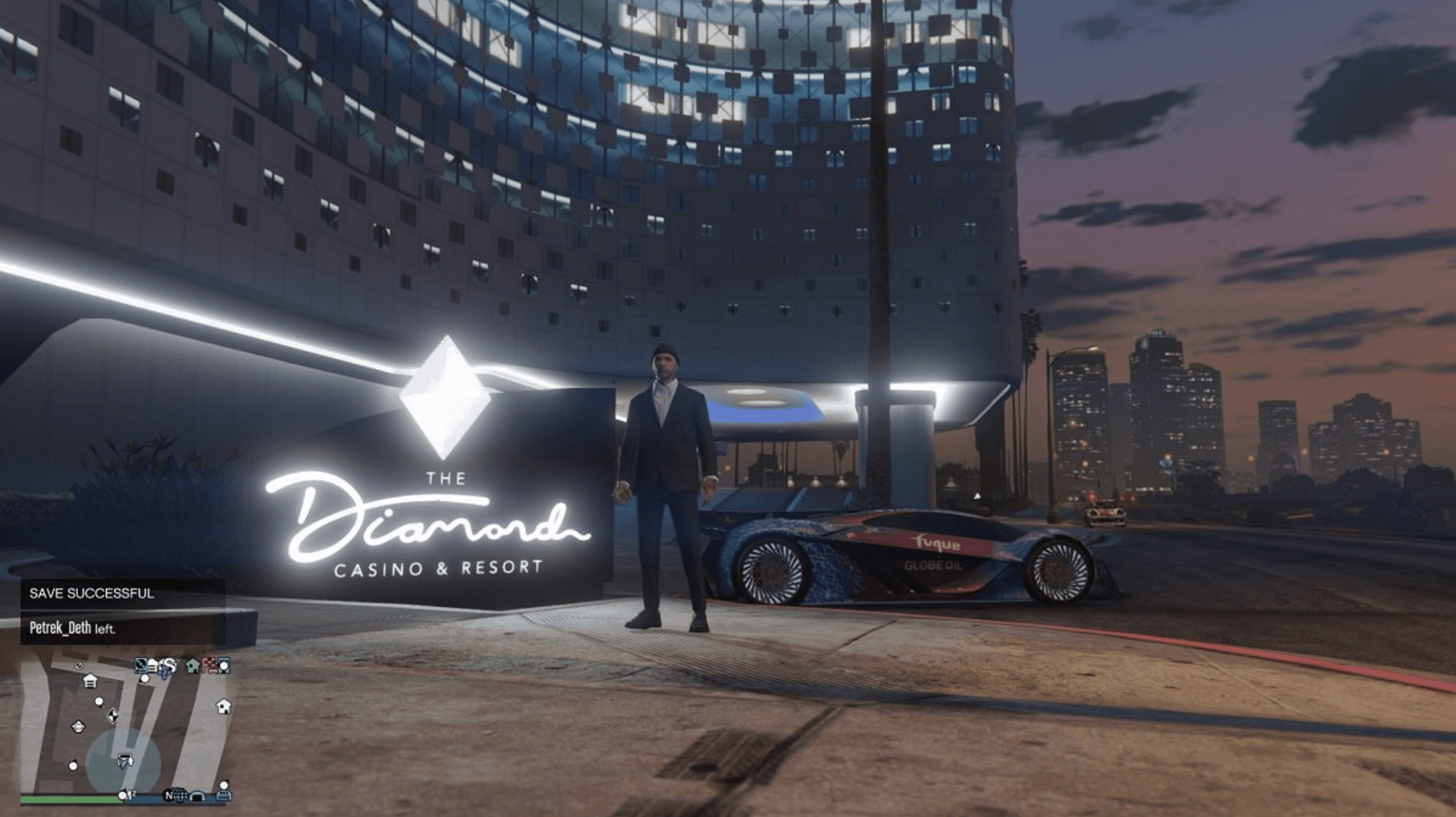 Diamond Casino & Resort is based in Vinewood, the Hollywood replica at the make-believe city of Los Santos (based on Los Angeles) at San Andreas (based on the state of California). You may hate the beach, but you will definitely stand at San Andreas with your toes in the stand.
For five years since the launch of GTA, players could see an "Opening Soon" sign in front of the Diamond Casino & Resort building. When the online casino finally opened, players all over the world simply could not contain their excitement!
In order to provide a clear picture that will depict this scenario, we shall use the example of Wynn Resorts. They took less time to build the famous Encore Boston Harbour from scratch at a capital of $2.5 billion! In addition to this, they also had to fully eliminate the contamination caused by an abandoned chemical plant!
This shows us how much detail has gone into making Diamond Casino & Resort what it is. Upon its release, this casino was packed with amazing features such as new cars, missions and other exciting goodies.
A brand new casino floor adorned with Slot machines, Blackjack, 3 Card Poker, etc.  was opened for gameplay.
The Catch
The fact that Rockstar does not allow players to gamble at the online casino with real money is a bit of a let down. However, players are allowed to make use of hard cash in order to buy in-game currency. These can then by converted into chips.
Diamond Casino & Resort is similar in terms of operation to a social casino. Released at a period in which in-game transactions lead to huge controversies, the casino update was dealt with the utmost caution by Rockstar.
Another catch is that the online casino is banned in almost 50 countries around the world. Rockstar Games is no stranger to controversy, so it comes as no surprise that they have opted out of countries where in-game transactions and social gaming are legally frowned upon.
The period of five years that Rockstar used to build their online casino can also be explained by their legal team trying to bring about a global regulatory minefield through the power of negotiation.
The Ricochet
Players who were part of the countries that blacklisted Diamond Casino & Resort  had been waiting for five years for this online casino to open were majorly disappointed. But this blacklist has not hurt Rockstar or Take-Two in a manner that one would expect.
Zelnick added that the performance by GTA in Q2 has exceeded expectations, owing to the casino [su_quote]"delivering the best quarter yet with respect to daily, weekly, and monthly active users and our best summer ever in terms of new online users and new users overall."[/su_quote]
Time waits for no one. If you are a GTA player (as are we), you know that this is a fact that cannot be disputed. So go on now to Grand Theft Auto and place your bets at Diamond Casino & Resort !