What is Evolution Live Baccarat?
Evolution Gaming is an industry leader in B2B online gaming. Working with some of the world's top-tier operators, this provider of online live casino games uses innovative software to deliver a memorable and exciting gambling experience to each of its players. The company excels in many fields of online gaming, including mobile live casino, land-based live casino, live casino studios, live promotions, live casino for TV, and much more, including its own Evolution Academy.
One of the most notable aspects of Evolution Gaming is that it has created online casino experiences that can be played on multiple devices and different channels. Whether a person wants to play through social media on their smartphone or via a gaming site on their laptop, Evolution Gaming makes this possible.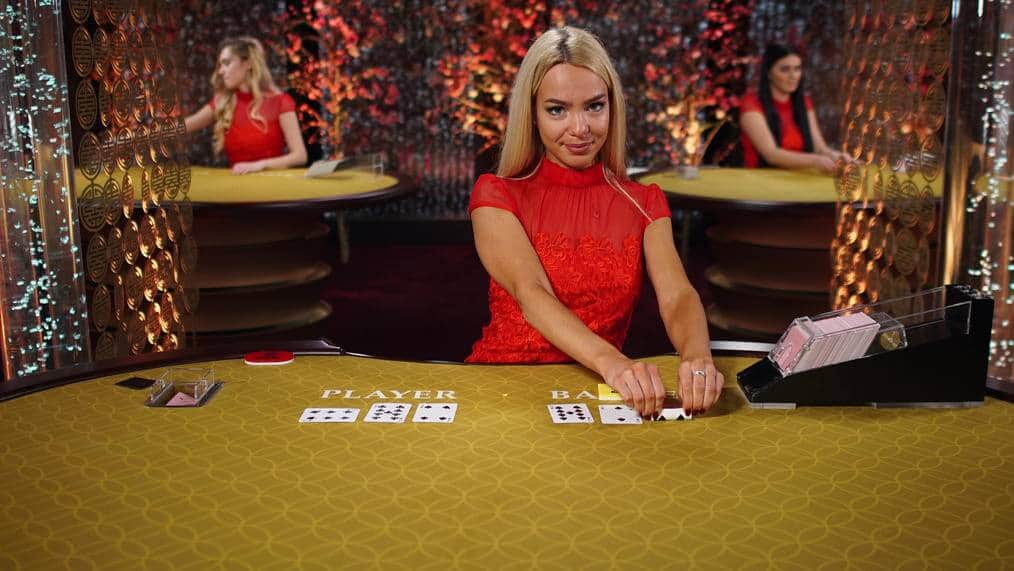 Key Benefits for Players
When playing Live Baccarat, players will enjoy a gaming experience like none other. Evolution Gaming broadcasts its games in high definition and provides an easy-to-use interface. Most notably, the live Baccarat game comes with a Choice of Roads display that features statistics, making it simple for players to choose the next best move.
In addition, the betting limits are ideal for both professional and casual players. To add extra complexity and excitement to the game, players can also choose from extra side bets, which maximize potential winnings.
Format & Playing Interface
There are various forms of Live Baccarat to choose from when playing on a table created by Evolution Gaming. Operators can even customize their own tables to expand their brand awareness. Beyond that, multi-camera studio options give operators the ability to create an immersive experience for their players.
When playing Live Baccarat, players will enjoy an authentic experience in which the cards are dealt face down. Even better, the cards are dealt on a bean-shaped table. The Multi-Camera Live Baccarat takes live casino gambling to the next level of immersiveness by providing players with multiple views of the games they are playing. Close-ups of the table, as well as cutaway shots, can be taken advantage of to provide a "real casino" atmosphere in a virtual environment.
Evolution Baccarat Squeeze and Control Squeeze
Two other Evolution Baccarat games to be enjoyed include Live Baccarat Squeeze and Live Baccarat Control Squeeze, both of which are ideal for those who like seeing close-ups of the dealer performing the squeeze. With the Live Baccarat Control Squeeze, players have the chance to take control of the squeeze instead of the dealer.
No matter the Live Baccarat game being played, players can use the Choice of Roads to view the results of the last round, which gives them detailed insight as to which move is the best to make. Two different displays show the results of the past round — the Bead Road and the Big Road. Three other displays showcase patterns that have been derived through analytics from the Big Road display; these displays are called Cockroach Road, the Big Eye Road, and the Small Road.
If you want to view the Choice of Roads but you're having a difficult time seeing it, you can enlarge the specific displays you want to look at by simply clicking on them.

Playing Features
The exact features you will be able to take advantage of when playing Live Baccarat will depend on the specific game you are playing. For instance, as mentioned before, Live Baccarat Squeeze gives you the ability to watch the dealer squeeze, while Live Baccarat Control Squeeze allows you to control the squeeze yourself.
No matter the game you are playing, though, you can make the experience more intense by taking pair side bets, such as a Player Pair or Banker Pair. Other optional side bets you can take include a Player Bonus, Perfect Pairs, a Banker Bonus, and Either Pair. When you take an optional side bet, you can increase your winning potentials with odds up to 200:1.
Evolution's Live Baccarat games are available with English-speaking dealers and have been optimized for use on desktops, smartphones, and tablets. Players will enjoy a studio environment as well as simple-to-follow standard gaming rules. If you're looking for a medium-paced game, you'll want to play the standard Live Baccarat. If you're looking for something more fast-paced, then playing Evolution Speed is definitely a great choice.
Location of Tables
The tables in which Evolution Gaming hosts its games are located in Latvia. However, many of today's biggest online casino gaming sites offer access to the provider's games. If you're looking for a table to play Live Baccarat, you'll definitely want to give the following casino a try!
Our Verdict
Evolution Gaming has far exceeded players' expectations with its live casino gaming experiences. Regardless of the Live Baccarat game, you choose to play, you can rest assured you're going to enjoy playing in an online atmosphere that brings a real casino to the comfort of your own home. And most importantly, players can take advantage of the Choice of Roads to maximize their winnings.