Is Evolution Live Speed Baccarat?
When it comes to live dealer casino games, Evolution Gaming maintains its position as an industry and world leader. This provider works with top-tier operators across the globe to deliver fun and exciting games that are exceptionally easy to play. Even better, the provider optimizes its casino games to be played on a variety of devices, including PCs, laptops, smartphones, and tablets. No matter where you are or the device you're using, you can access casino games powered by Evolution Gaming.
The company itself provides live casino systems in Europe. Because the games are streamed live, this means players will see the actual dealer via live video feed at the card table. As cards are being dealt, players can make their bets using their own personal electronic devices. There is also a feature that allows players to chat with the dealer via live texting.
In addition, to live casino games, Evolution Gaming offers scalability and customization features. Most importantly, its casino games are streamed live from some of the world's best state-of-the-art studios. And for the benefit of players, Evolution Gaming provides quality employees who are on standby to help in any way possible.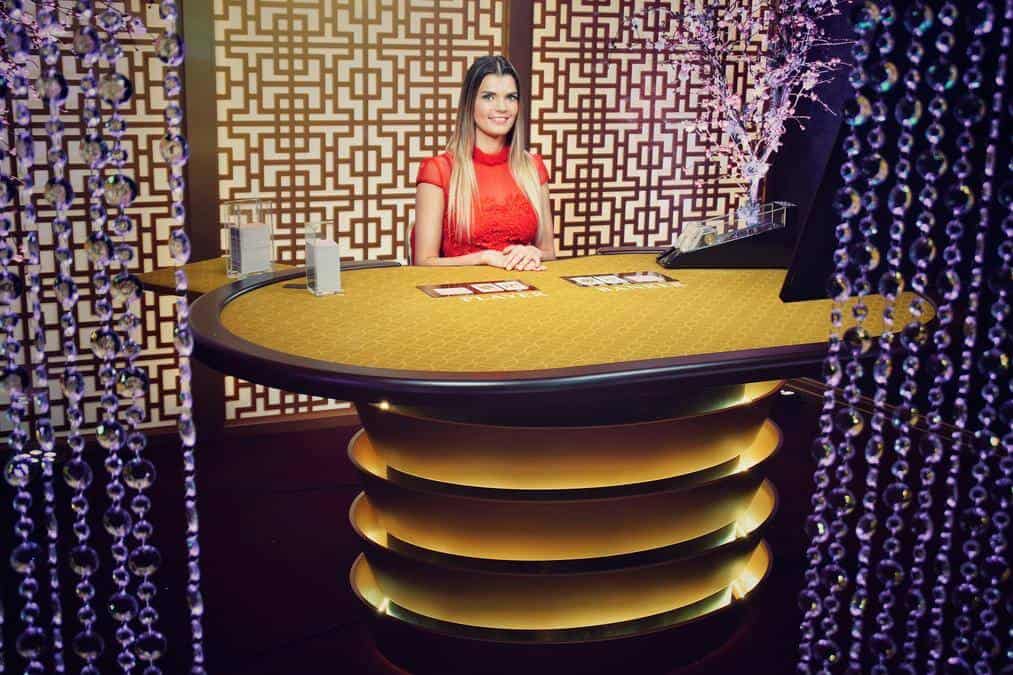 Key Benefits of Players
Evolution Gaming's Baccarat is just like the traditional Baccarat game you have been playing your whole life. There are no additional rules, and it is viewed by many people as being one of the easiest online casino games to play.
Since the game is so fast-paced, it is especially favored by those who want to play a lot of rounds in a small amount of time. If you happen to want to play an extra-fast version of Baccarat, you will want to play Evolution Speed.
To spice up the game and to make it more complex, Evolution has pair side bet options that players can take advantage of. Additional side bets can also be placed, including a Player Bonus, Banker Bonus, and two more.

Format and Playing Interface
The Ace has a value of one when playing Baccarat, while face cards and tens carry a value of zero. All other card values are stated on the card themselves. For example, a five card carries a value of five. Anytime the cards in a hand have a total of more than 10 points, you will simply subtract 10 to get the actual value. For example, if you have two six cards, the value is 12-10, which means the hand is worth two points.
When playing Baccarat, the best hand has a value of nine, which is called a "natural," whereas the second best hand has a value of eight and is called a "natural eight." If you want to place a side bet, you will need to click on the Player or Banker areas on the table.
A Player side bet allows the player to make a side bet on the first two cards dealt to the player. When selecting a Banker pair side bet, the player makes a bet on the first two cards dealt to the banker. If a pair is dealt to the entity the player made the side bet on, the payout can be incredibly lucrative at 11:1.
There are four additional optional side bets to take advantage of when playing Evolution Gaming's Live Baccarat:
Player Bonus
Banker Bonus
Either Pair
Perfect Pairs
These optional side bets have to be enabled in-game by the player under the game's settings button. The payout for these side bets can be up to 200:1. When playing these side bets, players will notice an extra layer of excitement, especially as they become more familiar with the game.
Playing Features
An interesting playing feature of Evolution's Gaming Live Baccarat game is that it can be played via multiple cameras. Licensees featuring the game have the ability to showcase the game via multiple cameras to immerse players in the true suspense of the game. There is also the ability for licensees to take advantage of short cutaway shots to other tables, which further enhances the feeling of the players being at a real casino.
Location of Tables
A variety of gaming sites provide access to Evolution Gaming's live Baccarat game. According to the provider's site, though, the following are the top four recommended gaming sites:
LeoVegas Casino – This casino is set in a galaxy-like atmosphere and offers lots of fun and excitement to online players.
Royal Panda – This online casino was opened in 2014 and has become a favorite among casino enthusiasts. It is a well-established casino that is ideal for both professional and casual players.
Our Verdict
When playing Evolution Gaming's Live Baccarat game, players will want to take full advantage of the numerous side bet options. It is pertinent to keep in mind, however, that licensees themselves will have to choose whether or not they take the optional side bets. In the event the Perfect Pairs side bet is chosen, a licensing fee does apply. Still, side bets make for the perfect way to bring excitement and fun to a game that tends to get fairly bland after the first few rounds.