Spin for the Win!
What would we do without slot games? Maybe get some work done? Hahaha. Slot machines have got us hooked to them for ages now and for good reason. But if you find yourself looking for something new, you have come to the right place.
Many game developers like NetEnt, Microgaming and Pragmatic Play welcomed the New Year with some great slot games like Snake Arena and Monkey Mouse.
We at SevenJackpots, have compiled a list of the best slot games that are coming out this February 2020 from the best gaming providers like NetEnt, Microgaming, Pragmatic Play, Play'n Go, Yggdrasil and the like. So dive in!
NetEnt's Happy Riches Slot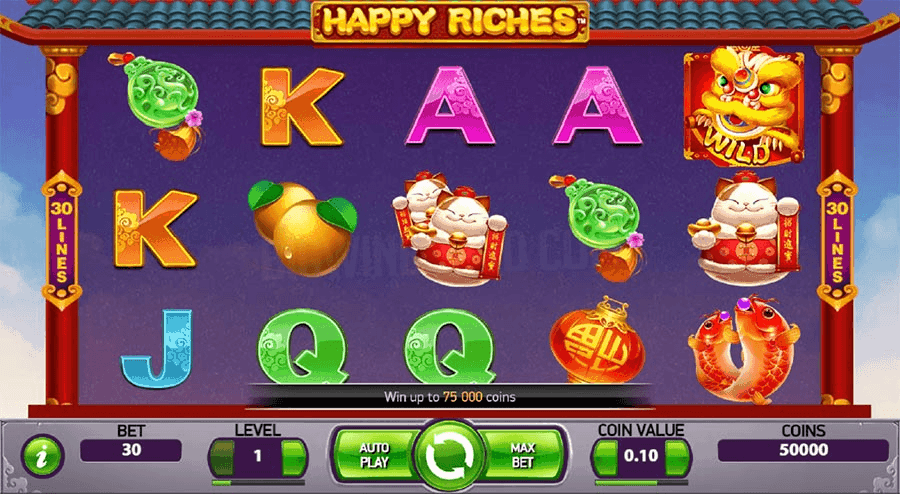 Happy Riches is very similar to another game of NetEnt's that you may be familiar with called Flowers. If you enjoyed that one, you should definitely give Happy Riches a try.
The game has an Eastern theme and one look at the game will tell you that NetEnt has focused on the Asian market with this one. This game boasts of better graphics and has 30 active lines on 5×3 reels so nothing unusual there. Some cool features have been added such as free spins, wilds, scatters and x3 multipliers.
Since you get 30 lines that are always active, you can only change your bets by changing the level which means you have to change the number of coins and the coin's value. Players can start from just $0.30 per spin and go up to $75.
Happy Riches has great potential that give 5000x the stake. This game also has an RTP of 96.32% which is quite good. Happy Riches has a double symbol that players can get from the high paying positions. The most important symbol of the game is the Golden Dragon which obviously is worth the most. It can also replace other symbols and can pay you up to a maximum of x166 per line if you win.
Release Date: Feb 2020
Reels: 5
Lines: 30
RTP: 96.32%
Pragmatic Play's Golden Beauty Slot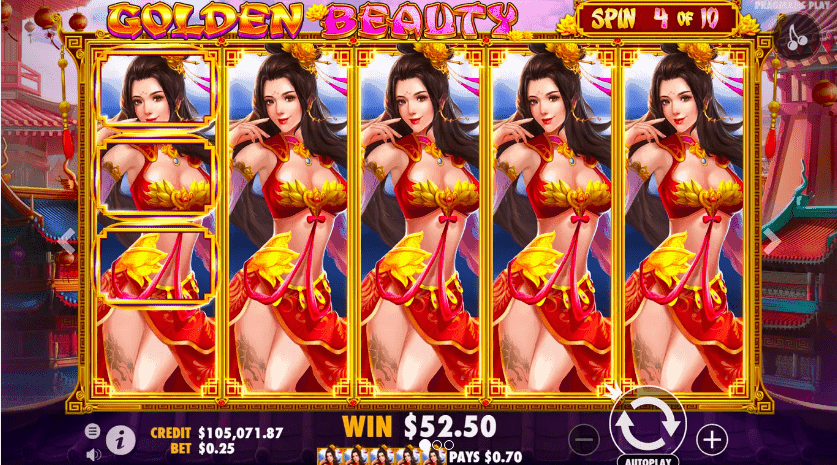 Pragmatic Play has released this Gold and Red themed slot game with some Asian looking characters to again, appeal to the Asian market. With this typical Chinese theme, the games have symbols like temples, flowers, lotuses and jewellery like you would expect.
The game has 5×4 reels, and gives more than 75 lines thereby increasing the winning possibilities in the game. Players can potentially win up to x210 their stake from a spin.
While this may not seem like much, the slot has a progressive feature so the stakes will get better as the game progresses. Over the course of the progressive spins, if lotuses appear you receive framed positions. Each bet level will offer 10 spins to the player and you can continue from where you left off even if you change the amount.
It also has roaming wilds in the free spins which seems like a great feature. The game has an RTP of 96.44% which is not great but we can take it as this will work well in the long-term.
Players can wager on the equivalent of 25 lines and you can place bets for $0.25 and go as high as $250. The line bet can range anywhere from $0.01 to $10. Overall, this is a pretty good game adorned with pretty Chinese girls that you can give a try, if that's your cupof tea. No pun intended.
Release Date: Feb 2020
Reels:5
Lines: 75
RTP: 96.44%
Microgaming's A Western Tail Slot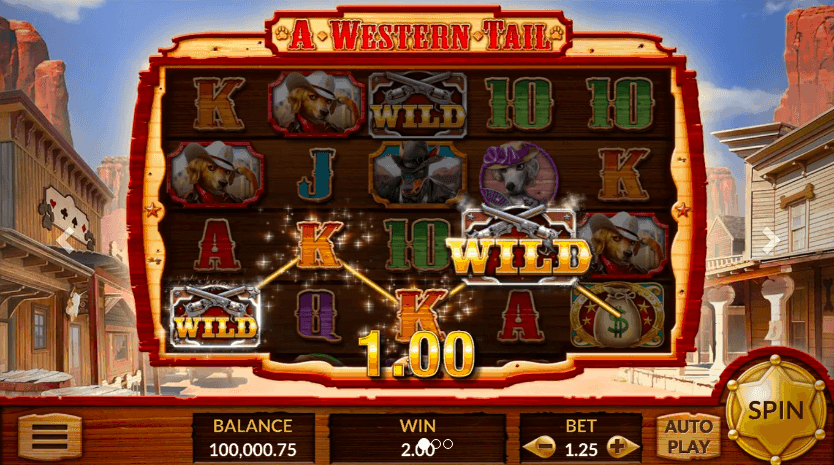 This game by Microgaming has the popular Wild West theme. The game has dogs as main characters such as sheriffs and bankers and oh, of course villains. What character do you think a Chihuahua could play?
This game has 5×4 reels but has 25 reels that can be used in each round. You can place low bets on A Western Tail ranging from $0.25 to $5 only. But each casino may choose to change this, so keep an eye out. This is mainly because this game does not have high volatility and the rewards are not too great.
While playing this game by Microgaming, players can win up to x20 stake for each line and up to x500 for a whole round. We know this doesn't seem like much but do not fret as the RTP is 96.50% which is pretty good long-term.
The wild symbol is the ancient weapon of the Wild West. If you guessed Colt Pistols you are absolutely right. This is a wild symbol that can also substitute others to form a pattern. This symbol can also pay you the top jackpot.
This game has a bonus game in its pocket like a kangaroo's joey. This is called Cash Crab which is a game on its own and can be triggered when money bag symbols scatter on the first, third and fifth reels. You can just select one of the money bags to reveal the gift which could range anywhere from x2 to x50 the stake.
Release Date: Feb 2020
Reels: 5
Lines: 25
RTP: 96.50%
The bonus game also sounds interesting right? So why don't you give it a try?
Pragmatic Play's Mysterious Slot Machine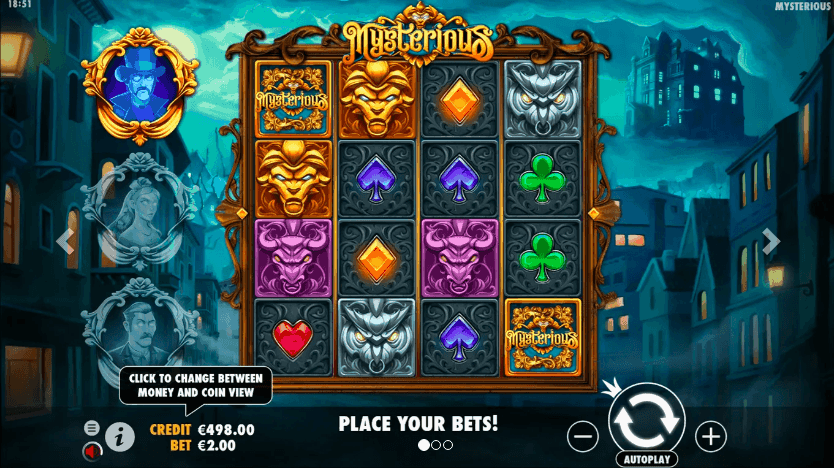 As you might have guessed already, Pragmatic Play's Mysterious slot has a mystery theme. The game is based in London. Uhm, 19th century London to be precise. And since none of us were around then, we can all agree that Pragmatic Play has done a good job with the theme that is adorned with graphics from the Victorian era that we are vaguely familiar with because of all the Sherlock Holmes that we've been watching and reading.
The game has three characters which include a Lord, a Lady and a Baron. There is also a scatter and random animals like rams, lions, owls and bulls. The game also has card suits.
Players can bet anywhere from $0.10 to $100 in a spin. But this game is high on rewards. You can walk away with over x20,000 the stake if it's your luckiest day that is. This can translate into a lot of money if your wager is big.
Even x12 multipliers are available from time to time so keep an eye out. And the game offers 4096 ways in which you can win and has an RTP of 96.50%.
But the game starts with a humble 4×4 reels which means there are 256 ways in which you can win. But this expands as the game progresses and you get free spins thus offering 4096 ways to win.
To spice things up a bit, the game comes with three different modes and each of them will have different wild modifiers to keep things interesting.
Release Date: Feb 2020
Reels: 4-6
Lines: 256-4096
RTP: 96.50%
Try your hand at this Mysterious slot that is indeed mysterious.
Microgaming's Atlantean Treasures: Mega Moolah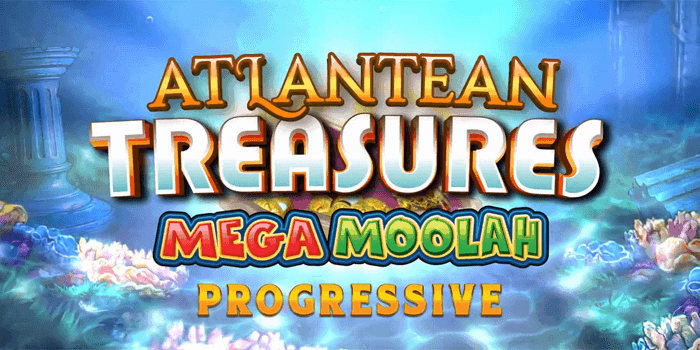 Microgaming has added another slot game to the Mega Moolah series. Atlantean treasures fairs well when compared to other games in the Mega Moolah series. The theme of the game revolves around the creatures of the ocean. The symbols include bar logos, several types of fish, seahorses, starfish and other aquatic creatures.
The Atlantean Treasures game has a 5 reel slot that uses 10 paylines in each round. This means up to x500 jackpots can be triggered on its own. And this game also has a progressive jackpot that has the potential to make you a millionaire overnight. The game has other features such as the expanding wilds and re-spins.
Let us tell you how to trigger that progressive jackpot. Throughout the game, random pearls will float on the screen that gets collected in a clam. Once you have enough number of pearls (the game randomly decides when you have enough), the jackpot wheel will be triggered and you are guaranteed to win one of the 4 progressive jackpots. But keep in mind that the smaller jackpots have higher odds.
Release Date: Feb 2020
Reels: 5
Lines: 10
RTP: 92.08%
So stop dreaming about becoming a millionaire and become one!
Play'n GO's Fortunes of Ali Baba Slot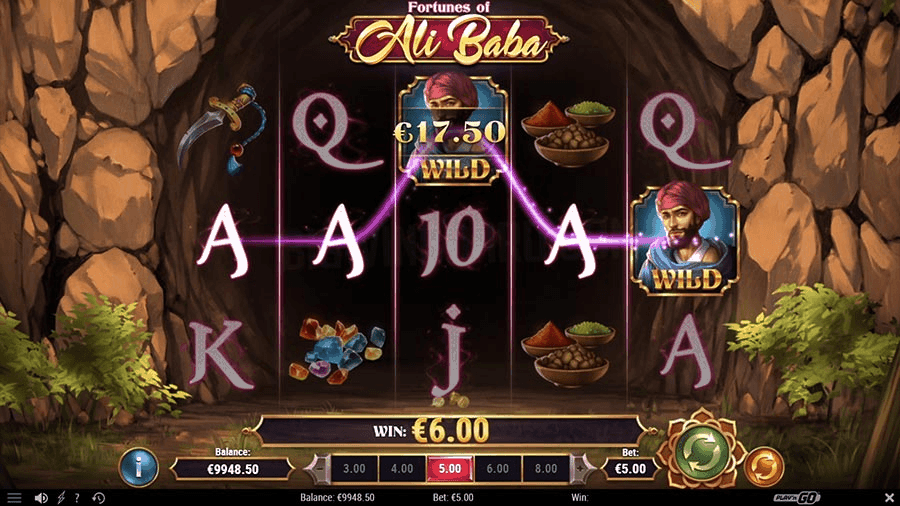 Play'n GO is always a hit when it comes to designing their slots. They take the time and effort to make sure the design appeals to their demographic. This slot machine is based on the well-known story of Ali Baba and the 40 thieves.
Although this story is not as popular as other Arabian stories such as Aladdin, this story has a lot of gaming potential. The characters in the game include Ali Baba and the 40 thieves obviously, a pretty Morgiana and a lot of treasures and weapons.
The bets in the game can range from $0.20 and can go up to $100. The line bet can range from $0.01 to $5. Players can win up to x250 the stake if you have the best winning combinations.
There are also other multipliers that can be applied on the free spins. With all of this, it is possible to win a jackpot that is x9968 the stake. But this is highly improbable given the high volatility of the game.
But the game has an RTP of 96.89% which is pretty high which you will realise once you go through our list.
The game has a wild symbol with a picture of Ali Baba on it. This symbol offers the game's top payouts which is x250 the stake on a single line. The Morgiana symbol scatters on reels 1 and 5 and this will give you access to a bonus game called Den of Thieves.
This game has 5 levels and you get prizes and free spins during the course of the game. The free spins in this game will give you 8 rounds and the Ali Baba symbol is sure to appear at least once for each spin.
Release Date: Feb 2020
Reels: 5
Lines: 20
RTP: 96.89%
If you've heard the story of Ali Baba as a kid, we know you're heading straight to play this game.
Blueprint's Wish Upon A Star Megaways Slot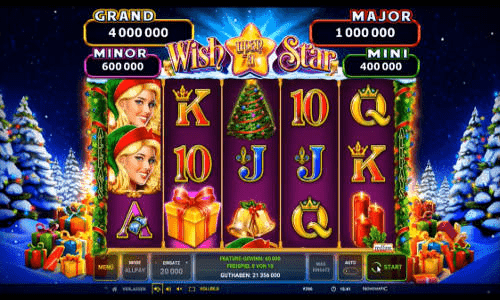 This slot game by Blueprint Gaming is fairy tale themed. But it does not pertain to just one fairy tale. There's Cinderella, Sleeping Beauty, Snow White and even Jack and the beanstalk. This theme is adorned with musical instruments, waterfalls, castles and royals. So overall, the theme is pretty great.
Players can place a bet between $0.20 and $100. No matter what the bet is, all potential megaways will be covered. With such bets, the game has generous rewards. The lower your bets, the higher your rewards. This game comes with a $250,000 ceiling limit on how much you can win.
Players who bet within $5 per spin have a chance to win x50,000 the stake. The game has medium to high volatility and has an RTP of 95.50%.
The game has the cascading feature which means that once a winning pattern is formed, it is removed automatically to allow for the formation of more winning patterns. Throughout the game, fairy Godmother spins are randomly triggered and the player can pick the features that come next. You can pick from a Golden Arrow Mystery Spin, Pigs can fly or Magic Beanstalk. Each of these features have their own benefits. So try them all!
Release Date: Feb 2020
Reels: 6
Lines: 117,649
RTP: 95.50%
Give this game a try for sure as this is one of the best games that are being released this February.
Pragmatic Play's Master Joker Slot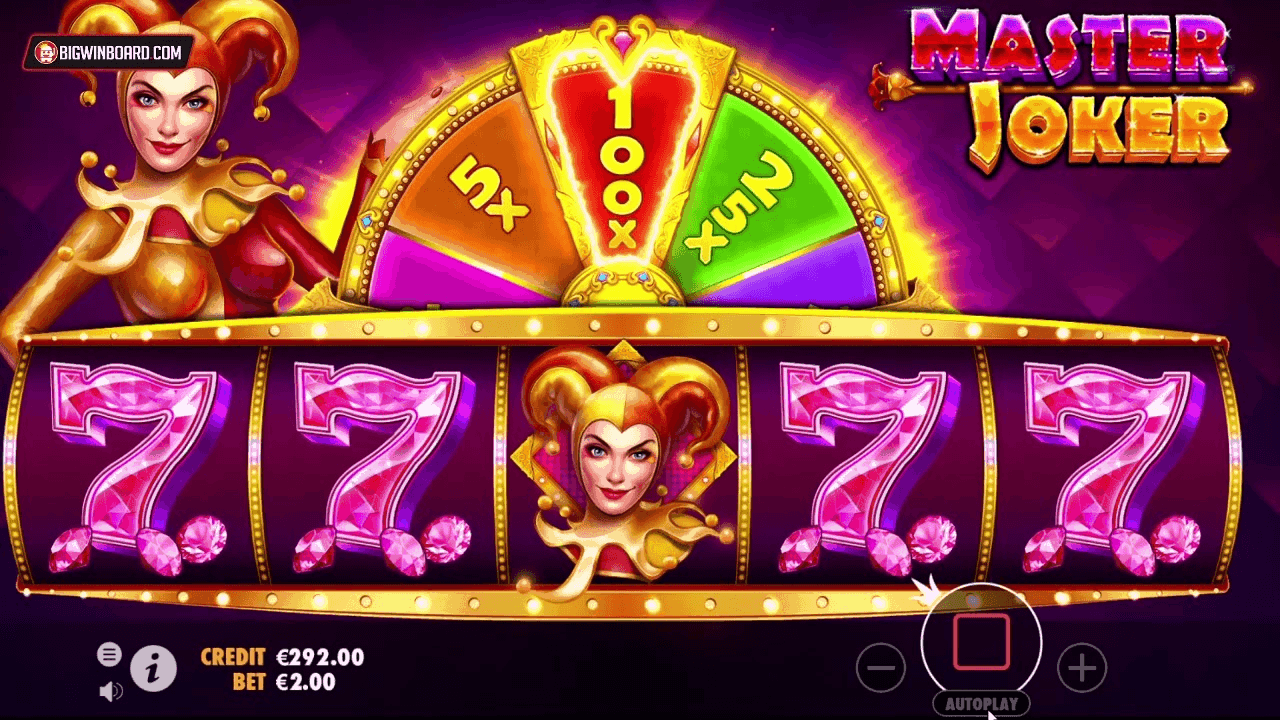 Joker themed slots are not going anywhere. At least for the foreseeable future. They might even survive the apocalypse for all we know. The game has the classic Joker look and feel. There is a Joker symbol, duh! The other symbols include Melons, Gold Bars, Lucky 7s, cherries and plums. Overall, the game is very well designed.
The game has only one payline and so the bet can be very less even $0.01 and can go up to $100. And all the money is for the 1 active line that is available.
You can potentially win up to x10,000 which means that you can win up to a million dollars. Yes, you read that right. This game has high volatility and an RTP of 96.46%.
Even though the game has just one active line, it has 5 reels and it is possible to form the combinations like you usually do. The matching symbols can appear anywhere on the line and not necessarily next to each other. Whether they show up right to left, left to right or in the middle, you get paid.
The joker symbol is also a substitute. And it can create a winning pattern with the last two symbols that go right to left and also the first two symbols that go left to right. So it is possible to form 2 combinations of 3 symbols each even though there are only 5 symbols.
Release Date: Feb 2020
Reels: 5
Lines: 1
RTP: 96.46%
Play this Joker themed slot this February and try your luck!
Microgaming's Lucky Twin Jackpot Slot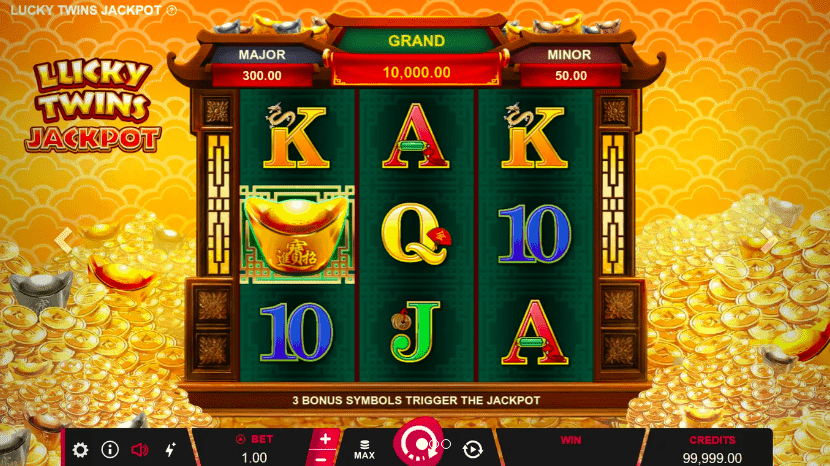 This game is designed based on the Chinese's beliefs of luck and fortune. So as you would expect, there is a lot of gold in this design of the game. It appears as if you have opened a treasure chest.
Players have the option to select a wager for the 5 lines that are active in the game. The bet can range from $0.05 and can go up to $15. In which case, $3 will be wagered on each line. The Grand Jackpot if triggered can deliver x10,000 the stake and this could be $150,000 cash if you bet $15.
The game has high volatility which is obvious considering the Grand Jackpot. And the RTP is just 93.92% which is very low.
You can find the lucky twins wilds on the second and third reels. These help the most in forming other patterns. As these don't pay directly, they don't replace scatters. The symbol with the Chinese Gold Ingots is a scatter symbol that you need on all the reels to trigger the bonus game.
The bonus game will show you 9 cats to choose from and you have to reveal 3 icons of the same type. Depending on which 3 jackpot icons you get, you can trigger a Minor Jackpot, Major Jackpot or Grand Jackpot.
Release Date: Feb 2020
Reels: 3
Lines: 5
RTP: 93.23%
Let's see if this Lucky Twins Slot turns out to be lucky for you!
Habanero's Fa Cai Shen Deluxe Slot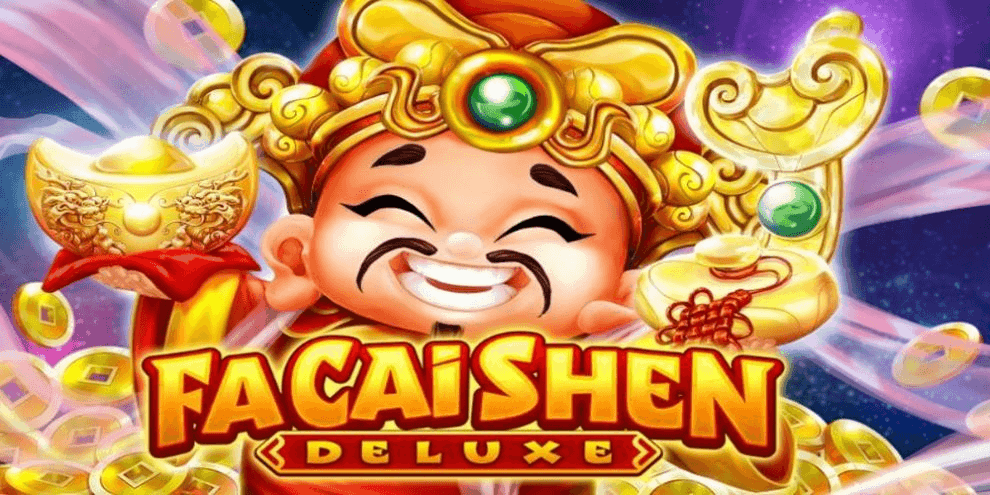 This slot game by Habanero is a deluxe version of the Fa Cai Shen Slot that was developed in 2016. Another Chinese themed slot machine, the design is inspired by the God of Wealth, Cai Shen. This game revolves around Chinese mythology and wealth and so has some typical symbols associated with it. These include Dragons, Jade rings, Fish, Royals, Money trees and Gold Ingots. The higher symbols have an image of Cai Shen while the royals are base symbols.
The Cai Shen symbol is a wild symbol and it increases the number of patterns that are created. This gives players more profitability and adds on to the fun. There is also a free spins feature which can be used to play without paying anything for many rounds.
Release Date: Feb 2020
Reels: 5
Lines: –
RTP: –
Try your hand at the Chinese Golden Dragon symbol when you play this slot.
Play'n GO's Dawn of Egypt Slot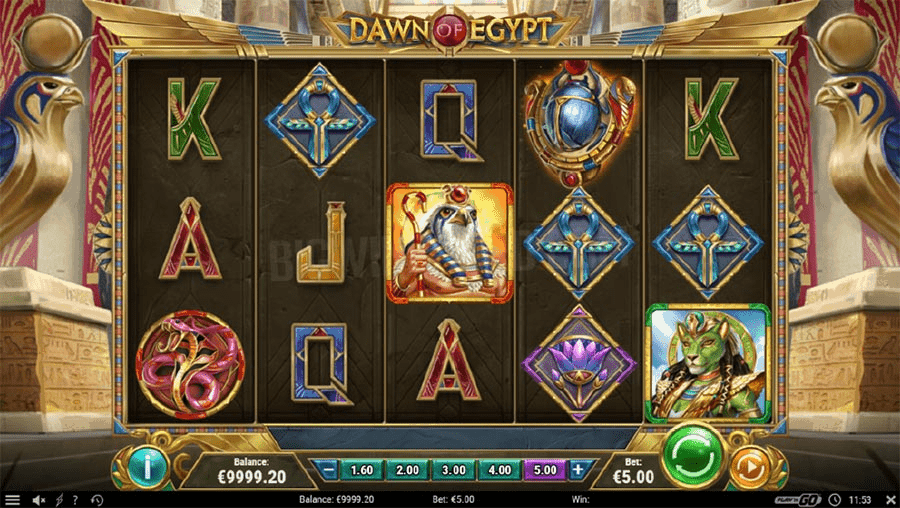 Another Egypt themed slot by Play'n GO makes us feel like it is just another slot game. But this slot has some high quality symbols like Horus, Scorpions, Bastet, Snakes, Lotus Flowers and Ankhs.
There are 10 active lines on the 5×3 reels and the game offers up to x5000 payouts that convert your bet into a jackpot of up to a maximum of $500,000. This game has medium to high volatility but has an RTP of 96.23%.
The bets can range from $0.10 to $100. There are 10 active lines that are used in each round so the amount that is dedicated to each line is between $0.01 and $10.
The Scarab symbol acts as a substitute that can be used to create all sorts of winning patterns. This symbol even has the potential to create its own wins each of which can pay up to x100 the stake.
If you get a minimum of 3 scatters, you will get access to the free spins and also pay up to x1000 the stake if you get 5 scatters. This feature will unfold in 2 levels.
Release Date: Feb 2020
Reels: 5
Lines: 10
RTP: 96.23%
Find out all the other cool features of this game by playing it this February.
Big Time Gaming's Royal Mint Megaways Slot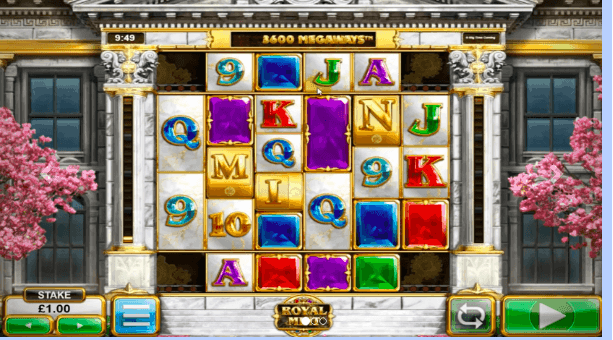 This game is based on The Royal Mint of Great Britain that prints money with the Queen's face on it. This seems to be a pretty unique theme for a slot game. Although it raises the question of how BGT has made this interesting.
But the metaphor that the game is trying to play out is pretty cool. The player is gonna get rich by playing as the game is going to print money for him. The symbols include gemstones, gold bars and royals.
BGT has chosen a 6 reel setup and there are 117,649 Megaways present and these help with creating new winning patterns. This game pays really well just like The Royal Mint. Jokes apart, it pays up to x41,3000 the stake for free spins.
There is the feature of the cascading reels which opens doors for more winning possibilities. Also the rising multipliers in the game have no upper limit and so you stand to win many big prizes and the RTP for this slot game is high at 96.68%.
Players can bet within a range of $0.10 and $20. To get the most of the game, it needs to be in the free spins mode. We say this because in this setting, the multipliers will help you get to the x41,300 stake payout. Whereas during a regular spin, the highest possible win is x1880 the stake.
This is a high volatility slot game with 324 to 117,649 Megaways being offered each round randomly. When wins with matching symbols are formed, you have reactions to trigger. These are the cascading reels.
Release Date: Feb 2020
Reels: 6
Lines: 117,649
RTP: 96.68%
Let's see if the Royal Mint Slot is printing you any money!
We hope you enjoyed going through our list of the best hand-picked slot games to play this February 2020.