What is Evolution Perfect Pairs?
Evolution Gaming is an innovative and well-known name in the online gaming world that has delivered many games that players love. The mission of Evolution Gaming is to provide a great user experience, and Evolution Perfect Pairs is no exception. The game is optimized for mobile and desktop users, with a realistic atmosphere that feels like you're sitting at a real table in a land-based casino.
You'll find a wide range of online games from this provider, each offering uniquely fun and exciting experiences. Along with table games, Evolution Gaming also delivers a variety of slot machine games with exciting thrills and chances to win free spins and big payouts.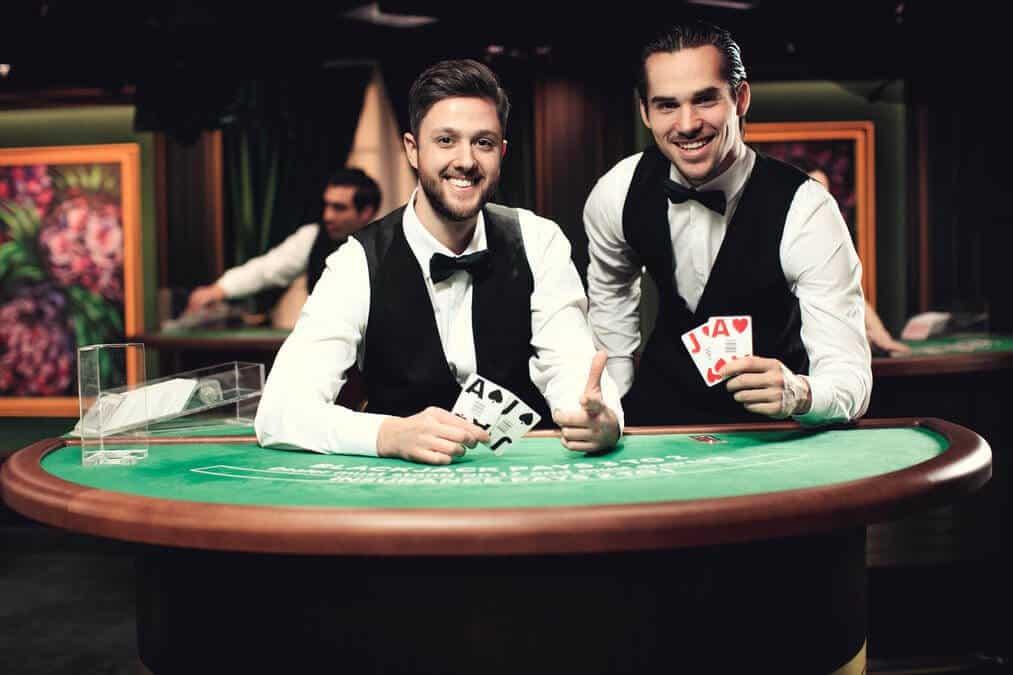 Key Benefits for Players
Playing Evolution Perfect Pairs comes with several benefits. Those understand the rules and regulations of blackjack will find this game to be very familiar. What sets it apart from other blackjack games such as, American classic, is the option to participate in a side bet, called perfect pairs. The space to participate in this bet is found to the left of the standard betting area, while the space to the right allows you to take part in the 21+3 side bet. You can only play one or both of these side bets if you are playing a regular blackjack bet.
Perfect Pairs Side Bet
The perfect pairs side bet pays out if the first two cards you are dealt are a pair. If the two cards have different suits, the payout is 6:1. When the cards have different suits but are the same colour, the payout increases to 12:1. The highest payout of 25:1 comes if you receive a true perfect pair, which means the cards are the same suit. If your first two cards aren't a pair, the bet is lost. However, you can still play the standard blackjack hand.
Great Payouts
The other side bet is 21+3, which is located to the right of where your cards will be dealt. In this side game, you'll be looking for the best three-card poker hand. The cards include the first two cards you were dealt, along with the dealer's first card that is facing up. The payouts on this side bet depend on what you get. A flush, which includes three cards of the same suit, has a payout of 5:1 while a numerical sequence straight pays 10:1. If you get three of a kind, you'll receive a payout of 30:1. A straight flush, which includes cards in numerical sequence and of the same suit, pays 40:1. The best option in the 21+3 side bet is suited trips, or three identical cards in value and suit, which pays 100:1.

Format & Playing Interface
Along with the option to play the side bets, Evolution Perfect Pairs offers a fun gaming experience for fans of blackjack. As you start the game, you'll see the dealer on your screen. With a live-action dealer, the game becomes more realistic. This dealer will greet you, explain some of the rules of the game, and deal the first two cards to each player. Real cards are handed out, creating an interface that is familiar and easy to use.
Before you start, make sure you understand the blackjack rules, blackjack odds, and potential payouts. Blackjack payouts are fairly standard in most casino settings, and the Evolution live blackjack game is no exception. The payout is 3:2 for blackjack, while players will receive the amount of their bets if they come closer to 21 than the dealer, or the dealer busts.
Playing Features
Some of the features that set this game apart from other live blackjack gaming options include the side bets, live chat, and different camera views. When you take part in the side bets, your potential winnings increase. Not only can you win by getting closer to 21 than the dealer, but you can also win a bigger payout if your cards form a pair.

Location of Tables
In casinos, blackjack tables are found throughout the gaming floor. Several blackjack-type games exist, although in the traditional game, the player's objective is to get the value of their hand to 21 or as close as possible. When you're browsing the games on Seven Jackpots, you'll find all types of blackjack live games to play. Each has its own unique rules and odds, so it's important to apply the right blackjack strategy to increase your odds of taking home the winnings.
Evolution Perfect Pairs is a fun option for blackjack fans who are looking for something a bit different. Although the standard game is more traditional in nature, this version has a few side betting options to earn more on each hand. Players can participate in the perfect pairs or 21+3 side bets, which are discussed in more detail below.
Our Verdict
For online gamers who want to take live blackjack to the next level, Evolution Perfect Pairs offers that option. You're not limited to a single game when you play, as you can participate in the side games and potentially still win, even if you bust or the dealer comes closer to 21. With the chance to win on a side bet, you can also increase your odds of bigger payouts rather than just having the chance to double your bet on a standard blackjack hand or receive a 3:2 payout on a blackjack.