Independence Fest Tournament at JungleRaja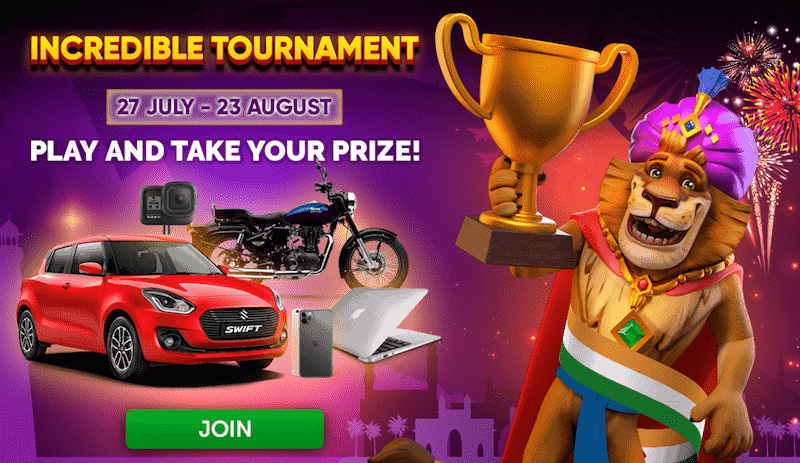 The King Raja Awards Expensive Gifts
An incredible tournament has started at the online casino JungleRaja on the 27th of July, inviting all their players to celebrate India's Independence Day.
King Raja, for that special occasion, has decided to reward the most loyal participants with some awesome gifts.
Since the tournament will last the whole month, until the 23rd of August, you have enough time to take part. The beauty of it is that there are no game restrictions to take part in the tournament.
So whether you enjoy playing online roulette, online blackjack or online slots, you can still participate in the tourney and win one of the many excellent rewards.
The player on the 5th place will get a GoPro, or alternatively exchange the prize for 500 euro in cash. The player on the 4th place can claim an iPhone or a 1,000 euro cash prize, while the one on the 3rd place a MacBook or 1,500 euro cash prize. The second-place winner will grab a bike Royal Enfield Bullet 350 or a 2,500 euro cash prize. Finally, the absolute winner will be awarded a Suzuki Maruti Swift or an 8,000 euro cash prize.
How do I participate?
To take part in the promotion, you would have to click the "Join" button under the leaderboard area on the casino's main page and play any of the games available at JungleRaja.com.
You have a month to win one of the amazing prizes, and all you have to do is play your favourite games during the month of Independence Tournament. 
What's Expected from Players
After the tournament ends on the 23rd of August 2020 at 23:59 (IST), five players of the month with the very best results will be defined and given the awards.
The JungleRaja management will be strictly monitoring any suspicious behaviour, and suspend any players from participation who tries to receive additional points by cheating. If you make a deposit in order to collect extra points only and then expect to withdraw your money, your strategy won't work out. Play by the rules, be fair and great things will happen to you, King Raja guarantees!
Specific Terms and Conditions
The Independence Fest Tournament started on the 27th of July 2020 at 00:01 (IST) and will end on the 23rd of August 2020 at 23:59 (IST).
As you play any of the casino games available during the promotional period, online roulette, card games or online slots, you will scoop points on the leaderboard. These points are not transferable in any way and do not have value outside the promotion.

₹500 at sign-up + up to ₹30,000 in welcome bonus!
Over 1000+ Games
Several ongoing promotions
Gpay & Paytm Deposits via NetBanking
₹...
Relevant news