Save the Dragon's Gold in A Dragon's Story Indian Slot Game
Categories:
News
|
Published by:
Seven Jackpots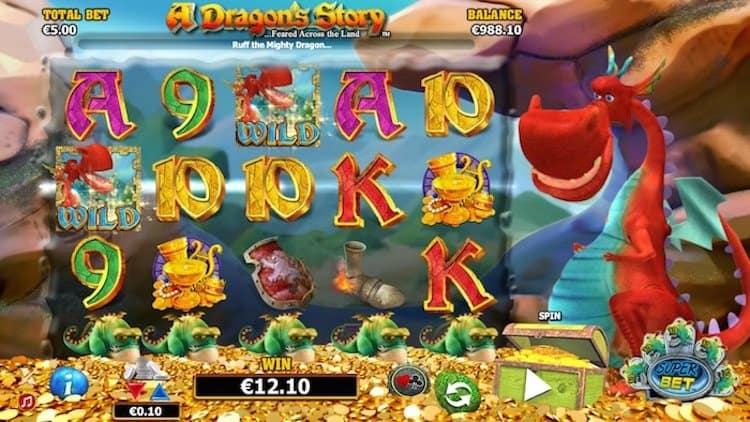 Nothing says riches like a dragon's hoard of gold and treasure, and A Dragon's Story is a progressive online slot machine based around that theme. In this colourful, fantasy-themed game by NextGen, players spin five reels to land on up to 25 different paylines and earn some of the gold from Ruff the Dragon's treasure pile.
---
A Dragon's Story Theme
A Dragon's Story is a video slot machine with a lot of colour and high-quality effects to set a charming mood. Calling back to classic western fantasy tales, A Dragon's Story takes place in Ruff the Dragon's gold treasure trove in a high mountain. Everyone knows the classic fantasy tale of a knight against a dragon, but here the player is on the dragon's side and defending his gold against the greedy knight, Sir William. As a reward for your bravery, Ruff rewards your successful spins and bonuses with some of his gold or valuable pieces of Sir William's armor.
A Dragon's Story is one of the more bright and upbeat dragon-themed online casino slot machine games available for Indian players, and it uses a Western fairy tale dragon theme instead of one related to Asian dragons. If you're looking for something unique, this is the slot machine for you.
A Dragon's Story Game Stats
Variance, or the likelihood of getting a streak of continuous wins, is an important factor for Indian slot machine players. A Dragon's Story's 25 generous paylines give it a fairly high variance, so on a great day, you could walk away with some major earnings. The game has an average RTP (return to player) of 95.22 percent and a maximum possible jackpot of 125,000 euros, or over 1 million rupees.
A Dragon's Story Symbols and Rules
One interesting element of A Dragon's Story is SuperBet. If you choose to SuperBet before your next spin, several of Ruff's smaller dragon friends will burn certain reels to enhance them, replacing a random lower value symbol with a Wild symbol instead and increasing the chance of a high-value multiplier. Each SuperBet costs consecutively more coins and enhances more reels, with up to 50 coins for enhancing all five.
Apart from the reel enhancement, A Dragon's Story is a fairly standard online slot machine. This game has several interesting higher value symbols, such as torched pieces of Sir William's armor. The Purple Jewel is the Bonus Scatter symbol, and Ruff himself represents the Wild symbol.
With three or more Purple Jewel symbols on a spin, the player will win 10 free spins and the Bonus Game will start. During the Bonus Game, your earnings will be doubled on each winning spin, and the same little SuperBet dragons will randomly enhance certain reels and increase your win chance.
All told, A Dragon's Story is a great game for Indian players to win a little treasure hoard of their own, and players who put a little time into mastering it should end up doing just that. Try out this game if you're a fan of high-variance progressive slot machines.
Best A Dragon's Story Slot Casinos in India
---



Relevant news