Win Big With Joker Millions Slot Game
Categories:
News
|
Published by:
Seven Jackpots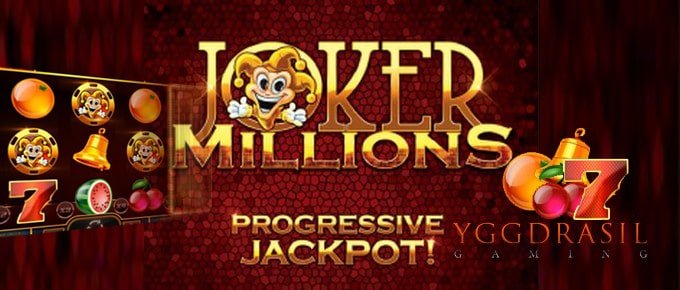 Progressive jackpot slot machine games store up a bigger and bigger reward for the player to eventually win, which is why it's so important to choose a progressive game you enjoy playing consistently. This is where Joker Millions comes into play. Take a look at everything an Indian player should know about this five-reel slots game.
---
The Basics of Joker Millions
Joker Millions is a five-reel, three-row progressive slot machine with an average return to player of 94.3 percent and 25 total paylines. With lounge-jazz music and a polished casino vibe, Joker Millions oozes class and comfort. You'll play to match classic fruit symbols like lemon, plum, cherry, orange, and watermelon, as well as a bell symbol and the classic lucky number seven.
This online casino slot machine game keeps things simple with its presentation, but every little touch was made to make the game feel smooth and convenient to the player, like the fast spins and rewarding sound effects. There is one Jackpot symbol — the Joker character — and if a Joker appears at least once on each of the five reels, you'll win at least five different mystery prizes.
Bonus Features and Winning the Jackpot
Upon getting one or more Joker symbols on all five reels, the player enters Jackpot Spin mode. Free spins will continue to play during Jackpot Spin, and they will only be counted if you land one or more Joker symbols. Each of those counted spins will award you a mystery bonus prize of up to 1,000 coins, depending on where specifically the Joker landed in the reels and rows.
Naturally, as Joker Millions is a progressive Jackpot game, the player wins the accumulated jackpot if they get the ultimate possible spin — 15 Joker symbols filling up all five reels. The current amount of the accumulated jackpot is visible at all times to keep you motivated.
Freeze and Re-Spin, Plus Column Multiplier
There's something fascinating about spinning a slot machine and landing the same symbol up and down one or more of the reels. With other games, this doesn't lead to any bonuses, but filled columns in Joker Millions will add a multiplier to your winnings. For instance, if you get four consecutive columns filled, you will get four times the winnings you would have gotten.
Joker Millions will also freeze specific sets of matching symbols in place for future spins until at least one new matching symbol is added. On top of that, filled columns will count toward this freezing rule, so both advantages can go into effect at the same time. Thanks to the Freeze Re-Spin and Column Multiplier rules, players can still get a great return on investment without having to win the progressive jackpot.
Joker Millions is easy to learn, has generous rules, and stays exciting for hours on end, giving you much more stamina to eventually win the accumulated jackpot. Take this thrilling slot machine for a spin, see how the pay tables work, and who knows? You may have a new favourite progressive jackpot game.
Best Jackpot Casinos in India
---



Relevant news