Can the faith of the arrows be found in your dreams?
Teer is a form of gambling that has been around for almost 50 years. It is said that the 'sport' originates from the birth of the state of Meghalaya in 1972, but didn't become legal until 1982.
Together with horse race betting, it is the only legal form of sports betting allowed in Meghalaya. Today it's controlled under the Meghalaya Amusements and Betting Tax Act 1982.

The Hindi word 'teer' translates to 'arrow' in English, a fitting name for the game.
Teer is played in Shillong, Juwai, and Khanapara, and it is somewhat of a gold mine. At least if you are a dreamer, superstitious, or just lucky.
The game is somewhat shrouded in mystery, having a long-standing tradition in how to receive the betting numbers: dreaming.
The rules of Teer
The sport of Teer can be explained as something in-between lottery and sport, and it is played by shooting arrows at a target. Gamblers bet on how many arrows hit and remain on the target.
The archers sit down in a semi-circle aimed at the target; a bundle of hay secured to a pole, located around 50 meters away. During two separate rounds, they'll shoot a set number of arrows with the goal of hitting the hay-clad pole.
All arrows are first shot, then counted, after which the total amount is announced. However, the total amount of the arrows is not relevant; the last two digits are.
Betting on Teer
No matter how many arrows hit the target during a round of Teer, what counts are the two last digits of the number. Betting on Teer is, therefore, done by placing bets on numbers ranging from 0 to 99.

Examples:
The number of arrows is 946; the winning number is 46.
The number of arrows is 331; the winning number is 31.
The number of arrows is 600; the winning number is 0.
Betting is done via physical Teer counters or online 'Teer bookies.' At this time, there are, unfortunately, no real money games in India that offer sportsbook bets on Teer.
There are six different bets to place:
Single (a number between 0 and 9)
House (a span of ten numbers, i.e., 10-19, 20-29, etc.)
Ending (only betting on the last digit, 0-9)
Pair (identical numbers, such as 11, 22, 33, etc.)
High-stakes (The exact number during both rounds)
Straight-up (One exact number from 0-99)
Teer payouts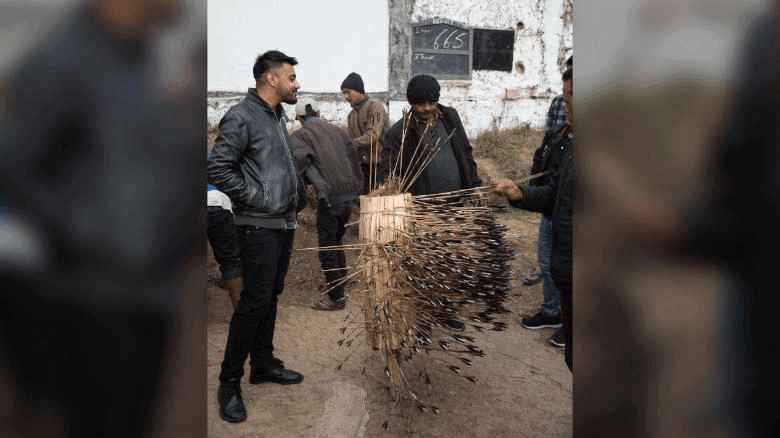 The payouts of Teer depends on the round played and the bet placed. A winning Straight-up bet on the first round pays 80:1, while the same winning bet on the second round pays 60:1.
As you can see, the payouts are very high. Compare it to a winning straight-up bet at real money roulette, where the payout is 35:1.
The importance of dreams to win
So, where do dreams come into play? Although you certainly don't have to be a dreamer to bet on Teer, it is said to help.
A master-Teer player will train themselves to sleep and dream before the game to predict the numbers on which they should play.
There are various ways to interpret the dreams, and they do also change depending on the year or which Teer-range you are betting on.
For example, if the dream includes a pencil, the numbers 7, 77, and 79 are preferred, while a shoe symbolizes number 8. Dreams that include a Cow, Goat, or a Buffalo, give some 14 different numbers to choose from.
It's safe to say that the Dream Numbers of Teer makes the superstition of Baccarat seem like strategy.
Other ways to 'predict' the game
For those who rather dive into statistics and history, looking at previous numbers and Teer clubs is the way to go.
There are around twelve Teer clubs in Meghalaya, each with their archers. The avid Teer punter will keep a close eye on how each club performs, and who from which club is shooting.
This way, just like in other sports, they can predict the number of arrows that will hit. Just like a punter betting on Kabaddi would bet depending on which team has better goal statistics.