How a blackjack strategy gives you the best edge
Lousy gameplay in blackjack can leave you with an RTP (Return to Player) below 90%, while optimal gameplay gives you over 99% RTP!
Add card counting into the mix, and you're able to exceed over 100% RTP!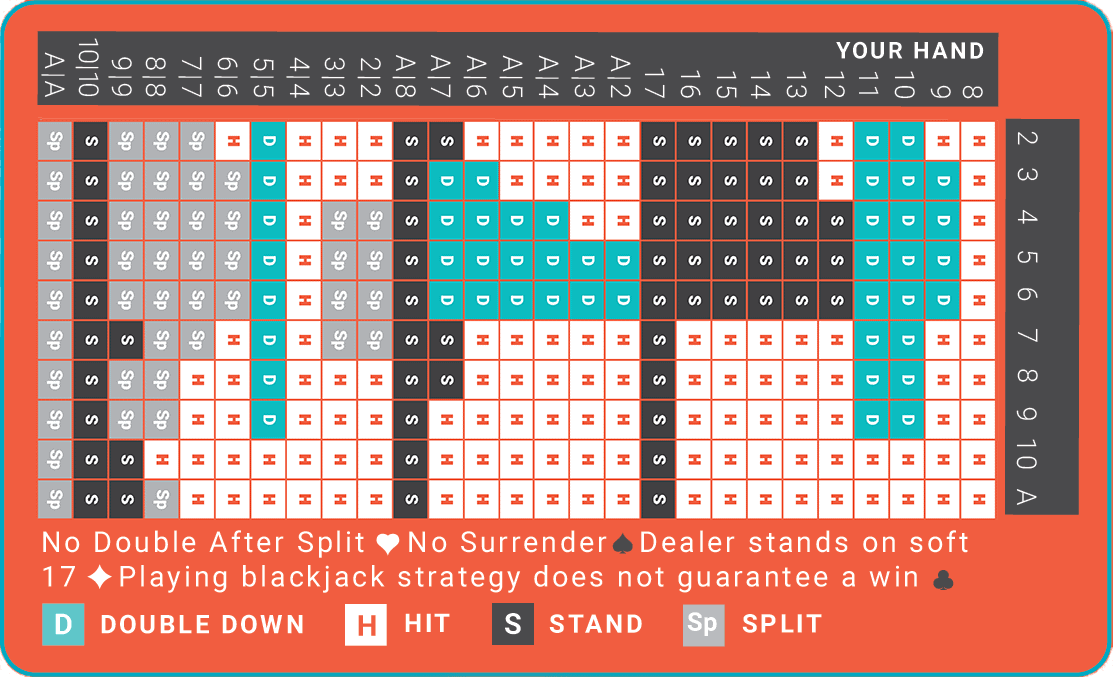 Best Indian Casino sites for Blackjack Strategy 2021

Rating
Support

Live Chat, Email, FAQ

Game types

Live Casino, Slot Machines Video Poker

Websitewww.casinodays.com
Rating
Support

Email, Live Chat & WhatsApp

Game types

Slots, Live Casino, Sportsbook

Rating
Support

Phone, Email & Live Chat

Game types

Slot Machines, Live Casino & Sportsbetting

Websitewww.10cric.com
What is a blackjack strategy?
Using a strategy when playing blackjack online is the best way to make the most of your rupees.
It's also the best way to ensure that you're putting your luck to use, hopefully seeing that pile of money grow!
A gambling strategy in this scenario is a set of blackjack rules that will tell you how to act in certain situations.
The situations that appear in blackjack depends on what cards you have on your hand, and what card the dealer has faced up.

Did you know?
When playing at a live blackjack table at an online casino in India, using basic strategy is sometimes seen as standard.
Not keeping to strategy affects the outcome of other players at the table, so if you want to stay friends with your table-buddies, a basic blackjack strategy is a must!
Understanding a strategy card
You'll be happy to know that you won't have to learn a strategy by heart for you to use it. Most players use so-called Strategy Cards.
We've added one at the top of this guide for you, and it shows the most optimal and most straightforward strategy to follow.
To find the best decision for you to make during a round of blackjack, all you have to do is locate your hand, the dealer's hand, and find where they meet.

Example: Your hand is A 6, while the dealer has a 6. Following this situation on the strategy card, you'll see that you are asked to Double Down.
If your hand would've been A 7 and the dealer had a 7, you'd instead Stand.
Strategy card abbreviations
These cards use abbreviations to fit all different actions on the card. The most common ones are:

H = Hit
S = Stand
D = Double Down
Dh = Double if possible, otherwise Hit
Ds = Double if possible, otherwise Stand
Sp, or P = Split
Ph = Split if double after split is allowed, otherwise Hit
Rh = If allowed, Surrender, otherwise Hit
Rs = If allowed, Surrender, otherwise Stand
Rp = If allowed, Surrender, otherwise Split
Different strategy cards
As you can see, many of the abbreviations above aren't shown in the strategy card up top. This is because there are many different kinds of strategy cards available today.
Although the above card works great for most tables, some strategies are better depending on the number of decks in the shoe, or if you are an advanced player.
There are plenty of cards available online, even though we usually stick with the above, as it's one of the easiest to understand and follow.
How to use a blackjack strategy
Alright, now that you know how to read a strategy card and how to play blackjack, it's time to play!
Here's how to use your new-found knowledge at an online casino blackjack table:
Sign up at one of the casinos listed here at SevenJackpots
Head on over to their live casino section
Pick a live blackjack table with a comfortable bet limit
Place your bet and potential side bets, make a note of the cards dealt to you and the dealer
Check the strategy card, and act accordingly
Have fun!
Other strategies for blackjack
The basic strategy for blackjack online is the most complex and effective of them all. That said, there are other strategies that are used for casino games overall.
Strategies that can be used when playing blackjack, online roulette, Andar Bahar online, and even Teen Patti real cash.
Of course, they are far less "strategical," as they instead follow patterns or theories rather than statistics.
Fibonacci
Based on math, the Fibonacci strategy follows a sequence where you bet a specific number of units. The Fibonacci sequence adds the two previous numbers to make the next number: 1, 1, 2, 3, 5, 8, 13, and so on.
Martingale
Martingale is a popular strategy but should not be used for blackjack due to the high variability. Martingale should preferably only be used on bets where the winning chances are close to 50/50.
d'Alembert
A strategy solely based on the theory of "universal balance." Also known as "Gambler's Fallacy," the idea is that if you've lost several times while betting in a certain way, betting differently is bound to win to retain "balance."
Combining basic strategy with card counting
Making use of online casino strategy to gain an edge over the dealer in blackjack is great, but there's a way to take the game even further over the edge.
Yes, we are talking about counting cards.

NOTE: Card counting is prohibited at some Indian online casino sites. Make sure to read the terms and conditions carefully before attempting it!
Counting cards will not guarantee a win, of course, but it can give you a slight advantage.
Emphasis on slight, mind you.
Combining strategy and counting is also a great way to make a game of online blackjack even more exciting!
Understanding the do's and don'ts of blackjack strategy
It's essential to understand the difference between strategy and cheating.
While the use of a blackjack strategy brings fun and excitement to the game, cheating can permanently blacklist you from an online casino. Even from a land-based one!
Always read through the terms and conditions of a gambling site to understand what counts as acceptable gameplay.
Once you've familiarized yourself with the terms and our strategy card, head on over to your favorite casino, pick a blackjack table, and start playing.
Good luck!
More Blackjack Guides