Play Indian Blackjack Online
The experience of seeing Real Cards being shuffled and dealt by a dealer at a real table is just something extra. Blackjack is therefore in our opinion designed to be played at a Live Casino. To also be able to interact with the dealers and other players at the same time make the decision even easier. In our opinion it's a no brainer, playing Live Online Blackjack is almost as good as going to LasVegas, and play with real bricks at the majestic Caesars Palace.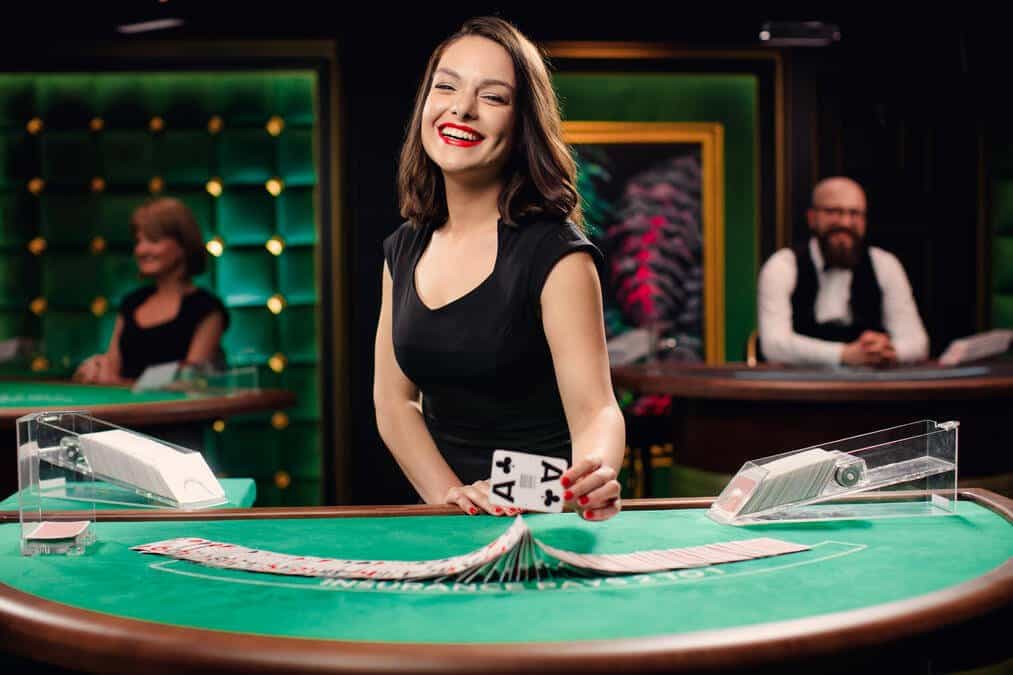 Blackjack Table Options
When playing blackjack there are usually two table options:
Multi-Seat Blackjack: This is the table where you are allowed to play multiple hands/seats on the same 7 table, you're however usually restricted to the amount/number of hands you can play. Also, note that at busy times the online casinos usually switch off this function.
Multi-Table Blackjack: On this table, you are able to play multiple tables at the same casino. The maximum amount of tables is usually four (4) and some players find it too stressful so be careful.
Live Blackjack RTP (Return To Player)
Of all casino games out there, the RTP for Live Blackjack game is definitely the highest (Standard Blackjack 99,5%) the percentage is however different for each Blackjack variant,
Micro Blackjack has a theoretical RTP of around 99.2%
American Blackjack has a theoretical RTP of around 99,6%
Classic Blackjack has a theoretical RTP of around 99.4%
Surrender Blackjack has a theoretical RTP of around 99,7%
What's important to remember though is that the figures relate to all games played from over 100 000 hands, with that said you cant use this is an indicator for the following example, ₹100 and play 10 hands at ₹10 you will end up with ₹99.50 after those 10 played hands, it just doesn't work like that.
Winner Stories
Choose your Blackjack Dealers
Another cool and great thing about playing live is that you can choose what type of Blackjack Dealer you want, most of the Indian Live Casinos offers various dealers from all around the world, some examples are:
Scandinavian Blackjack Dealers
Asian Blackjack Live Dealers who speak in their native language or in English
European Blackjack Live Dealers who speak in their native language or in English
Latin America Blackjack Live Dealers who speak in their native language or in English
American Blackjack Live Dealers who speak in English
Socialise with Blackjack Dealers
We have been mentioning it earlier, but you can never underestimate the value of the of the dealer's role and how much impact it has on the player and blackjack experience.
The relationship you as a player build with the dealers are so valuable and the easiest way to describe is a relationship with your friends. So next time you thinking of playing blackjack, try it out with a dealer!

Blackjack Games Online
Blackjack games vary depending on how the cards are dealt. Sometimes the cards are dealt face-up, so the player can make the most informed choice. A more challenging version sees cards dealt face-down.
American Blackjack
In American blackjack, the dealer deals one card face-up and the other, the hole card, face-down. The dealer can immediately view the hole card if the face-up card is an ace. European blackjack has no hole cards.
Some blackjack games will not award prizes unless you reach 21 while others pay out simply for beating the dealer's hand.
Live Blackjack
For added excitement, try a live blackjack game. These games see you sharing a table with up to seven other international players. All the action unfolds in real time, streaming to you in high-definition making the experience of playing live blackjack as close to sitting in a land-based casino as you can get.
While you'll share the table with other players, their games won't impact your own. You'll still play against the dealer, just as in a classic blackjack game. However, you can usually chat to the other players, making these games more social than most online blackjack titles.
If you like live games, you might also want to check out both the online live roulette!
Traditional vs. Online Blackjack
When you play blackjack in a traditional casino, you need to part with your cash to get your chips. However, online casinos give you a little more flexibility. Most online blackjack games will let you play for fun. This is a great way to familiarise yourself with blackjack and its strategies before making real cash wagers.
New types of Blackjack
Some of the world's leading gaming platforms are behind some of the most popular online blackjack games. NYX Interactive provides Red Queen Blackjack, which awards a special bonus for blackjack hands containing red queens, Blackjack Player's Choice, which lets you reject your original hand after spying the first card, and the European-inspired Blackjack Pro Monte Carlo.
Novomatic has a smaller selection, but its regular American-style Blackjack and Royal Crown Blackjack, a similar game with a different look, are still plenty of fun. Novomatic also provides a Live Blackjack game.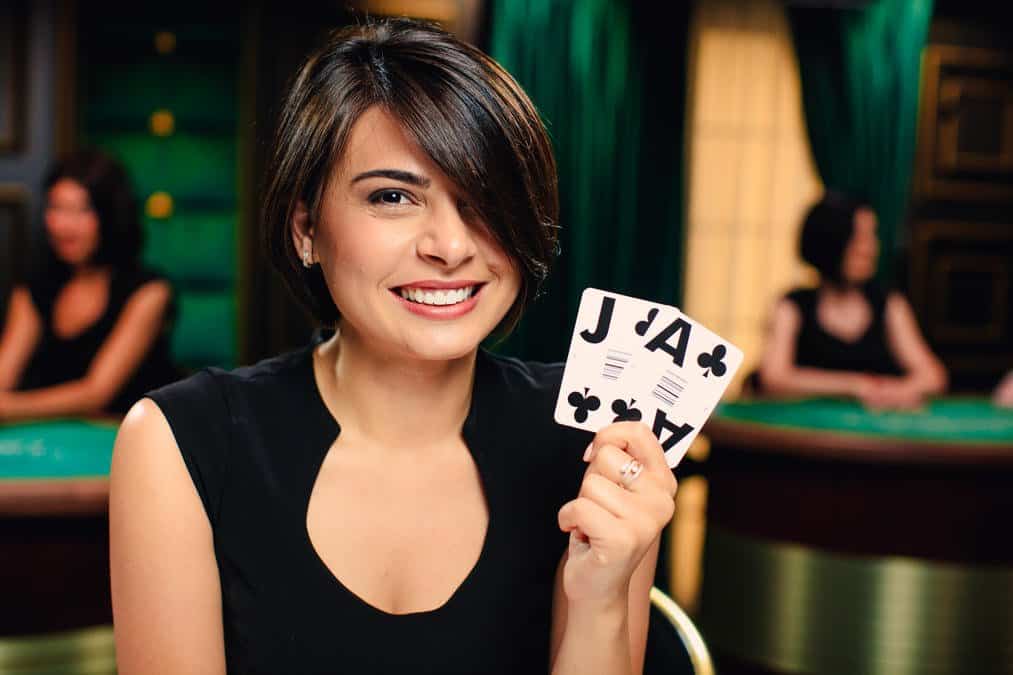 More info about Blackjack
Like baccarat table game, blackjack is one of the most popular card games, but you needn't visit a land-based casino to enjoy it. Leading online casinos in India have several blackjack games which let you enjoy this leading table game anywhere you have an internet connection. Play online blackjack at home on your desktop or laptop computer, or enjoy the freedom of mobile play from your smartphone or tablet. What's more, when you play online blackjack, the tables never close.
Basics of Blackjack
Blackjack sees you pitting your skills against the online dealer's. Getting cards valued as close to 21 without exceeding this sum is the aim of the game. The number cards hold their face value. Just like number 10 cards, the face cards (jacks, queens, and kings) are also worth 10 points. Aces are valued at 1 or 11, depending on what makes a better hand.
You'll place your bet at the start of each hand. The dealer then deals you two cards and, in some cases, also deals two cards to himself. These cards are dealt face up or face down, depending on the version of blackjack.
You can then ask for a "hit," the term for another card, to hopefully improve your hand. You can ask the dealer to hit you as often as you like until your hand's value exceeds 21 points, at which point you've gone "bust." Alternatively, you may "stay" and receive no additional cards.
Online casino is the real deal
Just as in a real casino, some online blackjack games let you split pairs if your initial hand contains two cards of the same value. When you split pairs, you separate these cards and play two separate hands. This requires a second wager. Some casino games will let you make further splits if you continue drawing cards of the same value.
In most cases, you can continue being hit after splitting pairs, just as you would with any regular blackjack hand. However, when you split aces you will only receive one additional card in most online blackjack games.

Blackjack Strategies
While live blackjack is one of the simplest table games, the best players know it takes more than mastery of the basic rules to succeed. Learn the strategies to take this card game to the next level.
Most blackjack enthusiasts agree that the basic blackjack strategy is a more reliable strategy than the Martingale strategy. According to basic strategy, you should always hit when your hand totals less than 11, as you cannot bust, no matter what card you're dealt. Unless you have a soft hand, where an ace is standing for an 11, you should always stand when your hand's value is 17 or greater.
Split Aces and Eights
You should also always split aces and eights. Both are strong cards, especially aces that can be played as ones or 11s, so you'll want to maximize your chances of creating blackjack hands with them.
Doubling down is a popular strategy for boosting blackjack wins as it lets you capitalise on your best hands and reduce the dealer's advantage.
When you double down, you double your original wager. This option is available after receiving your original two cards on selected online blackjack games.
Some games allow you to double down on any hands, even blackjack hands. Others allow double downs only on hands with hard totals of nine, 10, or 11. In other words, when playing these casino games you can double down only on hands with totals of nine, 10, or 11 that don't contain aces.
Double down
You should always double down on hands totalling 11, except when your dealer holds an ace. You should also double down on hands valued at 10 unless the dealer also has a hand totalling 10 or an ace. Doubling down on a hand with a value of nine isn't always advisable, but it's a good option if your dealer's hand is valued at three, four, five, or six.
The basic strategy doesn't recommend taking out insurance.
Winning in Blackjack
The way to win blackjack depends on whether your online game has a dealer or not.
In some versions, you'll win a hand if the value of your cards is closer to 21 than the dealer's hand, without going over. Once your hand's value exceeds 21, you have gone "bust" and lost that round.
In other versions, where the dealer doesn't deal his own cards, you must reach 21 to win the hand.
Getting a blackjack hand, sometimes called a natural hand, is the easiest way to win Blackjack. This hand occurs when your original cards are an ace and a face card.
Blackjack Bonuses
Most online blackjack games offer a special bonus whenever you draw a blackjack or natural hand. Often instead of the normal 1:1 payout, your blackjack hand will receive a greater payout, usually valued at 3:2. There is a one in 20 chance of receiving a blackjack hand.
Some blackjack games offer additional bonuses. For example, Red Queen Blackjack from NYX Interactive rewards players for every red queen blackjack, a blackjack hand featuring a queen of diamonds or hearts.
Online games accepting side bets on card combinations, like Perfect Pairs, can also be lucrative. You'll receive a special bonus for a Perfect Pair bet if your initial cards are exactly the same. Other bonuses are awarded for mixed colour pairs and pairs of the same colour.
What you should look out for!
Since you playing online and unlike the land-based casino there are two types of live dealer blackjack:
Common Draw Blackjack or Unlimited
This is the game where one or more player hands are dealt that an unlimited number of player can bet on, this solution is mainly made for the players that can't get on a 7 seat table but still wants to play.
7 seat Blackjack
Naturally where 7 players can play on one table together, you can sometimes occupy more than one seat at the same time (this is called multi-seat) Just remember that at busy times it can be hard to get a seat at the low and mid-stakes seven seats tables, so we at Seven Jackpots advise you to carefully choose an online casino that offers dedicated tables.
The number of decks, they can also differ (between 6-8 decks per game) Make sure to check if the games, since they sometimes have European or Vegas rules (which means that the dealer takes one or two cards in the initial deal)
Also, the Playing Option during a game can be different, which means that it can affect your ability to bet or raise at key points in the hand. Sometimes you may be able to play some, all or no Blackjack Side Bets.
Important impacts of these differences
If we gonna look at it, from a Return To Player (RTP) perspective all the providers would have you believe, nothing. Standard RTP (Return to Player) is around 99,5% although, for example, Evolution Gaming publishes 99,28%. For us at SevenJackpots it means everything!
There are so many small things that you need to take into consideration, for example being able to double without restrictions (can make a huge difference to the amount you can win or lose on a single hand). You can also be able to improve your existing bet as the hand unfolds through splitting, and a key component to the game is splitting, if you ask for our opinion we don't like this to be restricted.
Live Blackjack in India 2020
At SevenJackpots we believe that the only Blackjack solution you should consider playing online is the Live Blackjack at an Online Casino.
In our opinion, you don't have any other viable alternatives, and here is why. Before you go off and play there are some important differences between the various dealer's solutions that you as a casino player should know about, they can definitely make a huge difference on where you choose to play.
How to Play Live Blackjack
You begin by logging onto the casino of your choice that offers live Blackjack play. Pick the game with the online Blackjack rules you prefer, and "take" a seat at the table. You'll be seated with six other players and can talk to them between rounds and during the game.
There are always seven seats at a Blackjack table, which can make it harder to get a seat if the game is popular at the live casino and there are a limited number of tables. On our top blackjack casino list, you will find seats always open for you to try out.
Live Blackjack Payouts and Odds
Blackjack payouts depend on the casino. Traditionally, Blackjack payouts are 3:2, but many casinos pay out 6:5 or as low as 1:1. The lower payouts are typically seen at tables with lower betting minimums.
Blackjack odds have a house edge of .5 percent which means the player has the potential to lose .5 percent of his or her total bets to the house over time. In other words, someone who bets $100 may see a return of $99.50 on his play over the course of the gaming session. This is true of all Blackjack games no matter what the rules are.
Learn all the details from this fun video playing Live blackjack.
Blackjack Options
When you play live Blackjack at an online casino, you have a bar of icons on your screen that shows you your balance and controls for your bet and play choices. The dealer tells you when to place your bet and lays out the cards face up on the table in front of you and the other players. You make your decision of whether to hit or stay by selecting the appropriate icon on the screen.
One of your options when betting is to make a side bet known as insurance. It's betting on the odds that the dealer has a Blackjack. This option is available when the dealer has an exposed card that's an ace and pays out 2:1 if the player wins.
Live Blackjack Varieties
Blackjack is a game that offers many different styles of play and rules. The core of the game stays the same wherein the player tries to reach 21 or beat the dealer's hand. Something to keep in mind about Blackjack rules: if you're playing a globally accepted set of rules, they're the same in India games as they are in Germany. Your online Blackjack strategy will also work the same no matter where the casino is located because of the universal nature of rule sets.
Where should I play Live Blackjack then?
We understand that all our blackjack players are different in the same way we are, we have therefore compiled a list of all our favourite live casinos offering Live Blackjack together with their software suppliers including their game rules listed. You can easily compare them and cherry pick what's best for you!
Our Summary of Playing Live Blackjack
We at SevenJackpots are literally in love with Live Blackjack, and it's actually our favourite casino game! We have learned the hard way, by trial and error, endless hours in front of the mobile or tablet screen, days and nights. But to sum it up with some bullet points,
The Live Casino who are hosting the specific game
The rules depending on what game you're playing
The dealer, you like more dealers better than others
The software or casino provider
What time during the day you playing
Blackjack has been a classic game of all time but if you are thinking of playing some Indian games, then we recommend you to try a game of online teen patti, jhandi munda or andar bahar game too.