How Was the Study Carried Out
The SevenJackpots team was given access to business intelligence data by Casino Days, one of the leaders in the desi market (and a top-listed operator for a reason). We have broken down 10 months of aggregate data – from January 1 to October 31, 2022 – in terms of monetary turnover and active user shares by single games, provider companies, and their performance throughout the year.
Turnovers describe wagered amounts expressed in shares relative to the totals played through a given game or provider. These do not subtract winnings that were paid out. The latter are often above 90%, with some games known for returns-to-player (RTP) above 97% – roulette, blackjack, baccarat, and even some slots.
Turnovers have substantial granular detail on the performance of a game or a provider as a whole. Provided on a monthly basis, they allow us to review a game's popularity or the success of a gaming studio in holding player interest beyond an initial wager. We have also highlighted turnover shifts in the last three months of the surveyed period (August – October).
We have also analyzed the shares of players that have placed a bet on a certain game or all titles by a provider. "Actives" are reported both in terms of repeat players – those that placed a bet at least once but adding up to over 100% when all returning players are considered – as well as unique active players.
What Types of Games Are In-Demand?
The table below represents the top game categories available on Casino Days, ranked by provider turnover in the course of 2022 and the last three months available.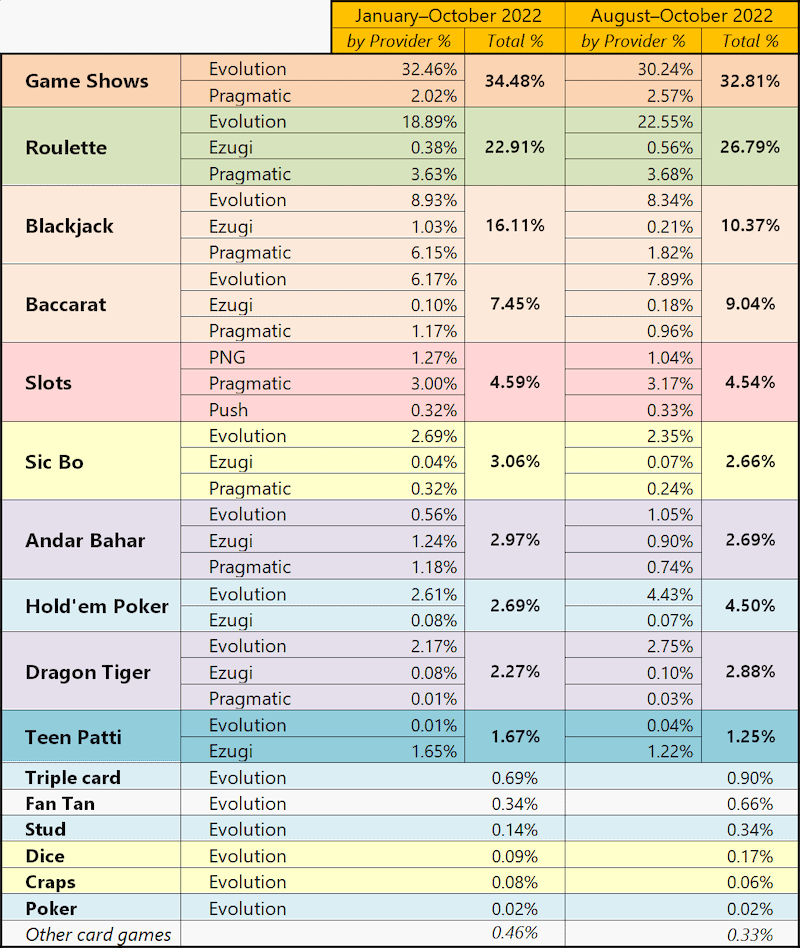 We can clearly see that game shows are rated exceptionally well throughout the year, bringing in around a third of the entire casino turnover.
Roulette, as a category, remains the single most important type of game for the operator, as well as for the leading game providers. It amounts to about a quarter of the total platform turnover, even improving in the last trimester (26.79% across all providers).
Among top-ranked card games, we have simple classics like blackjack (16.11%) and baccarat (7.45%), followed by Asian favorites like Andar Bahar and Dragon Tiger, both slightly under 3%. All of the above are card-comparing banking games where players obtain results within the first drawing or shortly after (2-3 cards).
In between, we see poker derivatives like Hold 'em, Stud, Triple card, and the evergreen desi pick, Teen Patti. Altogether, poker-related games add up to nearly 7% of the operator turnover.
Which Game Providers Stand Out in Indian Online Casinos?
In terms of game development studios, we can also clearly see that Evolution is the undisputed leader, being the single provider in several categories or at least in the top 3 for every game type.
The Swedish company also owns another one of the leaders, Ezugi, dubbed a "sister brand" dedicated to live casino development. Ezugi has historic visibility in emerging markets like South Africa and Latin America but has been growing in established ones like the EU and the US.
Pragmatic Play is a Malta-based industry heavyweight owned by an investor group (IBID). Originally more focused on slots, Pragmatic soon realized the potential of immersive genres and live casino tables.
Play'n GO (Swedish) and Push Gaming (UK) are independent providers, mostly or exclusively dedicated to producing online slot games.
These providers emerge as the most successful ones, often the only ones in a given segment with relevant turnovers or player shares. Their comparative performance is provided further down, including its variation over the examined period.
Why Game Shows Dominate the Casino Landscape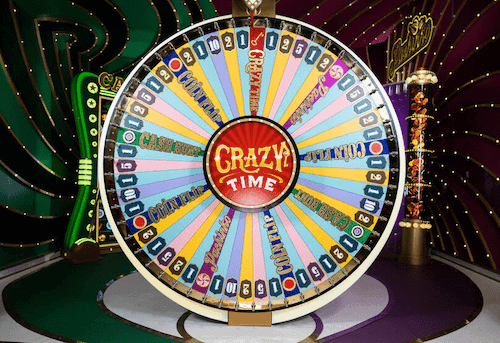 While TV game shows have been around for decades, their live casino adaptations have been making waves in the real-money gaming industry for the past few years. Online game shows merely exploited a demand which had always had the public consensus. Until recently, however, only large media outlets and expensively equipped studios had the potential to broadcast similar shows – and even then, the participation was one-way for the broader audience.
The revolutionary new genre kept features familiar and appreciated by most players – the real-time excitement of decision-making, the virtual representation of a social event, charismatic hosts, and easy-to-grasp game rules. Moreover, there has always been a reference to elements of skill, even if there is little or no knowledge involved.
Chance-based TV games like "Wheel of Fortune" and "Deal or No Deal" are symbolic of the binary decisions or wagering-motivated behavior they require. Not surprisingly, these were some of the first game segments replicated for online casinos.
Using "Deal or No Deal" as a case study, psychologists have researched the dynamic decision-making environment in game-show settings. The so-called "static models" of choice cannot be applied as contestants rely on themselves alone, with little or no tangible data or external input, raising the thrill levels along the series of decisions.
Studies have also drawn parallels with stock market pricing and investment decisions, particularly with regard to the perceived (short-term) future consequences.
Other popular hit shows like "Who Wants to Be a Millionaire" and "Let's Make a Deal" found their Indian TV equivalent in Kaun Banega Crorepati and Khullja Sim Sim, respectively. The success of shows that simulate a player-centered prize competition is, therefore, largely anticipated in the live casino genres available to Indians.
Interestingly, control group tests have revealed that players are less risk averse when put into more anonymous settings, instead of being in the spotlight. That is to say, players might enjoy taking risks without public judgment or scrutiny or just what the controlled environment that online games provide.
The element of trading introduces the right amount of non-binary choice variables to stress the importance of personal decisions in winning a round or a game. While TV programs have gradually switched to more knowledge- and skill-based shows – quizzes, teamwork contests, etc. – luck-based games are resurging and thriving in online settings and on people's mobile devices.
The Game Titles That Providers Bet Upon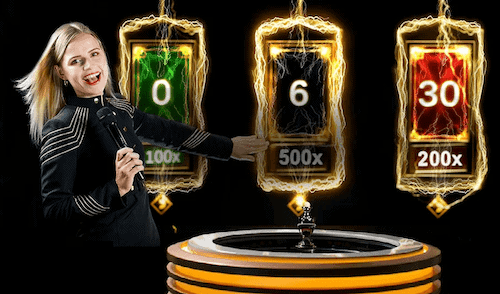 Going into more detail on game titles, we see that game shows merely represent the prevailing "taste" of modern-day casino players. In general, in-demand games have a live dealer (or a host) and resemble an event rather than a detached experience.
In that sense, we had already noted a growing "convergence of tastes" between global casino audiences and Indian players. Even more traditional Asian games that always get plenty of mobile casino traction are mostly sought after in a live studio version. This allows desi players to enjoy dynamic and original content within familiar game rules. Live dealers or hosts are an essential element of practically every top-ranked game category, save for slots.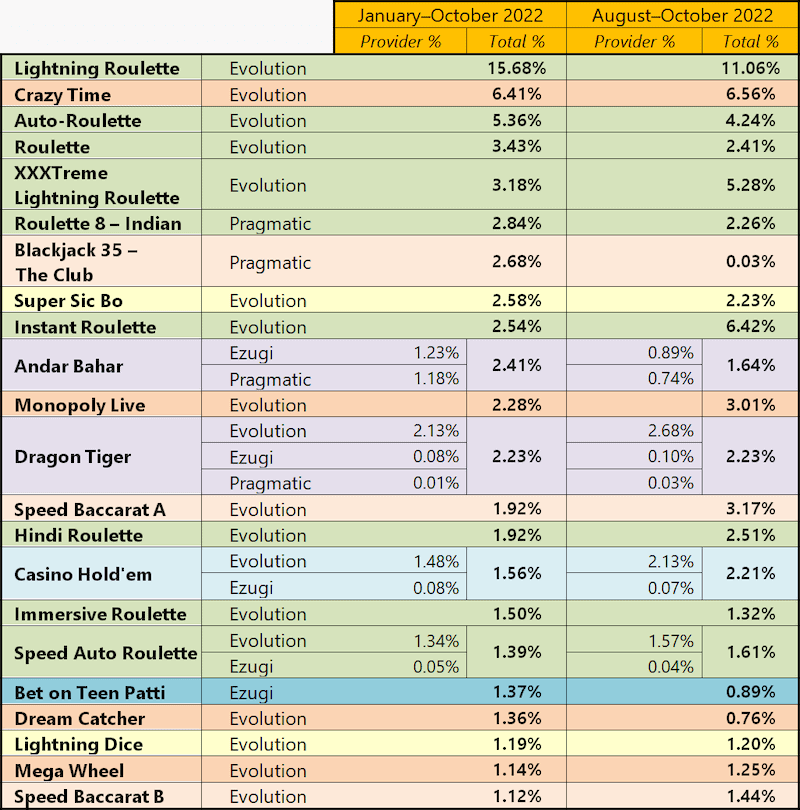 All the games in the above ranking include one or more features based on Augmented/Virtual Reality (AR/VR), multi-dimensional views, and in-game intervention methods (touch, type, voice, camera). These improve the participatory feeling and go beyond the one-way gaming that was characteristic of online casinos until only a few years ago.
Something as simple as chats with dealers and other players stimulates participants and creates a bridge between casual gameplay and real-money thrills. However, now the industry has the means – visual, technical, and interactive – to get players involved, make them feel in control, and recreate complex settings like those of a game show studio and a live casino floor.
More specifically, casino operators pay particular attention to the leading single game type, the live roulette table. Lightning Roulette is reportedly one of the biggest live roulette tables in the industry. In fact, Evolution claims that the informal title applies to both land-based and online casinos!
Instant Roulette has 12 synchronized wheels that spin one after the other, as a ball is dropped in various wheels and assures almost constant spins to bet upon (wagers are assigned to the closest one to start). Even Auto Roulette is set in a live studio, despite having no dealer present to announce results.
There is an important distinction to be made about roulettes, however. Game providers may consider some of them to fall within the Game Show category based on event hosting and game features. On the other hand, many of the Game Shows are based on spinning a wheel. The common traits are also numerous – the live dealer or host, the attractive visual setup, various side bets, games within the game, second-chance prizes, and AR/VR elements. This makes some games crossover between genres based on a provider's or operator's discretion.
Blackjack also ranks within the top five categories and top ten single games. It is, however, split over multiple tables cited as different game titles – this case study alone considers 153 blackjack tables, to be exact. Players choice ranges from limited-access tables to massively scalable rooms (e.g. Infinite Blackjack, popular for its unlimited seats, low bet limits and optional side bets).
Baccarat has 83 tables/titles at Casino Days and is quickly catching up with blackjack in the card-comparing banking games (played against the house).
Card-comparing games are popular for having a low house edge, around or even under 1%. The biggest difference comes from the betting options. Blackjack, for example, has players betting on their judgment of point totals after a drawing round, while Baccarat allows at least three betting options – player, dealer, and tie (not counting side bets and variants). This leaves such games simple to grasp and quick to play yet with a sufficient range of player decision-making. Moreover, Blackjack is known to have an element of skill and is the choice of many experienced players.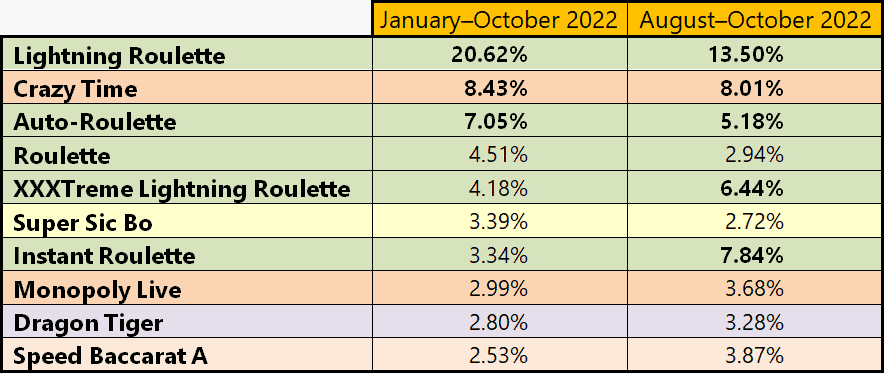 The above table shows that five of the ten top-performing games by Evolution are roulette titles. For the year running, Lightning Roulette has brought over 20% of the casino turnover. However, based on the above game concepts both the Lightning and XXXTreme variants are placed in the Game Show category.
Crazy Time maintains the second position within the provider's internal hierarchy based on turnover and across the casino platform. The game is an upgrade of the hit Dream Catcher concept, with a simplified money wheel enriched by multipliers, bonus games (Cash Hunt, Coin Flip, Pachinko, and Crazy Time), and various AR elements adding to the excitement.
Monopoly Live also has a live host and is based on a wheel of fortune that includes Chance, 2-Roll, and 4-Roll segments. Enhanced by a 3D bonus round, the AR Mr. Monopoly reproduces a mini-game within the game.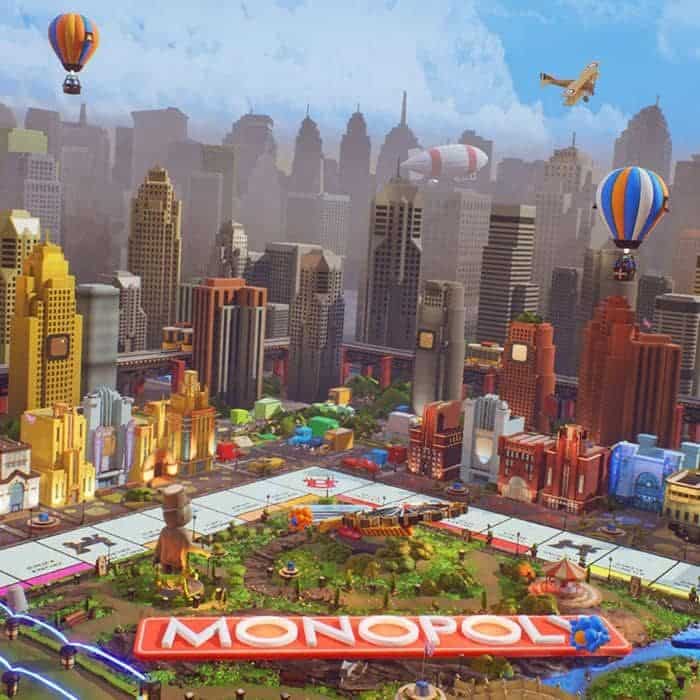 The top six games provided by Pragmatic Play and Ezugi are shown below, based on shares of provider-level turnovers generated.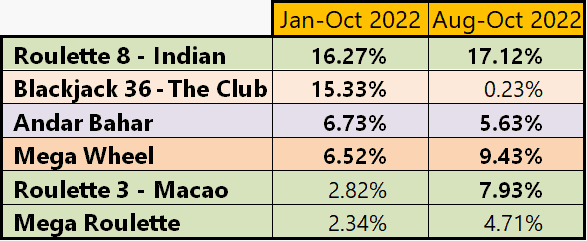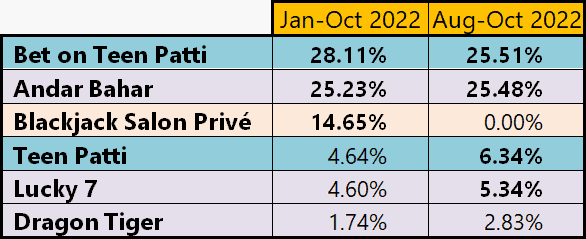 The above tables emphasize a trend already transpiring in the general ranking of operator-level games and categories – blackjack has been sliding rapidly down in the last three months. However, that could be only temporary, and we would need year-on-year data to define a lasting drop in demand.
Beyond roulettes, we see an overall preference for simple and quick "dual-choice" games – Andar Bahar, Lucky 7, Dragon Tiger – which sees players choose among under/over, left/right, or binary bets.
And, perhaps justified by company strategy, we see game studios concentrate on what they do best, provided it has sufficient player demand. Ezugi makes only live games but specializes in card tables, while Pragmatic builds upon hit titles in roulette and other major categories.
It is undeniable that slots have also made a lasting mark on Indian online casinos. We see this particular user pool valuing them at slightly below 5%, which is a fair share considering that new-generation games and trends push live casino titles well above the rest across the entire industry. More importantly, we consider over 500 slot titles in this paper, an indicator that the segment is still attractive and competitive enough to warrant both provider and player engagement.
A couple of the studios in the top five provide mainly or only slot games. These are Play 'n GO (PNG) and Push Gaming, with top-rated games shown below: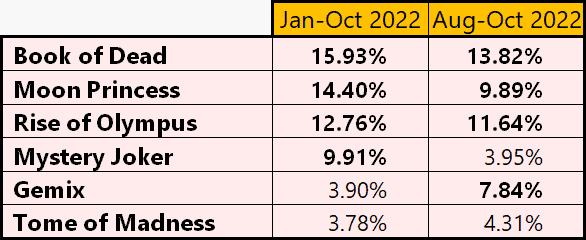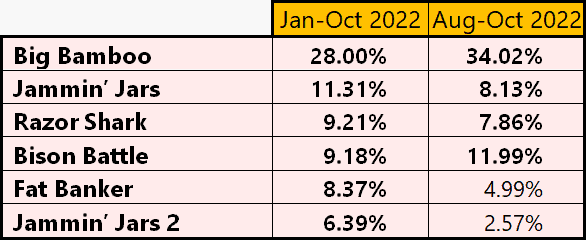 Historically, slot titles have always been quick to shoot up in popularity or fall into oblivion when a new hit game emerges. Only a few remain as classics (such as Book of Dead), even after a few years time.
And lastly, a particular trend emerges only when we look into regional language versions of the most popular game, live roulette. Although Evolution produces the tables that generate 96.25% of the total turnover on Casino Days since the start of the year, we see that almost one in six players prefers playing a native-language version, albeit only a few are available.
Hindi roulette tops the list, with as much as 9.69% (10.04% total with Hindi Lightning) of the turnover in the Roulette category in the last trimester. We also see a rising demand for Japanese roulette at 1.51%, Turkish at 1.35%, and Brazilian at 0.58%.
How Market Leaders Perform over Time
Altogether, we have data on 99 game studios providing over 5500 games. Besides the leaders we saw above, the likes of OneTouch Live, Relax Gaming, Spribe, Playson, Booongo, and Bombay Live all have relevant shares near the top, ranging between 1 and 5 percent of active players.
An emerging studio is also included in the graphs below – OnAir Entertainment – showing great potential and recording sustained growth in the past few months.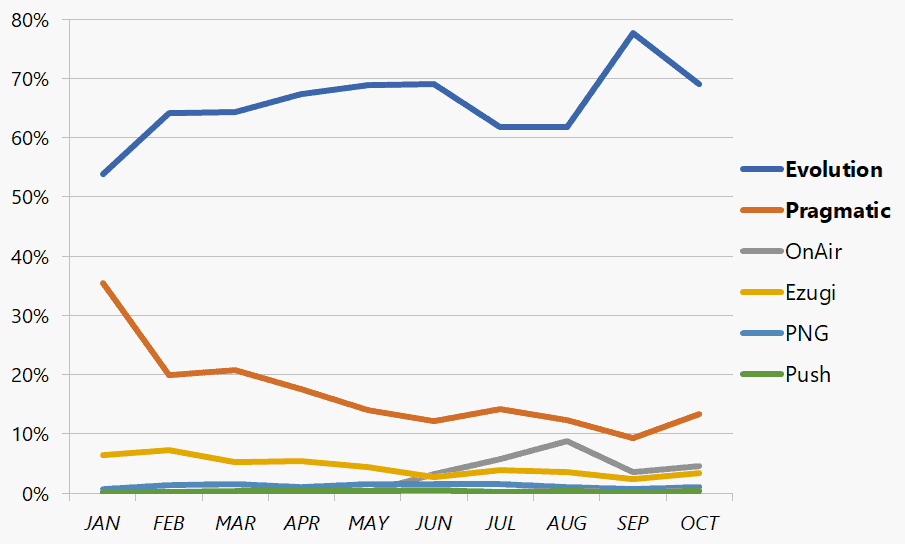 Of course, we have confirmation that around two-thirds of the sums wagered are on game products from Evolution. They are also chosen by about a quarter of all unique players, even growing towards the end of the surveyed period.
This, however, is also where Pragmatic Play gets somewhat closer. Its games are played by nearly one in six users as the provider recovers from a mid-year slump. As a counterargument, it fails to hold as many repeat users, affecting the general turnover generated.
Despite struggling to yield even 4% in terms of turnover, Ezugi games still get sustained traction at 6% of unique users.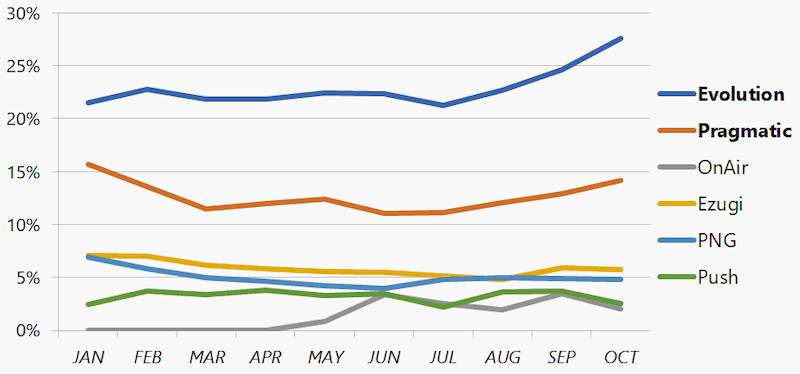 Play'n GO also has a higher relative share of active unique players (~5%) compared to the total deposits they've brought in (~1%). We see a similar case with Push Gaming and their slot popularity compared to the amounts spent playing them.
We need not forget that slots – the main output of both Play'n GO and Push Gaming – are characterized by high RTP. Hence, slot turnovers are less often new deposits and more often "recycled" amounts, making them convert less player activity into deposit volumes. That is valid, especially when compared to the leading macro-category, game shows, but also to poker variants, sic bo and dice games, and others.
OnAir Entertainment is a young game development studio with blackjack and roulette as top products. It has moved into the top five in terms of turnover, passing 5% in the trimester leading up to November 1, 2022. They also sit just outside the top five in terms of repeat active players (8.64%), posting a substantial growth in demand for their products (an 80% rise in turnover and 34% in terms of active players).
The table below ranks the most popular games overall regarding turnover shares and active players, including recurring users.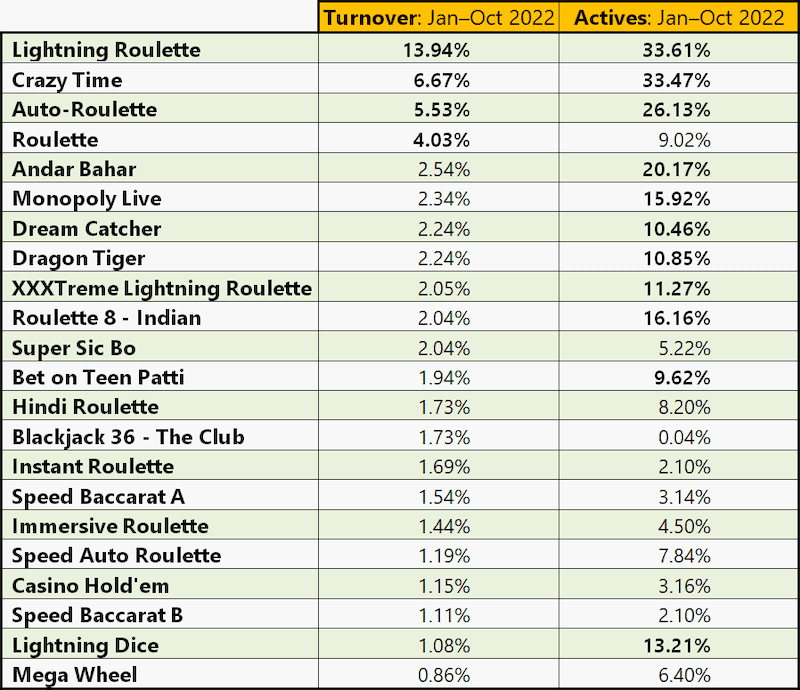 Indian Casino Gamers Showing Maturity
The fact is that classic casino games and game shows have universal appeal. Their live versions have boosted the online gaming industry offering a simulation of social settings and innovative game features with the help of the latest tech solutions. The result is an immersive experience drawing unprecedented levels of player engagement.
The above data also makes it evident that the online casino industry is often converging toward the leadership of a few providers. A case in point is provided by Casino Days, but many other real-money gaming platforms can testify to that. The segment remains dynamic and competitive with hundreds of globally renowned game studios and thousands of games fighting for player attention.
Ultimately, success comes down to several popular genres since many game titles are found in alternative versions at various operators. Game shows top the list, with roulette and card-comparing games not far after.
However, almost all current hit games are broadcast live from dedicated casino studios. Where possible, games crossover between genres, offering additional incentives, occasional prizes, random wins, multiplier chances, and bonus games. All of these elements nurture the impulsive side of one's playing experience.
Real-money gamers in India have also developed a liking for roulettes, game-show wheels, and quick-play card games. Desi gambler communities follow and drive these global market trends, pushing gaming studios to create even more dynamic, colorful, and engaging games.
The Indian market shows remarkable maturity levels, with players ready for next-generation gaming products and solutions. Industry regulation remains sub-par, but as it often happens, market forces can evoke legislative changes sooner or later.
More Research Papers