Key Reasons to Regulate the Real-Money Gaming Market
Regulating an industry always involves political considerations besides financial ones. Regardless of definitions or monetization schemes, online gaming and gambling in India are known to generate immense turnovers for both legal and black market operators. This creates spill-over effects with social significance, causing market experts and consumer protection groups to evoke the need for rules to be set up.
An important existing industry is exposed to risks that translate into risks for its users;
The wider public interest needs to be protected – e.g., in terms of tax collection, job creation, and consumer protection;
Regulation will bring transparency to the sector and assure investors it is stable.
Technologically advanced gaming sites and online apps are known to work with sensitive data. The majority are also difficult to control, especially when based offshore. This makes online gaming a prime example of a sector where foreign companies avoid being held accountable for taxes and local laws.
Admittedly, the Centre has tried to establish certain standards to protect consumer rights and monitor cyber security. Since 2021, tech giants like Facebook, Google, Netflix, and Twitter have been consistently challenged over their tech dominance in the Subcontinent. Rules regulating social media, streaming services, and online news outlets might seem justified by their relevance to society and national security. The truth is, whenever there is plenty of money involved, regulation comes sooner or later. And for online gambling, the market has been ripe for a while.
Of course, regulation is often set up to eliminate any undesirable effects of an industry. Yet we rarely see these efforts exhausted with a few information campaigns or ad hoc supervisory agencies. Regulation initiatives on a broader scale are needed to set up precise roles and jurisdictions, responsibilities and requirements, sanctions, and monitoring mechanisms.
As noted above, businesses that attract regulatory attention tend to have a significant economic impact. Gaming companies incorporated in India would have to pay taxes and abide by local laws. At the same time, offshore gambling is a sector vulnerable to cashless payments that are difficult to trace and, consequently, tax evasion. A centrally regulated domestic market provides transparency and ensures direct and indirect (GST) tax collection.
How Much Tax Revenue Could India Get from Regulated Gambling?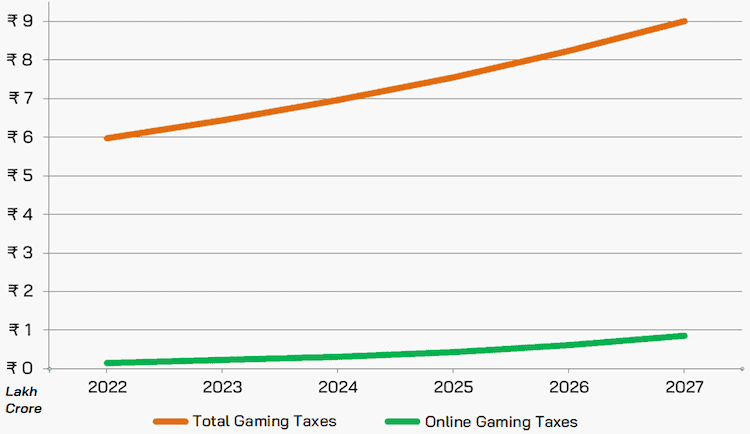 If we start by explaining the taxation potential of legal gambling and online gaming markets in India, we can provide pragmatic proof that speaks louder than any moralistic or political statements.
A 2019 KPMG report estimated the Indian betting and gambling market at $130 billion (₹950,000 crores), growing by roughly 7% over the last six years. These figures give a pretty good idea of the enormous potential that currently unregulated markets have for the Treasury – especially since neither the desi gaming market nor the global gaming scene is likely to slow down their growth for the time being.
A more recent (2021) report from Deloitte India calculated that online gaming alone is worth $2.8 billion (₹22,500 crores at current exchange rates). While much smaller in monetary terms, the online gaming segment maintains an astounding 40% growth rate – and already represents 10% of India's Media and Entertainment economy.
In a regulated and legitimate business environment, this kind of economic output would be subjected to Bharat's taxation system. Considering 30% revenue tax, 12% surcharge, and 4% Health and Education Cess, about half of a company's earnings are collected back as taxes. Foreign companies become liable as well – as is the case of major gaming operators – and they cannot benefit from reduced corporate tax rates for domestic companies. Keep in mind, we are not counting job creation effects, salaries for supporting domestic tech startups, or any licensing fees.
Based on the above market sizes, by FY 2027-2028, online gaming operators would be contributing nearly ₹1 lakh crore in annual revenue taxes. Should India manage to bring the entire gambling sector out of the grey economy, taxes alone would pass ₹9 lakh crore by the same fiscal year. Something that the Centre currently only collects a fraction of.
Why Not Simply Play at Unlicensed Online Casinos Online?
Unregulated gambling comes with a number of risks to consumers and the public interest. Exposure to negligence, fraud, and other criminal activity is only one side of the coin.
Players receive poor service quality – no gameplay transparency often means unfair losses (payment fraud), odds tampering (Random Number Generation, RNG or Return-to-Player, RTP), and even real-world event manipulation such as match-fixing.
Governments need to mitigate the negative social impacts of unregulated markets – ranging from unchecked access by minors to increased problem gaming. Missing out on the tax revenues cited above leads to fewer funds for welfare programs and awareness campaigns. And finally, regulation lowers money laundering and corruption and improves the business climate.
How Should India Approach Its Online Gambling Regulation?
Online gaming is a high-tech sector, and economists claim that authorities should not aim to regulate technology itself. Governments need to follow up on taxation, personal data protection, fair competition, and tech transparency.
European states also used to have the monopoly on gambling – akin to India's legal government lotteries – but have gradually shifted from direct operation to licensing and regulation. Crucially, while opening the sector to competition, authorities have allowed certain independence to industry associations that provide varying degrees of self-regulation.
This approach has proven to avoid conflicts of interest and government corruption. Even more importantly, the best gambling platforms have always taken these kinds of opportunities to stand out and demonstrate their integrity to the public eye.
Other examples and good practices in setting up effective gambling regulation are not hard to find: the UK Gambling Commission attends to aspects like licensing, monitoring and taxation first and foremost. Corruption and lobbying are rooted out with precise legal definitions and elevated consumer protection standards.
Without political and legislative experience on the topic, even business consultants and UN Agencies can complement domestic lawmaker efforts. Global practice shows that many difficulties in regulating digital markets stem mostly from the very nature of new technologies. Therefore, the regulation needs to be adaptive, data-driven, and collaborative so it can bring benefits to citizens and businesses alike.
On the other hand, similar markets can be monitored digitally more easily. A few examples of how gaming tech companies operating in India can be made to follow simple yet effective regulation mechanisms include:
India's unique Aadhar ID makes digital identification much easier. It could help with age verification (for minors), outreach to problem gamblers, and online abuse prevention;
Self-regulation is also easily enabled by setting up customer profiles – self-exclusion and limitation mechanisms, national registers for authorities to monitor gambling activity and prevent fraud against and on behalf of players;
Responsible marketing is also more precisely targeted and tracked via digital channels. A basic licensing requirement, honest advertising will have to disclose full Terms and Conditions for its offers and promotions, while excluding problem gamers and minors is also easier online. When given a chance to advertise, licensed operators raise awareness and safer use and set apart legal platforms from shady websites.
Built-In Safety Nets Are Indispensable
In general, digitization greatly facilitates consumer protection. Gambling regulators require and encourage the integration of responsible gaming (RG) policies through various "safety nets." Digital tools help make these commitments an industry standard for developed markets:
Play-speed limits (e.g., 3-second spin stops);
Obscuring "false wins" (when the wager is bigger than the win);
Banning reverse withdrawals (immediate re-gambling of one's winnings);
Pop-up warnings and RG disclosures.
Some gaming operators go even further and have implemented an Artificial Intelligence (AI) algorithm that predicts problem gaming behavior and issues recommendations for self-exclusion. As a rule, most European countries have a shared self-exclusion register.
Protecting minors is a must for any responsible society. Restrictions on player profiles, game types, location, content, and user targeting are effective in avoiding such negative social effects. Safeguarding minors can also be complemented by education and awareness programs, mandated by licensing schemes and funded by state or national Gambling Regulator incomes.
Safe gambling practices can help develop quality regulation – in policy and practice – and serve as its basis. On the other hand, gaming companies tend to readily accept clear government rules when the industry is allowed to self-regulate and coordinate RG standards.
Consumer Protection as the Basis of a Fair Digital Market
Well-regulated markets tend to move from general data protection to more elevated gambler security, which is particularly important in online operations. Safeguarding consumers does not only mean preventing exposure to minors but also limiting data collection for commercial purposes, as well as strong privacy protection. The EU GDPR, for example, is among the best regulations on the topic there is.
India's Consumer Protection Act (2019) includes Rules and Regulations for e-Commerce, state Commissions, and a Central Consumer Protection Authority. It does represent a step in the right direction, albeit insufficient and imperfect. Without claims to exhaustive consumer protection measures, a national gambling regulation can introduce checks and monitoring for some industry-specific features.
Regulators can handle direct consumer complaints that have not been successfully resolved with operators. They also promote guidelines, procedures, and designate agencies that facilitate grievance resolution, including NGOs, professional public mediators, and other help channels. Technology makes it easier for websites and authorities to monitor such standards and improve customer protection.
Responsible Gaming Policies – Signs of a Maturing Industry
Problem gaming is possibly the most sensitive issue in gambling. "Responsible gaming" has been established as the industry flagship to gain player trust and society's approval. RG requires both mandatory player protection and self-control tools. Examples of leading RG practices include:
Self-exclusion as a cornerstone – easy enlisting, accessible registers, efficient time-outs;
Operator obligations to protect problem gamers – verify digital identities; avoid sending them commercial offers; transaction limits, login times, and other limitations are also widely used;
Blacklists for those excluded for fraud, bankruptcy, professional gambling, or other criminal offenses. Blacklists go either way, however, with companies possibly ending up in one, too.
Learning from the Best
We have studied in-depth regulation scenarios that are compatible with the desi market. Gambling markets that are considered mature are usually well-calibrated and regulated.
Sweden, for one, has a long gambling tradition and initially relied on offshore sites. State monopoly on legal gambling was dropped in 2019, opting for a licensing regime through a Gaming Authority. Key elements include RG and consumer protection, providing access to the local market in exchange for responsible business practices. The regulator imposes weekly deposit limits, anti-cheating measures, and forbids gaming on credit. Digital monitoring allows authorities to block payments to unlicensed operators while ISPs send warning pop-up messages when AI detects such a site.
Malta has long been considered an offshore jurisdiction, despite being part of the European Union. This is partly because the Malta Gaming Authority (MGA) historically had low licensing fees and tax rates. But it has always granted first-rate international gambling permits. In 2018, a new Gaming Act was adopted that made licensing requirements flexible and simple as a response to digital evolution.
Still, the MGA's highly reliable licensing procedures take about six months to process, including a detailed list of features and fees. Applications need a business plan, site policies, and complete game certificates (i.e., RNG algorithms, among others). Authorities also require proof of origin for company finances as an anti-money laundering measure.
Despite these stringent requirements, the pragmatic and flexible public-private collaboration has brought the gaming industry to contribute as much as 12% of Malta's GDP over the years. There are more than 300 licensed online operators currently registered there.
Denmark also formally regulated online gambling in 2017. Its Gambling Authority requires separate licenses for remote casinos, poker, and sports betting. Lotteries (like in India), bingo, and scratch cards remain a state monopoly. Of course, all games are available online, which would make a crucial difference in India's case.
Germany was somewhat late with its regulation efforts – a national licensing regime for online sports betting was only adopted in 2020. German states also agreed on a reform imposing a licensing scheme on online slots and poker. Application requirements include deposit limits, maximum wagers, and advertisement restrictions.
Online casinos are also separately regulated by state jurisdictions. The national Supervisory Authority allows state differences on specific games but keeps common standards under a Unified framework.
We see a common trait in most countries we studied – a Commission is established and run by the Central government to ensure uniformity in the online gambling industry. Even in cases where a national agency of that kind is impractical – like in the US, where there are 30 Gaming Control Boards or Commissions – state regulators bring clarity and order and make sure that local rules do not contravene Federal laws.
Industry experience also shows that over-regulation is never an option, just like a blanket ban isn't. Sweden saw a growth in unlicensed casinos when too many gambling limits were imposed on licensed operators (which saw much lower channeling of local players to their sites than previous years). Spin-stops and spending limits became a few too many, leaving the market vulnerable to offshore sites instead. The latter were simply unwilling to observe requirements on deposits, timing, and data sharing as the foundation of secure gaming environments.
In India, when classic horse-racing betting was opened to online transactions (initially over intranet terminals), company revenues and state tax incomes rose sharply. But when GST was imposed nationally in 2017 (and later raised to unsustainable 28% levels), many regular players moved over to black-market bookmakers or foreign sites. "Milking" the industry excessively is also not a good idea.
In any case, the global trend toward regulation is undeniable. Most recently, young markets like Peru approved an online gambling regulation. The Ministry of Foreign Trade and Tourism established a "special tax" of 12% for online gambling, a large portion of which will go to social and welfare projects. The Uruguay Senate also approved a Bill to regulate online gambling under a General Directorate of Casinos.
Challenges to Effective Regulation
Many difficulties in regulating (online) gambling are purely administrative; some are technological, and others are cultural. Crucially, effective regulation depends on India's capacity to enforce these rules. And with the fragmented legal scene across the Union, the challenges are evident.
India's states seem to be holding the key. Industry self-regulation is preferable in jurisdictions that have the legislative prerogative on the issue and want to maximize both fiscal and social benefits. This is the case in leading European countries as well as American and Australian states.
Self-regulation with a supervisory Gaming Commission is also more efficient and faster to adopt. National standards are still needed, making a legal framework set up by Central legislators inevitable. There are also business challenges – including technological and ethical issues – which make the whole process very tricky.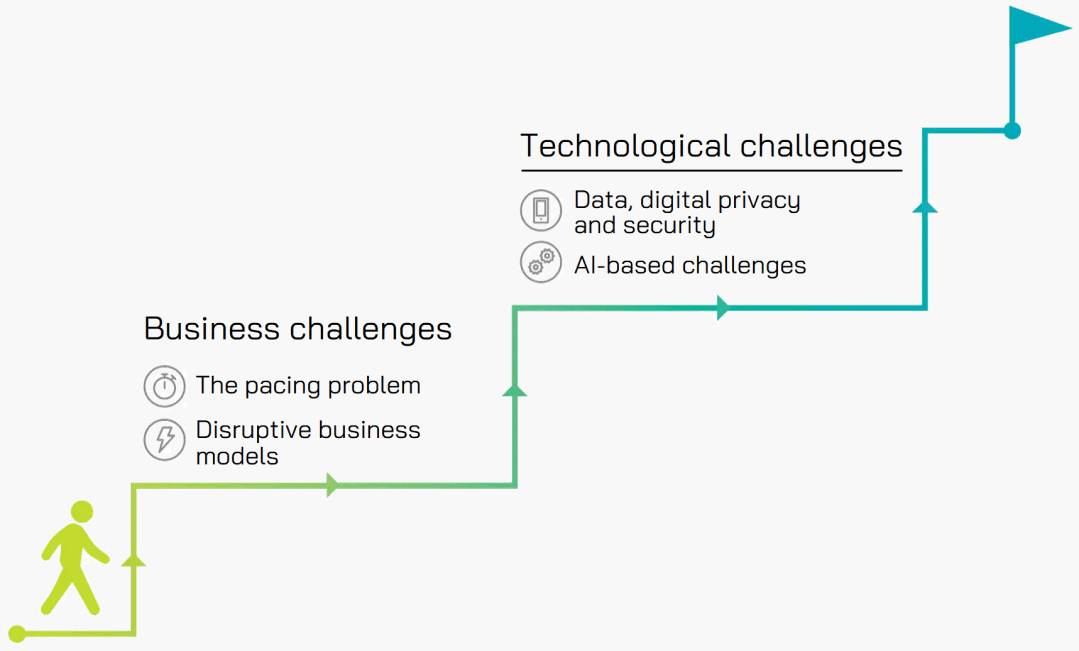 Potential challenges include:
Technology will keep developing faster than legislators can regulate;
Disruptive technology crosses industry boundaries (and definitions) – this might lead to shifting liability from user to provider or vice versa – which is particularly relevant when AI is used for settings and gaming algorithms. Industry experts speak of the "black box" of AI, where lawmakers cannot understand said algorithms and legislate accordingly;
Gaming monetization also escapes definitions quite often. This is the case with many in-app purchases, loot boxes, etc.;
Digital privacy and information security need to be improved on a general level across India;
While proper self-regulation is the most efficient way to approach the issue of compliance and monitoring, conflicts of interest may be just around the corner.
In all of this, establishing well-thought general gambling standards that reflect global best practices should allow for flexibility across States and sustainable evolution of the desi market.
Recent Legislative Developments in India
If we analyze the legal practice on the topic, we see that the Committee on Reforms in Cricket (in 2015), the Law Commission of India (in 2018), and recent court judgments (including by the Supreme Court) have suggested that betting should be regulated and taxed. It is not surprising that sports betting is seen as a gateway gambling product – it is India's most important, visible, and non-deniable form of gambling.
Accordingly, the Sports (Online Gaming and Prevention of Fraud) Bill, 2018, was introduced in the 16th Lok Sabha. It was detailed and wide in scope but lapsed with the dissolution of Parliament.
On 1 April 2022, an Online Gaming (Regulation) Bill 2022 (No. 78) was also filed in the Lok Sabha. The Bill noted that the online gaming market is set to double by 2025 and that gaming companies should obtain a license from a Commission to operate legally. Besides that, the Commission would oversee gaming servers, produce reports to the Centre and suggest measures to control illegal online gaming.
Without a doubt, this is a step in the right direction and shows that regulated gaming has entered India's political agenda. Yet, the Bill is "far from flawless," as market experts have noted. It does not distinguish real-money skill gaming from real-money gambling and, more worryingly, would criminalize the use of unlicensed platforms (meaning fines for players using them).
Successfully regulated markets aim to restrict access to unregulated platforms rather than punishing users. Simply because a superior, regulated, and safe product will always be the choice of the rational majority when compared to illegal and shady websites.
The bill also fails to define obligations licensees would have in terms of RG, data protection (personal and commercial), privacy, and marketing. There are also no Know-Your-Customer (KYC) procedures mentioned and no grievance redressal channels. Unfortunately, there has been no progress on the Bill at the time of writing.
In our experience, Indian states put more pressure on the system to get regulated (one way or another) in the absence of national-level efforts. Essentially, local governments have a choice between regulating and seeing a gap created with states that have put some order on their market. The latter would attract legitimate companies and more players, while those without any regulation will fall behind in the market, losing out on economic benefits and safety nets for their residents.
High Courts around the Union have repeatedly urged governments to fill the legal void around online gaming. Until recently, only Sikkim and Nagaland were known for having expressly defined online gaming laws and rules. Recently, the Rajasthan Virtual Online Sports (Regulation) Bill, 2022, was presented in an effort to regulate pay-to-play "esports," "fantasy sports" and "derived formats," collectively defined as "virtual online sports." As its biggest shortcoming, the Bill excludes all other online real-money games of skill and chance, even the traditionally popular poker, rummy, and classics like Teen Patti and Andar Bahar.
As it stands, the proposed Bill is quite limited and does not correctly represent the online gaming market in India. A proper Law would require a more inclusive definition of online games for money – not only skill games but also casual games that monetize their in-app features, as well as games of chance traditionally recognized as legal by courts and the Constitution (e.g., poker, rummy). An optimal regulation would include online casinos, lotteries, and other games as well.
Acting quicker than Rajasthan, Meghalaya became the third state after Goa and Sikkim to fully and officially legalize real money gambling. The Meghalaya Regulation of Gaming Act, 2021, was passed in March of that year, and by December, state legislators had the detailed Meghalaya Regulation of Gaming Rules, 2021 in place. The Meghalaya Gaming Commission is also India's first properly constituted state regulator.
Ultimately, the biggest challenge to regulation is that online gaming knows no physical boundaries, while gambling and betting are "state subjects" in India. Local legislation may be supplementary, but the Centre could use its powers under Art.249 of the Constitution and pass laws on matters of "national interest."
Currently, on one end of the legal spectrum, we see states like Telangana, Andhra Pradesh, Arunachal Pradesh, and Odisha, which have placed blanket bans on real-money online games. Their residents, however, could easily access websites with such games, just as those in liberal states like Goa, Sikkim, and UT Daman, which are known for their tradition of legal gambling.
A balanced approach would be the best solution, in our view. States like Meghalaya and Nagaland have established a regulatory framework that enables industry growth and protects the public interest.
Looking Ahead
In the end, regulation is intended to simplify and streamline complex market conditions. While public interest is the driving force behind such decisions, the result should be clear legal definitions, standards, and "red lines." Authorities also need monitoring and control mechanisms.
We have seen that the gaming sector is incentivized to self-regulate in most mature markets. This approach pushes industry associations to do a good job when given the chance and business stakeholders to improve their services under the rule of law. It is not only because mutual control is better than top-down government oversight, but because private actors are more efficient. Even so, they need Government guidelines and a main law to avoid abuse and conflict of interest.
The current regulatory uncertainty makes planning and investment difficult, ultimately blocking business growth. Should authorities decide to focus on the public interest, we could see an online gaming regulation sooner than later. Pragmatically speaking, this would bring enormous tax revenues to the exchequer. Thinking politically, it will help achieve higher ethics in the business by simply giving it more legitimacy and transparency.
More Research Papers