Top Rated Blackjack Casinos Online
Blackjack Rules in Short
Below you can find a quick guide to the main blackjack rules at online casinos.
A blackjack game is played against the dealer.
The game's goal is to make the dealer go bust (have them land a hand with a value exceeding 21).
The numeral cards have their face value. Face cards are worth 10, and Aces are worth 1 or 11, whatever creates the best possible hand.
The game starts with you being dealt two cards face up and the dealer one card face up and one down.
To make the dealer go bust, you need to decide whether to Hit and ask for another card or Stand and hold your total.
Once you have ended your turn, the dealer will show its hidden card. The dealer will Hit until they have 17 or higher.
When the dealer's turn is over, you compare hands, and whoever has the better hand wins.
How to Play Blackjack
Playing blackjack is easy, especially at online casinos. Check out our step-by-step guide on how to play blackjack online.
Place your base bet to enter the game.
The base bet can range from ₹5 to ₹10,000 depending on what blackjack table you play at.
Receive your first two cards.
When you have placed your base bet, the dealer will hand you two cards face-up. The dealer will also give two cards to themselves, one face-up and one card face-down.
Evaluate your hand.
Rate the strength of your hand in comparison to the dealer's face-up card. Try to calculate some possible outcomes based on what the dealer can get and the current value of your hand. A great tool to evaluate your hand is a blackjack chart.
Hit or Stand.
After evaluating your hand, decide whether you want to Hit to get another card to increase your hand value or Stand with your current hand value. Remember, you lose automatically if you get more than 21. You can Hit several times, and when you don't want to Hit anymore, select Stand to show that you are satisfied with your hand value.
Wait for the outcome.
Once you have selected Stand and the dealer has finished their turn, you compare hands. If you have the better hand, you'll win, if the dealer has the better hand, you'll lose. Some online casino blackjack games will give you an automatic win if you get blackjack (Ace+10/J/Q/K) while others wait to see what the dealer has. If the dealer has a blackjack as well it will result in a push, and you get your bet back.
The main rule of blackjack
It's often believed that the goal of blackjack is to get a better hand than the other players or the dealer, but this is not the case!
Unlike games like Andar Bahar online or Teen Patti real cash, the main goal of blackjack is to beat the dealer. This is done by making them go bust, or by, at the end of the game, have a hand closer to 21 without going over, than them.
In other words, the hand of any other player at the table is irrelevant and has nothing to do with your hand or your winnings.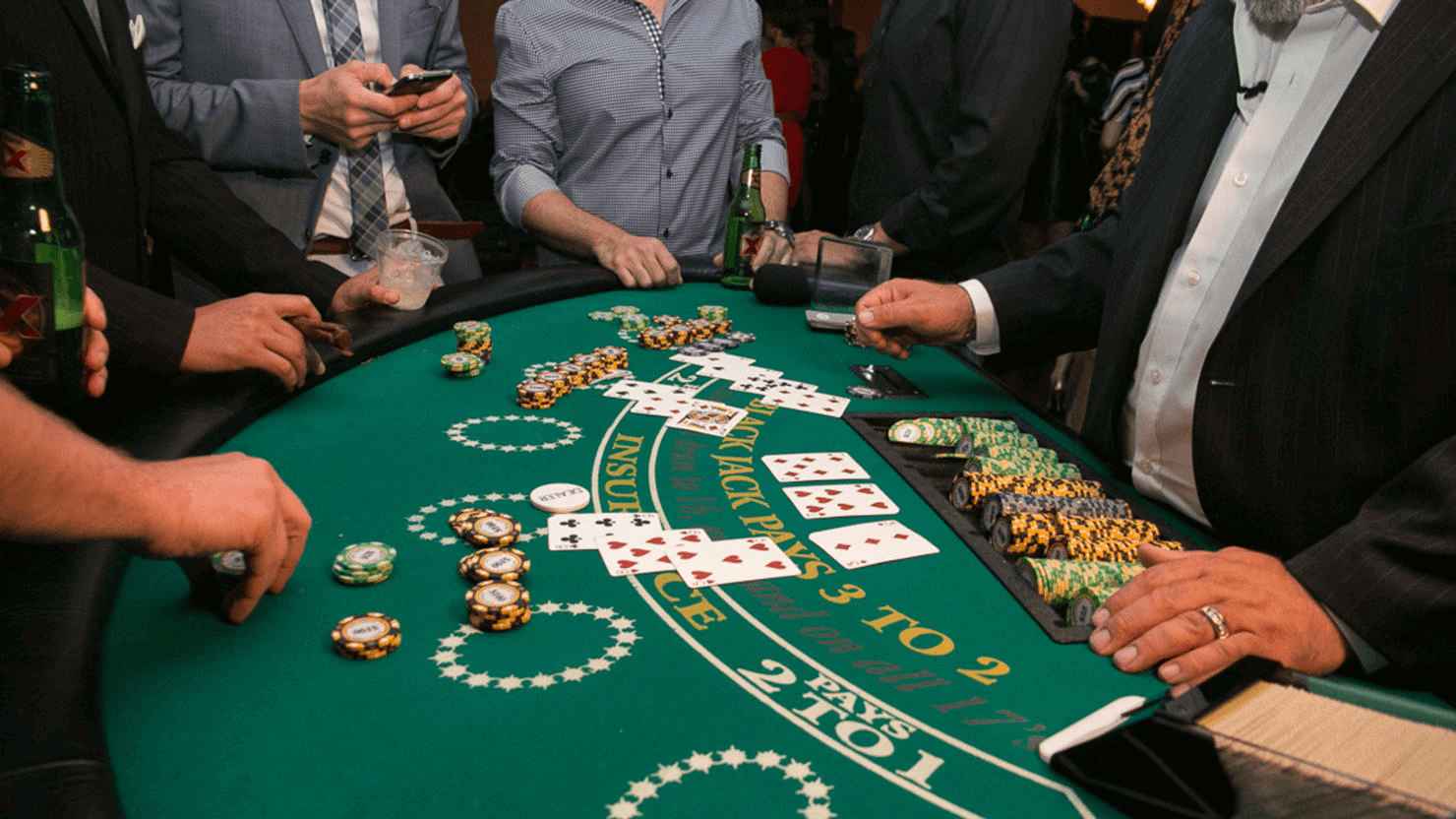 The Blackjack Table
No matter if you're an experienced player or just learning how to play blackjack when sitting down at an online live blackjack table, you'll start by choosing a seat.
If there are no seats available, you'll have to wait or decide to Bet Behind. But for the sake of it, let's say you've found a spot.
You'll notice a large round area where to place your generic bet, and areas for side bets, depending on the table. The side bet Perfect Pairs, and 21+3 are almost always available.
The centre of the table will also show standard rules for the particular table.
Blackjack Casino Rules
The basic rules of blackjack are simple but there are lots of moves you can do when you play casino blackjack.
Below we have compiled a list of Blackjack casino rules.
Hit – Get another card dealt to you.
Stand – Signals that you are satisfied with your hand, no more actions will be asked for the rest of the round.
Split & Re-Split – Two identical cards, or cards of the same value, can be separated to create two hands. When this is done, your stake is matched for the new hand, and you'll get one new card each per hand.
Double Down – Doubling your stake while receiving one more card. It's not possible to Hit after Doubling Down.
Surrender – Folding your cards and receiving half your stake back. This is very rarely done but done in some instances where the chances of winning are slim.
Insurance – Placing an Insurance bet costs half of your initial stake and will pay 2:1. If the dealer's second card is a 10, Jack, Queen, or King, the dealer has a Blackjack on their hand, and you'll win the Insurance.
Bust – The player or dealer "goes bust" if their card values exceed 21.
Bet Behind – The option of betting on another player's hand. It can be done as an extra bet when seated, or as a way of participating in the game while waiting for an open seat.
Natural Blackjack – Getting a hand valued 21 on the first two cards you're dealt. This hand will automatically win unless the dealer also lands 21, in which case it's a Tie.
Blackjack – Getting a hand valued 21 at any point in the game. This hand will automatically win unless it is Tied with the dealer.
Tie – Ending the game round with the same valued hand as the dealer. Your bet is returned to you.
21+3 – A side bet where the payout's size is based on a 3-card poker hand made out of your two initial cards and the dealers up card.
Perfect Pairs – A side bet that pays 30:1 if the first two cards dealt to you are of the same rank and suit.
Blackjack Card Values
All cards except the Joker are used in blackjack, which means that online blackjack is played with anything from 52 to 416 cards, depending on how many decks are used at once.
| Blackjack Card | Value |
| --- | --- |
| Ace | 1 or 11, whichever makes the better hand |
| Jack, Queen, and King | 10 |
| Numeral cards 2 through 10 | Same value as on the card |
The best hand you can have is called blackjack or natural blackjack and is an Ace with either 10, jack, queen or king.
Blackjack Dealer Rules
The dealer has a few rules to follow when playing. These rules can vary depending on the blackjack table, but the most common rule is that they have to Stand on 17 and Hit on 16.
This means that the dealer is obliged to give themselves a new card as long as their hand is less than 17.
A live blackjack dealer will never conduct betting actions such as Split, Surrender, or Double Down.
The rules of the player
You have no specific rules that you need to remember when playing blackjack at a real money casino site in India. All available actions are marked on the table when it's your turn to play.
However, it's good to know that online blackjack rarely allows Double Down after a Split. Even if it's offered at brick-and-mortar casinos.
Proper table etiquette is also important. This means not taking too long to make decisions, or being rude or unpleasant in the table chat.
Creating the best winning chances
Since the outcome of a round of blackjack is based on your actions, there are ways to increase your chances of winning some sweet rupees while playing!
Using an online blackjack strategy is, by far, the best way to maximize your winning chances. It is also a great way to make friends at the table.
It's also a LOT of fun to play like a pro!
Using a strategy for blackjack online, no matter if it's the basic strategy, shuffle tracking, or something different, is really easy, check out our guides and see for yourself!
If you feel up for it, card counting can also be used to give you that extra edge. Just keep in mind that Martingale isn't a suited strategy for blackjack.
More Blackjack Guides