Top Real Money Baccarat Casinos
How to Play Online Baccarat
The reason why Baccarat is such a beloved game is because of the simple baccarat rules. When learning how to play online Baccarat, the player bets on one of three possible outcomes:
Player win
Banker win
Tie
How does either of these outcomes win?
The Tie outcome is obvious; it means that both the Player and Banker's hand has the same result.
For the other two, it is the hand that comes closest to nine that wins.
Cards 2, 3, 4, 5, 6, 7, 8, and 9 have face value.
10, Jack, Queen, and King are worth zero.
An Ace is worth one.
How a round of Baccarat is played
You place your bet; Player, Banker, or Tie (plus any side-bets you might want. We'll get to those later.)
The dealer deals out two cards each for the Player and Banker. (Cards are dealt face-up, or face down, depending on the casino, provider, or game type.)
The winning hand pays out 2:1.
Now, there are two situations to keep track of that will alter the above round slightly: The two dealt cards adding up to over nine or under five.
If the total value of the two cards is over nine, the first digit of the number is removed. For example, if two-eighths are dealt, the total value is 16. In Baccarat, this is counted as six.
If the total of the Player's cards is five or less, another card is dealt to the Player.
If the Player stands (has a value over five), the Banker gets another card, IF their value is five or less.
Side bets in Baccarat
The side-bets available to you depend on several things. It depends on the type of live Baccarat game that you are playing. It also depends on the provider offering it.
That said, there are still a few recurring side-bets that you might find at online casino Baccarat tables.
P Pair: Pays 11:1 if the Player's first two cards make a pair.
B Pair: Pays 11:1 if the Banker's first two cards make a pair.
Either Pair: Pays 5:1 if the first two dealt cards to either the Banker or Player makes a pair.
Perfect Pair: Pays 25:1 if the first two dealt cards to either the Banker or Player is a suited pair.
Super 6: Pays 12:1 if the Banker's hand totals to six.
Top 3 Baccarat Casinos in India
Baccarat statistics and road views
Although it's easy to learn how to play baccarat, the statistics might not be as easy.
At first glance, you'll notice different grids on your player interface. Inside the grids are red, blue, or green circles.
Bead Plate
This Bead Plate grid shows several different outcomes. Each new outcome is added downward, starting from the leftmost corner. Once the first vertical row is full, the next outcome will be placed on the top of the following vertical row.
The colors represent the following:
Blue:

Player

Red:

Banker

Green:

Tie
The smaller dots seen on some of the numbers symbolize pairs. The upper red dot is a Banker Pair. The lower blue dot is a Player Pair. The numbers show the value with what the hand won (or tied).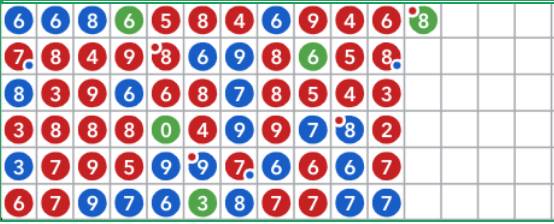 Big Road, Small Road, Big Eye Boy, Cockroach Pig
The big top section shown in this image is called Big Road. It keeps track of Player and Banker wins. Just like with the Bead Plate, green symbolizes a Tie, and red or blue dots are pairs.
From the image above, you can see that the Player won once, the Banker twice, then the Player won again while the Banker had a pair, and then there was a Tie, and so on.
The smaller circle grid is the Big Eye Boy, and this is where it starts to get complicated. Although the colors blue and red are used here, they do not symbolize Player and Banker.  Here, red shows repetition, while blue indicates the opposite. This grid is used to spot patterns in the game, as some players believe there's a higher chance of winning by following those.
We won't go into depth on exactly how to read the Big Eye Boy, Small Road, or Cockroach Pig for now, as they are very similar to each other, and explaining them will take us a day and a half.
If you want to go full Baccarat-nerd, check out our in-depth guide on Baccarat Roads. And have a Tzinga ready, things will get technical.

Online Baccarat Games
As with many live casino games, there are variations of Baccarat. The game can be played with a live dealer, streamed from a live studio, or from a land-based casino.
It can also be played in an RNG format, where the Random Number Generator decides the outcome without the help of a dealer.
Classic Live Baccarat
Classic live Baccarat is where it all began, and it's still the most popular version of the game. Every game round takes approximately 50 seconds, and there are often only Pair side-bets available.
Live Speed Baccarat
Live Speed Baccarat plays just like a classic game of Baccarat, but each game round is finished in less time. Instead of a game round taking 50 or so seconds, here, it takes less than 30. This means that cards are dealt face-up, and there's less time to review results or place a new bet.
Live Baccarat Squeeze
The Squeeze concept of Baccarat adds an extra level of drama to the game. The 'squeeze' is made by the dealer (in regular Baccarat Squeeze), or the player (in Baccarat Controlled Squeeze) slowly reveals the value of a card.
No Commission Baccarat
Regular Baccarat has a 5% commission fee, which is taken from all winning Banker bets. A no commission table simply removes this fee, replacing it with something else. Usually, these tables have a lower pay-out on a winning hand if the Bank lands on a specific number, like 6 or 9.
Live Baccarat Features
The live casino market is constantly evolving, which has brought some lovely features to Baccarat. One of them is the Baccarat Multi-Camera experience. Tables that use this feature create an action-filled experience with the use of over 15 cameras.
Close-ups and the virtual squeeze performed by the dealer deliver the ultimate in suspense and authentic gameplay.
VIP tables are another feature that provides a higher gaming experience for players. These tables allow for higher stakes, and also options to play privately together with a dealer.
If you like live games, live roulette and live blackjack are two other great table game types worth exploring.
Top Baccarat Live Casino Providers
Indians are today spoilt for choice when it comes to Baccarat games online. Several well-renowned game providers offer live Baccarat tables.
Something that all of these providers have in common is that they are all top-of-the-line providers. Licensed and regularly audited, they are sure to bring a safe, fair, and secure gaming experience, no matter which casino you play at.

Leading the pack is Evolution. The pioneers of live casino entertainment have a long list of different Baccarat tables available.

Playtech is another great provider for Baccarat lovers, as they offer regular and mini Baccarat, Prestige Baccarat, 7 Seat Baccarat, and Baccarat Squeeze.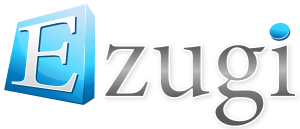 Ezugi is another online game provider that offers high-quality live Baccarat tables to Indian players.
Great Baccarat Experience from Home
If you can't get to a real brick-and-mortar casino in India, playing live Baccarat online is the next best thing. The Macau-like gaming experience caters to newbies and experienced high rollers alike, with features that perfectly simulate authentic Baccarat.
All tables that you can find online feature professionally-trained dealers, and are also optimized to work on any device. No matter if you are playing from a computer, mobile, or tablet, you are sure to get the best virtual gaming experience possible.
Although this page is all about Baccarat, there are other casino games out there we think you should try out as well. We strongly recommend online Andar Bahar, Teen Patti, and classic Jhandi Munda. All of them traditional Indian games of gambling that most of us have grown up playing with family and friends.
Today, they are available at some of the most prestigious online casinos in the world. Allowing you to immerse yourself in authentic gambling entertainment, wherever, and whenever you wish.
BEST REAL MONEY ONLINE BACCARAT CASINOS