22Bet
Bonus
100% up to ₹25,000 welcome bonus
Free spins
N/A
Overview
Currencies: INR, EUR, USD and many more
License: Curacao
Products: Sportsbook, Live Casino, Online Slots
Payment Methods: Neteller, Skrill, ecoPayz, Visa, Mastercard, Bitcoin, Litecoin, WebMoney,
Customer Support:

LiveChat

support@22bet.com
Opening Hours: 24/7
Play now
22Bet – Where The Magic Starts and Dreams Come True
22Bet has become among the top gambling websites who have strengthened their presence all around the world by hitting the personal note everywhere they go.
Making a very smart play, this online betting and casino operator is present in India accepts more than 50 nationalities and accepts Indian Rupee as a currency for making a deposit or withdrawal. Not only that, but 22Bet also has configured its website in Hindi to cater to the Indian population. This is not something which can be seen in other casinos we have reviewed at Seven Jackpots.
22Bet casino has turned many eyes with their unique sportsbook concept which not many operators offer. Apart from this, the website also offers live games and casino games such as Roulette, Slots, Blackjack, Teen Patti among others. 22Bet's sportsbook is like a dream come true where you can bet on virtual games like Call of Duty, FIFA, etc.
The website was established in 1997 and is currently headquartered in Cyprus. 22Bet as a company is a popular name in the world of sports as it has been a sponsor for many sports clubs all over the world. Soccer star Ronaldinho and German football legend, Kevin Kuranyi are ambassadors of the company.
Is 22Bet Secure To Play At?
Yes, 22Bet is completely secure to play at given the wide range of customers it has built over the years marking its presence in many countries.
The site works on a state-of-the-art SSL encryption which in simple terms means that you do not have to worry about hacking or losing money. 22Bet has taken certain protocols to make them among the safest and trusted gambling websites in the world.
22Bet is licensed by the Government of Curacao and recently got their gambling license in the United Kingdom as well. The website is licensed under their holding company TechSolutions Group N.V.
The website recently sponsored an All-Stars charity match 'Ronaldinho and Friends VS Adler All-Stars in Germany. They have also marked their presence in the offline world by being sponsors of many sports teams.
22Bet also trends on Quora on being rated among the trusted and safe websites to gamble at by Indians and users all around the world.
2 Unbelievable Bonuses to Kickstart your 22Bet Account
One of the reasons why 22Bet can overtake giants like LeoVegas or Rizk is with their shockingly great bonus offers. Even though the bonuses are mainly circling around their Sportsbook, they can help you dream big and win bigger!.
22Bet also offers various tournaments only a monthly basis where you can utilize the skills you have learned and play against experienced players all over the world. You can see where you stand and also win quite a lot of money in the process.
Play Slots Like a Boss with up to Rs.25,000 Deposit Bonus
This where 22Bet is a class apart amongst other gambling operators. This bonus offer is activated when you register for free and make your first deposit to the website and is credited to your casino bonus account.
You will have to register to the 22Bet website by completing all the fields mentioned under the category of 'My Account'.
However, there are quite a few terms and conditions surrounding this:
A maximum of Rs.25,000 in the case of Casino.
Minimum deposit to be made is Rs.70.
22Bet is smart. You will not be able to withdraw any of the bonus money unless you have bet on something.
Once you have received the bonus amount, each bet you make needs to be 50X the amount received.
It is advised that you familiarise yourself with the complete terms and conditions of using this bonus amount.
Become a Champ in Sports Betting with a Rs.10,000 Deposit Bonus
Once you are done registering, when you deposit money to your Sportsbook account, you can get a bonus of up to Rs.10,000.
Before you are making your first deposit, choose your sportsbook account to receive the bonus and then make your payment. Once your money is deposited to your account, the bonus amount of up to Rs.10,000 will get credited automatically.
There are a few terms and conditions you should know:
The wagering requirement to redeem the money needs to 5X of your bonus amount.
Wagers must be placed in accumulator bets which should contain 3 selections at least. Out of all the selections, at least 3 must have odds of 1.40 or higher.
This bonus is valid for 7 days from the date of registration. After this, it will expire.
KYC forms are to be filled and submitted while registration.
Become a Sportsbook Wizard with a Weekly Reload Bonus of up to Rs.8,000
Make your Fridays, 'Friyays' with this Weekly Reload Bonus. By depositing a minimum amount of Rs.70 every Friday, get a 100% bonus of up to Rs.8,000 for sports betting.
A wager 3X the bonus amount must be made to make any withdrawals of the bonus.
Only accumulator bets can be made with this bonus amount. Each bet must contain 3 or more selections. Among these selections, at least 3 must have odds of a minimum of 1.40.
You will have 24 hours to make use of this bonus, so hurry.
To know more about this bonus, you can always take a look and the complete terms and conditions mentioned on the website.
Top Payment and Withdrawal Options Available on 22Bet
22Bet accepts more than 140 payment methods in India which includes all kinds of credit and debit cards, bank transfers and major e-wallet payments as well.
However, since your bank transfers can take quite a lot of time for withdrawals or deposits, we suggest that you use trusted and safe e-wallet options such as Skrill or Neteller.
Some of the preferred deposit options are mentioned below:
Payment Method
Fee
Processing Time
Minimum (Rs.)
Credit, Debit Cards – Visa, MasterCard
Free
            Instant
70
Skrill
70
Neteller
70
Skrill 1-Tap
70
ecoPayz
70
Likewise, 22Bet also provides a wide range of withdrawal options as well:
Payment Method
Fee
Processing Time
Minimum (Rs.)
Credit, Debit Cards – Visa, MasterCard
Free
1 minute – 7 days
105
Skrill
15 minutes
105
Neteller
15 minutes
105
WebMoney
15 minutes
105
ecoPayz
15 minutes
105
22Bet also accepts a wide range of Cryptocurrency options such as Bitcoin, Litecoin, Bytecoin, etc. They take 15 minutes for the transaction to get cleared with a minimum amount of Rs.105.
Experience More than 200 Exciting Casino Games at 22Bet
Sit back with your 'Shaken, not Stirred' Vodka Martini and enjoy some of the most exhilarating casino games at 22Bet.
22Bet offers a wide range of casino and live casino games to its customers all over the world. Choose from many slot games, roulette games, etc. offered by some of the most well-known game developers such as Pragmatic Play, NetEnt, Evolution Gaming, etc.
Online Slots
22Bet has tied up with the top slot providers in the industry to provide a vast array of online slots such as Blueprint, Habanero, Realistic Games, Red Tiger, ELK, EGT, etc.
22Bet also offers a number of Jackpot Slots to choose from where you have a chance to win a large sum of money.
A particular disadvantage we experienced is the excessive time to load the online jackpot slots. The website offers more than 600 jackpot games which can tell you how much you chances to actually win, increases. I found an amazing feature offered by the website where you can split your screen and play up to 4 online slot games at once.

Two slot games can be played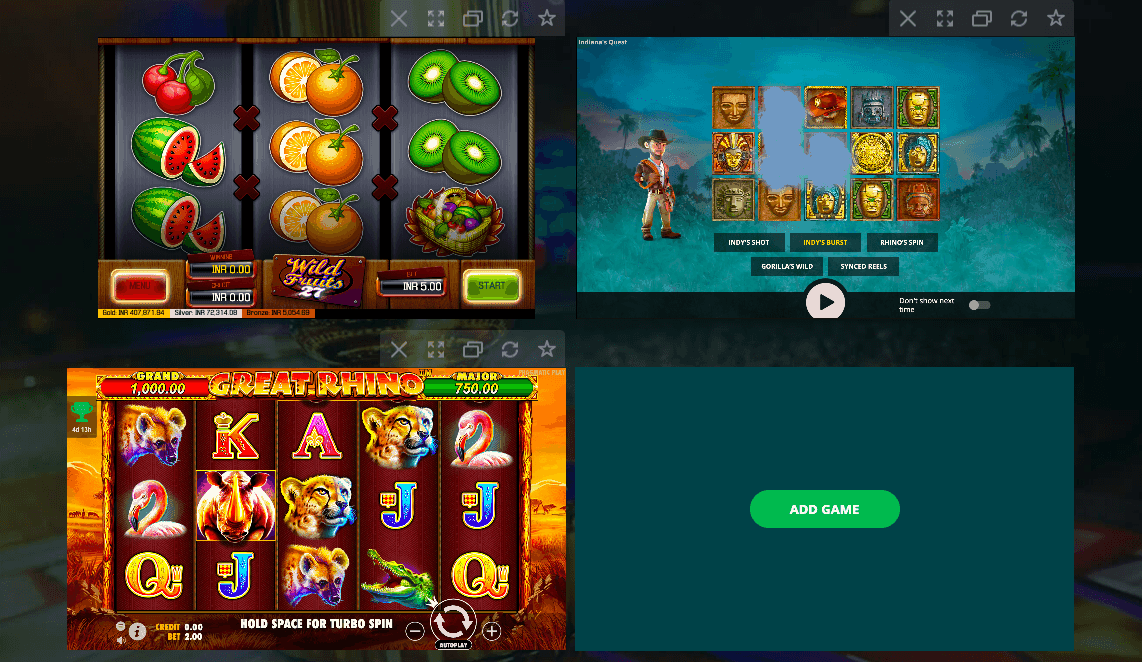 Play 4 slot games at one go and increase your chances of winning
Live Casino
22Bet, unfortunately, does not offer too many options of live casino games to choose from, when compared to Unibet or Bet365.
However, there have been new players in the game providers industry who 22Bet have associated themselves with.
The website offers games such as Lucky Strike, Live Automatic Roulette Triple Down, European Roulette, Baccarat, Speed Andar Bahar and Blackjack. We did not see any Poker table game through which was rather disappointing.
Recently we have seen the website getting onboard with new players in the game providing business such as Asia Gaming and SA Gaming for their live casino options.
Majority of these games are offered by providers such as Evolution Gaming, SA Gaming.
22Bet could do great if they could Indianise their live casino experience as I did not see any dealers of Indian origin. However, they do have a live Teen Patti game which is really good. It did lag in many instances. The Teen Patti table had a minimum bet of Rs.500 and a maximum of Rs.5,000.
Sportsbook
For 22Bet, Sportsbook is their bread and butter. Easily among the best things about the website, the sportsbook is so diverse, there are so many games we didn't know people actually bet on.
One of the most mesmerising characteristics we found about the sportsbook is that we could bet on virtual games as well. Games like Counter-Strike, FIFA, NBA 2K and even World of Warcraft can be bet on.
The website also holds tournaments where you can bet on virtual games of all kinds and take home a big pool of prize money.
In the 22Bet sportsbook, you can find an array of games from Cricket to Football, Rugby to Netball, Basketball to Tennis, Badminton, Polo, Futsal, Gold and even Moto races.
Surprisingly, we found Poker to be included in the category of Sportsbook. People can mainly place wagers on the players participating at the World Series of Poker.
Among the various other features in 22Bet's sportsbook, we found that like Bet365, you can bet on games which are happening live all around the world. For example, if there is a live football match happening in Spain, you can sit at home and bet on 'next goal', 'next offside' and even which team will commit the 'next foul'. You can even bet on the total number of goals being an even or odd number!.
Walk, Talk and Gamble with 22Bet's Mobile App
Being mobile is highly important in today's world in order to stay relevant and 22Bet has followed suit. You can find the mobile app of 22Bet on the website and then can be downloaded.
If you don't choose to download the app, you can still play and gamble on 22Bet on your phone with the help of their mobile website. Even though the games do take a bit longer to reload, you can boost it by getting a good connection with 4G or LTE data like Reliance Industries offers with JIO.
If you have any smartphone powered by Android or Google, the mobile website of the casino works seamlessly.
Feel Better with 24*7 Help with 22Bet's Customer Support
22Bet offers a live chat option when you are on the website. This feature is available all the time and answers any kind of query you might have.
We did find some issues with it as the operators often take quite a lot of time to reply. The preferred language for the live chat is English, however the instructions for the chat are also available in Hindi.
Apart from this, you can also fill a form stating your query and sending it through the website itself and you can expect an answer within 24 hours. Even though there are no phone numbers given but you can get in touch with them via email at:
Responsible Gambling
Given how big 22Bet is or is becoming, we would have thought that Responsible Gambling would be important enough to be on the homepage of the website.
However, that was not the case. You can find the option of Responsible Gambling as the last option in the official 'Terms and Conditions' of the website. It is highly important for a website of this stature to promote the concept of responsible gambling as people often go overboard with their gambling habits.
22Bet does not have any way of identifying gamblers with an affinity for excessive gambling. They have very casually mentioned the customers or loved ones of customers to contact the customer care of the website and stop their gameplay.
This is something which is disturbing coming from 22Bet where the customer service still hasn't responded to me. It has been 15 minutes. If we were gamblers without responsibility, imagine how much money we would bet in 15 minutes.
Top 5 Reasons Why 22Bet is a Good Idea
Even though their focus on Responsible Gambling is quite futile, there are a few good reasons why playing at 22Bet is actually a good idea.
The website offers an amazing sportsbook including the never before done betting on virtual gaming.
They have a wide range of payment options which seems highly effective and monitored.
Apart from this 22Bet also offers 'more than you can count' slot games.
Customer support, which is available 24/7.
Simple, easy to understand and detailed page for Terms and Conditions.
Do not think so much, sign up today, avail those bonuses and enter the adrenaline-filled world of gambling today!
100% up to ₹25,000 welcome bonus