Best casinos to play Gonzo's Treasure Hunt 2023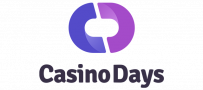 Get up to ₹1,00,000 in Welcome Bonus
Paytm & Crypto payments
Live Lightning Roulette & Teen Patti!
Fastest Indian Rupees Withdrawals!

Get up to ₹1 LAKH in Cash Welcome Bonus
Fastest Indian Rupees Withdrawals!
4000+ casino & live casino games
UPI, Paytm, gPay & PhonePe withdrawals

EXCLUSIVE ₹1,00,000 + 150 FS Welcome Bonus!
Over 4000 game titles
Paytm & UPI
₹250 minimum deposit!
How to play Gonzo's Treasure Hunt™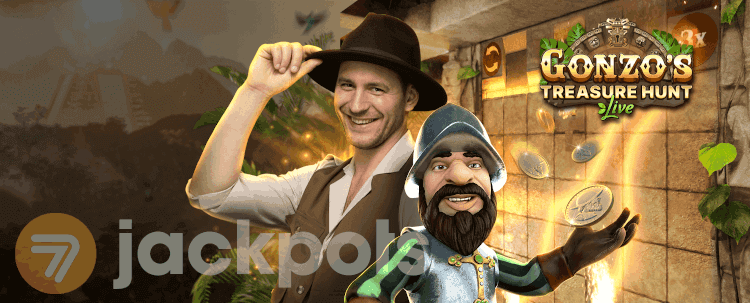 The concept of this game is new, but it's still very easy to learn how to play! Here's how to play Gonzo's Treasure Hunt™:
Head to an Evolution online casino.
Open the game (make sure you're logged in).
Place your bets on one or more of the treasure symbols at the bottom of the screen.
Click the tiles on the wall where you think your symbol will appear. You can select up to 20 tiles.
Watch as the tiles are turned to reveal the symbols. If your bet is correct, you've won!
And don't worry, the live dealer will guide you through the round. If you wish to learn more about the game, use the Help section.
The Prize Drop Feature
Once you've selected your tiles, Gonzo will start the prize drop! Three different features can drop down onto the tiles:
Prizes ranging from 3 to 100.
Multipliers ranging from 2x to 10x.
A Re-Drop can drop, triggering yet another prize drop. Max. 10 re-drops can occur during the same game round.
Gonzo's Treasure Hunt™ Live Dealer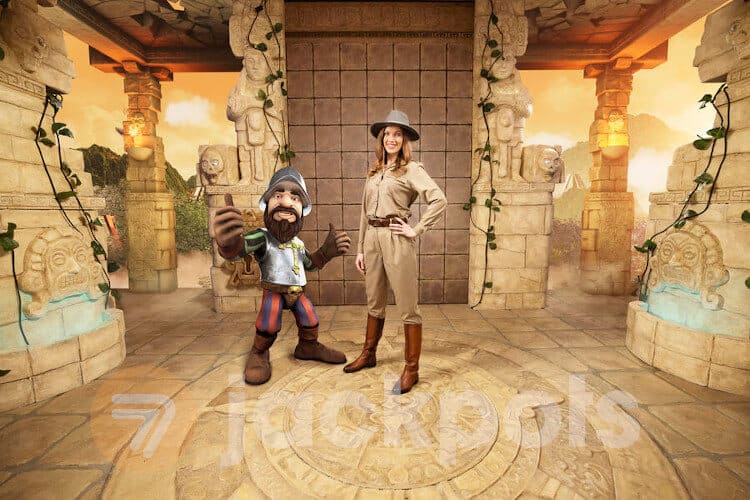 The live dealer of this unique game show game is perhaps one of the most adventurous we've ever seen.
Whether the live dealer is a male or female, they'll be dressed ready to hunt for treasure!
In khaki-colored clothes, they guide you through each game round, explaining which bonus features are landing on the board and which numbers receive them.
Of course, a Gonzo game wouldn't be complete without Gonzo himself! You'll find him on the left side of the game, and he will make sure that the game progresses smoothly.
Gonzo's Treasure Hunt™ rules
The goal of this live casino game is to figure out where on the board the treasure stones will land.
The rules are that you first place your bet on at least one treasure stone. After this, you'll pick at least one or more of the 70 tiles shown on the wall. After this, you're all set to enjoy the show!
First, Gonzo will turn the Prize Drop key for the chance of additional features to be triggered. Once this is over, the tiles will reveal the locations of the treasure symbols, starting from lowest to highest.
Gonzo's Treasure Hunt™ bets
The bets in this game range from ₹10 to ₹100,000, which allows for a variety of players to enjoy the game!
Bets are placed on one or more of the treasure stones, after which you select up to 20 picks on the wall where you believe the stones will appear.
Your bet will be the number of selections multiplied by the total value of treasure stone bets. For example: Two different stones of ₹10 each and three placement picks results in a ₹60 bet (₹10 + ₹10) x 3.
Payouts
| Stone Payout | Stones in Wall | Payout |
| --- | --- | --- |
| 1 | 27 | 1:1 |
| 2 | 20 | 2:1 |
| 4 | 12 | 4:1 |
| 8 | 7 | 8:1 |
| 20 | 3 | 20:1 |
| 65 | 1 | 65:1 |
Mobile Gonzo's Treasure Hunt™
The majority of online casino players in India play games using their mobile, so you'll be happy to know that Gonzo's Treasure Hunt™ is fully compatible with portable devices!
You'll be able to enjoy this game on most iOS and Android devices, and the game is available through a mobile app or web browser, depending on what's available at the casino.
The First Live Casino Game Available in Virtual Reality!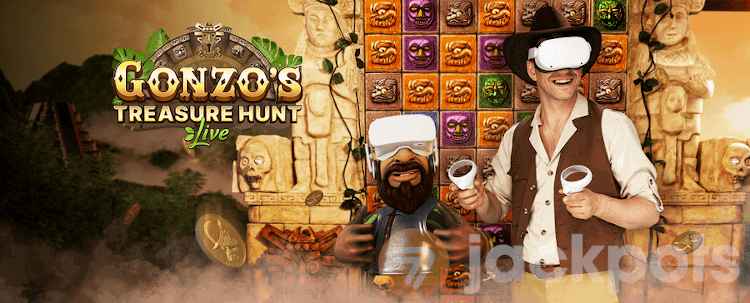 Playing together with Gonzo himself isn't even the coolest part of this game. As a first-ever live casino game, Gonzo's Treasure Quest™ is fully available in Virtual Reality!
Virtual Reality, or VR for short, is an immersive type of game played with a VR headset and two controllers.
It allows you to seem as if you are standing inside the game, from which you can place real money bets and watch the game unfold!
Conclusion
This is possibly the best live casino game ever created for players curious about other types of games than what they normally play.
Slot players can get a taste of live casino entertainment, while live casino enthusiasts can try out the concept of animated slot games.
It is a very playful game, perfect for players looking to be entertained and to have a laugh. If you'd rather focus and use strategies or skills, we recommend something more classic, like online blackjack or Craps.
More Game Shows