An Overview of the Results
The table below shows the average performance scores for each mobile device when playing on select online casinos for Indians. The test included a full-scale gaming experience – from opening a website or downloading an app to registering, depositing, playing, and withdrawing one's winnings at the end.

In line with previous studies, the test focused on the expected advantages of one casino platform over another. For the players, these benefits are related mostly to aspects like:
smooth gameplay

;

intuitive navigation

;

problem-free e-banking

;

quick and effective customer support

.
These are especially important for the young and dynamic desi market since not all casino apps work well on all devices.
This case study reveals just how well some of the leading European online casinos perform on popular smartphones in India. Some differences in UX are caused by the mobile devices: e.g., affordable or premium models. Other features and functions are entirely up to the online casino platforms and their support teams.
The Winners: Casino Days Leads the Pack
Despite the careful selection of online casinos, some stand out above the others. Casino Days has the second-best performance score when conducted over Wi-Fi; however, it is one of only two that runs flawlessly over a mobile internet connection; therefore, it is our ultimate test winner!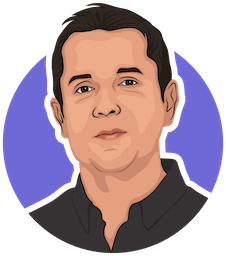 "Casino Days has, since day one, prioritized easy and swift gameplay across devices. With 4000 games you tend to win over all kinds of players but only with trouble-free UX you keep your loyal fans happy!"
Another light and user-friendly online casino played directly from the browser, PureWin, wins the experts' accolades for best customer support. While for those preferring to have an integrated casino game app downloaded on their smartphone, Bettilt certainly wins that contest with visually and functionally superior features.
How We Carried out the Test
We have done solid preparatory work, selecting and reviewing the five online casinos that receive consistently high ratings, ensuring that any known issues and bugs with less reliable operators are not part of these tests. In addition, we have researched the mobile market in-depth, confirming the leading smartphone brands and picking five recent models widely used among desi players.
Crucially, we established a working collaboration with ABC World Media, a top-rated Indian marketing solutions agency. The team comprises young communications and media experts with a proven track record in advertising, mobile brand research and field studies. These skills and market experience made them a valuable partner in the hands-on test conducted by gamers in Noida, where most of India's mobile phone factories are located.
"Over a decade of experience with digital entertainment platforms enables us to deliver some unique recommendations for this kind of trial. Consumer – specific QA is crucial in the online casino vertical as it helps build trust through pragmatic fixes."
We felt obliged to go the extra mile and put the top 5 listed casino operators to a rigorous test on different smartphones. The result was an empirical first-hand study that made sure these online platforms cater to millions of Indians with these kinds of devices (or similar ones) – practically, most real-money players across the Union.
The field test examined the following aspects within a complete paid gaming session for every online casino and on every single listed device:
How easy is it to download the casino App

?

How easy is it to sign-up

?

How long does it take to open a game

?

How easy is it to deposit some money

?

How good is the overall navigation experience

?

How easy is it to withdraw one's winnings

(or existing balance)?

How easy is contacting and getting

a working response from

customer support

?
To evaluate the above features, the players carried out the sequences defined below:
App download (whenever an App is present, see below) or access to the casino via the website (referred to as Download/Access below):
Access the website.
Download the app.
Install the app.
Simple sign-up (called Sign-up henceforth):
Click "sign-up."
Enter your information.
Sign-up.
Overall navigation experience (Navigation):
After login, browse through the app categories or web casino pages.
Does the app flow smoothly, or is it slow and lagging when navigating?
How long it takes to open a game (Open Game):
Be already logged in.
Find and open "Lightning roulette" (proven one of the most popular online casino games offered across the leading online gambling platforms).
Ease of making a deposit (Deposit):
Find and click "deposit."
Make a deposit.
Ease of withdrawal (Withdraw):
Find and click "withdraw."
Enter the amount you want to withdraw.
Withdraw the money (get a confirmation the amount is being transferred even if the payment provider may technically need a few hours to show an updated balance).
Contact customer support and receive a satisfactory answer (Customer Support):
Reach out to customer support through the chat.
Ask a question about the bonus wagering system or your password.
The above steps were clear and straightforward enough to the testing team, who were able to go through the algorithm and give their independent evaluation. To interpret the Download/Access parameter properly, we need to add an important clarification:
Two operators – Casino Days and Pure Win – do not have a separate casino App for Android (Google Play) or iOS (Apple's App Store). Their policy is to focus on direct browser access.
The other three – Betway, 10CRIC, and Bettilt – have links to their native Apps at the bottom of the casino websites.
How Was the Score Calculated
The testing team needed to go through the steps, judge the features across all devices and operators first-hand, and mark a score for each aspect. The speed test was especially relevant (Site access or App startup followed by Game startup) since this is what stands out a lot in players' minds. A slow casino or a lagging game are deal-breakers for those who just want a quick game session between daily chores or on the way back from the office.
The instructions for a fair and adequate scoring system were given beforehand thus:
No 0

scores given, would mean the feature is non-existent;

A score of

1,

meaning "did not work at all";

A score of

5-6,

meaning "feature was somewhat buggy, had display issues or other glitches";

Rated

10,

means everything went very well, an overall smooth experience.

A "Likert scale" illustrating the range of possible UX feedback values.
Ultimately, even though we are considering technical, visual, and e-banking aspects, the players had to rate their own subjective experience. Whenever gameplay was smooth, and the platform responded as expected (and enjoyable), assigned scores were in the upper range.
The Mobile Devices Used
As we wrote above, the smartphone brands used in the test are absolute market leaders in India. SevenJackpots' primary mobile research showed that Xiaomi (23.38%), Samsung (19.24%), and Vivo (15.25%) were the most common devices among our own registered users. Combined with OPPO (10.68%), Realme (8.87%), and iPhone (5.44%), these represent 82.86% of the smartphones that online casino players tend to use.
Similar market shares were seen in year-end 2021 (Q4) sales in India, with Xiaomi still on top (22% of new devices sold), followed by Realme (18.8%), Samsung (17.3%), Vivo (13.8%), OPPO (10.1%) and iPhone (3.5%).
Samsung A5
Gameplay over a Samsung A5 had no major problems. Some payment gateway difficulties, minor game speed, or player support issues were signaled, which need to be addressed on the casino operator's side.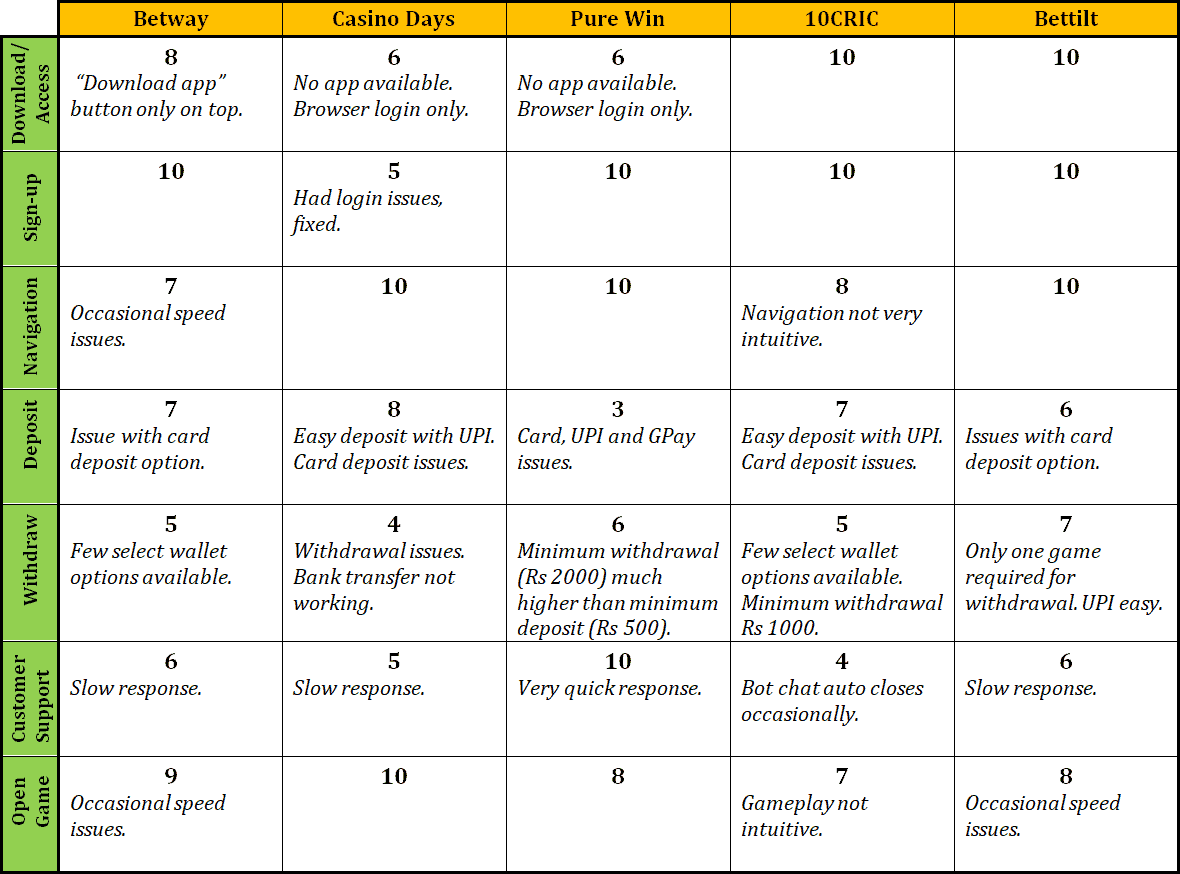 Xiaomi
The Xiaomi test table shows similar average ratings. Game speed was better in some cases, but registration and payment support seemed to lack consistency with previous sessions at the same casino platforms.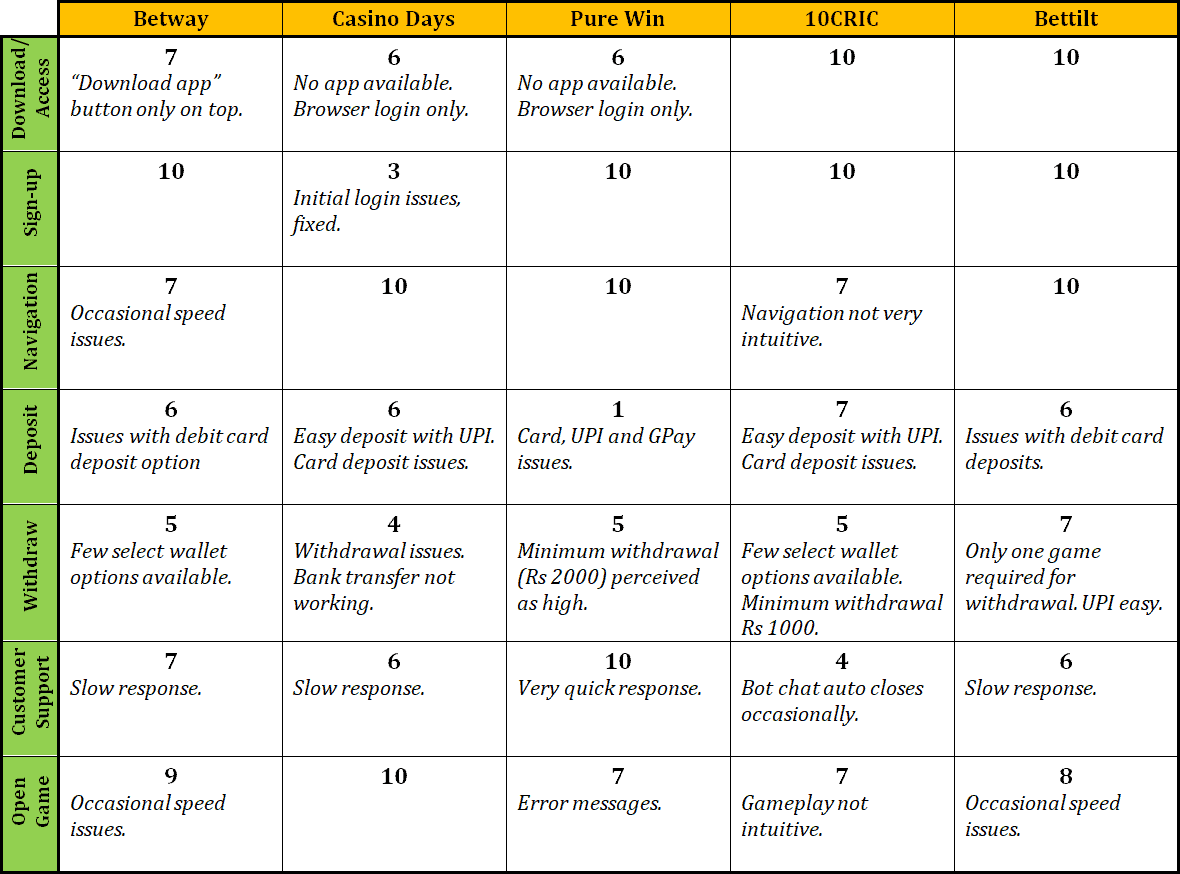 Vivo
Vivo received better gameplay, login, and payment support ratings for the same casino features. Customer support performed somewhat less stable on Vivo.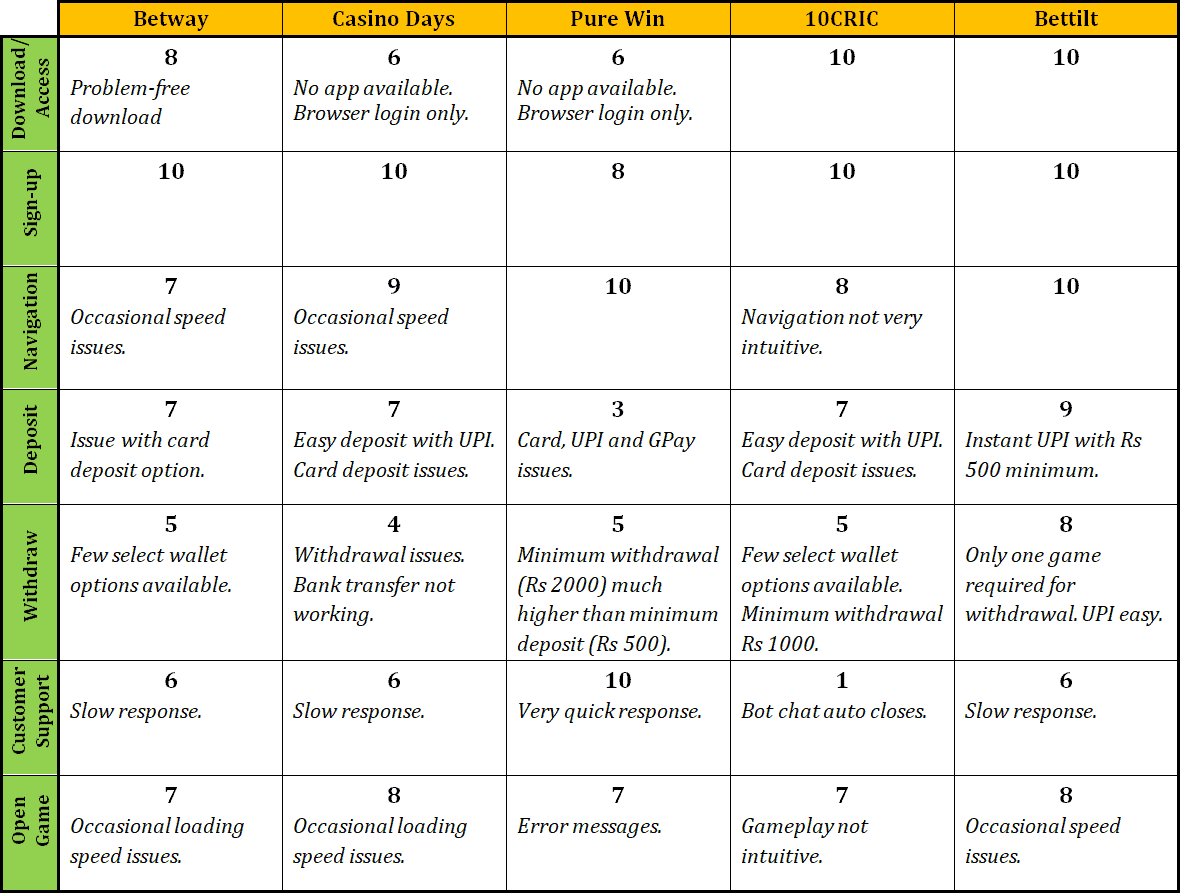 OPPO
The testers provided no explanatory notes on the reasons behind the scores we see below, but with some exceptions (in the payment and withdrawal options category), ratings were consistently high.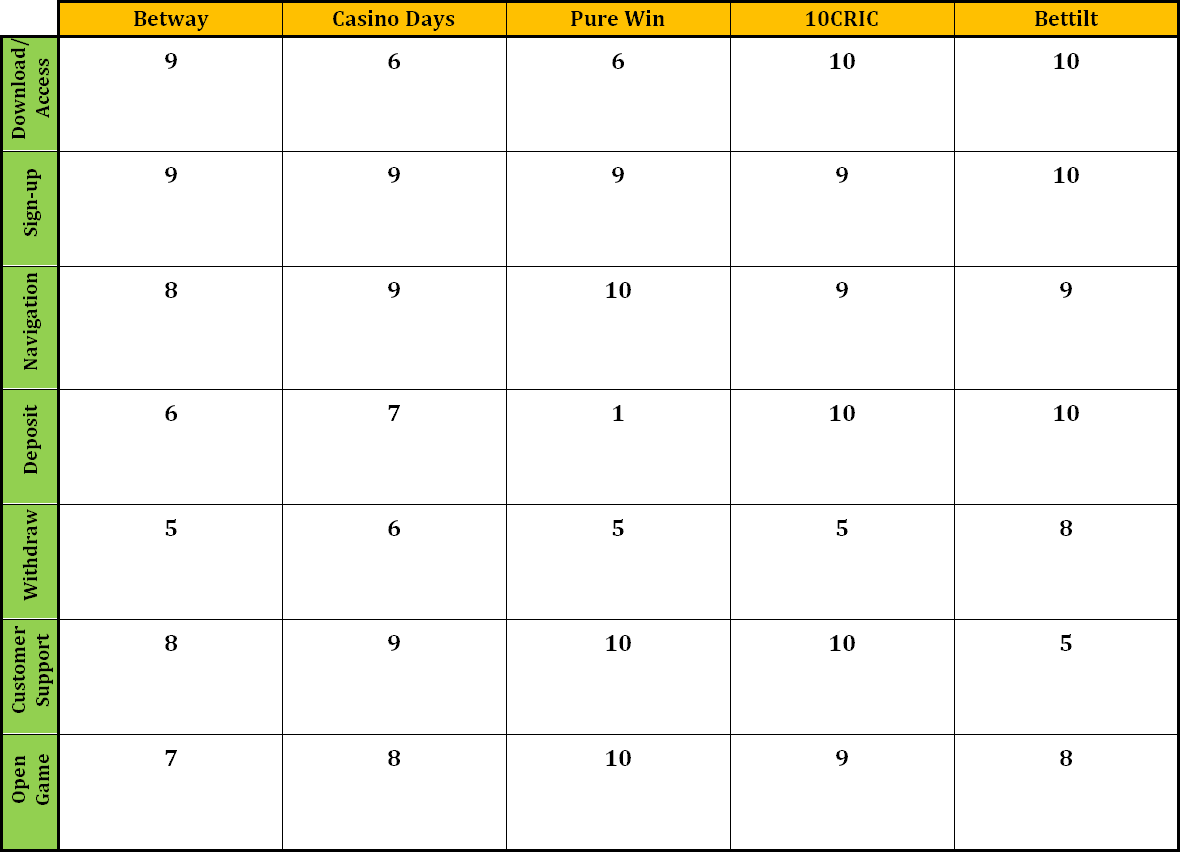 Realme
The Realme test results confirmed some of the technical limitations (only a few payment options seemed to be accepted for some operators) but showed superior performance in terms of overall speed and navigation.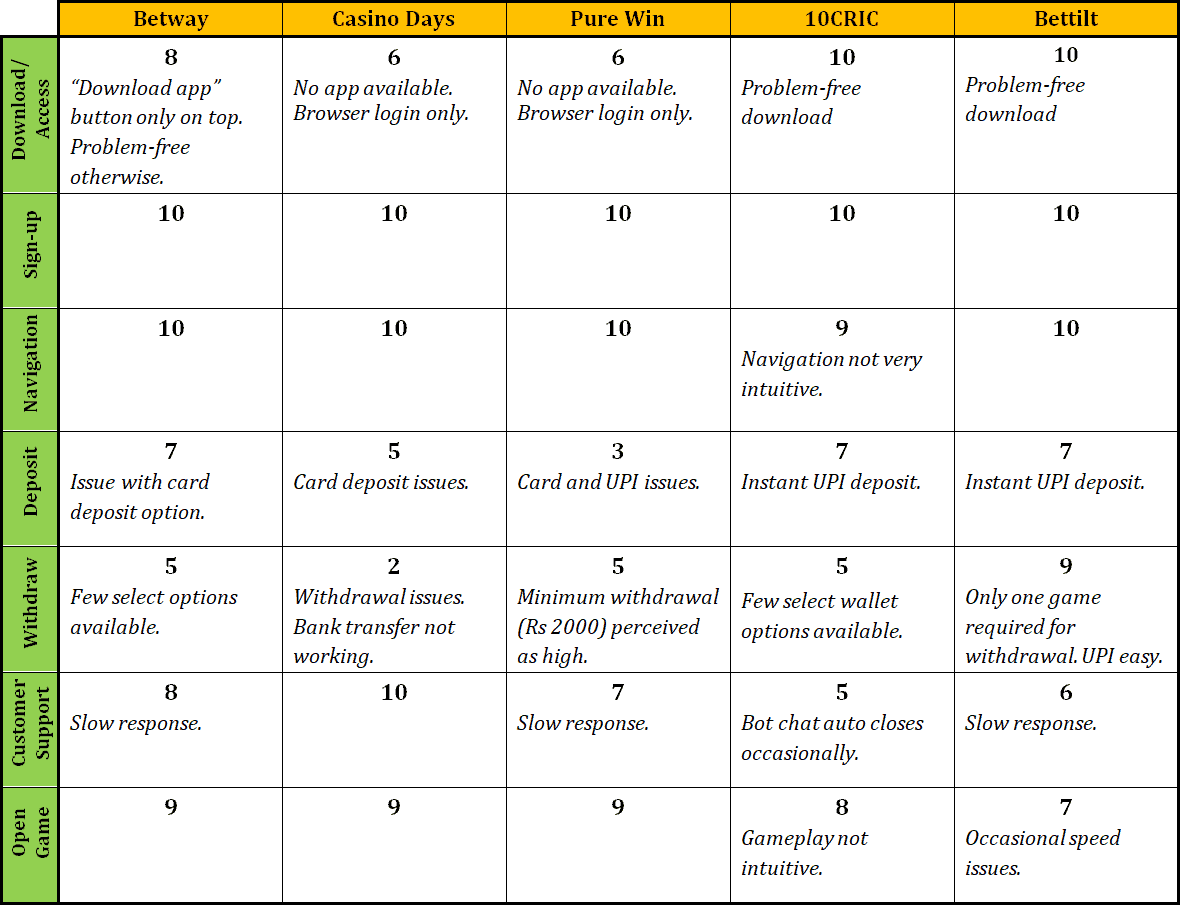 iPhone
Representing the premium-segment smartphone market, Apple's device received some of the highest UX ratings. Chatbots as an option for player support were apparently a challenge for the testers yet again.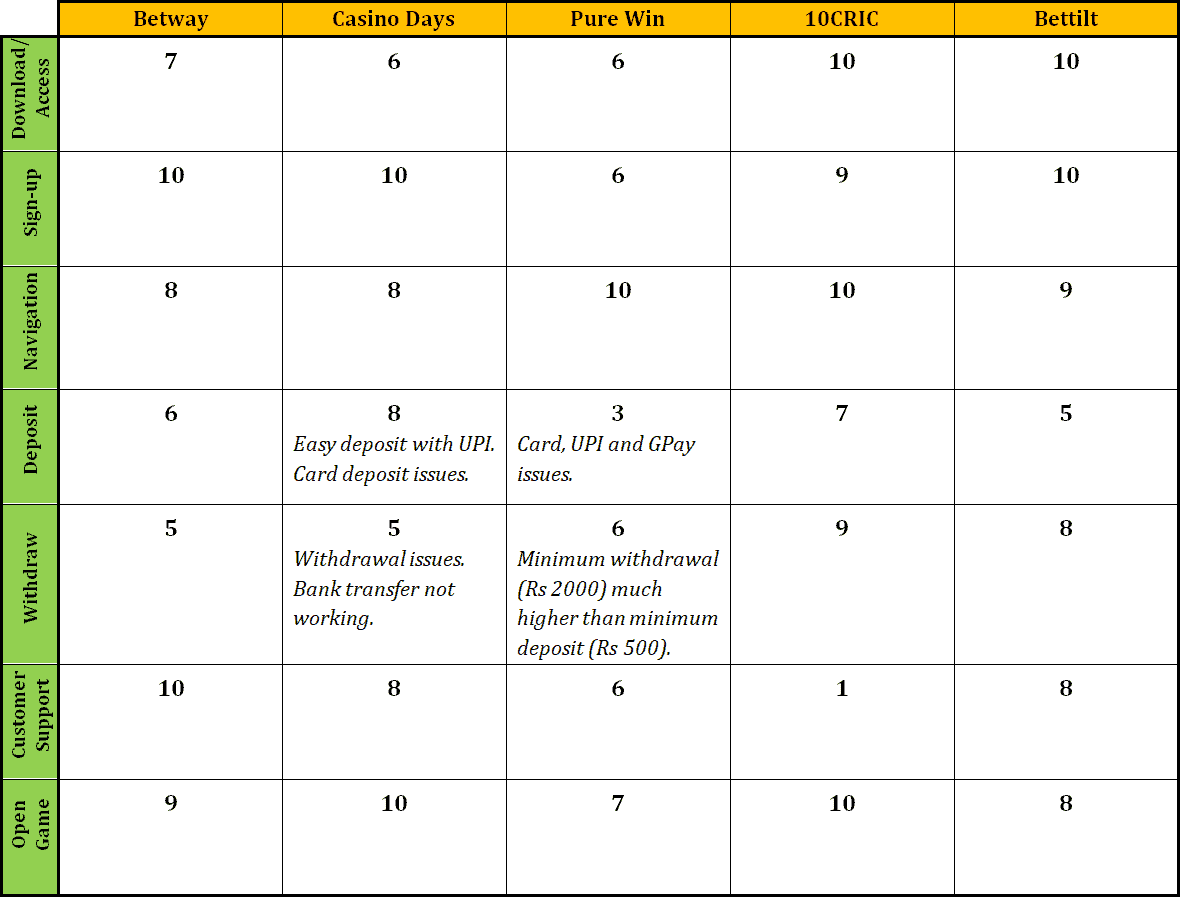 Comparative Speed Tests: Wi-Fi vs. 3G/4G Gameplay
India has grown into an immense online market in the past few years. One of the countries with the best internet connectivity and cheapest 4G, it has seen domestic smartphone penetration increase more than twice between 2016 and 2020. Currently, there are over 800 million mobile internet users in the Union, an estimated 435 million online gamers, and roughly a third of those are real-money players, without even counting lottery fans.
This success story is largely due to the availability of budget smartphones (under Rs 10,000) and the arrival of mobile internet in rural areas. However, many market experts remind us that in many non-metro contexts, up to 300 million users still rely on 2G and 3G.
Given that 3G and 4G are the dominant connectivities for most urban players, we conducted the speed tests once over a stable Wi-Fi connection and a second time with only mobile internet turned on.
The sequence for the speed tests was the following:
Start an App or Login:
The app must be completely shut off (not running in the background).

Start the App. In the case of a browser-based casino, log into the system.

Evaluate:

How long

does it take to start the app? How was the

overall UX

opening the app? Does the app open

smoothly

?
Start a Game within App or Casino website:
Be logged in already.

Locate "Lightning Roulette" and open the game.

Evaluate:

How long

does it take to open this game? How was the

overall UX

opening the game? Does the app open the game

smoothly

? Does the App/Website

respond

in the way you

expected

?
The Wi-Fi test brought entirely positive feedback, all 10/10 scores, and no issues with UX, game, or platform speed. Moving onto a mobile connection, however, some casino platforms had a slight decrease in speed. None had problems delivering the expected visual contents in the end, but apparently, some heavy features and dynamic game elements might need pre-loading, which is not always available or possible with a slow mobile internet connection.
The 4G test produced the following UX scores:

This is why the 4G test results were assigned a double weight in the overall performance scores. Given the importance of mobile data access and that most functions (e.g., deposit/withdrawal) were initially performed under Wi-Fi connectivity, 4G somewhat changes the final rankings. However, it is only right that this last segment rewards casino platforms that perform equally well under mobile connectivity.
Light and compatible gaming platforms are crucial beyond their value for 2G-3G-4G connectivity. Many desi players have older Android OS – over 50% have a previous or otherwise outdated Android version. Direct browser access also takes that into consideration, although many casino players prefer having a dedicated App on their devices.
Conclusion
Some of the final judgments and recommendations are readily apparent; others need a more profound analysis on behalf of the casino operators. Based on this field test, for example, 10CRIC rates really well with premium smartphones but it needs to improve its Vivo compatibility. Casino Days, on the other hand, needs to take a serious look at improving its compatibility with Xiaomi, one of the leading phone brands on the market. Pure Win has surprising issues with iPhones; however it provides stable results in more common smartphones.
Players can decide if they wish to try browser-based casinos that log them out safely after each session or to remain connected to a casino app for faster launch and game access.
Once again, our experts confirm that Casino Days is the most accessible and smoothly running casino overall. Considering the light and undemanding direct access from a browser, it does not need to pre-load and stands out for being very intuitive and user-friendly.
Pure Win beats everyone else for its superior customer service, which is well integrated with all mobile devices. It scores an average of 8.83 for player support, which is exceptional for the mobile casino scene.
For those that prefer app access to their favorite online casino platform, Bettilt has proven its functional advantages. It might be a more feature-heavy platform but it works impeccably under Wi-Fi and has no problems with navigation, payments, or graphics.
More Research Papers