Payments made through mobile apps snatch first place in popularity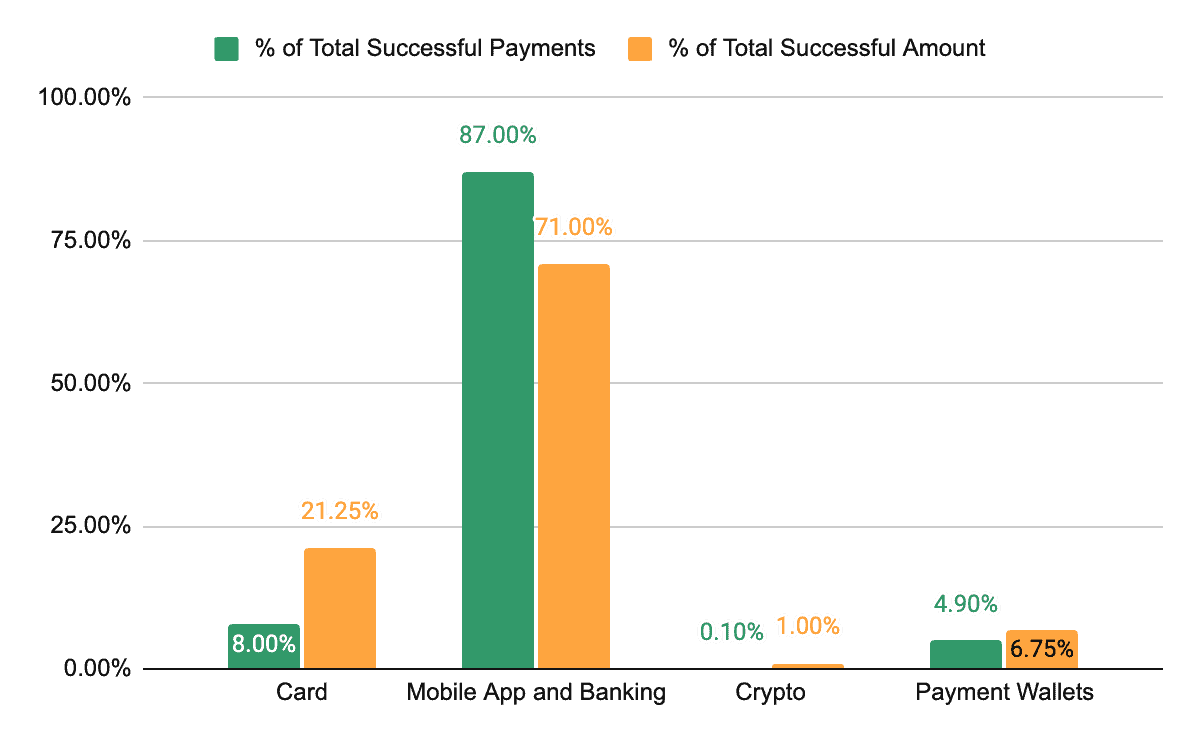 Mobile devices now stand for over 90% of play activity among users, and with that, payment methods optimized for mobiles follow.
Mobile app payment methods like UPI, Paytm, PhonePe, and Google Pay represented 87% of all transactions and 71% of the total amount transferred. Card payments (8%) and other e-wallets (4.90%), like Skrill, Muchbetter, Neteller, etc., comprise the remaining 13%.
Interestingly, while card payments only stand for eight percent of the total number of payments, the amount deposited through this method reaches 21.25%. A massive difference from that of the combined e-wallets only contributing 6.47% of the total amounts transferred.
So, while significantly more players are utilizing UPI-based methods, the smaller group preferring to make transactions with cards makes significantly larger transactions overall.
A surprising uptick in card payments puts credit and debit cards in second place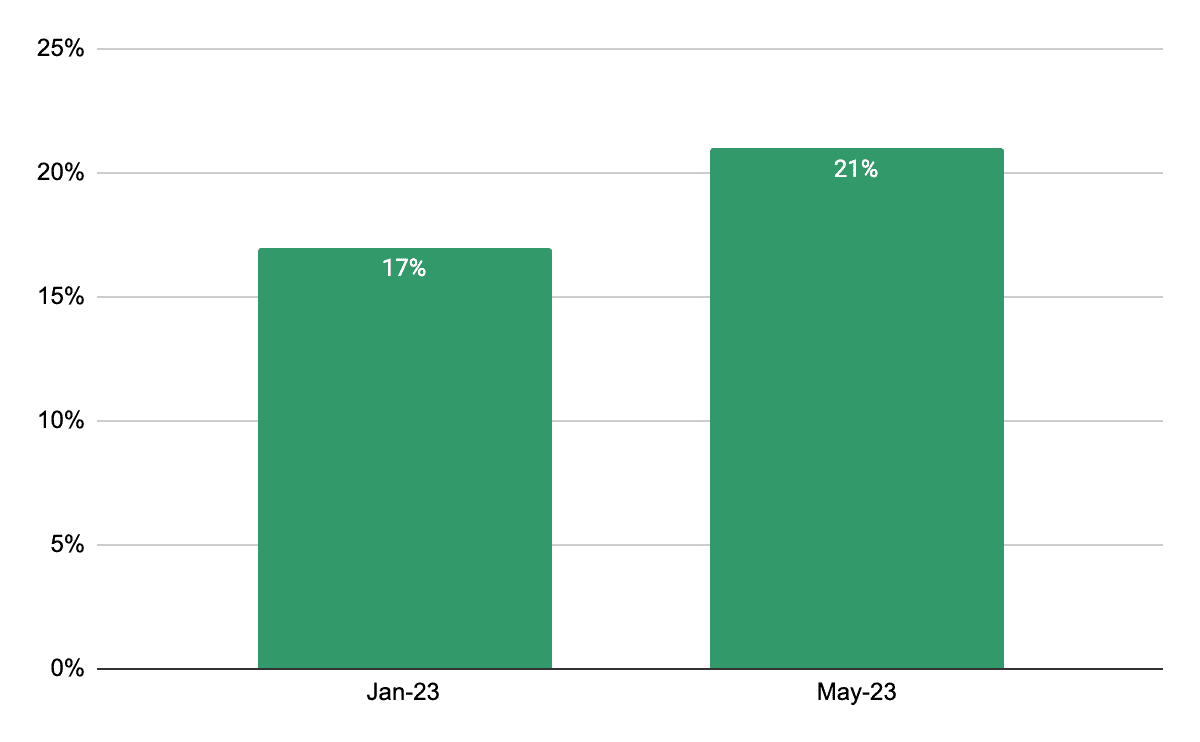 With RuPay being integrated into the Google Pay UPI system, South Asian countries like India have seen a stable uptake in credit and debit cards being issued. As of September 2022, over one billion cards are in use in India, a 19% increase in just 12 months.
At Casino Days, this is reflected by a 24% increase IN VISA and Mastercard transactions in just five months, from the initial 17% registered in January 2023 to 21% at the end of May the same year.
Mobile payment wallets create a diversified cashier experience
One crucial aspect of mobile payment wallets that adds to their popularity is their accessibility and useability. An online casino operator restricting themselves to a very selected number of payment methods will limit the number of potential new customers they can attract.
While Paytm, UPI, Google Pay, and other market leaders are crucial for any South Asian online casino, smaller payment options like Neteller, AstroPay, MuchBetter, Jeton, and Skrill all add diversity to a player's cashier experience.
There is potential to convert so-called "cash players" into online ones by offering methods like AstroPay. Players can purchase prepaid AstroPay cards with cash in physical stores that they can use to make their deposits at casino websites. AstroPay recently developed an e-wallet feature, allowing transactions to flow to and from a user's AstroPay account.
Trust and security remains crucial for any successful payment method
There will always be security risks where there's real money, which is even more true with online payments. When the security of a person's finances relies on online security features, it becomes even more important that the payment provider understands how to protect its customers from fraud.
One such safe online payment method is UPI. Not only does UPI demand two-factor authentication with payments, but they also use Virtual IDs or Virtual Payment Addresses to secure transactions further. This solution allows the user to complete transactions without the need to share bank details with the merchant.
The unique structure of UPI is why this method is commonly referred to as a payment gateway rather than a wallet. UPI is merely assisting a player in moving funds from point A to B, while other e-wallets will hold the funds on a dedicated e-wallet account for the user to move to and from that account as they please.
While credit and debit cards are on the rise, not all cards utilize two-factor authentication like 3D Secure, putting them at higher risk of being exposed to fraud than other payment methods.
Regular players want simplicity; seasoned players want familiarity
Player behavior and preference differ when looking at regular players versus the more seasoned, VIP-type players.
Newer, regular players prefer mobile payment apps (83%), with only 10% opting for credit cards when funding their gambling. In contrast, 62% of VIP players use methods like UPI and Paytm, with 30% opting for their credit or debit card when playing.
Blockchain payment methods outshine the rest when it comes to successful transactions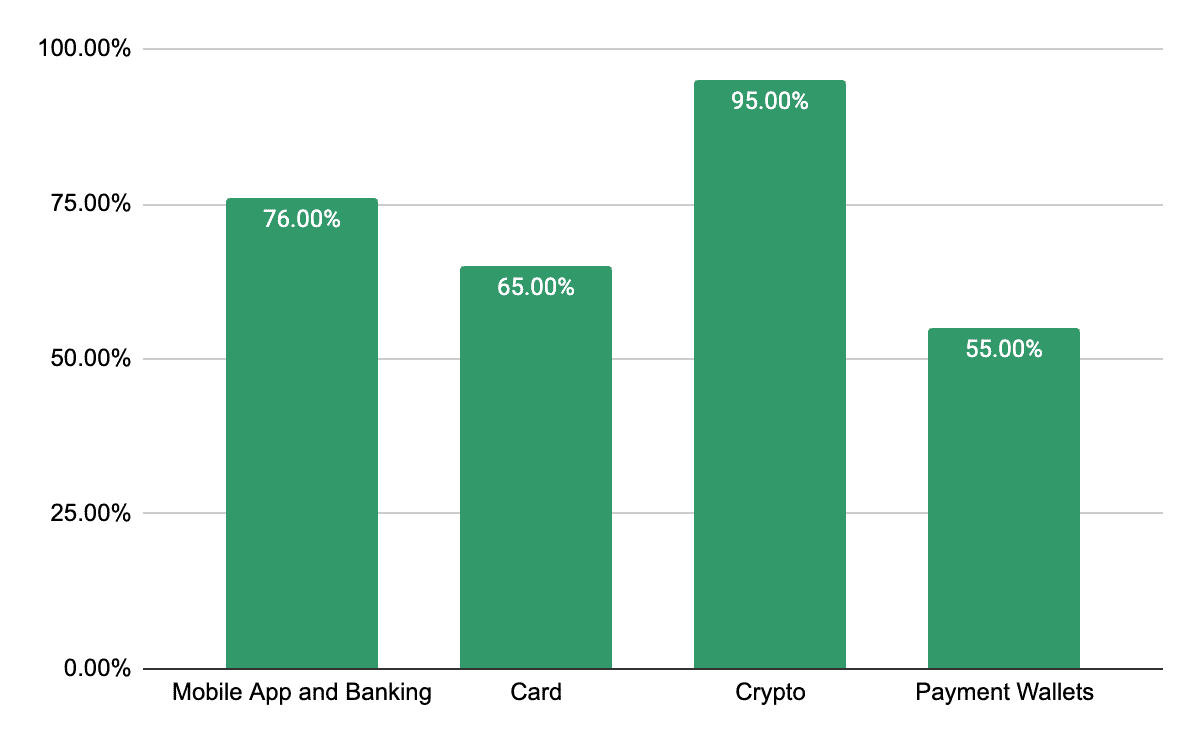 In a perfect world, deposits and withdrawals would go through instantly and without fail, but unfortunately, this is not the case. Unstable internet connections and various payment gateway issues are common reasons for failed transactions, but one method is far superior to others regarding successful transactions.
Casino Days data shows that 95% of all cryptocurrency transactions are successful. This can be compared with a 77% success rate for Netbanking and 75% for UPI. Transactions made with cards have a 65% chance of succeeding, while only slightly above 50% of AstroPay payments successfully get through the process.
Unfortunately, cryptocurrencies aren't very popular among players, with the method only contributing to one percentage of the total successful transactions made. The novelty of crypto could be the reason, with the method having a steep learning curve for new users.
The perfect mix of fast learning and familiarity
While payment solutions like cryptocurrencies risk scaring users away with complex processes and volatile currencies, UPI and cards steadily contain and even obtain new users thanks to useability and familiarity.
Humans strive for simplicity, which is why UPI has become an integral part of online shopping, especially in India. It's fast, secure, and a natural part of everyday transactions, from transferring money to family and friends to paying bills or purchasing tickets to the cinema.
Credit and debit cards have the strength of having been around for over 70 years. They don't require an app or multi-step processes to work; all that's required is the credit card details. The players opting for using credit and debit cards when funding their online gambling have most certainly used their cards for payments throughout most of their lives, making online card payments second nature.
Speed determines the success of spending and withdrawals
Where security plays a vital role in whether or not a player will feel comfortable depositing funds to a casino, processing speed is equally important to build a long-lasting relationship with them.
Fast withdrawals are proven important to players, as delayed withdrawals affect the trustworthiness of a casino among players greatly.
Operators known for delaying or extending the processing time of their customers' money will have difficulties getting players to sign up and deposit in the first place. These players are already putting their funds at risk by gambling, so the last thing they want is to gamble by risking having to wait for their funds to arrive in their accounts.
Mobile payment apps are the clear winners for online entertainment
Mobile app-based payment options reign supreme in the online casino industry in South Asia, although credit and debit cards are slowly returning with the introduction of UPI-integrated payment methods such as RuPay.
While mobile apps are winning ground within all player types, credit and debit cards seem to stay the preferred payment method for VIPs and Highrollers, suggesting that casinos might need to diversify their payment portals accordingly.
A successful payment method needs to contain a user-friendly interface, as well as stable processing times and payment gateways to prevent failed transactions. While not entirely up to the payment provider, swift withdrawal processing times are shown to be crucial when building trust and long-term relationships between players and casinos.
More Research Papers