Why Doesn't TN Trust Responsible Gaming and Is So Stubborn for a Ban?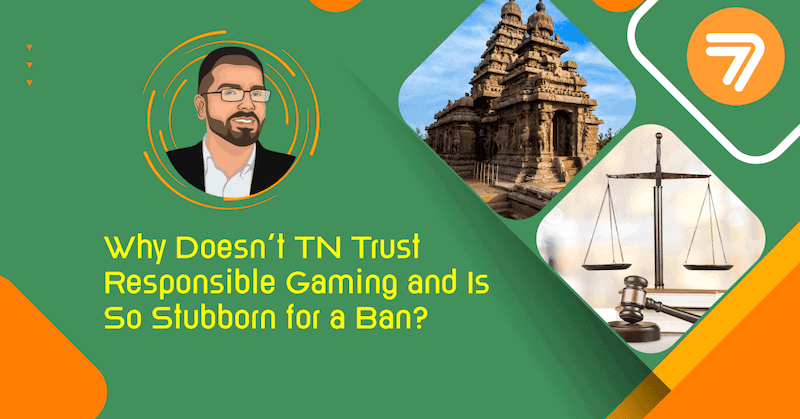 The views and opinions expressed here are those of the authors and do not necessarily reflect those of SevenJackpots or its clients.
Why Doesn't TN Trust Responsible Gaming and Is So Stubborn for a Ban?
Retired Madras High Court justice K. Chandru, who is now the head of Tamil Nadu's online gaming panel, recently said that regulation could not stop people from playing online games and so banning was the only "way out".
The State has been looking for its "way out" of gambling-related problems for almost three years now, always creating intense political drama, but never considering responsible gaming or any other approach, different from a total prohibition on online games.
And I don't see any indications that the TN political drama may end any time soon. It seems like the State is moving in a vicious circle and most news coming from there inspires a "Hey, I've seen this one" reaction.
The Power of Déjà Vu: Second Ban in Force for the Second Time
Now that the State's second ban came into force for the second time after it lapsed last October, the power of déjà vu is stronger than ever.
Apparently, Tamil Nadu is currently moving on from the phase where politicians were pointing fingers at each other and using the floor of the State's Legislative Assembly to measure, again and again, which party was the bigger driver of online gaming prohibition.
It is now time for the court battles to begin and one question comes to the forefront of my mind:
Who Will Put the First Challenge in the High Court of Madras?
Will it be the AIGF or the EGF? Or could it be some rather large gaming company that has failed to set up its geo-blocking measures for Tamil Nadu in the first hours of the ban?
What if the owners of that company get a FIR registered against them at some local police station in some remote State that threatens them with years of jail time?
Well, at least that's what happened to Dream11's co-founders Bhavit Sheth and Harsh Jain when Karnataka banned online games on October 5, 2021, and they were forced to send a costly lawyer team to court.
As of writing this article, the Indian E-Gaming Federation (EGF) had already called the implementation of the ban an "extremely unfortunate and a disappointing development" and said they were receiving legal advice in order to take appropriate action.
This doesn't guarantee they will be the first to file, though.
It Is a Serious and Alarming Situation because Bans Don't Work
We have all seen enough movies about the American Prohibition and Al Capone to know that a dry nation is not exactly among the most realistic results of such bans.
There are personal tragedies involved and a whole State going for a dubious strategy does cause alarm.
In the summer of 2022, the TN Government established a committee led by retired justice K. Chandru to examine the problems caused by online games and invited inputs from stakeholders and the public.
One of the submissions was a study by Dr H. Shah from the Shri Govind Guru University who urged for a scientific approach to the broader and much more complex subject of suicides, and advised against the implementation of strict laws on the basis of misinformation.
Dr Shah's representation described the unintentional, but quite unsurprising I would say, consequences of prohibition: it would likely push online gaming to the underground where the prevalent debt collection practices can easily create desperate situations and even suicidal ideation.
Usury, by the way, is banned in India by virtue of the Usurious Loans Act, 1917.
Prohibition hasn't Slowed Down Online Gambling, Quite the Opposite
It's not like legislation has prohibited loan sharks and back-alley satta out of existence. The illegal betting market in India was valued at $150 billion (₹9.9 lakh crore) annually as early as 2015.
Moreover, our internal data shows that online casino traffic from Tamil Nadu never stopped increasing for the last two years compared to other state's shares.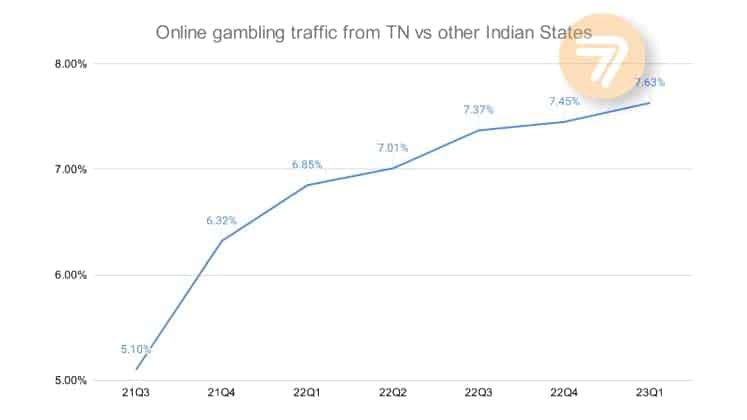 Responsible Gaming has been Proven to Work
When it comes to gaming and gambling online, many legislators around the world have found a way to lower related problems: and that is through regulation focused on responsible gambling.
The experience accumulated in regulated jurisdictions like Sweden, the UK, Italy, Spain, and many more, and the reports published by their national gambling authorities prove that the responsible gaming approach works.
The UK, for example, is a country with historical ties to sports, betting, and gambling that are at least as strong as India's, so their society must be facing similar problems with online games.
Yet, for some reason they have decided that teaching Britons how to gamble responsibly and by the rules was their way ahead.
Actual concrete data from the UK Gambling Commission's annual reports shows that the problem gambling rate in Great Britain stayed at 0.2% in 2021 and 2022, dropping down from 0.3% in 2020, and 0.6% in 2019.
So, why doesn't the TN State Government's go for a responsible gaming policy, but lists so many
Motivations for a Ban?
Apparently, Dr Shah's study was among the 27 out of 10,735 mails received by the State Government that did not request the imposition of a total ban on online games, and therefore escaped the focus of the Government's motivations to propose the bill and the nearly total ban on online games it contains.
These motivations are listed at length in the Act's preamble and revolve around the recommendations of the K. Chandru committee, a survey among teachers, and the other 10,708 emails the Government got.
The statistical validity and scientific merits of the motivations will likely be scrutinized during the judicial phase of the gaming ban's normal life cycle and experts will have their say. Here, I will only look at some more relevant and
Actual Concrete Data
The most alarming information is contained in the annual "Accidental Deaths & Suicides in India (ADSI)" reports by the National Crime Records Bureau.
According to the last published ADSI report, 18,925 Indians committed suicide in Tamil Nadu in 2021, and the suicide rate in the state (24.7 per 1 lakh population) was more than double than India's average (12) for that year.
"Bankruptcy or Indebtedness" was the 6th biggest cause of suicide (3.9%) in the country. For TN, this translates to around 738 people in 2021 only, and that is a much graver reality than what the media report as online gambling related suicides.
Perhaps nothing less than a total victory over online game-related problems would satisfy retired justice K. Chandru and TN politicians, and maybe that's why a responsible gaming approach that can bring the problems down to 0.2% is not a viable solution for them.
Let's hope their approach also proves to be responsible and TN will start producing positive news.
More Opinion Pieces