How to play roulette step by step
Roulette is a classic casino game based on chance, and learning how to play roulette is a breeze!
No joke, the rules are simple enough for you to learn in a few seconds, allowing you to play real money roulette like a pro in no time!
Here's how to play live roulette online:
Pick your online casino, sign-up, and deposit
Pick your roulette table
Place bets on the number you believe will win
Watch as the ball is dropped onto the wheel and lands on a number
Receive your payout if your bet includes the number

Rating
Support

Live Chat, Email, FAQ

Game types

Live Casino, Slot Machines Video Poker

Websitewww.casinodays.com
Rating
Support

Email, Live Chat & WhatsApp

Game types

Slots, Live Casino, Sportsbook

Rating
Support

Phone, Email & Live Chat

Game types

Slot Machines, Live Casino & Sportsbetting

Websitewww.10cric.com
Roulette rules
When you are playing roulette online India, having a general understanding of the roulette rules is essential.
The goal of the game is to place a bet on the number on the wheel where one believes the roulette ball will land.
You will have a set amount of time to place your bets, after which the dealer spins the wheel and drops the ball onto it.
Once the ball falls into a numbered pocket and remains there, the winning number is revealed, and you are paid out accordingly.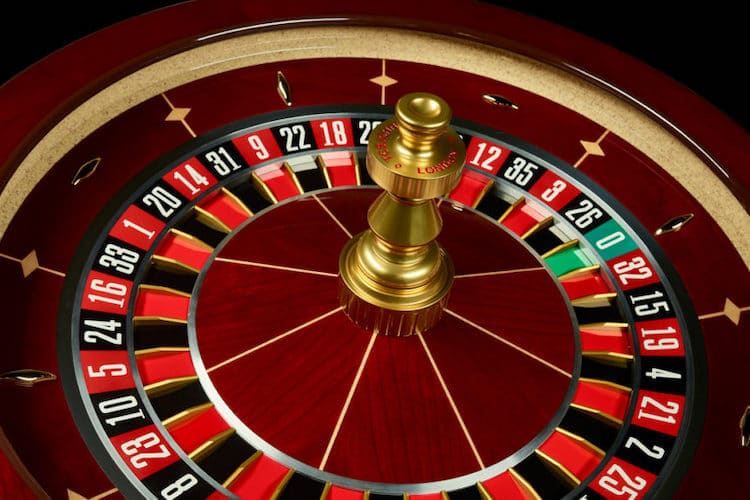 Is online roulette legal?
Real money roulette is considered a game of chance and is therefore found at land-based casinos in regulated Indian states such as Goa and Sikkim.
That said, online casino sites based in India are illegal, so if you'd play online roulette at one, you are at risk of being fined, or even jailed!
However, the gap in Indian gambling laws does not include foreign gambling sites based outside of India. Playing roulette at any of these is, in other words, legal.
The roulette bets
One of the first things you'll notice when visiting a roulette table is the large number of bets available.
When learning how to play roulette, this is the step that will take the longest to learn.
But don't worry, you'll find all bets marked on the table felt. Roulette bets are divided into two groups; inside bets and outside bets.
Inside bets
Inside bets are those that are placed inside the grid of numbers. These bets have the lowest probability of winning, but also the highest payouts when they do.
The inside bets available are:
Straight-up (pays 35:1) – Bet on a single number.
Street (pays 11:1) – One vertical row of three numbers.
Corner (pays 8:1) – Placed on the corner of four connecting numbers.
Six Line (pays 5:1) – Two adjacent vertical rows of six numbers in total.
Basket (pays 6:1) – The row closest to the zero, plus the zero.
Outside bets
Outside bets are placed outside the number grid and work like combination bets. Here you can bet on a larger amount of numbers at once based on if they are odd, even, red, black, etc.
The outside bets available are:
Red/Black (pays 1:1) – A bet on all red or all black numbers.
Odd/Even (pays 1:1) – A bet on all odd or all even numbers.
High/Low (pays 1:1) – A bet on the lower or higher half of the numbers.
Dozens (pays 2:1) – Placed on one of three clusters of vertical rows.
Column (pays 2:1) – Placed on one of three horizontal columns.
Betting interface

The betting interface is a lovely tool when it comes to learning how to play roulette. The interface shows the full roulette table, where you can place your bets.
This is how so many players can play at the same roulette table at once without the table being crowded with bets, as you'll only see your chips.
The betting interface will also show statistics, such as hot and cold numbers, the latest winning numbers, and the percentage of black vs. red numbers won.
How to make deposits and withdrawals
The real excitement of online roulette begins when you play the game using real money.
And the game is even more exciting online, as you can handle your bankroll without ever leaving your seat!
Today, several secure payment methods allow Indian players to withdraw winnings and deposit rupees with ease.
Since Indian law forbids gambling to a certain extent, being able to use a reliable payment method to easily make transactions has not always been a guarantee.
Until now.
Paytm
The Paytm online payment solution is popular all across India today, and it is used for everything from paying bills to booking concert tickets.
With Paytm, you are able to withdraw and deposit instantly using your smartphone, and there are no extra costs involved with using the method at a roulette casino site.
One of the online casino sites at the forefront of using this method is 10CRIC. Entirely focused on Indian players, they offer a great selection of online roulette tables.
Google pay
Google Pay works very much in the same way as Paytm. The difference is that Google Pay is more well known, resulting in more casinos offering it.
That said, Pure Casino is one of the roulette sites that offer the method, allowing for two-way encryption of all your transactions.
Pure is a gambling site that is entirely focused on India. For you, this means a tailored welcome offer and options to see the website in English, Hindi, Kannada, Bengali, and Telugu.
Roulette Strategies
Alright, the rules of roulette are easy, but something else you'll want to keep in mind when learning how to play roulette is the different roulette strategies available.
Using a strategy is a fun way to enhance your gaming experience, but it is also a good way to make sure you are making the most of your winning chances.
Of course, there are no secret hacks on how to win at real money roulette, but a strategy will surely make you feel like a winner no matter what number the ball lands on!
What is different in playing roulette online?
Playing roulette is part entertainment and part gambling excitement, but there are a few differences to the game depending on if you play online roulette or land-based roulette.
Of course, when you are figuring out how to play roulette, doing so online will allow you to soak in all necessary information without surrounding distractions.
To be honest, land-based roulette is fun and all, but for most of us, even traveling to a brick-and-mortar casino is a hassle. Playing roulette online in India is the way to go.
Chatting with other players and dealers
Chatting about with other roulette players at the table is, of course, also possible at a land-based casino.
However, not all players appreciate a chatty person while placing bets, which is why the live chat feature at online roulette tables work better.
You can chat with other players and direct questions to the dealer, who will answer when they've got a moment over to do so.
You can also chat with a more significant number of players at once, as there are no limits to the number of players at a live roulette table online.
Playing at your own terms
When you play roulette online, you don't have to think twice about what you are wearing or where you are.
If you were to play roulette in a land-based casino, you'd be required to follow a dress-code. You might also be restricted to playing only during specific hours of the day if the casino is not open 24/7.
Online live roulette is available to you anytime, from anywhere, without any dress code or etiquette requirement!
Roulette Variations
Did you know that there are different types of roulette wheels? An essential part of learning how to play roulette is understanding the difference between these!
Different wheels result in different chances of winning, and some roulette variations also offer unique betting options.
Real money roulette is a one-of-a-kind type of game, with plenty of variations to keep you entertained.
European Roulette
The most well-used and well-known variation of roulette is European roulette. The European roulette wheel has 37 slots, 1 to 36, and one zero.
Unless a table states anything else, it will be a European version. That's why the majority of auto roulette, speed roulette double, and dual play roulette-tables all use this version.
The bets offered at a European table are the ones that we mentioned earlier in this guide.
French Roulette
Coming in close to the European version in regards to popularity is the French roulette table. The wheel looks exactly the same as the european version, with 37 slots, from 0 to 36.
What sets the French table aside from the European one are the additional bets and rules. A French table will offer French Bets, such as Voisins du Zeró, Orphelins, Le tiers du cylindre and Jeu Zeró.
The two unique rules La Partage, and En Prison, are also in play.
American Roulette
A slightly less popular version of roulette is the American roulette variation. As the name suggests, it is still offered widely in the US, while being rarer in the rest of the world.
The reason for this is due to the extra double zero on the wheel. Besides having the numbers 0 to 36, there's also an additional 00.
Since the wheel is fitted with one extra number, the theoretical return to player is lower. For you, that's not a good thing.
As you get out how to play roulette, you'll quickly realize that American roulette tables are unpopular.
Lightning Roulette
One innovative roulette game is the Lightning Roulette table from Evolution Gaming. This live roulette table uses the classic European variation of the table and wheel, but with a unique RNG-twist.
Once all players have placed their bets, up to five random numbers are selected and given a multiplier. The multiplier can be as high as 500x, adding extra excitement to the game!
Minimum and maximum bets
To truly tie together your newfound skills on how to play roulette, you want to be aware of the maximum and minimum bets of tables.
When starting your roulette journey, you'll want to play at tables where the minimum and maximum bet levels are low.
This will allow you to play around with betting different amounts until you find one comfortable for you.
Minimum bets
The minimum bet at an online roulette table will vary depending on the table. You can find tables with a min bet of as low as ₹8, while the standard range usually is anything from ₹10 to ₹100.
If you are playing with a medium-sized bankroll, keep to the low min bet tables to ensure that your funds last as long as possible.
Maximum bets
The maximum bet in roulette is the complete opposite of a minimum bet and indicates the largest possible bet you can place.
This number will vary greatly from table to table, where some allow for up to ₹5,000,000 bets!
The max bet of a table is good to keep track of when planning your bets to ensure that you won't hit the roof of the limit. This is extra important if you are using a strategy such as Martingale.
Play for free first
Getting into the groove of roulette is easy, but if you feel more comfortable practicing your moves before going over to the real money rupee tables, free play is for you.
Using a roulette bonus or playing using fun-money are two great ways to play without risking your bankroll.
We prefer using a bonus, as that gives us the chance to convert our winnings into real money and then cash it out!
JungleRaja offers all new players ₹500 when signing up, a perfect amount to use at any of their live online roulette tables!
More Roulette Guides