Evolution Bet Behind Blackjack
If you're looking for an online blackjack type game with a unique spin, you'll love Evolution Bet Behind. Blackjack for Indian players when it´s at its absolute best!
This blackjack game has all the traditional ways to win, including coming closer to 21 than the dealer and getting a blackjack on your first two cards dealt, as well as a few side bets that are fun for newcomers and longtime blackjack enthusiasts alike. Take a closer look at Evolution Bet Behind, a live casino blackjack game from leading provider Evolution.
Top 3 Blackjack Online Casinos in India
What is Evolution Bet Behind Blackjack?
Evolution Gaming is one of the world leaders in live-dealer gaming, providing exciting opportunities for you to play your favorite table games without having to leave your home. The studio facilities from where the company streams its games are unrivaled and the operations are smooth and efficient for players. Evolution Gaming works with a wide range of leading online casinos, where their innovative software and exciting twists on classic casino favorites provide a highly enjoyable and entertaining experience for players.
When you want to play blackjack, you won't find better options than the games from Evolution Gaming. Each offers a live dealer atmosphere, provided via a high-quality live-streaming video feed. When you play Evolution Bet Behind, you'll feel just like you're in a real casino environment.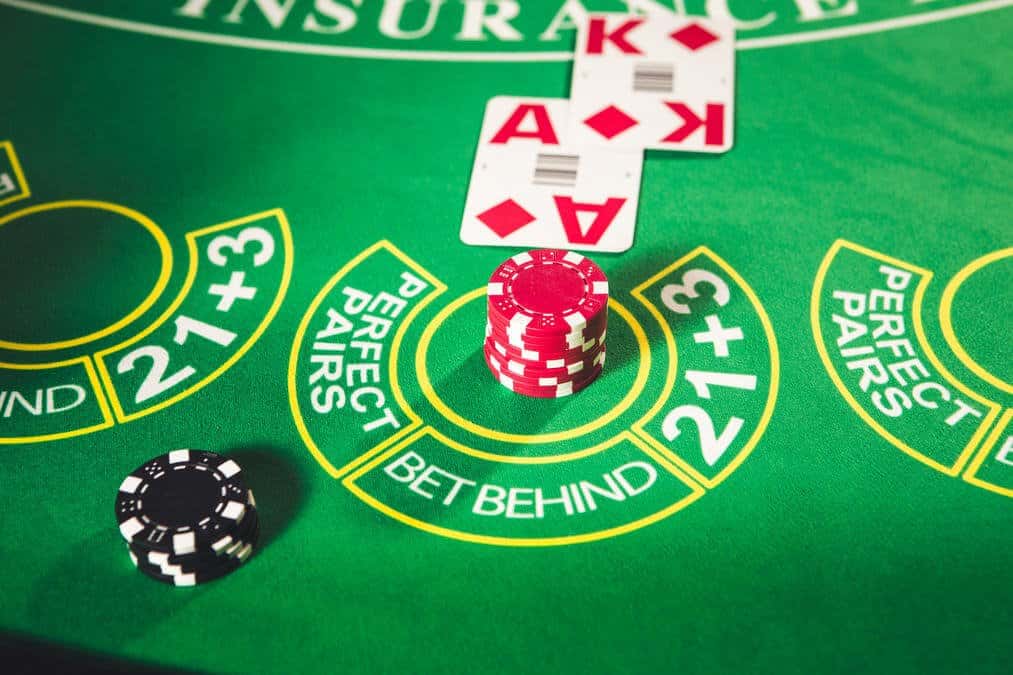 Key Benefits for Players
The name of the game, Evolution Bet Behind, refers to the option to bet on another player's hand. Betting behind is a good option when the live blackjack tables are full, but some novice players may want to bet behind even when there are tables available — a new player can get more familiar with the game by betting behind more experienced players and seeing how blackjack plays in action. Blackjack strategy can vary depending on which rules and gut feelings a player subscribes to and follows. If you'd like to get a better sense of the game or potentially win big on someone else's good luck, try the bet behind the option.
Another benefit of playing Evolution blackjack is that it offers lower stakes. The focus of Evolution blackjack is on creating a party atmosphere where potentially hundreds of players can participate in the game and have some fun. If you bet behind another player, you're not responsible for making the tough decisions. Instead, you can play along with someone who may have more experience — and still have the chance to take home some winnings. Before you start playing, take a closer look at the options for side bets to know how you want to play each hand. You can play a traditional round with the cards you're dealt, or you can try your luck for an additional payout by placing extra bets on the side games.
[single_affiliate_xl title="leovegas" ]
Format & Playing Interface
Evolution Bet Behind blackjack games is available on online casinos at any time, day or night. These online gaming opportunities work on desktop computers, as well as mobile devices that run Android or iOS. When you select the table, you'll be able to join the standard game or choose a player to bet behind if there are no seats remaining or you don't want to play your own hand. This game also offers exciting blackjack odds to keep things interesting.
Playing Features
In order to take advantage of playing the bet behind feature of this online blackjack game, you'll need to place your bet in the bet behind the box, located to the rear of the player who is in the seat. When the seats are full, a message will pop up on your screen that reads, "All seats are currently occupied, but you can always bet behind any active player." This indicates that bet behind is the only option for playing in this game. However, you can still bet behind another player even if the seats are not full. Novice players will often start the game by betting behind another.
Choose your Blackjack player
Before you choose your player, take a look at the numbered stars next to the usernames of all players who are active at the table. These indicate the number of previously successful hand wins the player had during the game. By reviewing these numbered stars, you'll have a better idea of the success of each player so you can make a more informed decision about who you want to put your faith in and bet behind.
How bet behind works
Get in on the game by placing your bet in the bet behind box during the betting time. If you miss the window, which is the same amount of time provided to active players, you won't be able to play in that round but you can get in on the next one. If you do get your bet in during the allotted time, you're officially betting behind. Watch as the player you've selected receives their cards from the dealer and makes a decision about what to do next.
If they win, your bet will be doubled. If they lose, you'll lose your bet. The limits for this side game are lower than the limits for players seated at the table. You can play behind as many players as you'd like. If the player you are betting behind chooses to split the hand or double down, you can moderate whether you stick with every decision they make. The default settings will follow what they do, but you can elect not to double down or split.
Location of Tables
Evolution Bet Behind is available to play at many of the top online casinos for players located around the world. You can play this exciting and fast-paced blackjack game at Royal Panda, Jackpot City, and many other Indian Casinos.
Our Verdict
For players in India who want more than just a traditional blackjack game, Evolution Bet Behind has a little something extra to offer. Check out the blackjack rules and potential blackjack payouts before you start playing to make sure you're aware of what you could win, as well as the limits for bet behind players. Then throw down your bet and get ready to have some fun.
[single_affiliate_xl title="royal panda" ]
[news_boxes cat="news"]
[kkstarratings]