Key Benefits for Players
When you're in the mood for the excitement and fast-paced nature of blackjack, the last thing you want is to be slowed down by a player who doesn't know what they're doing or is getting distracted. With this game's pre-decision feature, you can make decisions faster and keep the round moving. In addition to this feature, the game also boasts two additional side bets.
Great odds for potential big wins
The first is perfect pairs, which offers bigger payouts if the first two cards you're dealt match. If the two cards match in number but not in suit or color, the payout is 6:1. With two cards of the same color and number, you'll receive a 12:1 payout on your bet. The best pair to get in this side game is two identical cards in suit and number as the payout for that combination is 25:1.
The second side betting option is called 21+3, which puts a poker spin on blackjack. When you bet this way, you'll win based on the first two cards you were dealt, along with the card the dealer has showing, if they form a winning poker hand. For a flush, you'll get a payout of 5:1, while a straight offers 10:1. Get three of a kind for a 25:1 payout or score a straight flush to get 40 times your original bet on the side game. If you get three of a kind with matching suits, the payout is an impressive 100:1.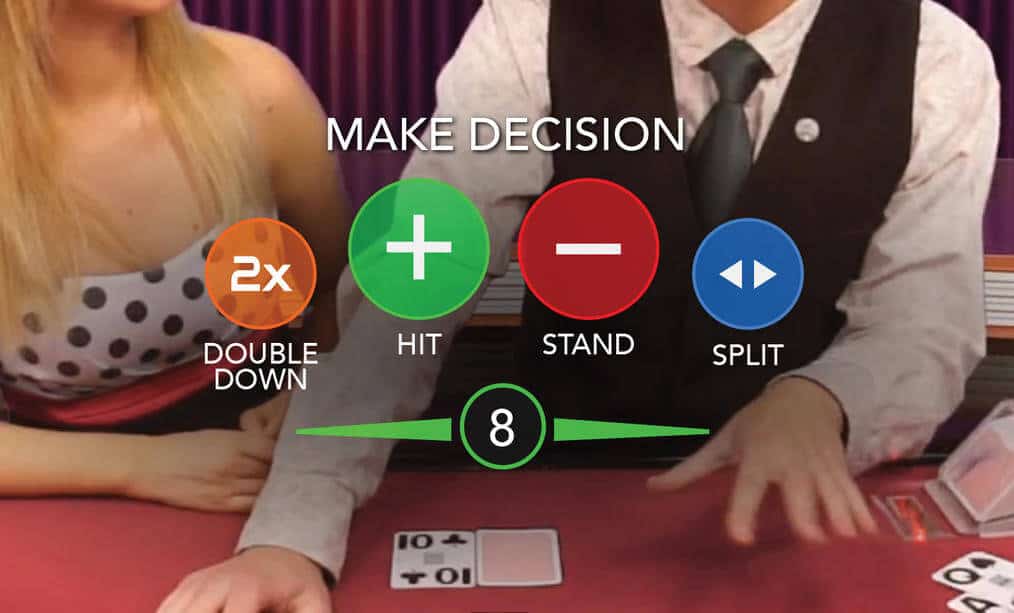 Format & Playing Interface
The playing interface of this blackjack game is user-friendly and easy-to-play on both mobile and desktop devices, including mobile devices running iOS and Android. It provides a similar atmosphere to what you'd experience in a casino, thanks to the live video feed of the dealer, who participates throughout every round.
Playing Features
Blackjack is a fun and exciting game for players of all skill levels. Everyone at the table is playing against the dealer in an attempt to come as close to 21 as possible without going over. If the player and the dealer have the same number in their hand, it's called a push, which is a tie. In this case, the player retains their bet. The magic number in blackjack is 21, which can be reached in a variety of ways.
A true blackjack occurs when a player or the dealer has an ace and a 10 or face card. This combination pays out 3:2. Blackjack payouts are generally the same at every table and in every casino. If the dealer goes over 21, all players who haven't busted will receive the amount of their original bet. Before you decide what to do next, make sure to consider the blackjack odds based on what the dealer has showing and understand the blackjack rules that apply your hand.
Location of Tables
When you're strolling through a casino, you'll spot blackjack tables all over the floor. Blackjack is extremely popular among novice and experienced gamers, so casinos cater to these players by providing plenty of opportunities to join a game. Each table in Evolution Pre Decision blackjack has seven seats and a live dealer, brought to players by a live-streaming video feed.
Similar to a traditional casino atmosphere, the tables seat seven virtual players each. If the seats are full, you can still participate with the bet behind feature. When you bet behind, you'll be betting on another player's hand and blackjack strategy. If they choose to hit, you won't have any say in the matter — but if that player wins, you win back the amount of your bet, unless the player gets a blackjack, in which case the payout is 3:2. You can bet behind as many players as you'd like, although the betting limits are lower than they are for the players at the table.
Our Verdict
If one of your complaints about playing online blackjack is that you have to wait too long for other players, Evolution Pre Decision offers the ideal solution. You can keep the game moving by making your decision on what you want to do next as soon as you receive your cards. Check out this fast-paced and interactive blackjack game on Seven Jackpots.