Step-by-step how to play blackjack
Since real money blackjack is a game of decisions and strategy, playing blackjack online is much easier than playing it at a land-based casino.
Here's how to play live blackjack online:
Choose a casino, sign-up, and make a deposit
Select a blackjack table
Place your bet to participate in the game
Receive your cards and decide what actions to do next
 See the dealer's second card and their actions
Win or lose your bet depending on the outcome
Blackjack indeed has a few more steps than other casino games, but it's all part of the excitement that is this intriguing card game!

Rating
Support

Live Chat, Email, FAQ

Game types

Live Casino, Slot Machines Video Poker

Websitewww.casinodays.com
Rating
Support

Email, Live Chat & WhatsApp

Game types

Slots, Live Casino, Sportsbook

Rating
Support

Phone, Email & Live Chat

Game types

Slot Machines, Live Casino & Sportsbetting

Websitewww.10cric.com
Blackjack rules
The rules of blackjack online in India are easy, and they all lead you to the goal of the game; to win over the dealer.
This is done by either making them go bust (exceeding 21), getting a blackjack, or being closer to 21 than them without going bust.
The dealer will have set rules to follow, such as being required to stand on 17 but hit on 16. On the other hand, you are allowed to hit or stand at any point, up until you exceed 21 and automatically lose the game.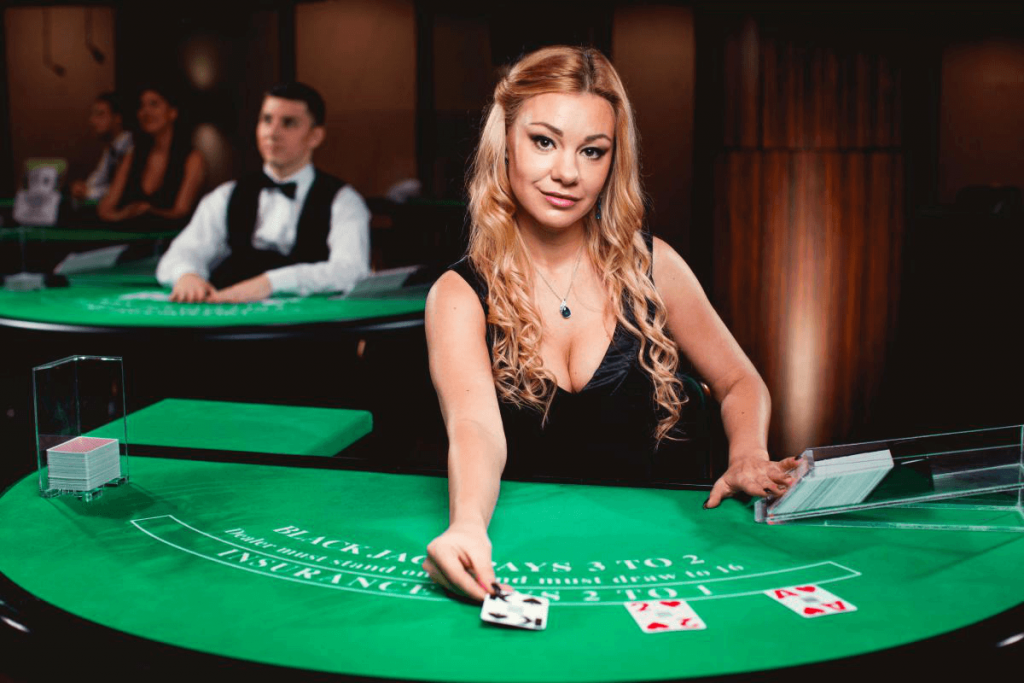 Is online blackjack legal?
Even though live blackjack is such a popular game, it's actually not completely legal to play just anywhere.
Blackjack sites that are located within India are only allowed if based in Sikkim, while the Indian laws of gambling don't apply to blackjack casinos based outside of the country.
In other words, you're able to learn how to play blackjack at any foreign online casino without having to worry about laws and regulations.
How to win in blackjack
You'll win in blackjack when your hand is better than the dealers, or the dealer has gone bust.
Some think that a blackjack means an automatic win, but the truth is that there's a risk for a tie, should the dealer also obtain a blackjack!
The best way to maximize your winning chances is to use a blackjack strategy. Strategy cards tell you exactly what action to do in any situation for the best possible chance to win.
How to count cards in blackjack
Blackjack is a game that requires skill (unlike what Indian laws might say). Since there's skill involved, there are ways to affect your probabilities to win.
Using a strategy is one way, but there's also the possibility of counting cards. Card counting on its own won't do much good, but combined with a basic blackjack strategy, it can be a useful tool towards big wins!
Keeping track of cards is relatively easy; just keep in mind that some blackjack sites won't allow it.
Betting interface
When learning how to play blackjack, the betting interface is what will tie it all together. The interface is shown partially on the table, and partly in an interface menu, depending on the provider.
On the table, you'll have spots to place your main bet and any side bets. Here you'll also see the total value of your hand.
When it's your time to decide on your hand, you'll see your options, either as an overlay on the table or below.
Hit
When you choose Hit during your turn in online blackjack, you'll be dealt another card. This action can be done until your cards' total value exceeds 21.
You'll most often hit when the dealer's card is 7-A, and your hand is below 16. It is possible to request a hit on higher hands as well, but the risk is that you'll get a high-value card and go bust instantly.
Stand
When you are happy with the hand or hands you have, you can choose to stand. This is an action that signals to the dealer that you will not perform any further actions during the hand.
In other words, you will not be dealt any more cards, and you'll also be unable to split or double down.
Standing should always be done if you have 17, A-8 or a pair of 10s since these hands are valued 17, 19, and 20.
Double Down
If you decide to double down, you double your bet, while getting one additional card dealt to you.
This is the only action that you'll do during the hand, and since you increased your bet, you now have the chance of an even higher payout.
You should always double down if you have 11, and do the same if you have 10 or a pair of 5s unless the dealer has 10 or A.
Split
As the name suggests, a split will split up your two cards into two separate hands. They'll then get one new card added to each hand.
You'll place a new bet on your new hand, identical to your original bet. This is only allowed on paired hands, and should always be done to pairs of 7s, 8s, and Aces.
How to make deposits and withdrawals
For you to learn how to play blackjack properly, you'll want to do it for real, using real money.
You'll be glad to know that topping up your casino balance, and withdrawing your winnings, is much easier when playing online blackjack!
Instead of leaving the table to do transactions, online tables allow you to do them instantly, without losing your seat. Neat right?
Paytm
For an overall secure payment experience, Paytm is here to help. The method is developed and launched in India, which makes it ideal for any desi blackjack player.
The method uses your smartphone to make the transaction in the same manner as an e-wallet would.
Paytm is rather new within the online gambling industry, but one of the casino sites that already offer it is 10CRIC. They've got a strong focus on India, and a great selection of blackjack tables.
Google pay
A payment method that is slightly more common is Google Pay. Created by Google and available for both Android and iOS devices, the method is already used worldwide.
Pure Casino, a high-quality casino with full focus on India, offers the method to its players. For you, this means that you'll be able to make deposits and withdrawals securely.
There are also no transaction charges connected to the method, so that you can complete your transactions in peace.
What is different in playing blackjack online?
Learning how to play blackjack is very straightforward when doing so online. Don't be fooled, though; there are differences in playing blackjack online and playing at a land-based casino.
That said, the differences are all in favor of the online version! Here's a selection of some of the things that you'll get to enjoy when gambling online.
Chatting with other players and dealers
Yes, you can speak to other players and the dealer at a real table as well, but the conversation might not always go as smoothly as it does online.
Since you're using the chat feature to communicate with your table buddies and the dealer, they will reply when they have time.
Remember, the dealer is working, and other players might count cards or use a strategy, things that make talking a bit distracting. With a chat, you'll get much clearer communication!
Bet behind
Unique to the online blackjack tables is the Bet Behind feature. This is a great feature that lets you place a bet on another player's hand.
You will have no control over how that player decides to play the hand, but it allows you to have more active bets.
When waiting for an available seat at a full table, betting behind is also a great way to view the game, and participate at the same time!
Playing at your own terms
Of course, playing online is entirely free from any form of dress-code, or etiquette. If you want to play Indian live blackjack in your pajama, you can!
You can also bring the table with you on your mobile or tablet, which allows you to play from anywhere at any time.
In other words, you are in charge of the game and the mood. If you'd like to blast some Bhangra bangers while playing, go ahead!
Pre-decision making
Something else that you'll only find at real money blackjack online is the pre-decision feature. To speed up the game, using this feature allows the game to play for you. Well, sort of.
The pre-decision feature gives you the option to already decide what action you want to take, even though it's not your turn to decide yet.
When it's your turn, the dealer already knows your decision and can assist you instantly.
Have control over your gambling
Part of knowing how to play blackjack is knowing how to play responsibly. Online casinos have several different types of tools that allow you to play in a more controlled manner.
Some of these tools include limits on deposits and loss, reality-checks that inform you how long you've played and how much you've won or lost during that time.
Blackjack is an exhilarating game, and it's easy to get lost in gambling. Play responsibly for the best possible experience!
Never have to wait for a seat
While a classic blackjack table will have seven available seats, advanced digital technology has created tables that can host an unlimited number of players!
Tables such as Infinite Blackjack, Unlimited Blackjack, and Live Blitz Blackjack are all versions of this game.
All players play on the same hand, and the dealer actions the cards as per your decision. It's a must-try for any avid blackjack player!
The table layout
A standard live blackjack table will have seven marked spots for cards along the player's side of the table.
There's one marking for each player, which means that seven players can sit at the same time.
Above these are the basic rules of the table. Usually, this will state that blackjack pays 3:2, that the dealer stands on 17, and that insurance pays 2:1 if offered.
Play for free first
A great way to nail those strategy moves, and to get a better understanding of the rules of blackjack, playing the game for free is a great start!
Of course, playing for free while still having a chance of winning real money is the best option. JungleRaja gives all new players a ₹500 bonus to play for.
No deposit needed, just sign up with the bonus code and the bonus is yours. You can use these funds to play any games in their portfolio, including blackjack!
More Blackjack Guides