Technology has revolutionized most economic sectors in India, yet benefits for businesses and users aren't without risks. Websites and Apps handle sensitive data and are difficult to control, often being based offshore. Online gambling is a specific sector where foreign companies can avoid being held accountable for taxes and local laws.
Lately, the Centre has been trying to establish some standards to protect consumer rights and cybersecurity. By challenging tech giants like Facebook, Google, and Netflix, they remind us that, where there is money involved, regulation follows, sooner or later. For online gambling, regulation might just be the right call.
Key Reasons to Regulate the Gambling Market
Regulating an industry is always part politics, part finance. When an economic sector has a big turnover of social influence, authorities consider setting up some rules. Rules are created:
If an important existing industry is exposed to risks;
In the name of public interest – e.g., taxes, consumer protection, job creation;
To bring transparency to a sector and assure investors it is stable;
To eliminate undesirable effects. Information campaigns and supervising agencies are often set up.
Main Purpose of Regulations
Regulation is intended to simplify complex situations. Public interest is the driving force behind most such decisions, and the result is legal standards, definitions, and "red lines."
Some sectors are allowed to self-regulate to improve. Industry actors usually do a good job if given a chance – mutual control is often better than government oversight. Experts make sure rules are followed and report each other's mistakes.
Total regulatory uncertainty makes planning and investment difficult – ultimately blocking company growth. The Government is responsible for tax collection and defending the public interest (including ethics in business.)
Economists insist that authorities should not regulate technology itself. They should rather need follow-up on taxation, personal data protection, fair competition, and tech transparency.
Which Safety Nets Are Included in Regulated Gambling
The popularity of online gambling is undeniable, but businesses in the sector should be made to guarantee consumer protection. Gambling regulators in some countries have found the right balance: Responsible gambling is encouraged through "safety nets," an important part of leading gambling sites.
Examples include speed-of-play limits (3-second spin stop,) prohibiting "false wins;" single-window/app is OK; "reverse withdrawals" are not (i.e., changing your mind when cashing out). Some operators even have AI-recommendations for self-exclusion, while most regulated European countries have a shared self-exclusion register.
Safe gambling practices can help develop quality regulation – in policy and practice. They also support players in a safe gambling experience. Gaming verticals (businesses), on the other hand, tend to self-regulate and coordinate their efforts.
Estimating How Much Taxes India Would Get from Regulating Gambling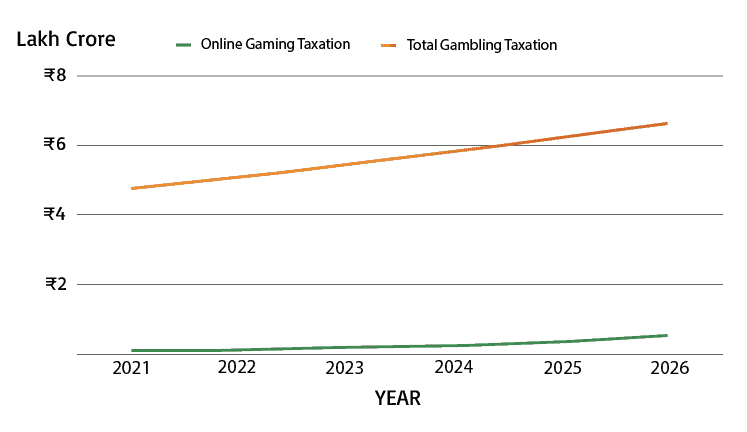 Taxation of legal markets is the first thing that comes to mind. And, we all agree, numbers speak louder than political statements.
A 2019 KPMG report estimated the Indian betting market at $130 billion (₹9,50,000 crore), growing roughly 7% between 2012 and 2018. These figures give a pretty good idea of the enormous potential that currently unregulated markets might have for the Treasury.
A 2021 report from Deloitte India calculated that online gaming alone is worth $2.8 billion (₹20,500 crore). While much smaller, the online games segment will still grow 40% by the end of the year and represent 10% of India's Media and Entertainment economy.
The industry's public revenue potential is subject to Bharat's taxation system. Essentially, about half of a company's turnover is collected as taxes. Players have a non-taxable minimum of ₹10,000.
Based on the above market size, online game operators would end up paying around ₹53,000 crore in annual taxes by 2025-2026. Taxing all gambling in the country might bring in up to ₹6,60,000 crore in the same year. The Centre currently collects only a fraction of that.
What's more, these amounts do not include licensing fees. Finally, regulation lowers money laundering and corruption and improves job creation and business climate.
What Are the Challenges to Regulation?
Industry experts doubt that India would manage a national-level regulation any time soon. Crucially, effective regulation depends on the capacity to enforce these rules. This is a demanding task which the Centre might not be able to put in place.
States seem to be holding the key: industry self-regulation might be preferable, more efficient, and faster to adopt. National standards will still be needed.
There are also business challenges, including technological and ethical issues, which make everything very tricky.
Potential problems include:
Technology is developing faster than legislators can regulate;
Disruptive technology crosses industry boundaries – this might lead to shifting liability from user to provider;
Gaming monetization often escapes definitions as well;
The "black box" of AI – the authorities cannot see/understand the inside algorithm;
Digital privacy and information security are always at risk; the Consumer Protection Act (2020) is a step forward, albeit insufficient and imperfect. Fortunately, India is well prepared in this field.
The right levels of self-regulation – industry can facilitate compliance and monitoring; Yet, conflicts of interest are around the corner.
With that in mind, general gambling standards need to allow for certain flexibility and evolution.
Should Digital Gambling Providers Be Regulated?
Transparent regulation will help the best gambling platforms prove their integrity to the public eye. Formal guidelines on online gambling will improve the business climate and bring benefits to State coffers.
A regulated market is better than an illegally functioning one. Examples of effective gambling regulation are found easily: licensing, taxation, and monitoring come first. Corruption and lobbying need to be rooted out with precise legal definitions, altogether raising consumer protection standards.
Business consultants and UN Agencies have indicated some of the difficulties when regulating other digital niches. Benefits to citizens and businesses depend on a regulation that is adaptive, data-driven, and collaborative.
More Research Articles