India is the birthplace of many of the world's favorite games. Today, it has a dynamic online gambling market – in the top 5 by size and growth potential. Desi players show a wide range of game preferences, and they all seem to have one thing in common – playing online more as mobile games become more common.
Measuring the importance of online gambling on a state-by-state level is shown to be quite challenging. That said, the experts at ENV.Media have shared research data that reveals trends and regional specifics. They add up to Indian online gamer profiles already published by other important business consultancies.
Key Findings
Overall development levels show that six major cities and (and their States) add up to almost 2/3 of all Indian online casino players.
Mumbai, Delhi, Kolkata, Chennai, Bangalore, and Hyderabad lead the pack. They confirm the importance of tech development, business climate, and media exposure. Pune, Ahmedabad, and Surat also rate well in online gambling.
Indian gamblers follow global trends more closely than before. Internet coverage improves, and mobile devices become more affordable. Cheap data plans and e-payment options increase market size. The Covid-19 pandemic did the rest, putting offline entertainment to a halt and leaving iGaming as the reliable choice.
Offshore gambling sites offer easy access to desi players. Global Market Insights predicts the Indian online gambling market to continue growing at around 22% (more than the global average of 16%).
ENV.Media experts believe big urban centers will continue rising in importance. Even so, urban and rural online gamblers are close to equal in total numbers.
Which Indian States Lead in Online Gambling?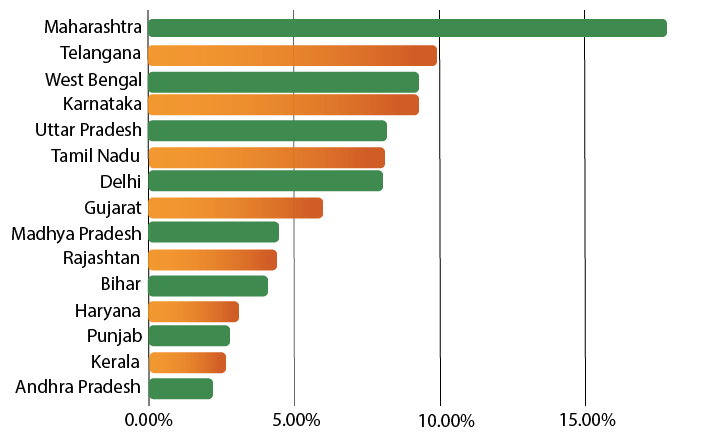 India is becoming increasingly urban: the city population is above 1/3 of its total (with more than 50 cities above 1 million). If we add that more than 75% of all Indians are below 45, we can see why young urban Indians have become the main users in most online markets.
Historically, gambling in India has always been popular. Land-based casinos are now past their peak – while Goa, Sikkim, and Daman limited local players and the youth from entering. Online gambling gave access to many users with disposable income and interest in real-money gaming.
ENV.Media uses Google Analytics to verify internal data: most player visits and online casino registrations come from Maharashtra and Telangana. (April 1 – September 15, 2020).
Both states are low-poverty, high-income. Maharashtra also has a huge population. These two states bring in more than 1/6 of all user visits. Mumbai and Pune residents give greater importance to online gambling due to their free time and disposable income.
They are followed by states that report good above-poverty levels – West Bengal and Karnataka – and a sizable population. Uttar Pradesh also has its volume (8%), but it only matches NCT Delhi numbers with the country's largest population.
Put simply, the states which are home to the leading 6 Indian cities ensure the majority of online gambling, with 62.1% of all online casino customers.
Does Sports Betting Paint a Different Picture?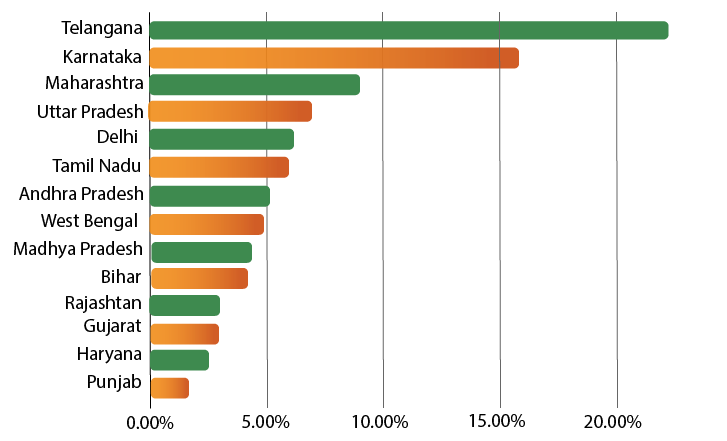 Sports betting is often seasonal in India but always a huge industry. In 2018 alone, Indians spent USD 1.73 billion on sports gambling. Desi users wagered increasingly on sports outside cricket and horse racing and began following some popular European and American sports.
The major difference with online casinos is the rise of Telangana and Karnataka. The first one brings almost a quarter of all sports betting users, despite its size. Both states are home to some of India's important tech hubs. Hyderabad and Bengaluru have young professionals who like innovation, digital products, and globalized services (e.g., crypto payments for gaming are on the rise).
Back in 2017, Telangana outlawed online gambling and betting; Andhra Pradesh followed suit in 2020. Popular games and betting became unavailable within state limits, but players found alternatives online. Limitations made these States rise in online gambling rankings (especially Telangana). Still, tastes and the passion for sports betting come from a particular client pool in the region.
How about Mobile vs. Desktop Access?
Indian Government figures reported 750 million Internet users in 2020. The 'Digital in India' industry report shows that internet penetration is increasing. Delhi sits on top (with around 70%), followed by Kerala. These two States lead the technologically advanced South. Karnataka, a major IT hub, reports only 42 %.
Access is mostly 4G, and smartphones remain the dominant devices. Cheap and easy to use, they are the choice of 97% of all internet subscribers. Some of the world's cheapest data packages also help.
Narrowband and wired connections are disappearing, with young desi mobile users already passing China's youth market in 2019. Fintech solutions provide easy monetization and mobile payment options.
Freemium, in-app and contest-related real money games brought mobile gaming penetration to 8% in 2020. Forecasts place mobile games at above 10% in 2025, with pre-installed apps, social and instant games fuelling market evolution. Such developments bring advantages to mobile casino gaming as well.
Economic and Demographic Differences in Online Gambling
India's online gambling market potential is owed to a growing economy, young population, and gambling habits. But Bharat gamers are globalized and curious – those with disposable income have shown to appreciate foreign gaming products.
Today, India's leading urban areas have top-level healthcare, entertainment, and sports. The richest Indian cities have a large online gambling presence because of their middle class (between 300 and 350 million). They can afford to consume online entertainment and gaming more often.
Despite some difficulties, UN reports (2019-2020) show that Andhra Pradesh and Sikkim have improved, and many States remain stable – Himachal Pradesh, Meghalaya, Telangana, Maharashtra. The last two are also large enough to rank well in online gambling.
The HDI index shows that life expectancy, education, and income levels matter. Kerala, Goa, and Delhi top the list, followed by the likes of Maharashtra, Haryana, and Tamil Nadu. Karnataka, Telangana, Andhra Pradesh, and West Bengal are also above the Indian average and report a good online gambling presence.
Exposure to major media also counts. The Government ranks States by media exposure – and the top spots go to Kerala, Punjab, Tamil Nadu, Goa, Andhra Pradesh, Telangana, Karnataka, and Maharashtra. It is easy to spot the link between mass-media "intake" and the propensity to gamble.
Finally, the digital gap between urban and rural realities is no longer an issue: An average annual growth of 18% brought rural Indian internet users above urban ones in total numbers.
More Research Articles