Best evolution craps casinos in india
How to play Live craps by evolution
We're not going to lie, Craps can look a bit daunting at first, which is why some people steer away from it.
But what if we told you that learning how to play Craps only requires you to know how to place one, single, bet?
You're able to enjoy Craps with only the Pass Line bet! Once you're comfortable with that one, you can move on to other bets, if you'd like.
Step-by-step: How to play
Place a Pass Line bet when the marker shows "OFF."
Watch as the dice are rolled for one of three outcomes:
Craps: 2, 3, or 12 is rolled, the bet is lost
Point: 4, 5, 6, 8, 9, or 10 is rolled, Point is established
Win: 7 is rolled, you win 1:1.
When Point is established, you can place other bets.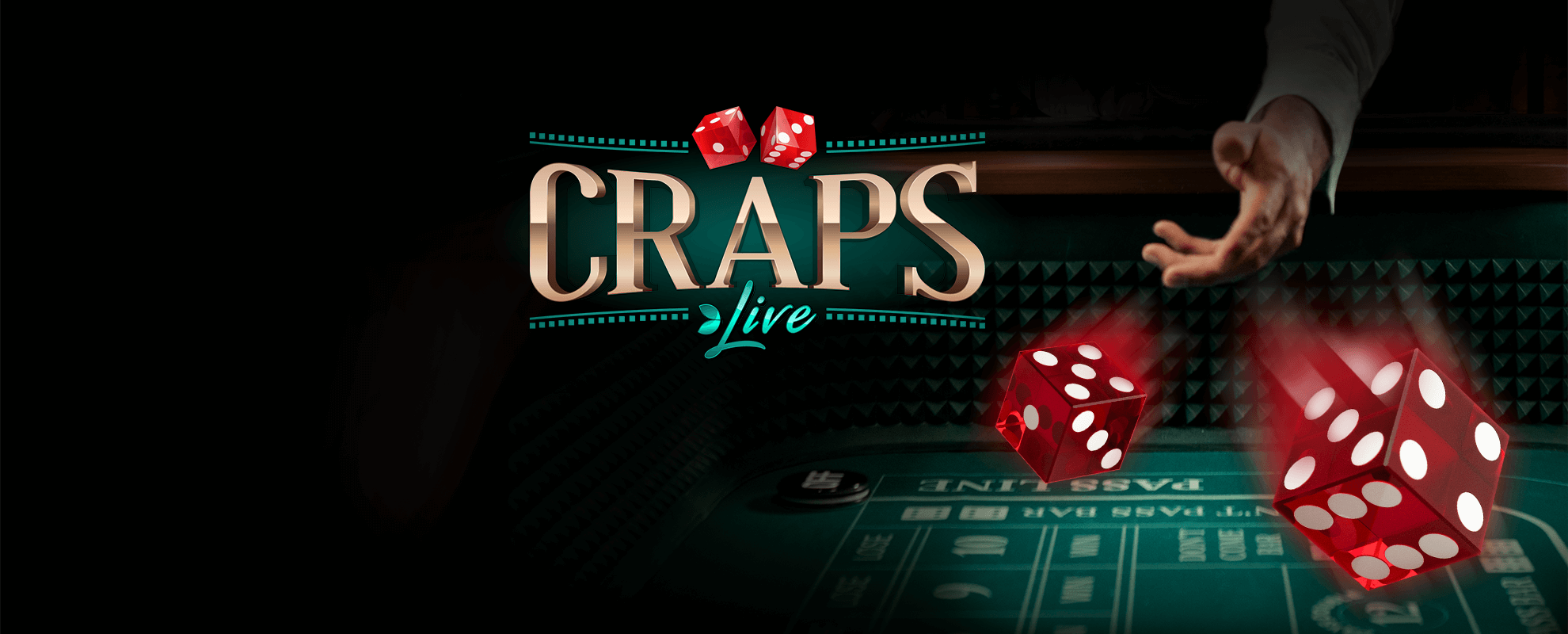 Benefits of the craps table by evolution
There are several benefits of choosing the Evolution Craps table when playing.
The table is streamed in crystal clear HD-quality, the interface is easy to use, and is optimized to provide easy Craps even for new players.
The shooter (the one throwing the dice) is automatic, and there's even an interactive tutorial available for when you want to spruce up your skills or learn Craps rules.
You'll also find dynamic statistics and the most popular bet types visible in the Craps studio as you play.
Last but not least, optimal gameplay offers an RTP of 99.17%, one of the highest theoretical payouts of any online live casino table!

Feature: My Numbers
The My Numbers feature makes it easy and fun to keep track of possible totals and payouts while playing.
Numbers affected by your placed bet will be highlighted in My Numbers, also showing the potential payout.
For example, if you were to place a bet on Craps 12, number 12 will be highlighted, and you'll see potential winnings on the bet.

Feature: Craps Tutorial
A great way to learn how to navigate the Craps table and the player interface is to make use of the Craps tutorial.
The tutorial is interactive and allows you to click the various bet types to learn more about them.
You can also see what happens to a specific bet, depending on a selected result of rolling the dice.

Feature: Dealer Assist
In land-based Craps, it's common for players to leave their initial chips on bets, even if they've won. This makes it easier to play the same bets again.
When Dealer Assist is active, your placed bets will remain on the table unless you manually remove them. This can be adjusted in the "Settings" section of the game.

Feature: Dynamic Statistics
The Dynamic Statistics are shown on the wall screens of the Craps studio.
Top number statistics show the top five dice totals where most players have placed their bets.
Popular bets statistics show the top five most popular bets. This statistic will reset after every roll.

Bet types of Evolution craps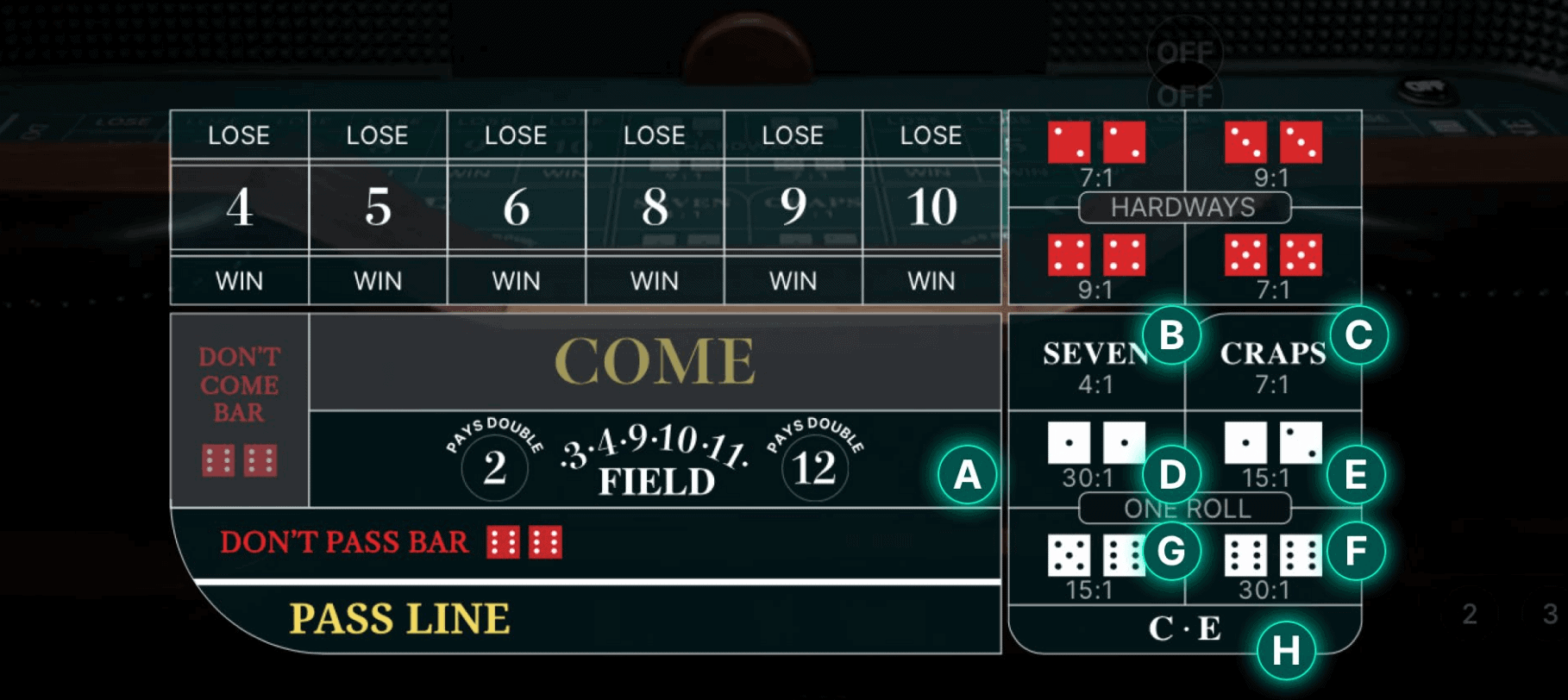 You'll easily find all the most common Craps bet types on the Evolution Live Craps game's betting interface.
You've got the Pass Line, the Don't Pass bet, the Come bet, and the Don't Come bet for your Point related bets. All Point and Place bets are shown as numbers, with the Win and Lose Odds on either side.
Hardways are shown using red colored dice, while One Roll bets are shown using white dice images to make it easier to distinguish between the two.
Evolution Craps First Person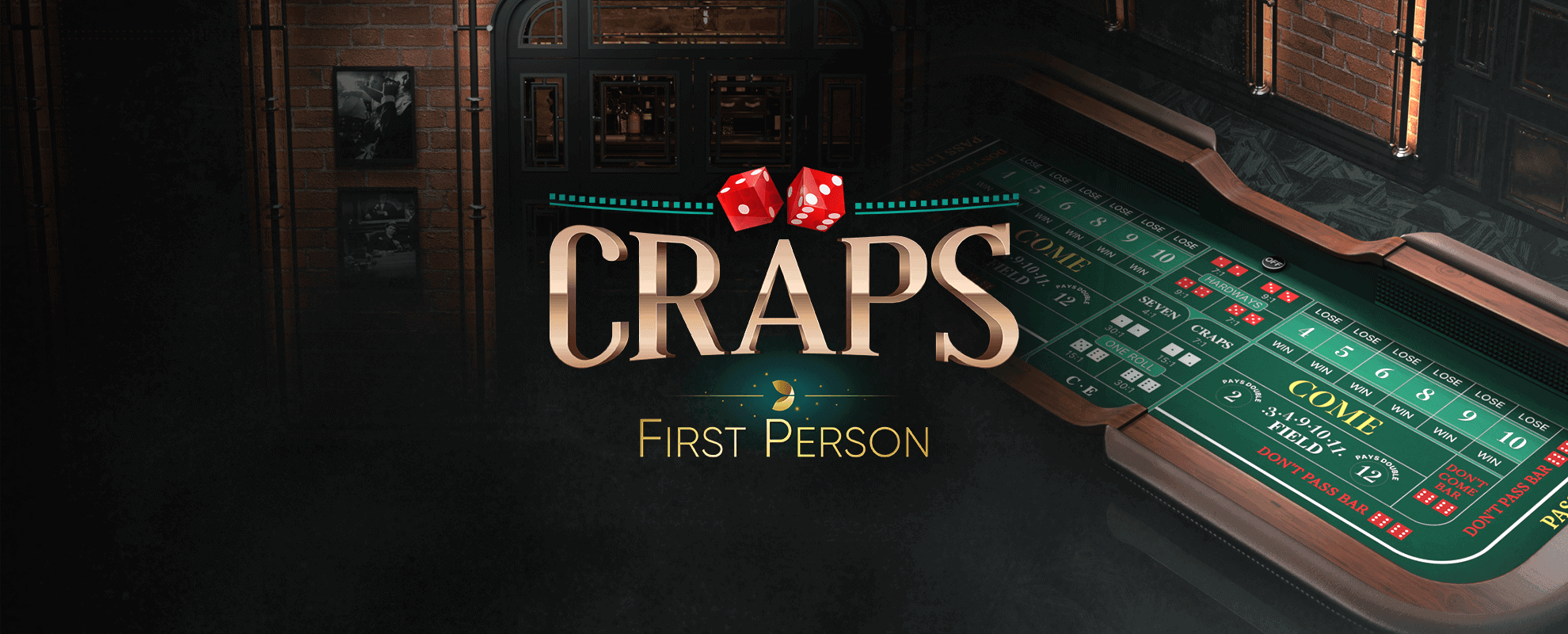 For those who rather play Craps at their own pace, the First Person Craps table from Evolution is perfect.
The table is completely digital and uses a Random Number Generator (RNG) for each dice's throw.
You are in charge of rolling the dice here, which means that you can take as much time as you like when placing your bets before rolling or practice Craps strategy before going live.
The "GO LIVE" button will seamlessly move you from the First Person Craps table to the Live Craps table.