Step by step how to play baccarat
When we said that it only takes a few seconds to learn how to play online baccarat, we weren't joking.
There's only one action you need to make when playing live baccarat; for the rest, you can just sit back, relax, and enjoy the show!
Here's how to play live baccarat online:
Select your casino, create an account and deposit
Head on over to the live casino section and pick a baccarat table
Place your bet
See the dealer reveal the cards
Win or lose depending on the outcome
Baccarat rules
In real money baccarat, the rules are that you'll place a bet on which hand you believe will win. You have three options; the Player winning, the Banker winning, or a Tie.
The hand closest to nine wins and the value is decided by the cards revealed for the Player and Banker.
Cards 2-9 have face value, 10 through King are worth zero, and any Ace is worth one.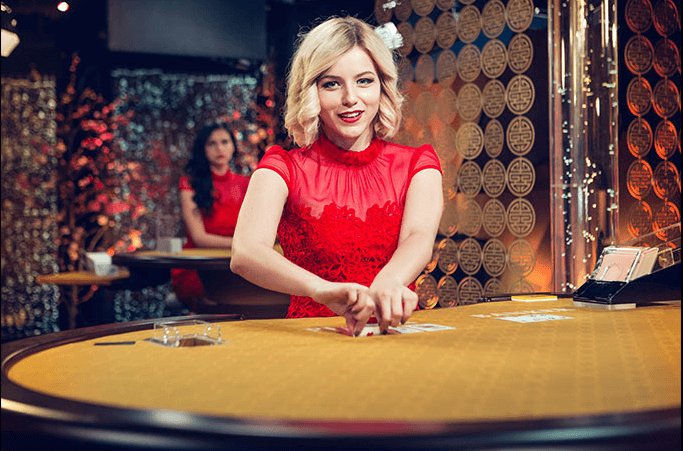 Is online baccarat legal?
As you may or may not know, India's legal landscape, when it comes to gambling, is all over the place.
In short, it's complicated.
Certain states, such as Goa and Sikkim, allow gambling, while others partially allow gambling, but only on certain games, or on the lottery.
Is baccarat legal in India? Yes, just choose one of the casinos listed here! They are all based outside the country and are therefore not operating under Indian law.
The baccarat bets
When learning how to play baccarat, it's nice to know that there aren't too many bets to keep track of.
In roulette, for example, there are ten (!) different bets, while baccarat only has three, plus potential side bets.
The baccarat bets are part of why the game is so popular; it's easy to choose which bet to place and understand which bet that won!
Banker
The Banker bet pays 1:1, and the bet will always be on the right-hand side of the table.
This bet does, however, come with a slight catch. Any bets placed on Banker is also susceptible to pay a 5% commission to the house on winning bets.
If you don't want to pay the commission, keep your eyes open for so-called "no-commission" baccarat tables.
Player
On the left-hand side of the table, you'll find the Player bet. This bet pays 1:1 just like the Banker bet, but there's no commission fee connected to this baccarat bet type.
When learning how to play baccarat, it's good to place the majority of your bets on the Player side to avoid the extra 5% fee.
That is unless you are already playing at a no-commission table, of course.
Tie
If you believe that the Player and Banker bet will end up with the same value cards, you should place a bet on a Tie.
This bet pays 8:1, which is quite a lot higher than the two main bets available. The Tie bet is placed in between the Player and the Banker.
Of course, for the bet to payout, you'll need both hands to play along, unlike the standard bets where only one hand is relevant.
Side bets
Understanding how to play baccarat is also understanding how to use side bets. These are additional bets you can place in addition to your main bets:
Player Pair/Banker Pair – Pays 11:1
Perfect Pair (One pair) – 25:1
Perfect Pair (Two pairs) – 200:1
Either Pair – 5:1
Player/Banker Bonus – Hand combos paying from 1:1 to 30:1
How to win in baccarat
Winning in baccarat is easy. All you have to do is place a bet on the hand that shows a value closest to nine; alternatively betting on that both hands will have the same value and therefore tie.
When the cards are turned over to reveal the value, they will either have a value or require an additional card.
One more card is needed if the value is below five, while if it's above nine, the first number is not counted. For example, if the hand value is 16, it counts as 6.
How to use a baccarat strategy
Learning how to play baccarat with basic baccarat rules is easy, but did you know that it's just as easy to play baccarat with a strategy?
In baccarat, in particular, strategies are commonly used. Since the Banker and Player bets are even money bets, they are also perfect bets for a Martingale strategy.
To use a strategy, you simply follow the strategy rules. In Martingale, for example, you'll start betting, and if you lose, you double your bet, while if you win, you go back to your initial bet amount.
Betting interface
The betting interface of baccarat will differ quite a bit from other online casino table games.
The most noticeable difference lies in the rather small betting area, with the rest being white grids with blue and red colored circles and lines.
While the betting area of the interface is rather self-explanatory, the grids, or baccarat roads as they are also called, are harder to comprehend when beginning to learn how to play baccarat.
These grids are different statistics, and they play a big part in the entertainment of baccarat for a lot of players.
How to deposit and withdraw
Online baccarat is truly the most fun when it is played for real, and luckily for you, real money baccarat online is much easier than the land-based casino version!
The reason for this is the way you deposit and withdraw funds. At a land-based casino, you'd have to walk over to the cashier to make your transaction.
At an online table, you can make deposits and withdraw your winnings directly from the table using a great number of different deposit methods.
Paytm
Paytm is an online payment method that ensures your transactions are conducted in a safe and secure manner.
The method is created and based in India, and thousands of Indians are already using the method for various types of online transactions.
If you want to enjoy Paytm for your live baccarat gaming, 10CRIC offers its players the method for both deposits and withdrawals. It's also completely free from additional fees.
Google Pay
Google Pay has become a standard secure payment method for Android and iOS users worldwide in the last few years.
Although Apple Pay still dominates the iOS users, anyone with a smartphone will be able to use GPay for both online and NFC-transactions.
When you want to use Google Pay for gambling online, Pure Win offers the method, and just like with Paytm, it's available for deposits and withdrawals, and it's free from fees.
What is different in playing baccarat online?
Like all other casino table games, baccarat originates from a time long before computers, smartphones, and the internet.
Learning how to play baccarat has, for a long time, therefore, required a visit to the nearest brick-and-mortar casino.
For players in India, it's a hassle going to Sikkim or Goa just to learn how to play online baccarat, which is why playing baccarat online is so much better!
Chatting with other players and dealers
Striking a conversation with other players or the dealer can be seen as annoying by some players, especially when playing at a land-based casino.
When playing baccarat online in India, you can make use of the live chat feature. It allows you to chat with other players, and the dealer in a non-intrusive way.
Playing at your own terms
Land-based casinos often have some form of dress-code one has to follow to be allowed in. When playing real money baccarat online, you can be dressed however you want!
Or not dressed at all, we won't judge!
You can also play when you are tired, fresh out of a wonderful nap, or sitting on the bus on your way home. How you look and where you are when playing is completely up to you.
Responsible Gambling
One of the best ways to get really good at baccarat is to play with control. When playing at a land-based casino, it's easy to lose track of time, or how much you've won or lost.
At online casino sites, you have several responsible gambling tools to make use of that will make your gambling experience even better.
Set a limit on losses, a time limit on your session, or just a reminder that tells you the time played and how much you have won or profited during the session.
Never have to wait for a seat
Baccarat is not played against any other players or the dealer, but at a brick-and-mortar casino, there's still a limit to how many players can fit at one table.
When playing online baccarat, the advanced betting interface allows an unlimited number of players to sit down and play simultaneously!
No more waiting for a seat, or being stressed by other players breathing down your neck. Just take a seat, and enjoy.
Play online for free first
Although learning how to play baccarat is straightforward, it's really when you sit down at the table that you get to put your newfound skills to the test.
One great way to do that is to play for free. Either by using fun-money at one of the RNG-baccarat tables available at the casino or by using a bonus.
JungleRaja gives all new players ₹500 bonus to play for. The money is yours as soon as you've signed up, and you can use them at any baccarat table on their website!
More Baccarat Guides