India's hosting the 2023 G20, and there's a gambling elephant in the room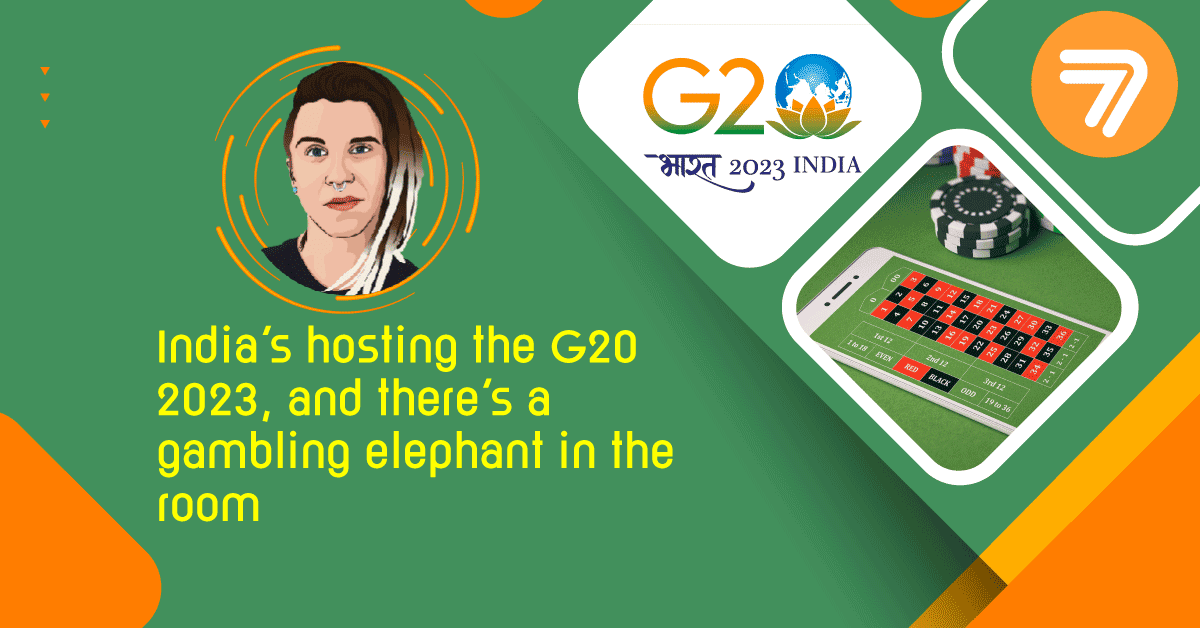 The views and opinions expressed here are those of the authors and do not necessarily reflect those of SevenJackpots or its clients.
For the first time since its inception in 1999, India is hosting the G20 Leader's Summit.
"The G20 or Group of 20 is an intergovernmental forum comprising 19 countries and the European Union (EU). It works to address major issues related to the global economy, such as international financial stability, climate change mitigation and sustainable development." – Wikipedia.
India has held the G20 presidency since the 1st of December 2022, and the presidency is now culminating with the summit, held in New Delhi between the 9th and 10th of September 2023. This year's theme of the G20 meeting is presented in Sanskrit, reading as "Vasudhaiva Kutumbakam," which translates to "One Earth, One Family, One Future" in English. The focus points of India's presidency have been climate change, debt restructuring, and the regulation of cryptocurrencies.
While all of these areas are relevant, there is a big elephant in the room in the form of regulation, especially gambling and betting. According to Touchstone Partner's Uday Walia in his latest opinion piece, this is the time for India to lead, to take responsibility.
"India must take the lead on regulating gambling and betting. We need to create an environment of responsible gaming, gambling and betting. We need to address the serious associated problems with money laundering, terror financing (for cryptocurrencies in particular), online security, fraud, underage gambling and addiction." – Uday Walia.
No Time Like the Present to Regulate Gambling in India
Out of the larger prominent countries part of the G20, India is the only nation currently struggling to take a stance on online gambling. Several countries within the EU, like Sweden, Denmark, Italy, France, Spain, The Netherlands, Estonia, and Germany, have all established proper regulation of online and offline gambling. The UK has one of the strictest liberal gambling regulations globally, resulting in one of the world's lowest numbers of gambling addictions (0.5%). The US is busy rolling out various types of regulations across the states.
Countries part of the G20 that have banned gambling (Saudi Arabia, China, South Korea, Indonesia) have taken a clear stance on the matter, the decision either heavily affected by religious influence or politics. Muslim countries like Saudi Arabia and Indonesia naturally dislike of gambling for religious reasons. Still, where politics have decided the illegality of gambling (South Korea and China), gambling problems are higher than within European, regulated countries (5.5% for South Korea, 2.5-4% for China).
It's pretty obvious that regulation (or homogenous religious participation) works better than blanket bans. Despite this, India has not announced any official nationwide or state-wide regulation plan. Instead, the responsibility has been put on private actors to apply for "Self-Regulatory organization status," which, without a revamped national gambling law, won't be able to do much else than focus on categorizing various real money games as games of skill or chance.
Although Indian states have the autonomy to amend their rules as they see fit, they cannot breach the constitution, The Public Gambling Act, created in 1867.
The 28% GST creates more issues than it solves
One main motivator for regulation has been the increased tax revenue. India recently took steps towards reeling tax money from gaming by increasing the Goods and Services Tax to 28%. This tax also applies to offshore gambling operators, who will face IP blocks like those already occurring if they fail to comply.
I think taxation on activities that are not yet regulated or entirely legal is backward. What's next, taxation on drugs? On human trafficking? I'm not saying gambling is as bad as either, but attempting to obtain "legal" funds from a grey zone activity sounds incredibly problematic.
We Are Stronger together
Sure, I get it; India wants to show the rest of the G20 countries that they're up to the task of hosting the summit, and rightfully so. India is a strong nation that continues to grow, especially in technology. But the idea behind the G20 is that we work as a team, not individual nations trying to outdo one another.
This is exactly why I believe that the G20 summit meeting is a perfect opportunity for India to open the door to and start discussions about gambling and betting regulation with other regulated markets. Allow the Inter-Ministerial Task Force (IMTF) to meet with leaders highly experienced in regulation.
Sweden (Spelpaus), Denmark (ROFUS), The Netherlands (CRUKS), and The UK (GAMSTOP) already work with National Self-Exclusion programs, making sure that players with gambling addictions aren't able to open new accounts at any casinos licensed in that jurisdiction.
Thanks to the Aadhaar Card being so well integrated into everyday Indian life, India has a massive opportunity to do the same.
There's nothing wrong with asking for a helping hand. We are, after all, one Earth, one family, one future.
More Opinion Pieces