Play Huge Lottos Review
Play Huge Lottos started in 1998 to help people living away from the United Kingdom enter the UK National Lottery, which was the richest European lottery at that time. The business quickly grew, and today, Play Huge Lottos offers entries into some of the top lottery games from around the world. The company has lottery sites in 11 different languages, and you can choose from 14 lottery games from four continents. Some of the popular online lottery tickets you can purchase with include:
UK Lottery
EuroMillions
EuroJackpot
Oz Powerball
Oz Lotto
Mega-Sena
Great selection of lottos
If you want to use Play Huge Lottos, you simply need to create an account on its website. Once you choose which lottery games you would like to play, Play Huge Lottos uses a lottery agent to buy the game tickets for you. If you win, the lottery operator pays your winnings.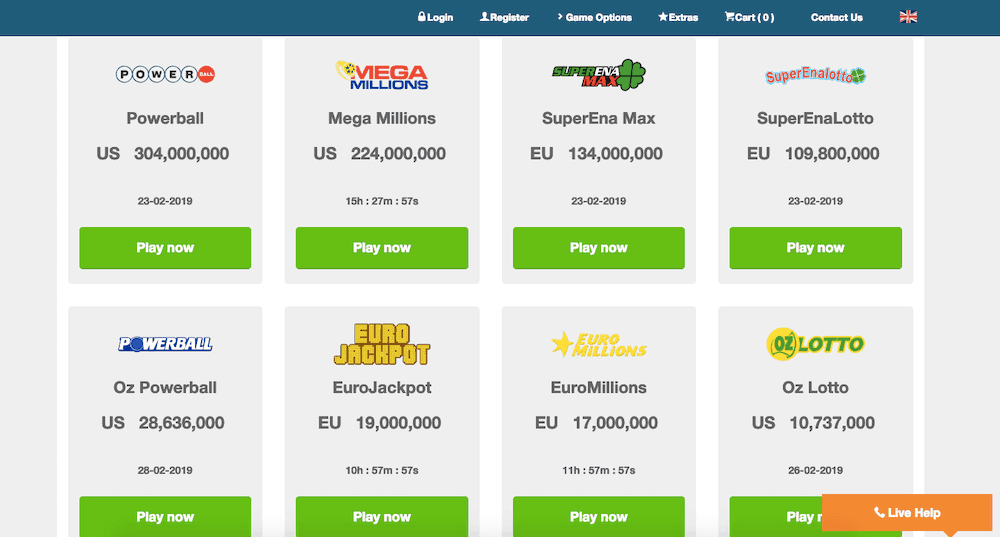 If you're looking for something different, Play Huge Lottos also offers virtual scratch cards. Virtual scratch cards work like real-life scratch cards. In order to win a prize, you must either find or match a certain set of symbols. Play Huge Lottos provides a nice selection of virtual scratch cards, and you can even play demo games to help you understand the object of the game before you play with real money.
Summary
However, what makes Play Huge Lottos a top choice for many people is its promotions and discounts. The company has a generous loyalty rewards programs that lets you accumulate LottoPoints on every non discounted cash purchase you make. You can then redeem these points for lottery tickets. Other top promotions offered at Play Huge Lottos include a sign-up bonus, birthday bonus, and Tell-a-Friend promotion, which offers you vouchers for every person who signs up using your link.
User Reviews
There are no reviews for this casino yet...