A recently published research piece by affiliate marketing leaders ENV.Media reveals the mobile devices that most Indian gamers use. Presented by Operating System (OS), brand, and urban-rural coverage, the report puts the spotlight on market preferences and User Experience (UX) of real-money gamers.
The fact that Android has a much larger share doesn't come as a surprise. The platform offers more apps, games, and payment options to users.
A number of Chinese brand smartphones – locally produced in India – have earned the lion's share of the market in the past few years. With some slight differences between urban and rural users, mobile gamers trust market leaders and expect user-friendly smartphones at an affordable price.
SevenJackpots Analytics Data Revealed
ENV Media analysts have segmented SevenJackpots aggregated data for roughly 78 thousand users between January and April 2021. Organic search data is measured by visits, sessions, clicks, and bounce rates and shows that handheld devices approach a 90% share, in line with global trends.
Robin Hallengren, ENV Media comments: "The report contains both tangible and actionable data sets, valuable for any business with an online presence. Applying these insights to the platform prior to a market entry, will result in a more successful user experience from day one".
A split by State of origin shows that Maharashtra dominates the gambling scene (with 16.74% of all players), followed by Karnataka (9.17%) and Telangana (8.38%). Uttar Pradesh and Tamil Nadu complete the Top 5 list.
Chinese-origin brands dominate the scene, with Samsung also holding a notable market share. Apple appears further down the table with a modest market share. Overall, the top 6 Android phones combine for 89% of all brands used.
Why Android Dominates India's Online Gambling Market
By the end of 2020, Android is reported as holding a 95.23% market share in India. iOS was a distant second with 3.2%, despite a recent good sales performance. Android went from 10% in 2012 to above 60% in just four years.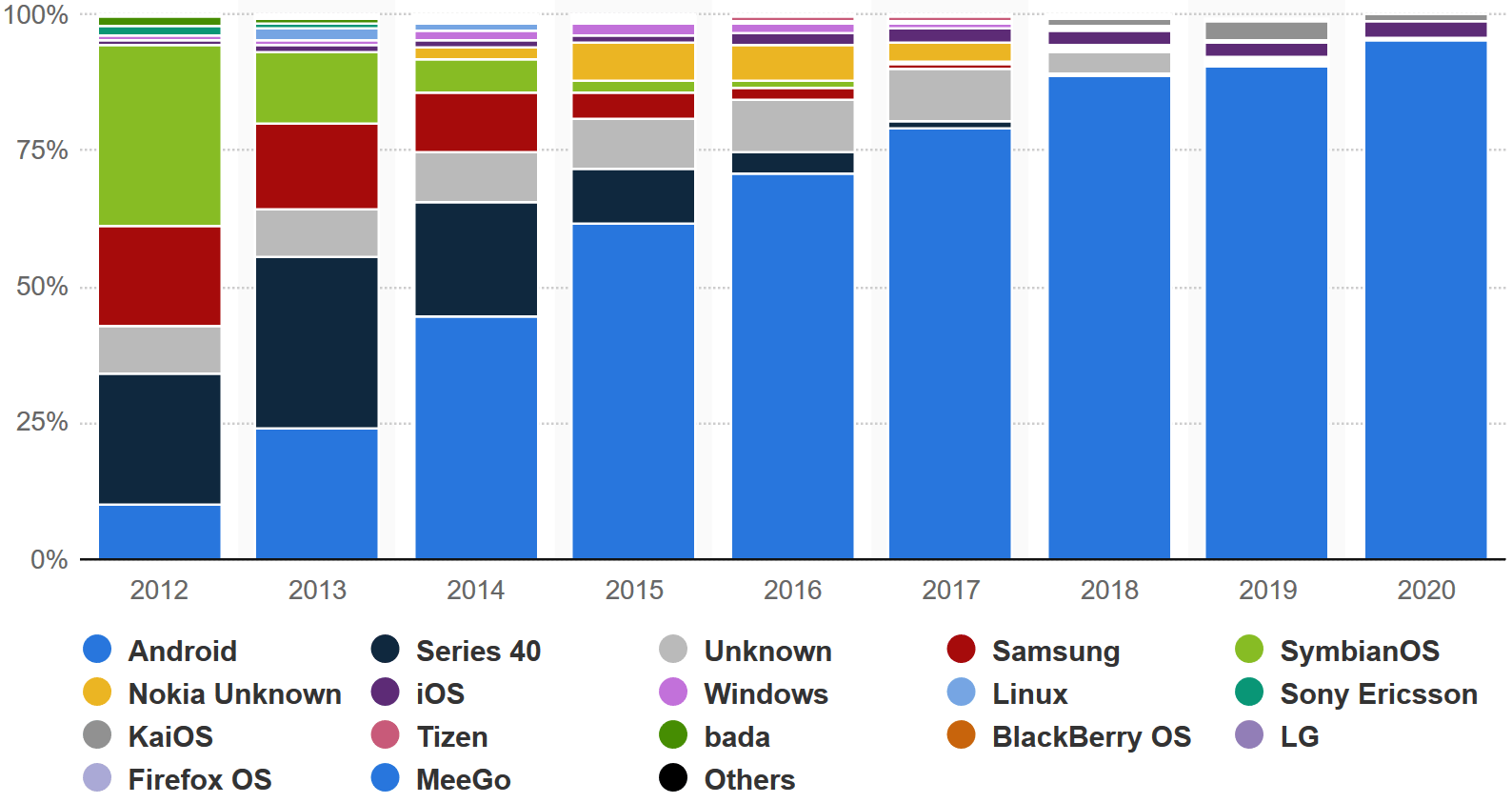 The market analysis lists the reasons Android's popularity among desi users (in combination with Chinese brand mobiles):
they are

cheaper

everywhere and have special offers for the Indian market;

the

OS is open

; Indian tech companies work mostly with Android;

the top phones are

manufactured locally

, even if the brands are Chinese;

Social media

influencers

and

tech reviews

show mostly Android phones that are in demand across India.
Google products and services are also the most popular in the Union: the Play Store is the top choice of desi gamers (73%), handling 13 times more app downloads than Apple's App Store). Google Pay and other payment providers are also better integrated with Android.
Xiaomi, Samsung, Vivo, and OPPO Top Rankings
With 760 million internet users and an estimated 365 million online players, India is the second-largest mobile gaming market. The brands which lead in market shares have been crucial in its growth.
SevenJackpots users most commonly have a Xiaomi (23.38%), ahead of Samsung (19.24%) and Vivo (15.25%) a little further behind. Oppo and Realme gravitate around the 10% market share. OnePlus confirms its status as a premium smartphone brand, rivaling Apple in the segment.
The presence of manufacturing facilities in India is indicated as a decisive factor. The industrial complex in Noida (Uttar Pradesh but just outside Delhi) accommodates Xiaomi, Oppo, Realme, Oneplus, and Vivo facilities. Chinese companies also have factories in Tamil Nadu and Andhra Pradesh. The "Make in India" initiative seems to be working, with foreign companies transferring manufacturing capacities due to Government incentives.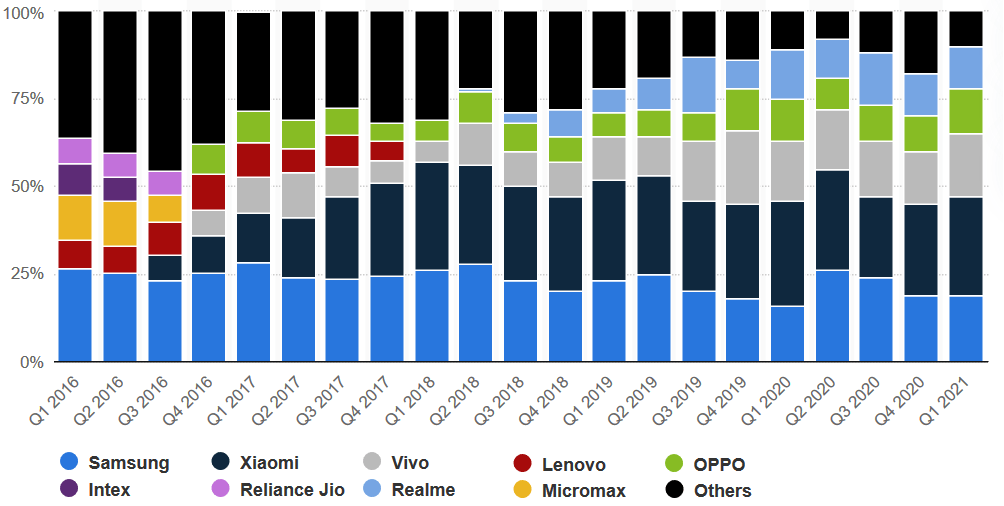 Recent sales figures across India confirm this split. Xiaomi entered the scene strongly in 2016 and overcame Samsung only a year later. Vivo already challenges Samsung's market share.
Overall, Chinese-origin brands held a 76% share of the latest sales.
Traditional Desktop Computers Almost Out of the Equation
In mid-2020, the OS used in India were well defined – Android holding an overall 74.65% share, with Windows at 16.17% and Apple (iOS and OS X combined) at 3.6%.
It is reasonable to expect the SevenJackpots figures that indicate only 12.38% of gamers are using desktop computers. The declining importance of mid-size devices is a trend expected to continue.
The Microsoft Xbox and Sony PlayStations consoles are a luxury for many households and young players, while smartphone gaming is "pocket- and user-friendly" even for first-time users.
Apple More Prominent in Delhi
The research team expected Apple to do better in large urban areas. A previous ENV Media survey outlined the influence that India's richest cities have on the gambling scene.
Yet, iPhone sales in the past two years confirm some of Apple's problems with app support (Maps and Siri above all), and Apple Pay still on hold, citing technical issues with Indian banks.
Apple has always had a different philosophy, to begin with. Its top-grossing games rarely include Real Money Gaming (RMG), and casino apps are not in high demand.
More of a status symbol for desi consumers, the iPhone is popular with influencers in Delhi and Mumbai. Apple has not targeted a wider market over the years, with iPhone ads limited to airports, big cities, and glitzy locations.
Apple's first official store in India was announced for the latter part of 2021. Even the dedicated online store was launched only in late 2020. Industry experts suggest more "tailor-made" offers for the Indian market if Apple is to leave a mark.
Insights on Rural India
India's Internet Service Providers (ISP) report 742.19 million mobile device users, with an urban-rural user ratio of 55-45. Rural internet users are closing this particular gap and are the driver of market growth.
However, Android versions in use show that nearly 50% of all users have Android 9 or below installed on their phones. This affects UX and shows that many players would not be able to fully enjoy a feature-loaded and heavy app.
Nevertheless, rural users and expanding demographics sustain the segment growth – middle-aged and female gamers are all on the rise. Around half of all Indian 11-year olds are also reported to have their own smartphone, with rural families increasingly able to provide smartphones to their kids.
The Importance of Urban Areas
Maharashtra's leadership in user rankings confirms the importance of Tier-1 cities like Mumbai and Pune. Bengaluru, Hyderabad, and Chennai are also well represented and understandably so, given their high-tech development, infrastructure, and manufacturing capacities.
Metro gamers are comfortable using both tablets and phones, especially female gamers. Metro users also participate in all gaming genres and continue shaping the market, as anticipated by the above ENV Media research article.
More Research Articles