Goa is one of the few states with legal gambling in India. Its recent history has influenced gaming culture, niche tourism, and gambling legislation across the Union.
An ENV.Media research into Goa's gambling market reveals the factors, dynamics, and spillover effects of the state-regulated gaming sector.
The Rise of Online Gambling in Goa – Confirmed by SevenJackpots Data
Online casinos are also leaving their mark in Goa, just as they have across India. Local gambling communities are looking for safe and accessible platforms, especially after a series of Covid-related lockdowns.
SevenJackpots data has allowed us to segment over 78 thousand users by state, conversion, and UX (e.g., mobile device, sessions) in the first few months of 2021. The data shows that Goa has double proportional visibility compared to state size.
Despite its economic development, the fact that it accounts for more visitors than all of the North-Eastern states of Tripura, Meghalaya, Mizoram, Nagaland, and Arunachal Pradesh combined, is impressive. With casino closures and resident limitations, Goans are clearly looking for online alternatives.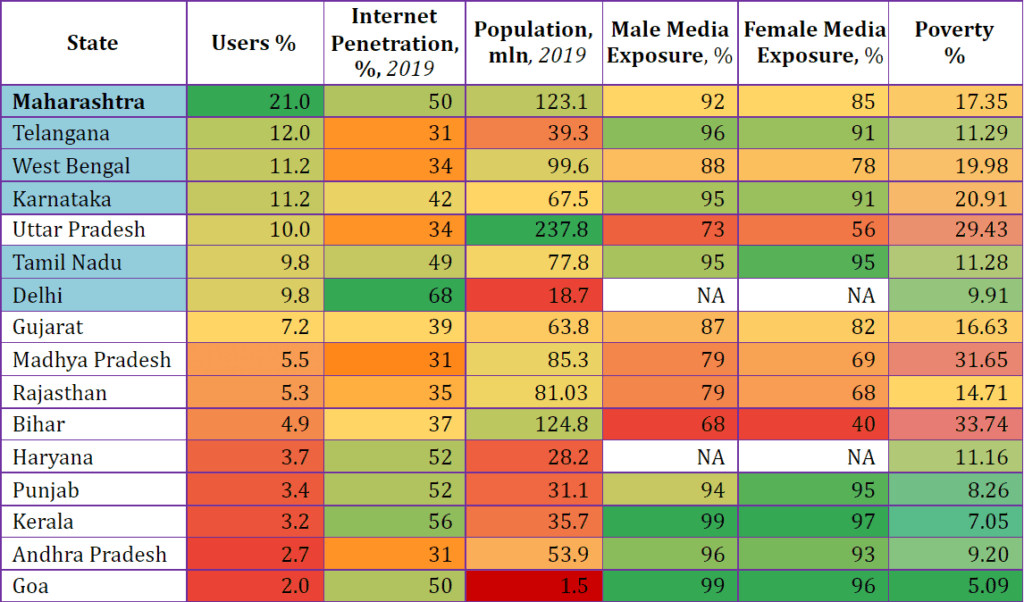 How Much Does Goa Make in Gambling Taxes? What Does India Miss Out Upon?
Among the "Key Reasons to Regulate a Gambling Market" – besides a transparent, traceable, and innovative gambling environment – financial impacts are always key. Money laundering and corruption may be tough to estimate, but business climate and job creation are easier to illustrate.
So far, casinos in Goa have had a decent yet limited impact on public revenues. In FY 2012-2013, they contributed Rs 135.45 crore in direct and entertainment taxes, entry fees, port charges, and liquor licenses. Goa charged Rs 6.5 crore per offshore and Rs 2.5 crore per land-based casino at the time.
In FY2018, Goa received Rs 330 crore from the casino industry, while a year later, the tax revenue was already Rs 411 crore, the highest pre-pandemic figure to date.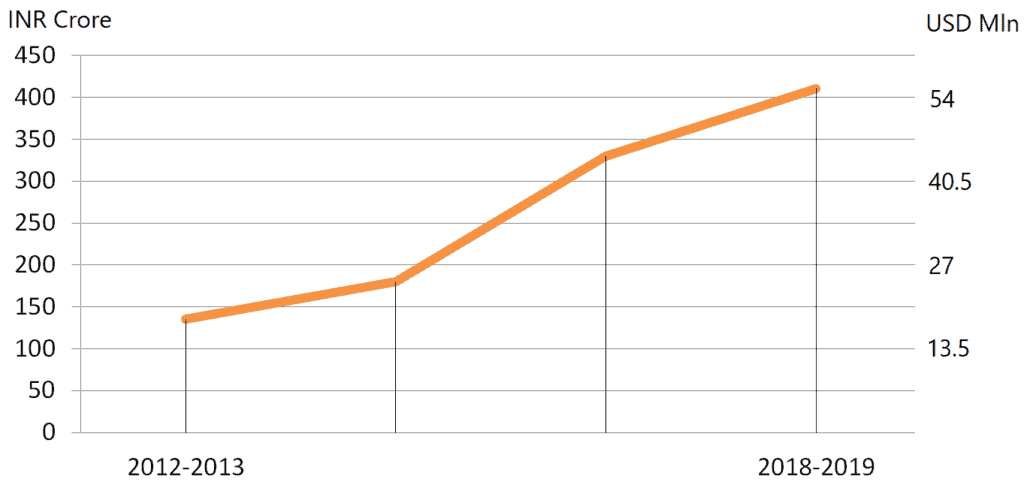 With over three million tourists annually (and around 15 thousand gamblers daily in peak season), Goa could probably increase these revenues slightly. Offshore casinos bring almost twice the revenue that land-based ones do because of the tourists aboard.
However, media reports cite losses of over Rs 4,000 crore in annual tax revenue. Cash gaming deprives Goa of revenue ten times higher. The mass-market appeal it has, on the other hand, allows the state to pursue alternative business models and platforms.
National-level Operations and Their Potential
Assuming a shift to online operations – unlimited in capacity, safe, always open – Goa will tap into the Union market. Operating under state law, platforms will be measured in economic impact on nationwide scales. While the 2021 Deloitte India report placed online gaming at $2.8 billion (Rs 20,500 crores), the 2019 KPMG report estimated the entire desi betting market at $130 billion (Rs 9,50,000 crore).
Assuming current growth levels (and taxation laws), by 2025-2026, the online gambling and total gaming market would produce astounding levels of tax contributions.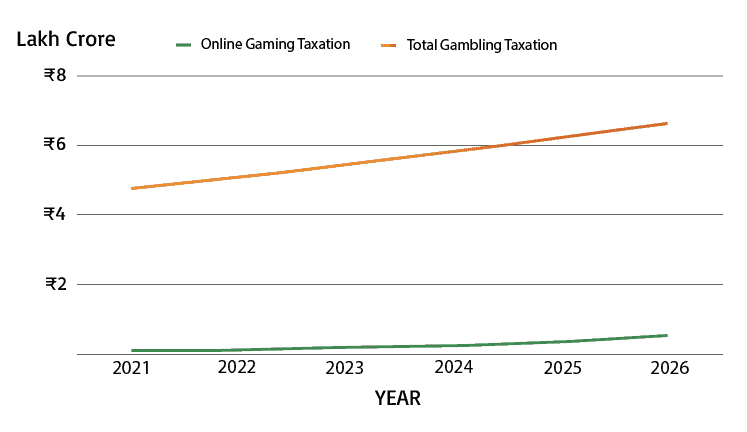 A projected annual taxation revenue of Rs 6,60,000 crore could go a long way in supporting the underfunded public sector, creating jobs, or building hospitals. It could also finance the Centre's 100 lakh crore "Gatishakti" infrastructure plan over several years.
Pandemic concerns greatly affected the industry, and old-fashioned gambling looks less competitive than ever. "Alternative" legal gaming stimulates a demand that was simply not there several years ago.
Gambling Regulation Works (If Done Well)
Gambling in Goa is a phenomenon with a special status in India. Although Sikkim and Daman also allow games of chance and Meghalaya adopted a Gambling Act in 2021, casinos have been a Goan trademark for over three decades.
The liberalization of gambling licenses was done initially for luxury hotels. When local communities realized that land-based casinos were transforming the economy, society, and even the environment, cruise ship casinos got their chance to host gamblers on the Mandovi river.
But the importance of a regulated industry was undeniable. The state Government justified casino operations as an important revenue source and a generator of tourism. While politicians may have held various positions, officials have usually and publicly backed Goa's largest employers and tax contributors.
Goa managed to attract the mass market, from casual gamblers to families on vacation. It has added games, locations, and facilities, offering a more affordable gambling experience than other famous gambling destinations like Macao.
In 2006, Goa finally set up its state lottery. Yet another positive nuance to legal gaming, it promotes social welfare schemes and supports local communities. The role of gambling in society may be a sensitive subject in many places. Still, in Goa, most decision-makers seem to seek proactive solutions rather than avoid responsibility.
First Signs of Trouble: When Populism Interferes with Social and Economic Logic
As local casinos grew in importance, Goa authorities started looking at second-hand revenues and spillover effects. More than pollution or congestion, it was the image of a "sin-tourism destination" that united gambling opponents. However, with Vegas and Macao as inspiration, it is not hard to prove that what matters is efficiency in governance and long-term planning that could lift Goa above such concerns.
When the Chief Minister proposed banning locals from entering casinos, many realized the motion would fail since most casino visitors and staff are Goans. The initiative coincided with an early transition to online casinos as an alternative to illegal gaming that is still found in Goa. However, both unregulated operators and cash gaming would end up withholding funds and social contributions to the state.
A Source of Tourism
Tourism alone accounts for 30% of state GDP. A leisure destination since the 1960s, Goa added gambling to its tourist brand in the 1990s. Even though locals think casinos could be better run and regulated as an industry, they have always stood out and boosted Goa tourism.
Still attractive in the eyes of most desi consumers, the Goa lifestyle promotes gaming as fun and exciting. A glamorous yet affordable destination, the small state is an oasis of legal real-money pastimes.
Being diverse and family friendly is in rising demand, getting more attention across Goa. Currently, most operators invest in integrated casinos and entertainment centers as part of  more inclusive tourism. Government plans envision setting up closed complex hotels, convention centers, cinemas, retail areas, water parks, and casinos near the new airport in (Pernem) North Goa.
The big operators (e.g., Delta Corp, Pride Group, and Advani Group) share little or no data, and public studies remain scarce. All media and government reports confirm, on the other hand, the impact on tourism and entertainment that gambling continues to have – including beyond Indian borders.
Both offshore vessels and integrated resorts closely follow the demand for family entertainment, pursuing the universal appeal of Vegas. Aiming for an "image makeover," they open daycare centers and put up generous entertainment programs. Together with the local government, some have called upon Hollywood ambassadors to aid in their cause.
Goa Gambler Profiles
The six floating and dozen land-based casinos are the face of Goan gambling. Yet, studies show that lottery is the most frequent form of gaming for 67.8% of all players. It is also more popular among older Goans. People usually stick to one game type, with just over a third playing 2-3 games or more regularly.
Fifty percent of local residents have gambled at least once, with 45.4% in the past year. Interestingly, 40% of players still opt for old-fashioned Satta Matka, despite it being illegal. This is also found in other states. 45% of all men in Goa identify as gamblers.
Overall, casinos in Goa are not too popular among locals but are rather seen as entertainment venues. Locals outnumber tourists on land (between 50% and 80%), while offshore casinos host mostly tourists (70%).
Growth in Competition
When Meghalaya recently decided to issue gambling licenses, it indicated all Indian companies as possible applicants. Its newly established Gaming Commission has not specified detailed rules, meaning it might compete directly with Goa in online gambling.
Andhra Pradesh also considered licensing floating casinos in 2020, only to ban online gambling around the same time.
The Benefits of an Online Transition
Many of the current shortcomings of Goa gambling could find solutions in a regulated online environment.
Conclusion: Looking Back or Moving Up?
The Goa tourism industry might initially suffer from an online expansion of its gambling sibling. However, Goa and its residents are likely to reap more benefits in the long run.
When Goa's Tourism Minister in 2020 said that he wanted to "bring back the 1960s," but with wealthier tourists, it sounded more like a nostalgic political call rather than a sensible plan. It was, after all, budget tourism that had put Goa on the map; gambling only added value to it.
While casinos in Goa still have mass appeal for the growing Indian middle class, they are merely one of the legitimate options for gamers. Phasing out local operations does not seem like a sensible design, even over a longer time.
However, overcoming structural and territorial difficulties with online operations is a viable option for all involved. This will help grow state revenues, and avoid a number of the above issues. It will also change Goa gambling culture with more next-gen users, rather than a High Roller focus.
At the same time, local casinos can provide tourism and casino training to locals. An approach that will improve employment opportunities, and the quality of life of many, encouraging innovation, infrastructure, and investment.
Media awareness campaigns and social responsibility programs complete the picture of where Goans want to take the state's legal gambling industry. It is, after all, their single most important product.
More Research Articles