Slot Review: 4 Reel Kings by Novomatic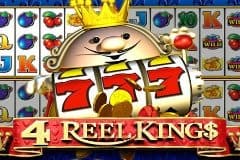 Play at a Safe and Trusted Novomatic Casino
Features
Provider: Novomatic
Slot Type: Video slots
RTP: 94%
Volatility: LOW
Pay Lines: 20
4 Reel Kings
When it comes to scratching your itch for slot machines, you can't go wrong with Novomatic's video-powered 4 Reel Kings slot. Contrary to the name of this non-progressive slot game, 4 Reel Kings actually features five reels along with 20 pay-lines. You'll enjoy a house edge of 4.5 percent as well as a potential maximum jackpot of 50,000 coins. And with its unique take on free spins, you'll find 4 Reel Kings is rather different than most other slots. Let's take a quick look at all this game has to offer.
4 Reel Kings Slot Introduction
You're not going to find a lot of flashy graphics on 4 Reel Kings, but what you will find is the chance to win up to 500 times your stake. Even with a winning symbol on only one reel, you can still win up to 10 to 20 times your stake, so it's definitely a game that will have you on your toes. The coin range on the game allows you to bet anywhere between 0.01 and 0.20.
A notable aspect of the game is that none of its five reels are connected to one another, meaning if you choose to take advantage of the "Auto Play" button for 20 uninterrupted spins, each reel will turn one at a time until each of them hits a total of 20 spins.
4 Reel Kings Bonus Features
Gamble Game is an in-game bonus feature that enables you to double your wins. To activate it, push the "Gamble" button. After you hit the button, a new screen will appear, and you will be given a choice between a red or black card. If you happen to choose the winning card, your wins will be instantly doubled. Choose the wrong card, though, and you'll automatically lose and be directed back to the main game.
4 Reel Kings Free Spins
Probably the most interesting part of this slot machine game is your ability to land a bunch of free spins. A king symbol can pop up at any time and give you free spins. There's also the chance that the king symbol will serve as a mini free spins game. When this is activated, you'll get the chance to earn more and more free spins as long as you get a seven icon. And as long as you keep winning, you'll get free spins until you hit a dry spin.
During this part of the game, the king symbol pays out in different ways. If you get three sevens that are not of the same color, you'll win two times your stake. If you happen to land three blue sevens, you'll get a payout of five times your stake. Spin three yellow sevens to win yourself 10 times your bet. If you're really lucky, you'll get three sevens that are all red in color and win stake times 25.
4 Reel Kings Winning Symbols
There are lots of paying winning symbols on 4 Reel Kings, including dollar bags, various types of fruit, and card icons ranging from 10 to a King. There is also a wild symbol that comes in the form of a jester's hat. Land the Wild and it can replace all symbols on the reels that are adjacent to it.
If you like the game 4 Reel Kings Slot, SevenJackpots also recommend the following games for you:
Play for REAL at our Recommended Casinos