Channel your Inner Chi and Win Up to x12,500 Your Bet!
Elk Studios is known for developing some of the most online slots in the world – Wild Toro, Route 777, Champion's Goal, among others. But with their latest creation, they have simply outdone themselves and established a new benchmark for others to follow.
Chi video slot is the newest member of their club. The slot will take you to a serene place where you can meditate and focus your energy to win as much as 12,500 times your original bet! It is a slot unlike any other and we just can't get enough of it.
How to maximize your winnings in Chi slot
Chi is a vertical slot game with 5 reels and 3 columns. The entire gameplay is based on a prayer wheel, that is, the reel moves from right to left rather than up to down to create winning patterns.
The paylines are placed vertically with 27 of them in each direction, resulting in a total of 54 paylines. There are two extra prayer wheels representing the spirits of Chi and Mow, whose objective is to help you win. Chi – the spirit of fire, will create fireballs resulting in 1 to 6 wilds which will be added randomly to the reels. Mow – the spirit of wind, will hit the multiplier gong resulting in wins from x2 to x5.
Free spins & Mow'ing Multipliers
Free spins are triggered upon hitting three or more Free Spins symbols. You get 10 free spins for three, 15 for four, and 20 for getting all the five symbols. In the free spins mode, the spirits are more powerful, with Chi's wilds becoming sticky wilds and Mow's multiplier transforming into the sticky progressive multiplier, starting at x2 with a potential to reach x5.
The Stairway to Fortune – Your Stairway to x12,500
You access the Stairway to Fortune on hitting three Bonus symbols in the reels. Your goal here is to move up the stairs to reach the top, where you potentially stand to win 12,500 times your original bet!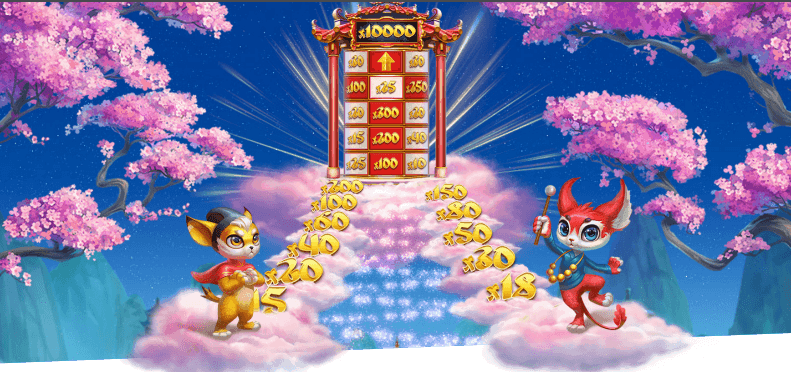 x`Chi and Mow will work together on this journey. For every number that Chi generates in his fireball, Mow will take the corresponding number of steps. And with every step on the cloud path, the multiplier increases, starting at x2 and ending at x200. You will continue to earn rewards until Chi hits Collect, in which case, you will be paid out based on the multiplier held by Mow.
Of course, you need to keep your fingers crossed and hope that Chi never hits collect so that you can reach the end of the path. It is because at the end of the stairway lies a majestic arch with multiplier prayer wheels.
A spin is awarded on each of the five reels and every multiplier you collect here is added to the ones you accumulated while moving up the path. On top of the reels lies the final x10,000 multiplier – reach this number and you will have all the peace in the world.
Find your inner Chi in the Audio & Video
The online casino slot is set in the backdrop of spectacular green Himalayan mountains with lovely little monasteries and temples located at the top. According to the legends, there is a hidden treasure buried in these mountains and you are on a quest to find it.
Just like how you rotate a prayer wheel in temples to seek wisdom and good karma, you rotate each of the five prayer wheels in Chi in the hope that you will the strike winning combinations.
The soft Asian music adds further to the charm of the game – you will find yourself in a calm mood while playing the slot. The entire setting is peaceful and there is nothing distracting or loud going on in the background. The slot itself is placed underneath a traditional Asian arch. Playing it is similar to meditation – you're focussed only on the prayer wheels and channelling your positive energy into winning. For us, these features make Chi one of the most soothing casino slots out there. In fact, it is one of the more soothing casino slots by Elk.
Symbols & Graphics
Place on either side of the prayer wheels is a unique, powerful totem that you will rotate along with the wheels. These totems represent Chi and Mow, two helpful spirits marked in red and blue respectively. They will assist you in your journey to find wealth and of course, peace.
The remaining symbols in the video slot Chi are completely in line with the Asian theme of the game. A blooming lotus is the highest paying symbol in the game, accompanied by other images like a lantern, cup, fish, among others. With these symbols, you also have the Bonus symbol, Wild, and Free Spins.
Betting Strategies for Avid Punters
The online casino slot Chi also offers betting strategies for those who are looking for a more advanced level of gameplay. There are three strategies to choose from: Optimizer, Leveller, Booster, and Jumper. You can set the strategies at any time during the game.
Optimizer: The bet level changes automatically, depending on the percentage you set for your balance.
Leveller: The bet increases by 2 levels after five back to back losses. It continues to increase this way until you get a win.
Booster: The bet increases by 1 level after every loss until you reach five times your base bet.
Jumper: Similar to Booster, except the jump happens after every winning round until you reach five times your base bet. It resets after a loss.
Get your Chi going with Real Money
Elk has done a fantastic job to create an Asian themed slot that is not so generic and boring. Chi taps into the mythical elements to create unique gameplay that puts it in an entirely different league. More than that, it is the reward system that gets us going! The spirit of Chi and Mow will add to your winnings and if you reach the Stairway to Fortune, you stand to walk away rich!
The game accepts INR as a currency, so, what are you waiting for? Channel your inner Chi at one of the Indian casinos below and start playing for real money.