Claim your Loot in the West with the One Armed Bandit
There are very few number of people who do not like heading to the west of the United States of America, at least in a game. Guns blazing, Mexican standoffs, wanted posters and a chance to win big, is what the slot game of One Armed Bandit is all about.
The One Armed Bandit by Yggrdrasil was included in the list of much-awaited video slot games in our post on Seven Jackpots. This slot game is an adventure with 5 reels and 20 paylines where you partner up with a bounty hunter of sorts to hunt the people on 'WANTED' posters in the Wild Wild West.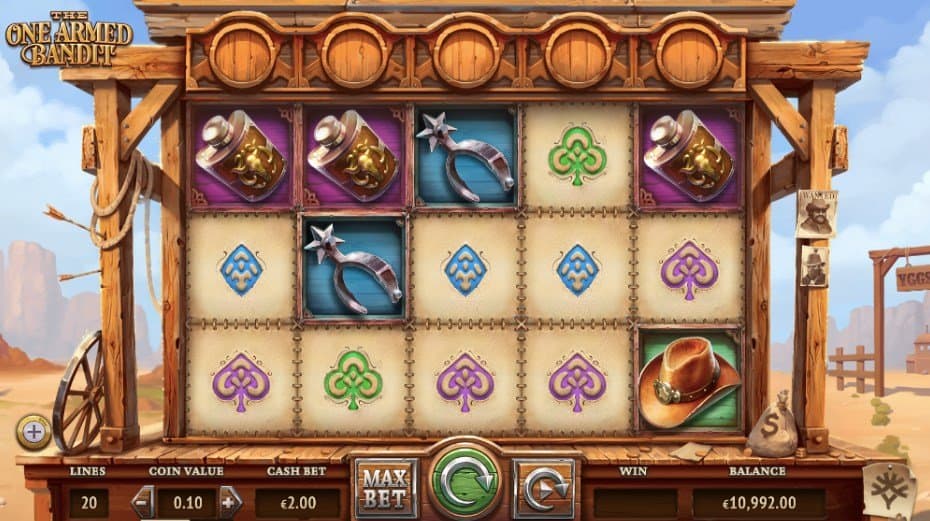 One Armed Bandit as a video slot game offers you a chance to win up to more than 9000X your bet amount with the help of many multipliers and free spins which are offered in the game.
You can play this online casino slot for free on Seven Jackpots. But, if you wish for that big loot of money, you can play One Armed Bandit for real money at any of our trusted casinos we've reviewed. So cowboy up and register today!
Saddle up and Earn Big With Free Spins and Multipliers
The video slot of One Armed Bandit comes with the feature of respins and multipliers which are quite easily triggered when compared to other games such as Arcane Reel Chaos by NetEnt. The gameplay is simple, yet exciting.
It includes 4 low-value symbols of clubs, diamonds, hearts and spades along with 4 high-value classic western symbols of a whiskey flask, cowboy hat, pistol, and cowboy boot spur. Apart from this, there is a scatter symbol of a cowboy and Wild.
If you get a scatter symbol on a symbol in a reel, this triggers a respin. So for example, if you get 4 scatter symbols in a spin, you get 4 respins. This scatter symbol will then turn into a wild which will offer you a respin with only wild symbols. This, if you are lucky, can trigger 5X multipliers and respins NEVER END until the scatters stop coming!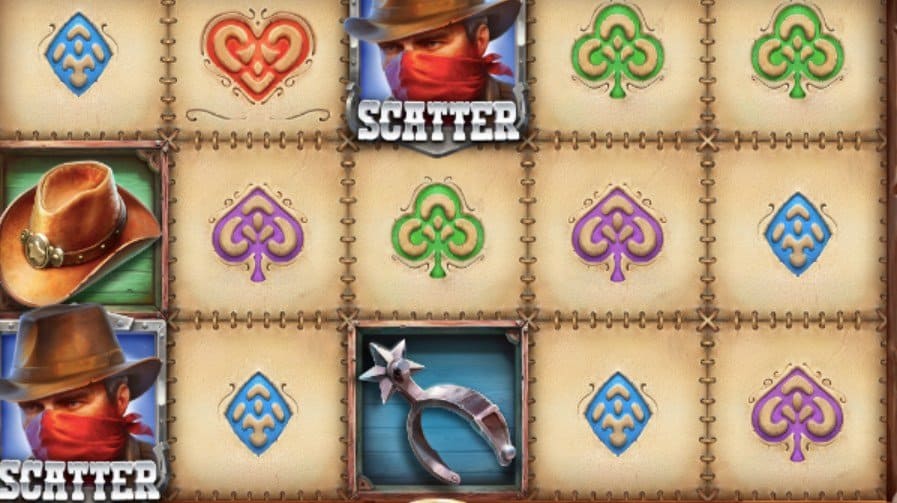 If you get really lucky and manage to land a scatter symbol on all the 5 reels, you get the free spin feature, triggered. Now, this is where it gets interesting. Once you get the free spin, the game turns into a Mexican standoff with the sheriff and gang leaders.
You can get up to 10 free spins and 5X the multiplier on your bet and any respin which you have not used in the respins feature, becomes a FREE SPIN!
Hit the Bonus Feature with Guns Blazin'
The buck never stops at the One Armed Bandit. It is so amazingly designed by Yggdrasil that with every second scatter symbol you get during your free spins, the multiplier increases by 1. This means you get 1X with every scatter symbol appearing on the reel. This can lead you to get up to 20X your bet amount!
The bonus symbols are also the ones doing the magic in this slot. With every bonus symbol you get, one free spin is given. If you get 2 bonus symbols, you will receive 5X your bet and if you get 2 more, you're in for a treat with 10X your bet amount!
One Armed Bandit's bonus features are amazing, however, it completely depends on the multipliers you receive with the free spins feature. But, Yggdrasil offers you a chance to win big with 5X multiplier wilds in the base gameplay itself.
Please note, that unfortunately there is no screenshot to this bonus feature, simply because we weren't lucky enough to get it.
Step into the 'West'life with the Graphics and Sound
The moment the game is on, it is almost hurtful if you do not play it with the sound. Yggdrasil has done a fabulous job with the western sound as it is unique, yet familiar. Coming to the graphics of the game, it is not too flashy, however, it does appear to be high-end.
One Armed Bandit which is set in the Wild Wild West, so the colours in the game are variants of warm yellow with mountains in the backdrop and set in a wooden house. Yggdrasil does offer sound effects every time you win. You get to hear a single gunshot every time you get a scatter symbol.
The game is highly optimised, hence it can be played on your mobile as well.
Symbols and Other Graphics
The game consists of:
4 high-value symbols
4 low-value symbols
Apart from this, there are also scatter symbols of a cowboy and that turns into a Wild.
Yggdrasil has done a spectacular job at lining out the payline and reels at the time of a win and you can easily differentiate between the high-value symbols from the low-value ones (DUH!).
The game consists of major characters who are the Sheriff and the gang leaders who you will get to see once the free spins are activated in the game. The animation of the cowboy scatter symbol shooting the gun every time it appeared appealed to us immensely. It added to the wild west persona of the game.
Here's What We Think of One Armed Bandit
One Armed Bandit is an online slot we wish we saw more of at a physical casino somewhere. Fortunately, the availability of this kind of a  slot where you can play for free and for money is something we liked.
With this video slot, the chances of winning are high with an RTP of 96.30% along with so many features embedded in the gameplay. This makes you want to play even more until you have explored all the features of the game. It is simply a rush to experience a game which seems so realistic with a vast variety of winning opportunities.
With its high volatility, the sheer uncertain nature of the game where anything can happen at any given spin is THE reason why we think you should play it with real money at any of our trusted Indian casinos mentioned below. So saddle up and YEE-HAW your way to win BIG!