Start the year with some exciting slots!
Categories:
Slots
|
Published by:
Seven Jackpots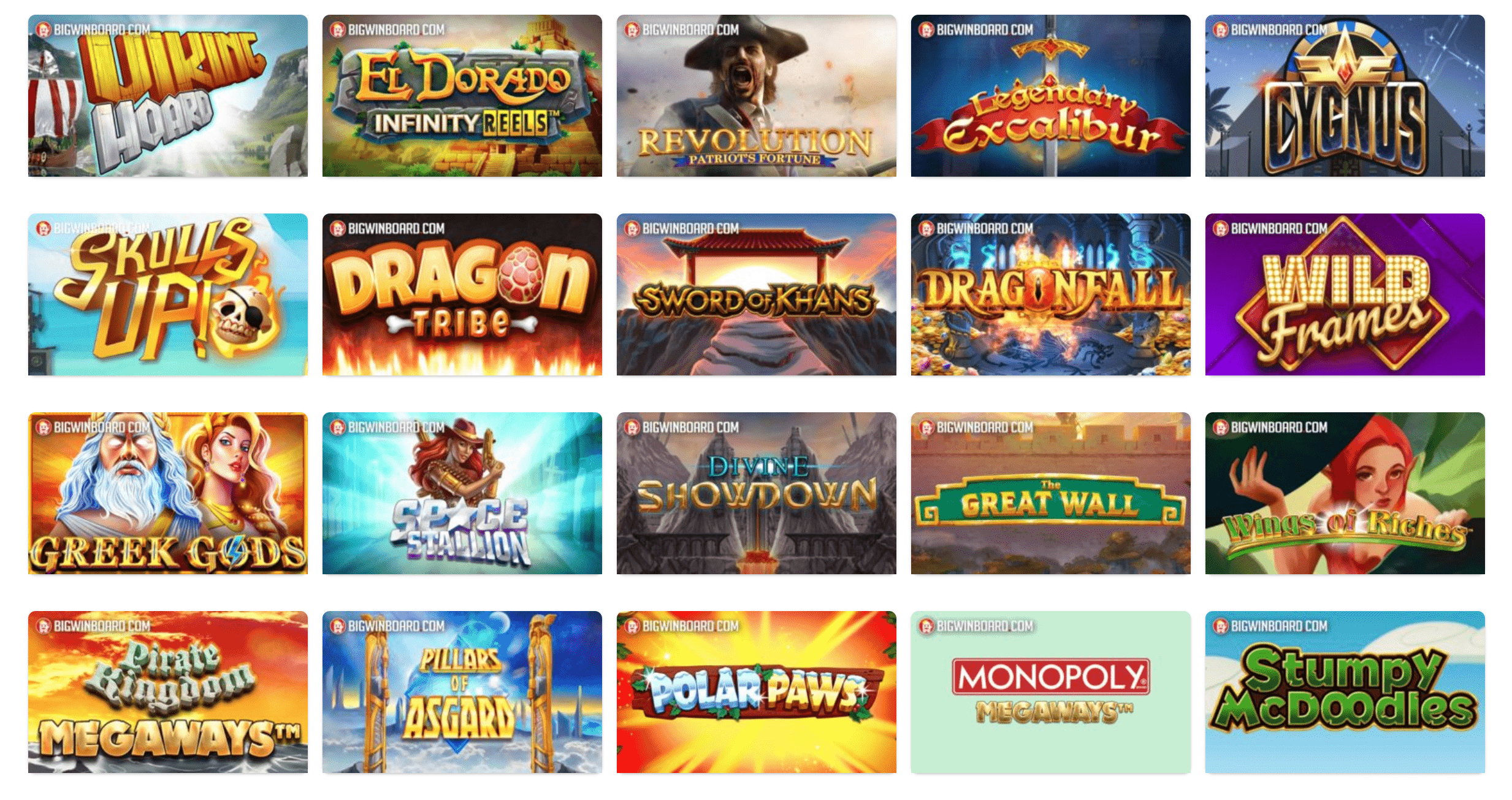 There are more reasons than one to look forward to the new year! While December was extremely fun with the new slots games our favourite gaming providers released, it did not take much time to start wanting more. We are humans, after all.
It is quite obvious that we at SevenJackpots are suckers for online slot machines and when we find them in the online casinos we have reviewed, it makes us much more happier than it should. Oh well, what are you going to do about it?
When you open a slots game, it stops being just about winning. Everything about the game itself including its interface and features make the game what it is. How many times have all of us been amazed when the Ankh of Anubis slot machine that made its debut in December loaded?
The reason such games packed with amazing features and a rich interface woo us is because of the experience they provide us with. Without further ado, let us now get to what you should look forward to the first month of the wonderful year 2020 is going to be!
Coywolf Cash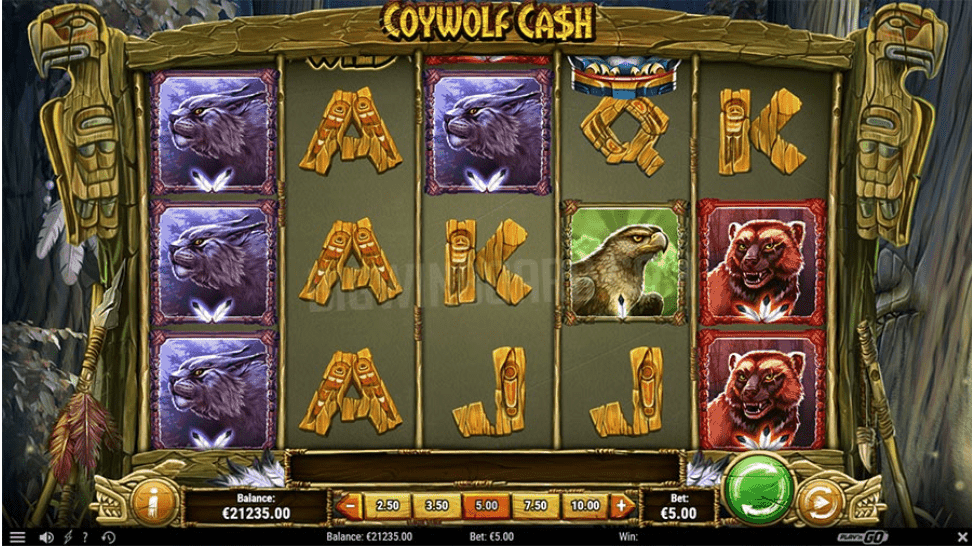 Coywolf Cash is among the latest releases by Play'n Go. This developer has been quite relentless in coming up with the newest of games packed with the most interesting features.
We have deemed that the most exciting symbol that Coywolf Cash has got is the Mask Scatter. Making its appearance in the middle reel only, just one of these is enough to activate the Wild Reel which has two tiers.
The base game and Prey Free Spins are when the first tier will appear, whereas the second one which is said to be the more lucrative of both can only be activated when there are Prey Free Spins. A new reel will pop up and spin in the horizontal direction when the player triggers the first tier Wild Reel.
This first tier reel contains just Alpha Wild Symbols (you may also see crosses or blank spaces). The Alpha Wilds present will turn the whole row under them wild by spreading out downwards when the reel comes to a stop. During the course of the base game, up until 3 can make a landing.
Below is some key information about this game:
Release Date: 30th of January
Reels: 5
Lines: 50
RTP: 96.31%
There are about 10 regular pay symbols that Coywolf Cash presents its players with and these symbols are split into high pays and low pays. Capped with a beautiful tribal design, the low pays look as good as ever as wooden 9-A Royals. Despite the fact that these symbols show up almost everywhere, it is quite clear that  Play'n Go has gone out of their way to make this attractive for players.
More about this game
Premium symbols in Coywolf Cash are wild animals including the lynx, eagle, black bear, red deer and fox. The values for symbols are somewhat low; the combination of two premium bears equal 1.6 times the stake from five of a kind. However,  the Alpha Wild at x30 and the Coywolf Wild at 6 times the stake yield better returns.
These wilds can also be used as regular pay symbols. In the course of the Prey Free Spins as well as the base game, what are called Stacked Coywolf Wilds would pop up on reels 4 and 2.
It comes as no surprise that online casino wildlife games are mostly developed by North American developers. Play n'Go has released a game that fits this genre while possessing elements that set it apart from the rest. The game also gives its players a good gaming experience and does not disappoint in terms of rewards.
What is unclear is why Play'n Go have included a x4000 win cap. It is much lower than what they usually gift us with. Also, the fact that there are a number of low-value symbols is a bit of a bummer.
In our opinion, however, the Wild Reels should be enough to keep you hooked. The x7 multipliers coupled with the Stacked Alpha Wilds makes Coywolf Cash a slot game to look out for.
If you manage to fill the reel with the combination mentioned above, you might be the beneficiary of single spin values at about 2000 times the original stake. So take your horse to Coywolf Cash and ride till you can't no more!
Snake Arena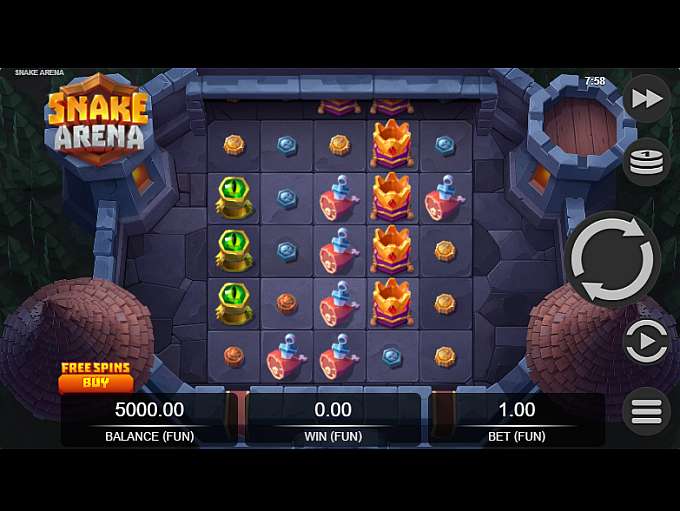 All of us remember the snake game we used to play on the old Nokia phones that were present in the early 2000s. If you don't remember, either you have really bad memory or you're too young to be here. There's no other possibility.
We can tell from the first glance at Snake Arena that Relax Gaming has attempted to touch upon the nostalgia of the OG snakes game with this new release.
There are about four premiums and four low pays that are present in this game with the newest symbols. Coins in the colours blue, gold, bronze and silver are the low pays. It should be noted that each of these coins have their own markings.
Next up we have the premiums. These beauties are comprised of a jeweled crown, ham and dagger, beer steins and an eyeball orb. It is evident from this list that the crown is most valuable (with 20 times the stake for five of the same kind).
A couple of wilds are included in Snake Arena: the Snake symbol (surprise surprise) which is huge and its body can also be used in place of any other symbol, and the symbol of the Knight in the 1×1 size which is a standard among symbols.
Below is some key information about this game:
Release Date: 7th of January
Reels: 5
Lines: 30
RTP: 96.25%
To be very honest, it looks like the base game will get quite slow and is dominated by no and low value spins. Relax Gaming, however have come up with a bunch of extras for the sole purpose of attracting an audience.
More about this game
The Snake and the Knight are what the two features in Snake Arena revolve around, first of which is the Wild Chase. This feature might pop up at any given time during the course of the base game.
The snake and the knight look out from the left and right ends of the screen when Wild Chase is activated. If by chance they look out from the same side, the snake makes a leap at the knight and the whole reel goes wild.
Upto three tries are offered to make this happen and if it doesn't by the end of the third try, the wilds come to an end and so does the spin. This feature will award at least one wild reel, but has the power to turn all the reels present wild.
The Free Spins round offered by Snake Arena is the second feature and we think this feature is why you have to try this game. This feature is activated when the Knight is present and the snake's head comes down on reel 1.
With each spin, the Knight will land in a different position. After the spin comes to an end, the wins are calculated while the Knight and the body of the snake are still wild. This is when it gets even more interesting: the snakes moves towards the Knight in order to eat him.
The snake eats the poor Knight and its body begins to get larger as the next free spin starts provided that the snake's path is free of obstacles. Much like the Nokia game all of us know, if the snake moves towards its prey and bumps into its own body and is forced to eat itself, the round meets its end.
A humongous jackpot of x1000 is presented to the player if the eat meter gets filled due to the snake covering reels 2 through 5. What is to be noted is that there is no cap on the number of free spins. Unless and until the top prize has been attained by the player or the snake happens to engage in cannibalism, the round shall not end.
As much as this game's Wild Chase feature and Free Spins feature makes us want to play it so badly, you should watch out for the snake biting himself as it seems like he tends to take the path with obstacles. It would be better if this wasn't there, but all can't be perfect.
Check out Snake Arena if you want to see it for yourself!
Money Mouse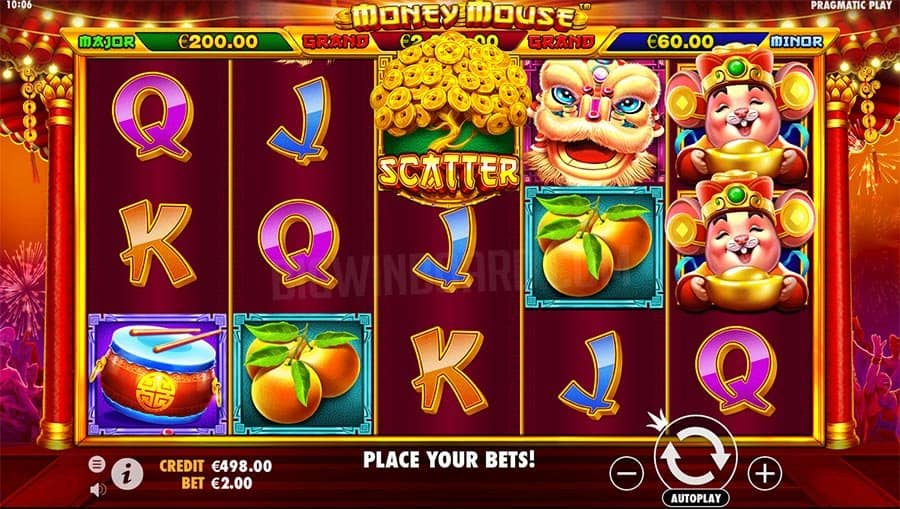 Pragmatic Play has come up with many games as we already know. Monkey Mouse is their latest addition to their Asian Games cute couplet. However, this game is not original, which is pretty darn disappointing.
Slot machines like Cashien's Cash and Jin Ji Boa XI are games that this one reminds us of, but at least those games had a sort of promise. If you feel a déjà vu coming your way while playing this game, it's because it is the Wolf Gold slot machine rip off. Only the sound effects and external graphics are different from Wolf Gold.
Asian Slots have sort of been Pragmatic's style, what with their extensive range of games that share the theme. We don't think that they should change anything about having a style, but it would be better if each game had a sense of authenticity.
Don't lose heart, though. Money Mouse's extra features and triple jackpots give much to be excited about with this game.
It is kind of sad that the Asian theme, although extensive, does not have sub-themes. All this game has however is the green and red background with symbols that look like they were bought by an American tourist on their trip to China and a ton of gold to go with them.
We're not here to take digs at Pragmatic Play, but we would certainly like more from them.
Below is some key information about this game:
Release Date: 23rd of January
Reels: 5
Lines: 25
RTP: 96.00%
Releasing just in time to kick of the Chinese New Year, Money Mouse is here to denote the Chinese belief that 2020 is the year of the rat. The visuals in the slot game represent this, but are not very easy on the eyes, but certainly not harmful.
More about this game
One of the most prominent features in Money Mouse is the Lantern Icon. MAJOR or MINOR values are two values that might pop up with these. Money Respin is the feature that gets activated when 6 or upwards of these symbols arrive at the base game. This feature gets rid of every regular symbol present and puts a lock on the Money Symbols responsible for launching this into the reels.
The spins are set to three whenever the Money Symbol gets locked after landing. If the grid ends up being filled with these symbols or if there are no more respins, this feature will come to a stop. The values are added up and awarded to the player. The Grand Jackpot will be awarded if all of the fifteen positions are occupied by Money Symbols.
If you love a good Asian themed slot, Money Mouse will appeal to your tastes. The max potential of the game is seen during the course of the Free Spins feature in which with Mega symbols, one can obtain up to x2500!
It is not easy to not look at this game as a rip-off due to its lack of originality. That being said, if you would just like a good slot game to spend your time on, you could go for Money Mouse and give it a try.
Buffalo King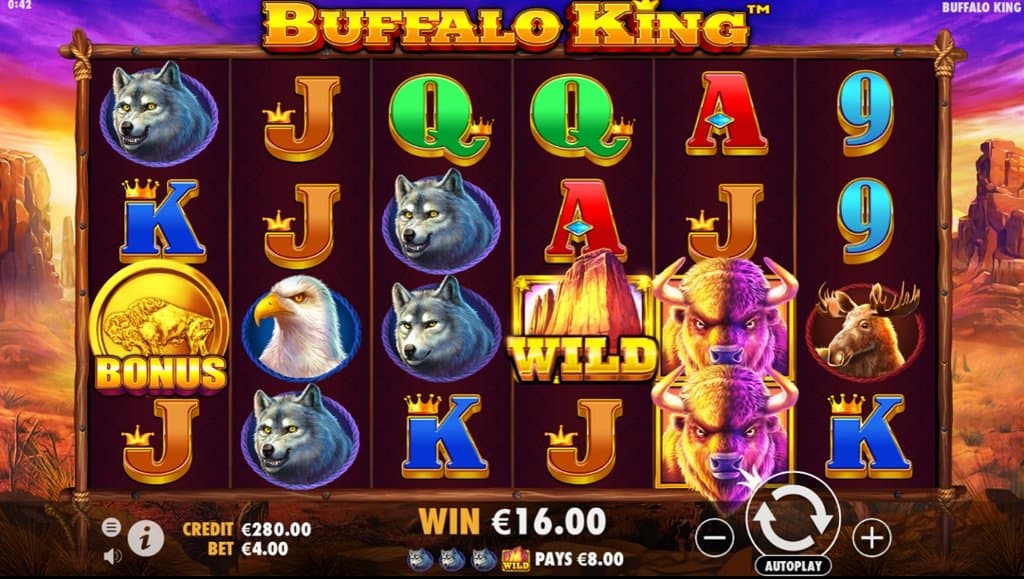 Another one by Pragmatic Play! This slot just has this air of familiarity that one feels when they go back home for the holidays. The breeze of Buffalo King takes one to the prairies of North America. The land riddled with wildlife is the scene here.
A huge and friendly buffalo is the headliner here, which doesn't deviate from the audience's expectations. There are also a number of his friends present to entertain all of us, so yay. If we were to take a look at the numbers here, we would be happy that Buffalo Kings is one of them big paying slot machines.
We at SevenJackpots realise that stats are not everything and that they are just part of the whole picture, so we would like to talk about the actual features in this slot. The background for the slot machine is pretty evident. If you haven't guessed it, ya need to check yourself.
We'll tell you anyway: there is either a scene of dawn with an abundance of blazing horizons, rock formations and tumbleweeds, or a simple desert scene. Like Money Mouse, we could tell you about all the other games this one mimics, but if we started on that, we wouldn't be able to get to the important parts.
Below is some key information about this game:
Release Date: 9th of January
Reels: 6
Lines: 4,096
RTP: 96.06%
The type of animals (with hopeless expressions on their face, we might add) that appear on your phone changes based on its orientation. Let's talk about the audio now. This shifts from a Bonanza to a Dr. Quinn Medicine Woman soundtrack as the player moves from one stage of the game to the next. The hooves of the buffalo can be heard each time you spin.
The free spins round is truly the best part of Buffalo King. This happens when the Gold Buffalo bonus symbol lands (can happen during the course of any reel). If the numbers 6, 5, 4 or 3 occur in the base game, 100, 25, 15 or 8 free spins may be awarded respectively.
More about this game
A lot of free symbols are present in this game, but the wild symbol is the highlight. The fact that it comes with win multipliers of x5, x3 or x2 sets this symbol on a pedestal. The multipliers may also be multiplied up until a value of a whopping x3125 if there is more than one wild symbol in the picture.
In addition to this, the bonus round may also be activated and we all know what happens then. Free spins galore!
The interface in Buffalo King is not that uncommon. It is also pretty volatile, in our opinion. If you want to win big, you can surely go for this slot, but if you're looking for a rich gaming experience, you might want to look elsewhere.
Run along on the 9th of January to your favourite online casino and give Buffalo King a spin!
Wild Blood 2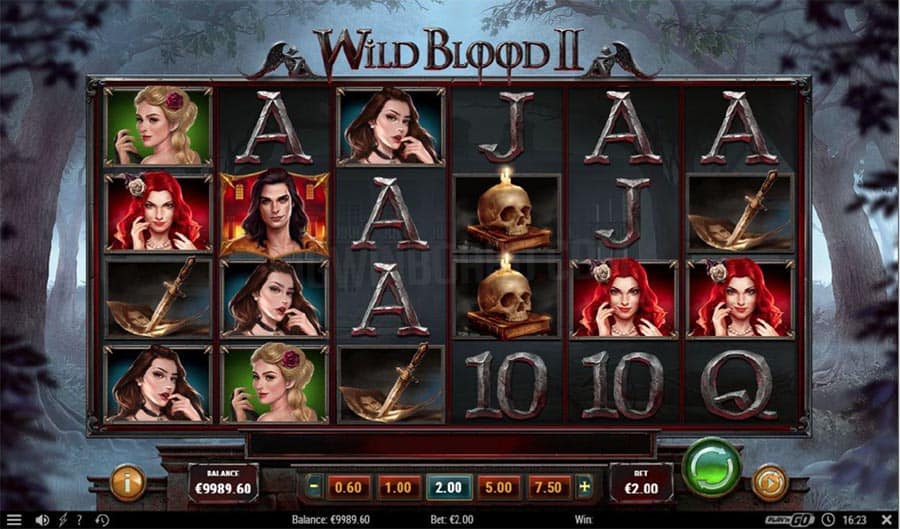 When Play'n Go released Wild Blood way back in 2013, all of us were extremely thrilled. It was a Vampire themed slot on par with the Twilight era of that time. The developers have decided that it is time for a remake and have come up with a sequel.
The Femme Fatales are coming back, you guys! Only this time, they reflect the current times and have gone under a makeover in order to do this. The same is not the case with the vampire, however. He has gone back to the 18th century for his wardrobe choices and there is a whole lot of Lestat de Lioncourt there.
Despite the fact that the first part of this game did not do much for our friends at Play'n Go, they are set to release this sequel, which we think is brave. Let us now get into what this new and exciting Vampire slot has got for us!
It has been 7 years since Wild Blood, so it is only fair that the game has gone under a bunch of visual changes. The interesting part is that this game resembles Immortal Romance more than the Wild Blood.
Below is some key information about this game:
Release Date: 23rd of January
Reels: 6
Lines: 4,096
RTP: 96.18%
There is a Bloodlust Free Spin offer in which players can choose from three amazing options titled, Margaret, Laura and Rebecca. Wild Blood 2 is very similar to its first part as well as Immortal Romance, but this game will suit a variety of players, what with its modern theme and amazing payouts.
Play Wild Blood 2 at your favourite online casino on 23rd January!
Magic Journey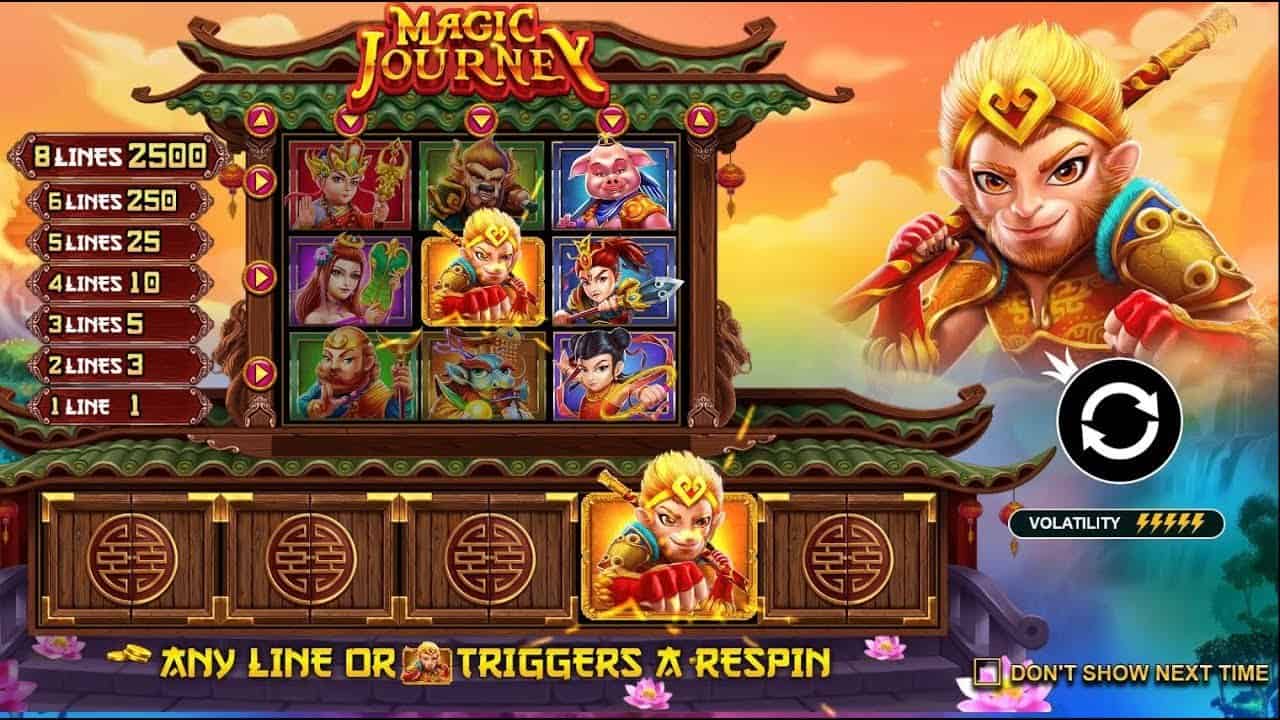 Magic Journey is Pragmatic's release for January. However, it has a unique touch to it which can't be said for Money Mouse. Let's see what this is about.
There is no doubt that Magic Journey takes some getting used to, but it's nothing that can't be achieved with a few spins. It is also quite common for most Asian themed slots to be a little complex, but Magic Journey does not require an awful lot from your side as it is pretty simple with elements lifted right off the Asian theme. This it does with a combination of bright symbols and a fast pace.
The game just screams with Journey to the West vibes. If you do not know what that is, let us paint a clear picture for you. Journey to the West is a Chinese novel full of anthropomorphism, and is an off-the-shelf coming of age story. Magic Journey is a breezy, light version of this novel.
Below is some key information about this game:
Release Date: 16th of January
Reels: 5
Lines: 8
RTP: 96.54%
Magic Journey does not have a lot going for it in terms of features, but what it does have is an intriguing gameplay experience. There are no type of bonus spins, free spins, scatters or whilds to stand in between this experience and you.
There is, however, a 3×3 grid which acts as the scorecard. There are 9 positions in said scorecard which are occupied for characters from Journey to the West. The scorecard remains stationary throughout the course of the game, but the 1×5 horizontal row below it does spin.
More about this game
A maximum of five characters from the scoreboard may lind each time the horizontal row is spun by the player. The way to know which character(s) you have activated is by seeing which of them light up on the scoreboard.
If you find that no lines appear on the scorecard above, then it means that you have won no money and that the spin has come to a stop. However, if more than one line appears, a Respin occurs. Then if other new symbols also create a line, the process continues.
The process takes place until no line appears or until every single one of the symbols on the scoreboard lands. The winnings from these lines are as follows:
| | |
| --- | --- |
| Number of Lines | Multiplier |
| One | 2 times the original stake |
| Two | 5 times the original stake |
| Three | 10 times the original stake |
| Four | 15 times the original stake |
| Five | 30 times the original stake |
| Six | 100 times the original stake |
| Eight | 400 times the original stake |
Although there is not much to Magic Journey in terms of features, these amazing multipliers are enough to carry the game. If you manage to win in the early stages of gameplay, dare we even say that you might get hooked.
It is true that your first few tries in this slot machine may lead to some confusion, but the fog eventually clears up and the actual goal of the game becomes visible. The game is not long, but it will surely interest you in more ways than one.
Magic Journey is one of those games where things are just simple and if you're looking to just win, this is the game for you. You could win all you want and if you don't, we admit that the game could get quite boring for you. Pragmatic Play has done quite a good job on this one, so check it out!
Poison Eve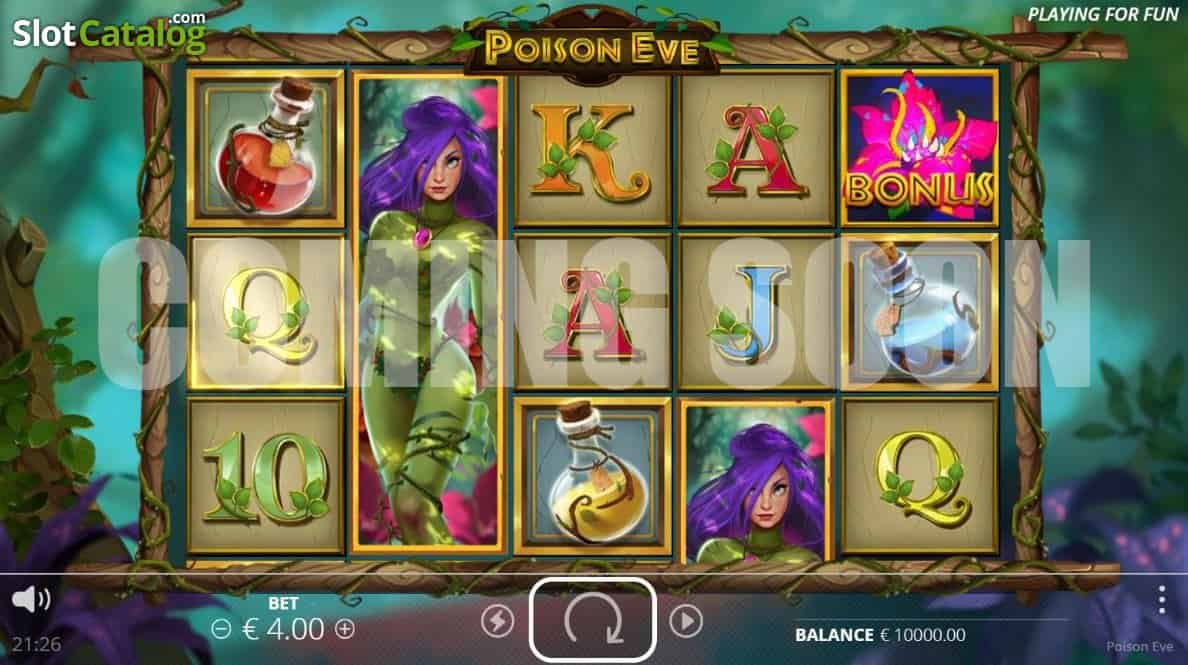 There truly are no limits with NoLimit City games! With their new slot machine for 2020, they have brought about a pixie theme for their players who enjoy fantasy. A pixie theme is something we have all seen before, so it's not that big of a surprise. Why, even NoLimit City has a slot machine called Pixie vs. Pirates!
Poison Eve does not look the same as Pixie vs. Pirates, but it offers somewhat of an escape from reality. It has a forest-y theme and a 3×3 grid. The game is not much, but what it is is functional. Poison Eve's pace is something that will keep you going, however.
An elf plays the tunes of the forest on his flute throughout the game, so if you're into that type of thing, you should most definitely check this one out. The music is soothing, but don't let yourself get too comfortable until you know what's about to come next.
Below is some key information about this game:
Release Date: 7th of January
Reels: 5
Lines: 20
RTP: 96.08%
There is a Poison Eve Symbol in this game that will lead you to the amazing Liquid Magic feature. This symbol gets activated when the Poison Eve symbol comes down and encompasses the entire first reel.
The symbols that turn up on the four wheels that are left are turned into Poison Eve symbols. If you manage to turn all your reels into said symbols, you would have won yourself a multiplier of x2000 on your original bet.
If you think that that is all this game has got to it, you are extremely wrong. Next up is the Flower Power Free Spins feature. There is what is called a Hot Zone frame on the fifth reel in the middle. The amazing Flower Power bonus is triggered when the bonus symbol halts within the borders of the Hot Zone.
When the Flower Power bonus is activated, three to twelve spins are chosen randomly after a bar opens across the reels with numbers on it. The first and fifth reel become Portal reels when this happens.
The symbol that ascends on the Hot Zone will become enlarged and occupy the Portal Reels. Additional spins as well as an other Portal Reel get added to the same round if the Bonus Symbol pops up on the Hot Zone again.
More about this game
Everything with Poison Eve is not as easy as we make it found. There is a lot of intense math involved and we highly encourage you to prepare for it. You might encounter an endless number of spins that are long dead or have returns so low that you want to head to the forest and hang yourself off of a a tree.
We do not mean to discourage you, we're just telling you so that you are prepared for what is about to come your way with this new slot machine. You might get lucky too.
One thing that is commendable in this game is the fact that NoLimit City have put both brain and braun into the features have come up with for this game because they certainly do help when they are activated.
A feature that deserves a special mention is the Flower Power bonus because it has the potential to give players some drawn out high value rounds. We think it's because of the Ra vibes we get from the style of this game. The combination of the base game's low action and highly eruptive nature is understandable when you look closely.
We believe that Poison Eve is quite an entertaining slot, but we will be honest with you guys. It does not top NoLimit City's tops like Dragon Tribe. The 2000x multiplier is an attractive part of this game, without doubt.
But this is not as easy to achieve as you might think. Winnings on slot machines require an enormous amount of luck, so you would certainly need to have that. It is not impossible to win big on this thing though. If you manage to get yourself the Flower Power Free Spins, you might be good to go.
Serengeti Kings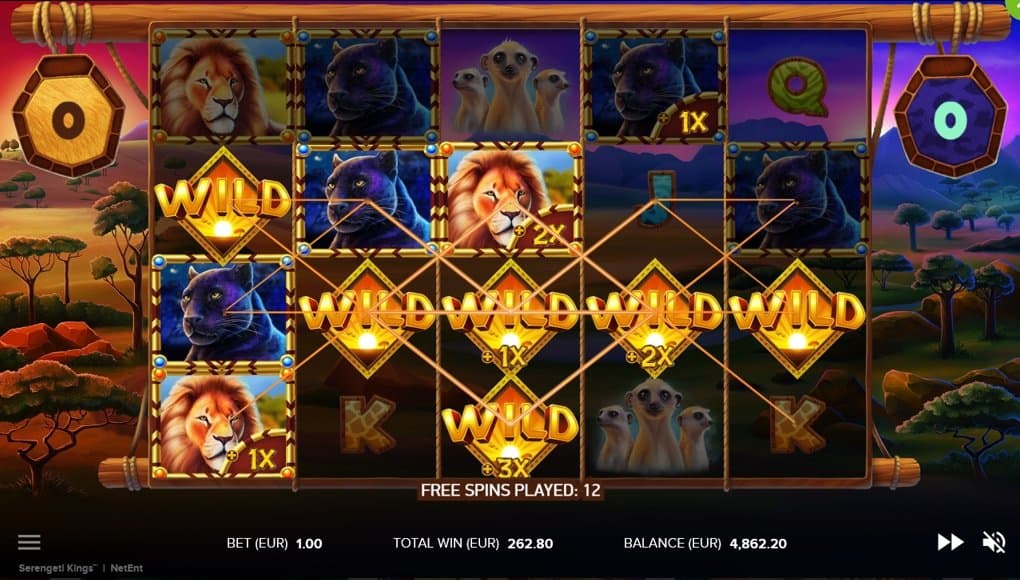 If you have not heard about the beautiful plains of Serengiti, please do look at this thing whenever you find the time to: it's called an Atlas. Alright alright, we'll stop with the digs. If you spend all your time at online casinos, how are you gonna have time to look at an atlas, right?
NetEnt came up with a lot of slot machines in December, and they were all good; but they weren't great. Serengeti Kings, however looks very promising as we think it might just be worth all the hype.
We can't just blindly go by NetEnt's screenshots of the slot game, but the audio is certainly compelling. Slot machines that have a theme depicting the vast wilderness of Africa are in no shortage. There are plains EVERYWHERE. Developing a game with a theme as common as this becomes very difficult due to this reason. They've got to make it stand out. Let's see what Serengeti Kings has that sets it apart from a hundred others.
There is not that huge of a weight on the approach this game takes. It's breezy. There are no creepy bugs or things that can crawl on you in this version of Africa. It's almost as if Disney spat it out. The animals that could potentially bite your head right off are just friendly and cute furry friends in this game.
Below is some key information about this game:
Release Date: 23rd of January
Reels: 5
Lines: 26
RTP: 96.2% to 96.7%
One is drawn to the game initially due to its light and beautiful background and visuals. If Scar was just the cool uncle and didn't murder Mufasa in Lion King, this game would be Lion King. that's how pretty and nice it is. Pride Rock all the way.
NetEnt has come up with a fresh interface and some really cool features that we have not seen in any NetEnt slot machines before this. We are extremely excited!
More about this game
Panthers and Lions take up the role of the kings in this game. Not to sound like a know-it-all, but we would also like to point out the fact that panthers are more widely seen in the Americas, but sure; whatever floats their boat.
The Lion Spins inaugurate the game by being the light during the day and when it is night time, the Panther Spins take over. Everything these days has a light and dark mode, so why not this? All the panther and lion symbols that land on either model (with 12 spins each) fill the counters that flank the reels.
We are very happy to tell you that this is the first time NetEnt has opted to add a Feature Buy facility to that players are taken to the free spins game without any hassle. There are three ways to obtain the Feature Buy: 3 scatters amount to x58.7 the bet and the amount for 4 or 5 scatters depend on the number of panther and lion symbols that have been collected by the player.
It comes as no surprise to us Serengeti Kings is a game that has a strong foundation. Despite NetEnt using a theme that has been used a hundred times before, they have brought some sort of originality and made it theirs. We appreciate their efforts.
We are also extremely pleased that NetEnt has chosen quality over quantity for their releases in 2020. They have covered their basics: good interface and the math is pretty much impenetrable.
Double Lucky Line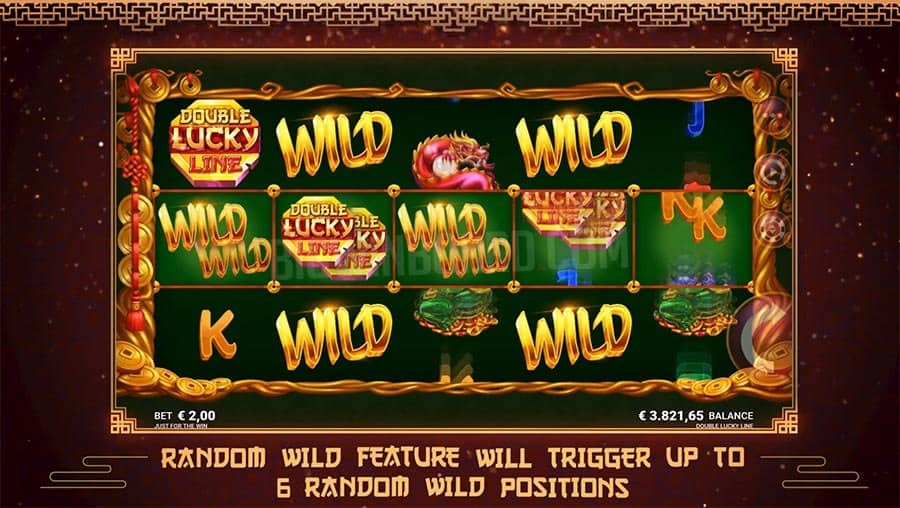 Two of our absolutes faves- Microgaming and Just for the Win (JFTW) have come together and concocted Double Lucky Line. This is yet another Asian themed slot and we cannot seem to say with honesty that we are thrilled.
It almost feels as if the idea for this game was just plucked from Tweethearts and added some elements to make it Asian. Everything other than the visuals and audio such as the math, gaming experience and features seems the same as Tweetheart.
There is a wild symbol in the game that might pop up anywhere and also in singles or doubles. The feature that makes this possible is the Random WIld and becomes wilds between positions 2 and 6.
The game gets its name from the feature Double Lucky Line present in the middle row that is always triggered when the base game is at its course and also during the time free spins are being played.
The symbols that may pop up with this feature act as two regular symbols while scoring free spins or calculating wins, and aso are double symbols.
Below is some key information about this game:
Release Date: 14th of January
Reels: 15
Lines: 17
RTP: 96.02%
The last feature in this slot machine is the Free Spins round. During this round, the scatter symbol may pop up as a single or double at any place. The player wins 10 free spins when he or she manages to get 5 scatter symbols (inclusive of double symbols).
More about this game
If you happen to love Asian themed slots and Tweethearts, well this is your lucky month. You really need to get to your favourite online casino on the 14th of January and give this one a spin.
We know that it seems impossible to hit 10 symbols, but let us remind you that with some luck, anything is possible. Pay rate heavily depends on the features in Double Lucky Line. There are about 15 reels when you look closely, but the sad part is that Microgaming and JFTW did not add many features to go with this.
The player seems to be stuck on reels 1 and 2 for the most part of the game due to the double lucky line. Rarely do combos in the game move beyond the third reel or onto the fourth reel.
The euphoria you feel knows no bounds when you obtain something across all reels, but this happens only sometimes. We don't know what the maximum potential of this game is. Since it is very similar to Tweethearts, it would not be entirely wrong of us to assume that this slot machine could have x2500 on the original bet like Tweethearts does.
There is a lot of Asia that Double Lucky Line has dumped on what looks to be like its 15 reels. The slot is quite unentertaining due to the missing authenticity. If you are just looking to keep things simple and nothing big in your slot machine, you should check this one out come January.
Wildhound Derby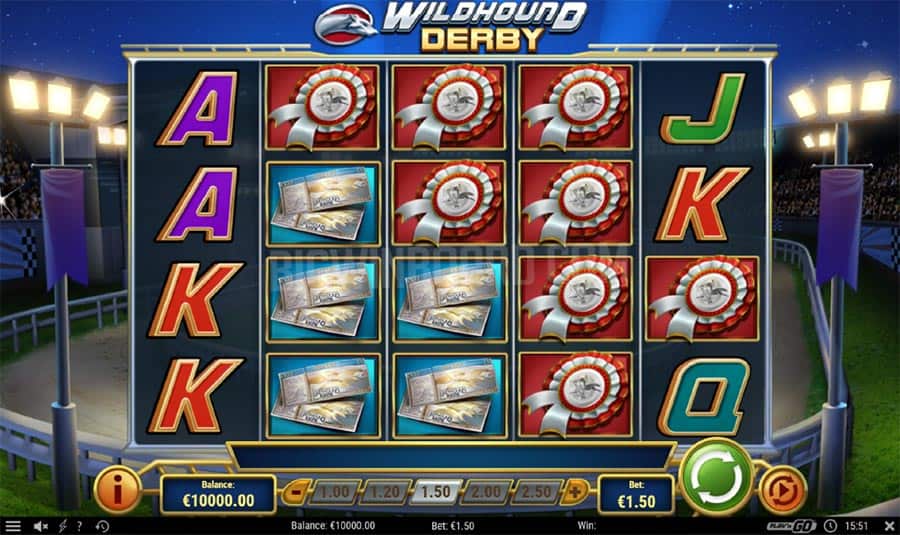 Most forms of gambling are going through a period of expansion, whilst greyhound racing has been going against the grain. Today, only 8 countries have legalised the sport, the UK being one of the few strongholds of this activity.The pastime first commenced in the 1920s and it quickly rose to fame. However, even in the UK, the activity has started declining in popularity, partially because of the supposed ill- treatment of the dogs.
The genuinity of these allegations are debatable. However, Play'n Go's new slot, Wildhound Derby, gives us the buzz of racing, and at the same time ensures that the dogs are treated ethically and harm not exposed to any harm.
Below is some key information about this game:
Release Date: 9th of January
Reels: 5
Lines: 30
RTP: 96.93%
The wildhound derby looks just like a Play'n Go slot, with retro accents to its symbols. The main attraction of the park is the dog track, surrounded by floodlights and filled with enthusiastic betters. Online players have the option to choose a bet that is most convenient for them.Options can range from as low as 10 p/c per spin to £/€100.  The objective of the game is to match three or more identical symbols to achieve a payout.
More about this game
Before starting the Dog Race Free Spins, players need to select the dog they want to race. The dogs begin the feature on the fifth reel, and a race indicator is placed beside the first reel on the left.. On every free spin, the indicators also spin, and Golden Hares might appear on one or more positions.  When a Golden Hare appears, the dog in that row shifts one reel over to the left.
Free spins are not counted, rather, the round goes on till one of the dogs go past the first reel.]If the winner is not the dog you are playing with, any winnings accomplished during the free spins are paid out, and it moves on to the major part of the game.
On the other hand, if your dog does win, the motion moves to the Winner's Wheel. The wheel then spins and the players are able to score multiples of 2,3,4,5, or 15, which are then applied to the winnings from the free spins that were played earlier.
Intriguingly, dog racing-themed slots are not very common, leaving Wildhound Derby with limited competitors.
Slot developers are surprisingly not joining into this readymade gambling market, maybe because it is too closely associated with the animal welfare controversy. In any case, Play'n Go will be punting on gamblers with a hint of reminiscence, thinking back about some of the track glory days with an online slot.
Even if it isn't the exact replacement for a dog race, it still is befitting enough. A degree of the live spirit has been conserved and the creators have included some competitiveness through the Dog Race feature.
Temple Stacks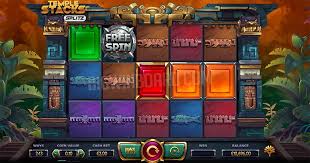 Yggdrasil have yet again demonstrated that they are not scared of venturing into the unknown. Their newest slot, Temple Stacks, handles a few firsts for the company, whilst marginally pushing the slots envelope.
Firstly, it is the first time we can see their new Splitz game mechanic up and running. The second big change is the game's ability which seems to be Yggdrasil's largest. The numbers related to Temple Stacks are large. Needless to say, large digits alone don't ensure a good game, so let's stir the beast up and see what it is capable of.
The symbols are easily designed. The symbols include 5 low pay symbols with Aztec/Mayan motifs on the, and 5 high pay symbols of various coloured square gems- purple, blue, orange, red and green.
As for the value, low pay symbols yield up to 0.5x, while the high pay yield up to 1x the bet. The only exception is the red square, which can yield 2.5 times the stake. It may sound meagre, but don't dismiss it yet. Because of the number of win ways and features, this game has the ability to yield considerable payouts.
Below is some key information about this game:
Release Date: 22nd of January
Reels: 5
Lines: 243 – 248,832
RTP: 96.1%
The game includes a scatter symbol that resembles a spiky shield- 3 or more are required to generate Free Spins, and in the case of 2 landing, they turn into Scatter Wild Hybrid symbols.The 2 scatters are then held stable whilst the other reels Respin, trying to land more scatters, or at best, making use of their wind capabilities to produce winners. Trust your luck and land 3,4, or 5 scatters and you can get 1x, 10x or 100x the bet, along with trigger free spins.
More about this game
The game consists of 4 free spin levels, each one with varying rules and excitement.  They are opened one after the other at first, but following that, the players have the liberty to pick the one they prefer.
The 4 levels of the game are  steel, bronze, silver, and gold, which are accompanied with 3-9,4-10,5-11 or 6-12 Mystery Stack Splitz.
However, the higher the Splitz, the less free spins there will initially be:
3 scatters – 15 steel, 9 bronze, 6 silver, and 3 gold free spins.
4 scatters – 20 steel, 12 bronze, 8 silver, and 4 gold free spins.
5 scatters – 35 steel, 21 bronze, 14 silver, and 7 gold free spins.
Considering that the Megaways engine is in such high demand, it was very probable that we would begin to see varying differences in the market. What merely started with Perfect Gems by Play'n Go has now hatched many other mimes. Even though Temple Stacks has tinges of Megaways to it, there still is enough distance from Big Time Gaming's creation.
Altogether, it is a satisfactory game, despite the unusual generic visual appearance form Yggdrasil. There are opportunities for some sessions of inferior quality. The high amounts of unpredictability can end up in runs of dead spins and low symbol values are not as heavily weighed in the absence of  features or multiple lines in play. The mathematical model is not as refined as the usual models from the Megaways engine.
Skulls UP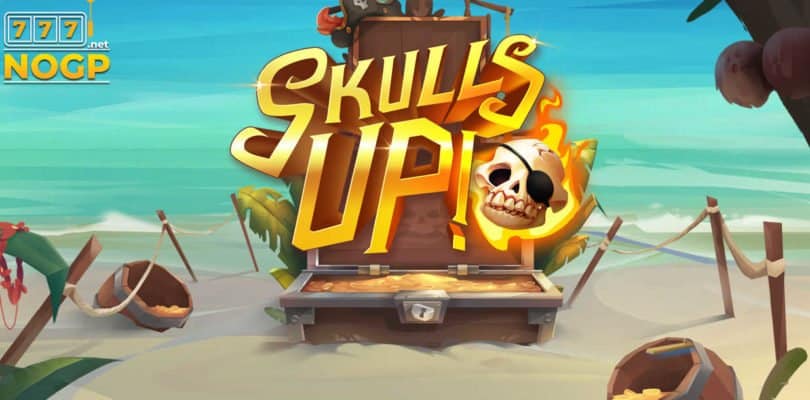 Pirates' lives are the definition of unpredictability, specifically when it comes to prestige.You either get it all, or you receive nothing.Despite all the difficulties and the brutality, and being tracked down by foreign government forces, pirating was an enticing premise to specific types of (usually) men. Prosperity and honour, both came in a jiffy.
You just had to get it for yourself.  Men from that time period had the opportunity to stay idle at home, or travel the high seas, explore exotic land and steal loot! It isn't too hard to draw connections between pirate life and playing slots. Pirate themed slots are extremely common, which must mean that these two share a common trait. One such slot game in Skulls UP from Quickspin.
Skulls UP circle around many burning things, probably making the game extremely popular amongst pyromaniacs. Firstly, the game includes the Flaming Respins, that integrates the Flaming Skull Wilds. The non- flaming Skull Wild carry out the jobs of a usual wild by replaces any of the base pay symbols. If a Flaming Skull Wind lands, it generates the Flaming Respins feature.
Below is some key information about this game:
Release Date: 14th of January
Reels: 5
Lines: 243 – 1,944
RTP: 96.26%
Prior to the respinning of reels,  any Flaming Skull Wild or Skull Wild will boost a supplementary symbol to the grid above their position. The three middle reels can level off at 6 rows high, and if there is no more available space above, then wilds do not move and remain in the same place. If players players achieve a win that is inclusive of a Flaming Skull Wild during the course of a respin, it is converted into a regular Skull Wild after the fame is put out.
The respins will continue to work on the condition that the Flaming Skull Wilds do not leave the reels. The reels go back to their usual height when no more respins take place. This occurs after every win is totalled.
More about this game
The scatter symbol is the treasure chest symbol. The player needs to land three of the treasure chest symbol in order to be awarded 8 Flaming Free Spins. The rules of the base game, inclusive of the Flaming Respins, move over to the free spins round with two supplements. Firstly, if a reel reaches 6 symbols in height, then 2 additional free spins are added.
Also, if  Flaming Respins happen on a free spin, any growth in reel height will stay out. Reels do not go back to the usual height when a Flaming Respin is over.
Skulls UP is a trustworthy contribution from Quickspin. It has its captivating moments, it's good to see a developer venturing into new waters, though even with the nautical theme it doesn't splurge as much as Golden Glyph did.
The attributes are thrown out each instance when a Flaming Wild pops up, helping to preserve the flow. While the expanding feature is not very new, Quickspin has assimilated it well with the pirate features of the game. The most intriguing moments happen when the feature are working together,  specifically when the rows stay in place after a Flaming Respin.
African Quest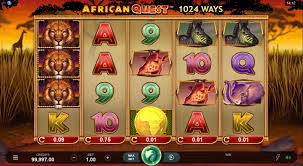 Microgaming has gotten together with Triple Edge Studios to give players a slot game with an African theme, African Quest, in order to take them on a giant safari. While the exact objective of the game isn't made clear, the game still features flagship animals from the African savannah, like lions. African wildlife slots are quite common, which means that African Quest needs to be unique in order to gain the attention of the public.
Below is some key information about this game:
Release Date: 23rd of January
Reels: 5
Lines: 1024
RTP: 96.02% – 96.52%
The game includes many features that need to be utilised to drive it to its maximum capacity. The most popular feature is the sun that appears to be either rising or setting on the plain. It is present on reels 2, 3, and 4 and it takes the place of any other usual symbol.
The map of Africa can be seen when the scatter begins when 3, 4 or 5 pops up.The free spins that are activated by these come in three forms and depend on how you want to play them. You could get 5, 10 or 15 free spins that come with multipliers of x3 and x4. You could get 8, 15, 20 free spins that come with multipliers of x2 and x3. Lastly, you could get 12, 25 or 40 free spins that come with x1 and x2 multipliers.
More about this game
When a combination that has the potential to win pops up with a wild, it makes use of one among the Multipliers that you already know.. If you can obtain more than one wild in the mix, the numbers are multiplied and form a bigger and better number. So,  upto x64 can be obtained on a spin. Scatters can pop up during free spins, and two or more will lead additional spins to the remaining total.
Even if it is not the most original slot, African Quest is still an entertaining option. Fans of the Hyperspins concept will be attracted to it more easily. The jury's still out on Hyperspins. It can get very interesting, but the excitement can wear off after getting burned. However, it still adds an element that may attract players, It is also more exciting than picking a card's face or colour.
Book of Atem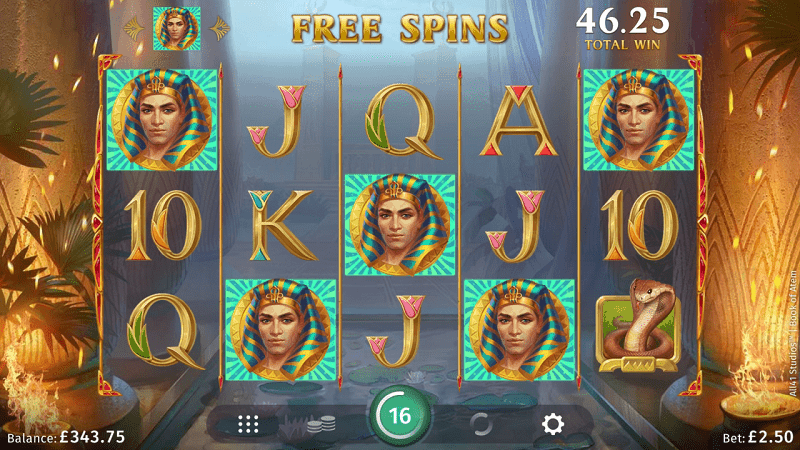 The most recent slots game has been created by All41Studios, who have partnered with Microgaming to give us some amazing slots. With a limited but regularly growing catalogue of games, Book of Atem is the fourth slot they have created. Their first three attempts have all failed to gain popularity, hopefully the 4th one will?
To help them gain popularity within the gaming community, they have copied the very successful Book of Ra style slot. It has been upgraded, but underneath, it still is the same game with the same features.Perhaps updating an imitation slot will result in success for All41Studios.
Below is some key information about this game:
Release Date: 7th of January
Reels: 5
Lines: 10
RTP: 96.45%
Despite the mimicked gameplay, and the graphics are especially innovative. The background has been drawn neatly and it paints a picture that is rarely seen in slot games. Atem, or Atum, was known as the one god who would finish the entire world. Everything was created out of his flesh, inclusive of other gods, and at the end of a revolution, he would return creation to a watery pandemonium.
The guy sounds very extreme, but the background scenario we get in Book of Atem is a calm pool behind a palace or temple. It may appear like the kind of place he would entertain guests or just relax.
It makes a welcome adjustment we are accustomed to seeing in Ancient Egyptian settings from the usual torch-lit scenes, caverns and temples with poor lighting. It is surprisingly intimate, but make the most of it, because that is one of the only original aspects you'll find with Book of Atem.
More about this game
If you have played Book of Ra you probably know exactly what happens and can skip this part. If not, let's give you the recap. There is just one other symbol – the almighty book. The good thing about it is that it has two roles, as the wild and the scatter. It can land anywhere on the reels and 3 or more of them in view triggers 10 Free Spins.
Before free spins begin, the book opens and one of the pay symbols is chosen randomly to be the special symbol. When 2 or more (3 for lower value card royals) of these special symbols land on a free spin, they expand to take over the whole reel they are on.
What makes them so special is that these expanded symbols don't have to be beside each other to create winners. This gives them the ability to bring in enough numbers of coins.
Free spins may be reactivated if book symbols progressively pop up during the bonus rounds. In addition to this, the book (because it is a wild) steps in for other pay symbols, but when the free spins take place, it does not replace the enlarged symbols.
It might sound a little generic, and it is, but the gameplay is super fascinating, and wins can seriously rack up with expanded symbols in play.
Book of Atem further nails the saying, "If you can't beat em, join 'em." After coming up with three slots that were not very successful, All41Studios have stepped out of the shadows with an attractive slot with killer gameplay.
That would direct the game to success if you forget  the fact that gameplay is an exact mimic of other usual 'Book' slots. This makes it tough to decide on a verdict and rating for a game like Book of Atem. It carries gameplay that has attracted crowds of players ever since it first entered onto the scene, so you can't reduce points for that as such.
Everything that players loved about the originals have been used here. Graphics are of a high quality, and the background scenes are something a bit different so great job, to whoever made the design.
Star Gods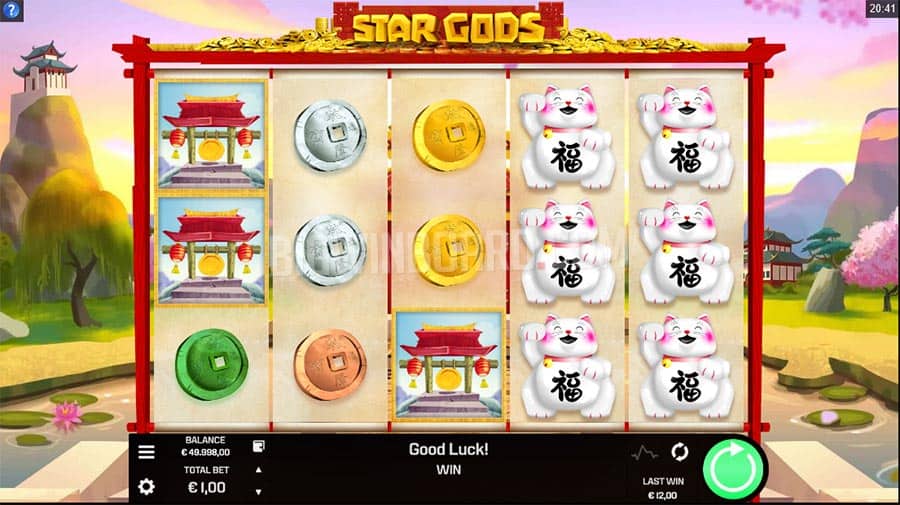 Golden Rock Studio's first ever slot game that involves Asian themes is Star Gods. While the name Star Gods might seem a bit immature much like Volatile Slot, playing the game will let you know that the game is named after Chinese gods, Shou, Fu and Lu, hence making the game aptly named.  These names are also not foreign to the gambling world.
Below is some key information about this game:
Release Date: 23rd of January
Reels: 5
Lines: 25
RTP: 96.00%
The game, when played on a mobile device, gives the most optimal result while played on landscape mode, as the player is able to fully enjoy the Asian atmosphere.This is facilitated by eels placed on a bamboo frame, an eastern soundtrack, temples on hills, a blazing sun-filled sky and lotus ponds, making the setting ethnically Asian and attractive.The visual and audio impacts are greater than that of Volatile Slot. The symbols are also better, as all of them match the theme and are custom made to fit in Star Gods.
More about this game
The features, however,  are a bit different.You might scorn this game if you knew that the scatter just generates 2 spins.However, these win spins are assured to win coins. Regardless of the size, free spins and respins always give payouts. First let's look at the wilds, which play a role in triggering them.
The star symbol is wild, and it has the ability to appear on reels 2, 3, and 4. When it lands, it turns into a Stacked Wild which shows a different god and moves into a whole reel. It also rewards a Win Respin.
With a win respin, the outcome is always positive. When a winner lands, it is paid out, and the respin is completed. The reels respin over and over in the case that there is no winner, up till someone witnesses a winning combination. If yet another wild lands on a respin, it triggers another win respin regardless of whether there was a winner or not.
You may wonder if having 10 regular free spins that could potentially give you nothing is better than having 2 winning spins that will get you a win without any doubt. It is a pretty unanswerable question as slots are a game of chance.
As gamblers, however, we tend to go for the big thing. We would do everything in our power to make sure that we win from the 10 free spins mentioned above. It is not common for slot machines to have winning spins that assure wins, so highly encourage you to take a look at this one when it comes out in January 2020.
Viz Showtime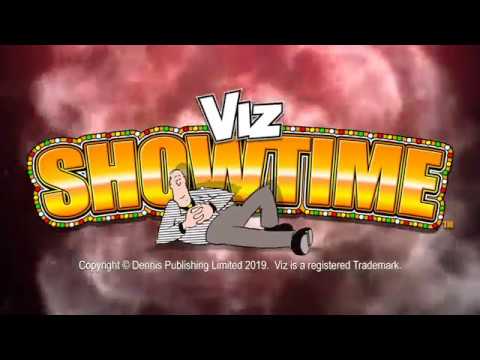 Blueprint Gaming recently announced a slot machine with caricaturistic theme called Viz Showtime; however it retains a mostly basic design once you actually take a look at the symbols present. It might look like a regular slot machine, but you will realize that it has a lot more to it. We can assure you that you can kiss bye-bye to boredom with the help of this video slot.
Viz Showtime's players have access to a variety of features. For example, you are allowed to use a wild symbol on the line it appears and in place of the combinations you want, There are free spins offered in this game that will reward you with increased wins with no extra money from you.
Below is some key information about this game:
Release Date: January
Reels: 5
Lines: –
RTP: –
This game has a mechanic that goes by the style of picking. In order to know what you have had the privilege of winning, all you have to do is pick.
More about this game
We can see a cartoon character in this slot machine taking the lead, but what is less prominent is that this game actually has a touch of basic to it. This is what we conclude from the reels we have seen on Viz Showtime. Bells, Plums, Lemons, Lucky 7s, Grapes, Cherries and Oranges have some symbols about them. This design, however, does not look very modern, which is a bit of a bummer.
Scribes of Thebes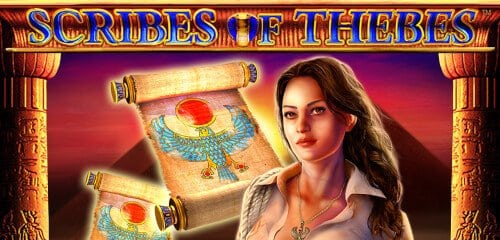 Focused on a famous city of Ancient Egypt of the same name, Scribes of Thebes is one of the Blueprint Gaming slots but it's one of lower design quality than plenty of others offered by them. However it has some unusual features to offer that will keep the players interested and going.
With a 5×3 reels spin in it, the game places a major emphasis on a feature with special symbols, which have the ability to expand on the reels.
The player getting special expanding symbols on the reels can definitely be called the main feature of Scribes of Thebes. These special symbols are selected at random, prior to the spin. The chosen symbols expand on their reels, each one at a time once the round is over and the initial winning combinations have paid thus bringing you a new wave of prizes.
Below is some key information about this game:
Release Date: January
Reels: 5
Lines: 5
RTP: –
More about this game
Naturally, you need the resulting expanded symbols to be present on the right reels, and if they do land there, they can create multiple combinations at a time.
The game's title seems promising because no other 'dedicated to the city of Thebes, Ancient Egypt themed slots' have ever been witnessed anywhere. Looking at the real graphics though, it soon becomes evident that it's a below average offer from Blueprint Gaming, especially given the very crowded Egyptian category.
What will serve as the main symbols in this game are the Scarabs, the Female Explorer, the Bastet Statue as well as the Pharaohs. We can also see that the Royals seem to have less interesting symbols.
Kong's Temple
Kong's Temple is one of the exciting new games being announced by Blueprint Gaming. The slot machine features the story of King Kong, the infamous great ape-like monster. It's a game with decent features as well, not just a cool story. Kong's Temple offers 5×3 reels, and by default because of that, your chance at more than modest top wins increases. Using stacked wilds and up to 8x multipliers, the slot has plenty of features to make the action interesting and fun.
Below is some key information about this game:
Release Date: January
Reels: 5
Lines: 5
RTP: –
The Kong symbol represents the slot's stacked wild, which you can get to pop up on 1 to 3 positions of a reel, aiding with any combinations that are formed from there. Only the middle three reels appear to be able to get these Kong wilds on them.
Another element of the game worth mentioning, since it has a major impression on the game is the assurance of 2x to 8x random multipliers, which will automatically be enforced in the wins of the round.
More about this game
King Kong is clearly the star of Kong's Temple but there are plenty of elements that makes the other part of the title comes true as well. To give an example, with pillars and a roof visible around them the game's five reels are encased in a temple like structure.
The stacked Kong wild is visible on the reels with a major symbol but along with that, you also get small lizards, fruits, flowers, treasure chests and temples. If you move on to the lower and less important symbols you'll find six Royals, ranging from 9 to an A.
Wheel of Wishes
Wheel of Wishes is an upcoming game designed by Alchemy Gaming that's expected to come out in early 2020. Being solely built for them and their progressive jackpot network, the slot machine will be exclusive to Microgaming. Wheel of Wishes is a game to be anticipated with its pretty graphics and features which promise to be profitable and a newly incorporated Wow Pot.
With over 1 billion EUR in prizes paid so far, Wheel of Wishes' jackpot will be added in the world's biggest Microgaming network. The Wow Pot available inside with Major, Minor and Mini variants, is seen with values of over 1 million EUR in the screenshots.
Below is some key information about this game:
Release Date: January
Reels: 5
Lines: 5
RTP: –
The Wild symbol will come in as a regular logo, the visuals aren't that exciting in its case but it will definitely be one of the features that you're going to trigger and take advantage of quite often. With its assistance, you're going to be excited with the new winning combinations forming.
Only the regular symbols are being substituted for by the Wild symbol. The wheel of fortune style bonus is the other big feature of the game. The Wheel of Wishes symbol that gave the game its name, can land on the reels, and be used to trigger these bonuses.
More about this game
The game is heavily influenced by the story of the Genie and the people of the desert hence the theme of the game is Arabic in nature. On the reels shown, the high value symbols are mostly related to valuables (pendants, treasure chests, magic lamps) and the sand dunes of the desert can be seen in the background as well.
While the feature triggers show a Wheel of Wishes or logos, we find card suits and other similar icons in the place of low value symbols.
Stars Megaways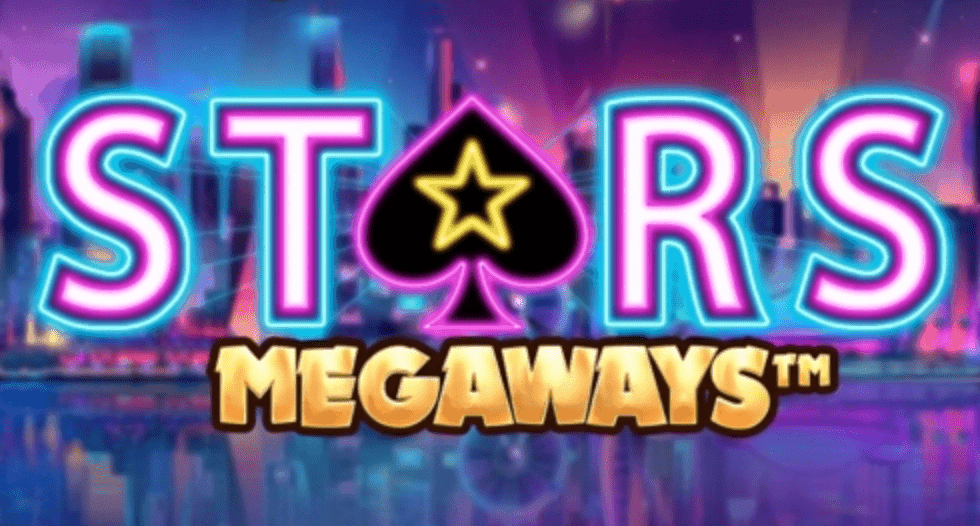 A very risky to play but incredibly rewarding new game that has very high volatility has been announced in their Megaways series by Blueprint Gaming. For the fans of the genre it might still be interesting, but Stars Megaways doesn't look like it has all that much to offer that is new and it is definitely not the most unique game that you will get in this category.
With the horizontal wheel at the top to take into account as well, a slot in Megaways relies on 6 reels where up to 7 symbols appear. A game area with anywhere from a few hundreds, to 117,649 Megaways is the result. The game's free spins, cascading reels, increasing multipliers, or the scatters is worth mentioning as its best features.
Below is some key information about this game:
Release Date: January
Reels: 6
Lines: 117,649
RTP: –
Matching symbols need to appear left to right on consecutive reels, for forming combinations and the cascading reels mechanic will be activated as wins form. Bringing a new set of symbols on the reels and removing symbols which are in winning combinations, it will work the usual way like in other slots. Plus, if you get them during free games, you land additional wins, and maybe even bigger payouts.
More about this game
You'll find that the free spins become active when the scatter symbols land on three reels. If you want to win more rounds, you can spin do so with the Gamble feature that is available first and you get the free spins, when that's over. As each new cascading reels activate and since it doesn't reset between rounds, an increasing Win Multiplier is triggered thus the new wins will only become better and better as you move forward in the future.
The least exciting thing about the game is the theme since its just Royal playing cards or older fruit symbols and that's about it. As a deviation from its otherwise simple and classic theme is the neon-style graphics they employed which makes it look retro rather than dated and especially with the background graphics offering us a city of the future, it definitely works for a slot machine. However no points for originality since the neon-style fruits are not new.
Roo Riches
As the title itself suggests, Roo Riches designed by iSoftBet is basing all its action in Australia, (Roo signifies kangaroo, in Australian slang). The game is dedicated and true to Australia and it has a couple of features which should make your session utterly fun and interesting plus it gives you decent rewards too.
With 10 active win lines, the format chosen for Roo Riches has 5 reels. Top wins of up to 2,000x, or $20,000 is possible in this system. The Cash Chip Spins or free spins plus the Lightning Bet and the accompanying respins, are worth mentioning some of the most notable things about the slot.
A betting range of $0.10 to $10 is used because clearly and unsurprisingly the use of 10 coins is required for 10 lines. A line bet of $1 is the maximum in this slot and there are plenty of players that would be happy with it, but on the other hand, it won't attract the attention of high rollers.To receive top notch prizes of the round's stake for up to 2,000x, you must have the Roo (Kangaroo) symbols positioned around the reels. However, the most you can take home from Roo Riches is $20,000 taking into account the considerably low wagers possible in it.
Below is some key information about this game:
Release Date: January
Reels: 5
Lines: 10
RTP: –
Then again, worry not because every time the Chip symbol appears 100x of the stake will be paid. A chance of winning up to 15,000x is also possible with the respins from the Lightning round besides from the alternative of the Chip symbol.
More about this game
The game also lacks the feature of the wild which is most probably present in more than 90% of the games these days hence making it an unusual modern slot machine.
To try and keep things interesting, a couple other features like the Via Rock scatters that gives you 7 to 15 free of charge games, given the number of 3 to 5 required symbols you have on the reels and Cash Chip Spin which triggers at random moments and turns all the Chip symbols into cash prizes, each one giving you between 1x and 100x the stake.
Also, since the reels in the Via Rock scatters get only Cash Chips, you get a prize from every single one which makes it a very advantageous feature to have on your side.
Lastly, do you see something the one looking like an extra reel? That's the Lightning Bet option. In order to play with symbols that have Cash Chips only, rather than paying regular stake, you pay 20x the usual stake.
With 3 rounds coming as a result, the option of Lightning Respins is also available. However, for that to happen, all the Chips on all the reels need to be transformed into their blue version.
If it's well designed, it can very well work for a slot machine as we've witnessed before in a couple other cases because the Australian theme is something that has already been done before. One definite advantage for the game is that iSoftBet can do a decent job where the game graphics are concerned.
The cool symbols that are part of the game are Chips, Crocodiles, Falcons,  Rock scatters, Kangaroos and Foxes however it list ends there though because the others will provide you with basic and boring Royals.
Got an interest in an Aussie inspired newest slot game? Roo Riches is a decent game, that has  changed enough for them to be interesting and you will feel surprised by the features that are not typically slot machine.
Racetrack Riches Megaboard
Do you think horse racing slot machines are the one for you? If so, you will not be disappointed by Racetrack Riches Megaboard. Even if this one that iSoftBet has come up with is not the only one to feature this particular theme, it could positively become a favorite among the fans of the genre given its big potential and features.
The Racetrack 20-line setup and the 5 reels seen in the game are typical of a new slot these days. Up to $100,000 which is 5,000x the stake is a possible achievement in this game and gets you top wins. The Megaboard bonus, Win Spins, Trophy scatters and Jockey Wilds can yield that $100,000 that you want so bad.
Below is some key information about this game:
Release Date: January
Reels: 5
Lines: 5
RTP: –
The game will have no problem with triggering a spin even if you spend as little as $0.20, as you play on the 20 active lines. An outcome of total bet of $20 per spin with a line bet of up to $1 is the highest it can go. During its regular spins 500x for a full screen and 25x the stake per line, the best combinations will have humble top payouts.
However, there is also a possibility of payouts of 5,000x stake for the best free spins  from the 10x multipliers that can be activated in the wins from the Megaboard feature. A reward of $100,00 is possible each spin if you translated it into real winning potential.
 More about this game
The toy horse being ridden by the Jockey is representative of the wild symbol in this game. Being part of all sorts of winning combinations, this symbol will prove to be useful very often as a replacement symbol. Seeing wild symbols in random positions? Well that's due to the Jockey Wilds feature. You can see the jockey running across the game area in this random feature.
Activated only after spins that do not have any combinations related to winning, the Win Spins happen at random as well. In order for win to form, the jockey will once again have to go on top of the reels. The game also gives you its Megaboard bonus if and when Trophy scatters are encountered on the three reels (1, 3, and 5). Furthermore, if only two of the needed symbols show up at first, a Rainbow Respin can also be used as a 2nd chance.
With the help of dice rolls, you get to move forward in The Megaboard  much like in a board game. For the next free spin, the extra feature you'll be getting is decreed by the result. The bonus ends early if you get caught by the other jockey while you try to get the Big Money Bonus by finishing 3 laps. the board will get you symbol removals, mystery symbols, the Big Money Bonus, multipliers, win spins or wilds each time the dice rolls. From the Megaboard free spins, all your winnings will get a 10x multiplier if you land the Big Money Bonus.
With a cartoon style design approach, the game has a horse racing theme to it. Pints of beer, hats filled with gold, horseshoes and champagne can be seen as well from some of the luck related graphics of the game. However, the card suits with no great appeal makes yet another appearance in this game. The images of a Trophy and the Jockey turn up as feature symbols of the slot. The racetrack is visible in the background of the reels and the racing angle used for the surrounding graphics becomes easily noticeable.
And there you have it! 2020 is going to be a year filled with big wins from the newest, most exciting slot games from our favourite developers! Happy new year in advance!
Relevant news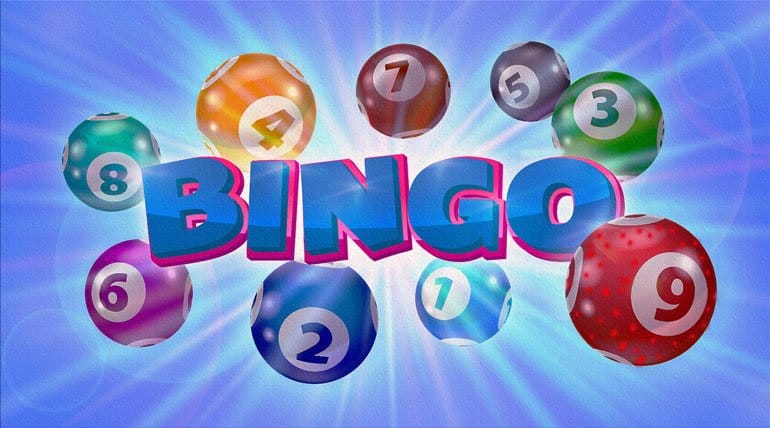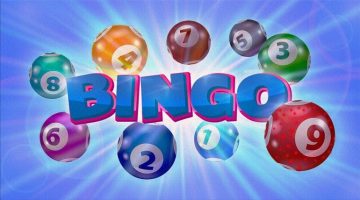 The Best Online Casinos for you to play Bingo!
B-I-N-G-O, B-I-N-G-O, B-I-N-G-O and BINGO was his name-o! We're very sure that none of us…
read more +