Lottery is the most popular real money game in India. An in-depth study by ENV Media reveals the specifics of the lottery market – from economic impacts to demographic trends and from current problems to future forecasts.
While state-run legal lotteries are the popular offline choice among local communities, there is a growing awareness of online retail and offshore platforms giving access to world-famous jackpot games.
Who Plays Online Lottery in India?
The study presents some interesting insights into the demographics of lottery players. On average, these are young males living in a big city. Big data and scientific studies agree – married men, slightly under 30 years of age, with a family (one or two children), are more likely to rent than own a house. Online lottery, in particular, proves more appealing to tech-savvy players with busy lifestyles.
Lottery is the most popular gambling form in many developed markets (e.g., the US and UK). It is the same in Indian states where it was established long ago, like Goa. Up to two-thirds of gamers engage in lottery, choosing it over casino or other betting, and with age, they become even more "loyal" to it.
ENV Media also shares primary data provided by OnlineLotteries.in and SevenJackpots.com. The youngest adults (18-24) make up to a quarter of registered users, while under 34 year-olds account for a whopping 56.4% of all users. Males (79.24%) dominate the scene.
A breakdown by states (from SevenJackpots) is also available, segmenting over 78 thousand visits in the spring of 2021, including UX and behavior.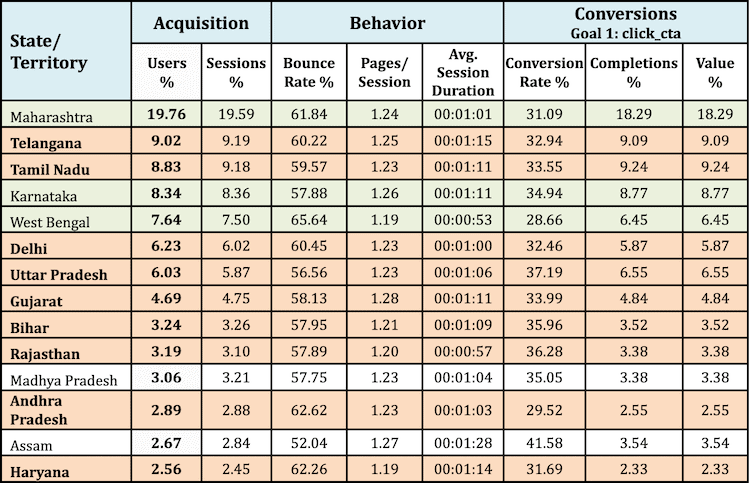 In online gambling, Maharashtra remains a market to be reckoned with, providing almost 20% of all traffic. However, apart from Karnataka and West Bengal, almost every other state with significant player traffic does not have a local paper-ticket lottery.
OnlineLotteries datasets paint a similar picture halfway through 2021 (with over 58 thousand visits). Experts conclude that desi consumers who have no access to state-run lotteries are likely to seek alternatives, "whether online or on the black market."
Lotteries Are a State Business
Recognized by the Centre as a desi gaming tradition, lotteries in India have been left to individual state regulation. Kerala was the first state to abolish private drawings and establish its legal lottery in 1967. Soon, others followed suit, and today 13 states allow or run official government lotteries:
Arunachal Pradesh, Assam, Goa, Kerala, Madhya Pradesh, Maharashtra, Manipur, Meghalaya, Mizoram, Nagaland, Punjab, Sikkim, and West Bengal.
Overall, around 10 lakh (1 million) people work as lottery retailers for a living. Wholesale licenses are granted to corporate intermediaries (stockists) like Mumbai-based Sugal & Damani or Singapore's Singam. In turn, participating states raise their revenues (via ticket sales and various taxes) and are able to channel more funds to public welfare.
Types of Available Lotteries
Most players are familiar with two types of lottery draws – regular (daily or weekly) and special Bumper draws. Ordinary drawings come as often as several times per day while Bumpers are rare, up to 6 times per year, marking holidays and occasions like Holi, Diwali, New Year, Summer, or Vishnu. Bumper draws have higher ticket prices and huge jackpots.
Another major distinction is between paper lotteries (easy to spot, with tickets sold at street stands or Kirana stores) and online lottery. Ticket retail is also done through intranet sales terminals. Still, those are not true online sales, as they don't give access to international draws.
Lotteries hold more than 15% of the market shares of gaming markets worldwide. With more people staying home and businesses experiencing a massive digital transition, games have also moved online through smartphone apps and mobile lottery versions.
GST and Other Retail Concerns
Ever since the Government introduced the 28% GST in mid-2017, many other duties have been dropped. However, an indirect tax meant that retailers had to raise final prices or lower jackpots, passing on GST to players, one way or another. With prizes the most attractive part of playing the lottery, tickets had to become more expensive, giving rise to illegal lotteries around the nation.
Black market competition brought down one of India's prominent operators, Essel Group (running Playwin until recently). For most retailers, a series of closures and disruptions due to coronavirus made the business unsustainable.
The Scope of India's Offline and Online Lotteries
The inability (or unwillingness) of state governments to digitize their lotteries makes them hard to monitor and assess. Industry estimates estimate the market at Rs 50,000 crore annually before GST introduction – and less than a third of that after.
Organic traffic data provided shows that online lottery is still small compared to its offline counterpart. However, it is also a quickly growing segment. Paper-based lotteries rely on a million retail points, but many have closed, pressing for some tough decisions by state finance departments.
Online Visibility of Lottery Demand
The ENV Media report reveals that combined lottery searches generate up to 30% of organic traffic on some of its leading gaming affiliate sites. During the first wave of lockdowns, users showed a tendency to turn to familiar games and traditional lotteries.
The top 30 online searches for lottery combine for up to 8 million lookups, a stable trend over 6 to 12 months. Demand for lottery remains solid across platforms, with classic lottery exceeding its online counterpart, especially in states with no access to any of the two.
Government Lotteries in India, State-by-State
The report dives into a state-by-state analysis of government lotteries. Highlights include:
Kerala draw being the largest public lotto scheme in the Union;
Nagaland lottery having national relevance, with the Dear Lottery brand available in Sikkim and West Bengal, among other states;
Lottery Sambad brand offering some of the cheapest lottery tickets in the Union, with vendors in all 13 states that allow lotteries;
A multitude of daily draws and select Bumper jackpots are presented.
Many Governments market their lotteries as an "investment" opportunity, advertising large jackpots. Others stress the importance of the schemes in financing health, infrastructure, or education projects.
Online Lottery Market Leaders
The study also presents the best online lottery sites available on the Indian market. Market leaders include LottoSmile (covering at least 50 different lotteries from around the World), Lottoland.Asia (more than 30 lotteries offered), and Lotto247. Offshore operators like MultiLotto, PlayHugeLottos, and The Lotter are also listed.
Desi players can purchase and receive digital copies for famous American, European, Asian, and Australian draws like MegaMillions, Powerball, EuroMillions, SuperEnalotto, EuroJackpot, El Gordo, and many others. Options include group purchases (syndicates) and personal bundles. Most operators also offer some basic tips, odds, and strategy blogs.
The Future of India's Lottery Market
With stable demand and deep-rooted traditions, lotteries in Bharat are an important economic sector currently dominated by public authorities. The digital transformation in the Union, along with the presence of some highly competitive offshore and mobile lottery operators, are likely to shake up the market in the near future.
Scientists have proven the potential of lotteries to fuel optimism in times of crisis. In this context, digital channels can compensate, and exceed slow sales in physical retail locations.
If government-run lotteries don't want to lose their share of players' trust, they need to invest in innovations and online operations for legal lottery games across India. A transition to online sales will also provide lotteries with better safety standards for consumers, offer more payment and cash-out options and create job opportunities.
More Research Articles