Royal Panda India News – Trusting a Godman, never a good idea
Royal Panda bonus loophole & "jaadu"?
Royal Panda Casino, owned by the famous Leovegas Casino has come under the radar again. Unfortunately, not for something good and this time they have been targeted just like their parent company.
The online casino operator was the subject to news about a Godman by the name of Charan Ram Singh and how he helped many customers of the casino win obscene amounts of money through 'BLACK MAGIC'.
This news post which came to us at SevenJackpots is almost an exact copy of the post written against Leovegas and the scam that surrounded us. So you can imagine why we are here!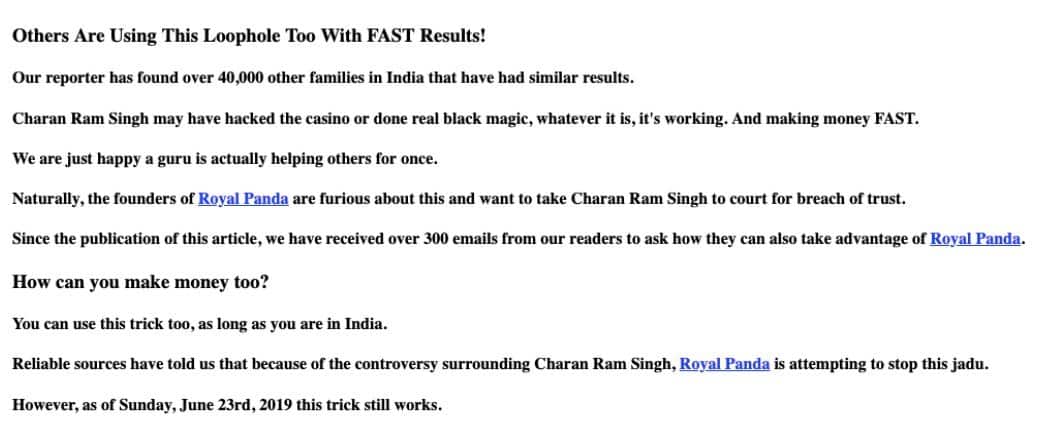 Nothing Happened!
The news article mentioned how one man, Deven Sharma won more than Rs.40 lakh just by depositing Rs.1,450 as instructed by Charan Ram Singh who happens to be a 'Sadhu'. This sadhu apparently was contacted by the owners to bless their casino.
Now since the news of this 'alleged' incident broke out, people have been spreading rumours of this sadhu doing black magic on the casino, instead of blessing it.
If this news were true, it would not be hacking or black magic, it would be termed under 'bonus abuse'.
Why?
As the people who have won with this bonus have not abided by the terms and conditions of the bonus specified by the casino.
In the article, Deven Sharma deposited Rs.1,450 and got a bonus of Rs.1,450 as well. This deposit bonus has been offered by Royal Panda as a 'Welcome Bonus Offer' on the first deposit made by the customer. The person then placed bets with his bonus money and won more than Rs.40 lakh in less than 5 minutes.
First of all, this is completely incorrect data. According to the terms and conditions of the deposit bonus, you cannot play with your bonus money unless your deposit money has been exhausted.
So how is that, this Deven Sharma, Amit Patel and so many others have just played with the bonus money they have received and won so much money. There is no 'jadu' or hacking.
It is just fake news.
Don't believe in Fake News – Get the Royal Panda Bonus the Right Way!
The deposit bonus by Royal Panda is very straightforward. There are no hidden rules, no scams by the company, nothing.
You make a minimum deposit of Rs.1,000 with Visa/MasterCard or similar, and Royal Panda will provide you with the same amount as a bonus. However, there is this very important thing called, Terms and Conditions.
Here's what the deposit bonus is and how can you make use of it:
Click on 'deposit' and select your preferred payment methods.
Choose the amount you wish to deposit.
Select the welcome bonus.
Once done, you can start playing with double your money.
Terms and Conditions about this Bonus Offer
The offer is applicable to new players and on their first deposit only.
Minimum deposit amount is Rs.1,000 and the maximum bonus amount is up to Rs.10,000.
The welcome bonus given is only applicable for casino games and not their sportsbook.
The wagering requirements for casino games is 35X of the bet and must be played with the cash balance.
Without meeting the wagering requirements, players cannot withdraw their winnings. If they try to do so, all the winnings and deposits go back to Royal Panda.
Royal Panda has the right to withdraw the bonus offers at any time without notice – So if there were people illicitly profiting out of this bonus offer, don't you think the casino would remove the bonus and hold the people responsible for a breach in T&C's…?
No loophole, no jadu, no Sadhu
We hope that this article has shunned away all speculations regarding the loophole going on at Royal Panda as well as in Leovegas.
It could have been a publicity stunt by the website or just a plain spread of rumours and fake news. People in India, unfortunately, tend to take fake news very seriously. All that aside, there are no scams, no hacking, no 'jaadu' of any kind. The bonus systems of the casino work and without any back door.
I have researched thoroughly about this subject and we conclude that Royal Panda Casino is a trusted one and without any kind of scam hovering around them. Saying that, they do offer amazing bonuses! So sign up today and you can win big!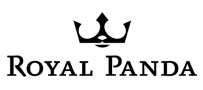 Welcome bundle - up to ₹100,000 bonus
Over 1200 games
INR Accepted
Selection of promotions
Sports betting
Mobile app available