Famous Website Posts Fake News About LeoVegas Casino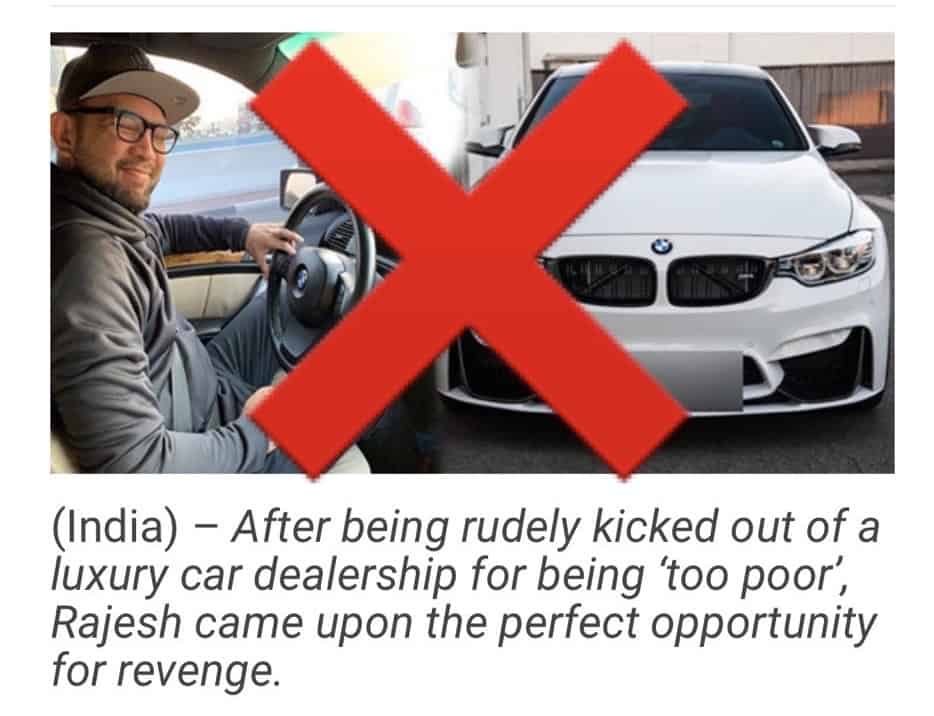 Fake Mega Moolah winner at LeoVegas
We all went to high school and now (hopefully) go to work. So it comes as no surprise to us that people go out of their way to spread rumours. Been there, done that 😛
As much as we hate to admit it, growing up does not mean that people don't gossip anymore. They just gossip about different things as they grow older, because well, priorities change and it's not about who likes who anymore.
Rumours and fake news have found a catalyst that will increase the rate of the chemical reaction that is the spreading of said rumour. We don't know if you've heard of it, but it's this little thing called the Internet. 
Unfortunately, what goes on the internet does not really have a filter that ensures if the content is authentic. Some websites take advantage of this limitation and think they can get away with saying anything.
One such website published a fake story about a "winner" at LeoVegas Casino. We at SevenJackpots love everyone at LeoVegas and have decided to take it upon ourselves to give you the truth, the whole truth, and nothing but the truth! 
Why? Because the nation wants to know. And for the nation, we have screenshots of the fake news article here.
The Lie
We're not going to lie. This website actually went out of their way to sell their story. Their lie was elaborate and well thought of. If you think old Bollywood movies are long and unrealistic, you have got to see this fake news about LeoVegas.. 
The protagonist of this fake story is Rajesh Acharya, a 34 year-old common working man from Mumbai. This man was allegedly kicked out of a luxury car showroom for being "too poor". Sounds like Julia Roberts in Pretty Woman, which coincidentally was also not a true story. 
This man went home heartbroken to find that his supposed girlfriend had won ₹96,125 (notice how specific this number is) at LeoVegas Casino. Seeing her win made him want to give it a go and he apparently used his "₹80,000 Welcome Bonus" by depositing ₹1600 at LeoVegas Casino on the Mega Moolah Jackpot. 
He was somehow immediately able to withdraw his winnings of ₹72,882,954 (again, so specific) through his SBI account. The website even attached a screenshot of this supposed withdrawal. Such proof, much wow. 
The man then proceeded to buy himself a luxury car from a competing dealership and stick it to the guys who insulted him. Let's be real, this story sounds like it came straight out of a Bollywood movie. 
This fake news about LeoVegas is an eye-opener for most of us. It is extremely disappointing to see websites publish fake stories such as this one. You will soon see what the truth is.
The Truth
Now, you might ask us how we know for sure that the news is fake. Upon reading this article, we notified our friends at LeoVegas Casino and they were able to confirm that this news was fake and that there was no such winner.
To make matters even worse, the website claims that Rajesh was able to claim a bonus of ₹80,000 by depositing just ₹1600. If you read our detailed review of LeoVegas Casino, you will see for yourself that while they do have a Casino Bonus of up to ₹80,000, this amount can be claimed by making three deposits; all three of which are much much more than ₹1600. This is enough to prove that this news about LeoVegas is fake.
On top of all this, the website says that Rajesh withdrew his winnings immediately. LeoVegas clearly states that this bonus amount must be wagered 15 times within a period of 7 days before any winnings from the bonus can be withdrawn.
The truth is far from what was presented on the website. Events such as this are huge reality checks. Please don't believe everything you see out there.
What you should do
It can be quite difficult to navigate between what's true and what's not on the vast ocean that is the Internet. When you read stories such as this one, please be sure to go to the casino website mentioned and check for yourself. 
You must do this before depositing your precious money blindly at any online casino. There was another fake news about the LeoVegas CEO "getting fired" in June 2019. Scary stuff out there!
We will say this though: playing at LeoVegas will be one of the best casino experiences of your life, so you should definitely check out their new Live Teen Patti game from Ezugi. A desi game for desi players!
Fake news aside, LeoVegas is one amazing online casino and has been among top-rated Indian online casinos for a good while now. If you haven't already, register at LeoVegas today!
More LeoVegas News