How to play Star Guardians slot
If you have ever played a third-person shooter and wished you could earn money doing so, Star Guardians is going to be your new favorite game.
In Star Guardians, you'll begin by choosing your character, after which you'll embark on an action-filled journey through an alien spaceship, blasting down aliens as you go.
Learning how to play Star Guardians at an online casino is easy, simply click the spin button and enjoy the show! For even more action, use the manual gameplay variation.
Gameplay variations
There are two ways to play Star Guardians, automatically or manually.
Auto-Play: In auto-play, all you have to do is start the round by clicking the "spin" button, and your Hero will enter the room and clear it on their own.
Manual Play: This allows you total control over your Hero! You move your Hero forwards, backward, left, and right, and you'll also aim and shoot.
The three Star heroes
There are three different Star Heroes to choose from, and you can change hero at any time during the game.
Each hero has its own unique Amplifier, which can be obtained from chests during gameplay.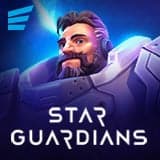 Butcher's Amplifier:
Winnings are multiplied by two for the next seven spins.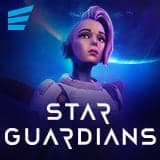 Skyler's Amplifier:
Any chest can be opened without a key for the next seven spins.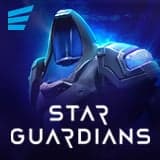 Keliot's Amplifier:
Enemies are guaranteed to drop loot for the next seven spins.
Play Star Guardians slot for free
Star Guardians symbols
Star Guardians has five regular symbols, one bonus game symbol, and one boss symbol.
The regular symbols are two variations of Soldier aliens, two Liquidator aliens, and one Chief alien.
Each enemy symbol has its own minimum and maximum winning coefficient:
| Symbol | Name | Payout |
| --- | --- | --- |
| | Chief | 0, 3x – 50x |
| | Liquidator | 0, 0.5x – 25x |
| | Liquidator | 0, 0.5x – 25x |
| | Soldier | 0, 0.1x – 10x |
| | Soldier | 0, 0.1x – 10x |
| | Queen (boss) | 100x – 5000x |
| | Larva (bonus) | 0, 0.3x – 5x |
Star Guardians slot bonus features
The Star Guardians slot has one main bonus feature and one random bonus feature.
Each of these occurs randomly, so there is no need to land a specific number of symbols or wins to trigger them.
Bonus Chests
Bonus chests can appear in any room during any spin. A bonus chest can appear either unlocked (green open lock icon) or locked (red locked icon.)
A locked chest requires a key to open and is guaranteed to contain an Amplifier, a regular loot, or a rare loot. You can find the key to unlocking this chest in an unlocked chest.
Unlocked chests can contain a key, an Amplifier, cheap loot, or regular loot.
Cheap loot: 0.1x – 3x
Regular loot: 3x – 10x
Rare loot: 10x – 100x
Star Guardians Bonus Game
During the Star Guardians bonus game, you'll have to repel three waves of enemies while collecting ammunition for the cannon with which you'll fight the final boss, the Queen.
The bonus game includes the special Larva symbol, which can drop money and ammunition for the cannon.
There is no limit to the amount of ammunition you can collect during the bonus game.
The Queen Boss Battle
Each of the Queen's three heads has to be destroyed in order to win. You will use ammunition collected from previous waves here.
To destroy the heads, the armor first has to be destroyed. Once the armor is gone, a head can be destroyed with one correctly aimed shot.
Once the Queen is defeated, the bonus game is over, and you are awarded a random prize ranging from 100x to 5000x.
Running out of ammunition before the heads are destroyed ends the bonus game.
Mobile Star Guardians slot
Most people play games on their mobile devices these days, and Star Guardians is fully optimized for mobile play as well!
While the auto-play feature works well in portrait mode, we strongly recommend playing the game in landscape mode for manual gameplay.
You'll move your hero using the movement pad indicated on the screen, aim by moving the crosshair, and shoot by pressing the indicated icons.
Conclusion
As no other game like this exists at online casinos today, it's impossible to compare it to any other casino game we've played.
That said, we really enjoy Star Guardians! It's an interesting and immersive new concept on a classic slot that also allows for some level of skill to be used.
If you like the game Star Guardians, SevenJackpots also recommend the following games for you:
Play for REAL at our Recommended Casinos
User Reviews
There are no reviews for this casino yet...