Stop whatever you are doing; India just announced a new gaming bill!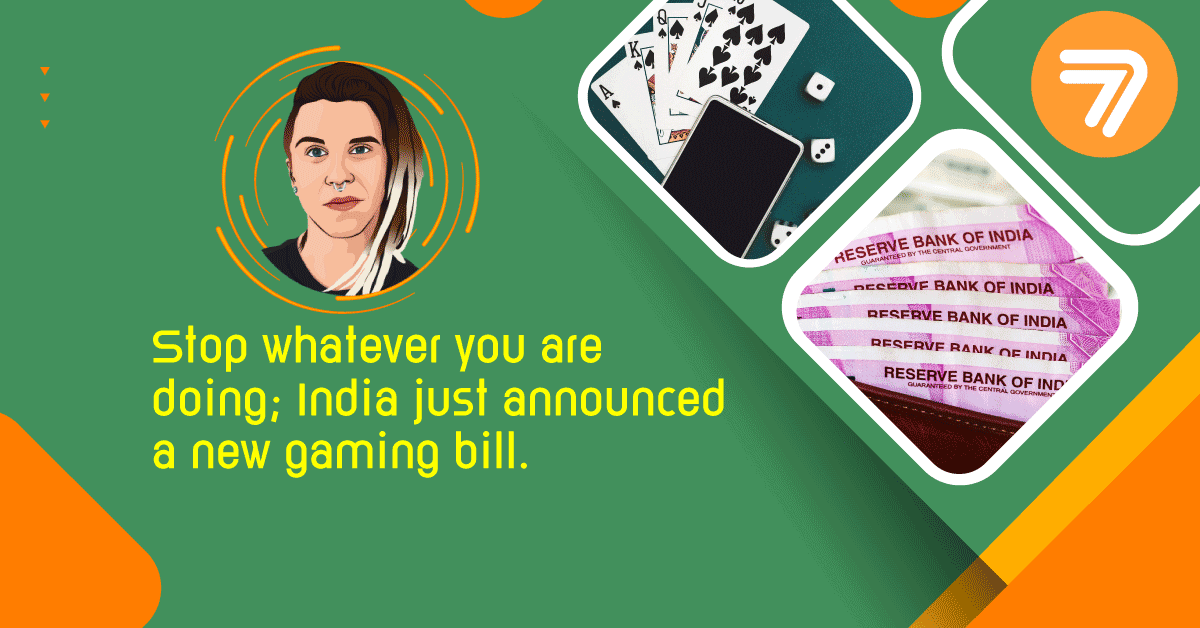 The views and opinions expressed here are those of the authors and do not necessarily reflect those of SevenJackpot or its clients.
Say hello to The Online Gaming (Regulation) Bill, 2022
It's funny how much of a "legal nerd" I have become throughout the years of working with regulated gambling markets and India. So much so that when a new gaming bill such as The Online Gaming (Regulation) Bill, 2022 is introduced, I get genuinely excited.
I mean, is this the beginning of India regulating online gambling?!
Well, there's much to be said about this new bill, so let me start with summarizing and explaining what this fancy new bill is all about.
This is the new Online Gaming (Regulation) Bill, 2022:
The bill was introduced in the Lok Sabha (House of the People, part of the Parliament) on the 1st of April, 2022, and the bill is so far only being introduced, meaning it's a suggestion, not an actual new law ("act"), just yet.
As the name of the bill suggests, it's a gaming bill.
Unlike the current Public Gambling Act, 1867, The Online Gaming (Regulation) Bill, 2022, includes all types of real money games. Not just casino games and sports betting, but other games with real money functionalities such as Fortnite, PUBG, Candy Crush, etc.
It also doesn't differentiate between games of skill and games of chance.
According to the bill, India will establish an Online Gaming Commission responsible for issuing gaming licenses, stipulating laws and rules, and overseeing all gaming activity in India.
All the juicy good stuff a new act will bring
It's clear that an act created over a century ago will be flawed in today's digital society.
The new bill is therefore optimized for the online gaming habits of today's Indian players. It fully acknowledges online gaming and gambling and also discards the unclear, confusing, and unfair categorization of "skill" and "chance" based games present in the current act.
Updating the national laws regarding gaming will mean a new benchmark for gaming all over the country.
In other words, while gambling has been a "state matter" since the creation of the 1867 act, a new act will force India's states to "get with the times" and amend their laws to fit today's online gaming landscape better.
At the end of the day, regulations are there to protect people, and it's proven that countries that regulate gambling aren't only able to ensure that players are using a safe product but are also ensuring that licensed operators are contributing to the welfare of the country in the means of tax and licensing fees.
This is vastly different from blanket bans, as, let's face it, with today's possibilities of using VPNs and cryptocurrencies to avoid online detection, players will play no matter if there's a ban or not. The option for players in a "blanket ban market" is foreign casinos, which means that money will seep out from India into the pockets of offshore gaming companies.
The bill is far from perfect
While we are thrilled to see a regulatory bill leave the skill/chance definitions behind, it does have one major flaw in not being able to differentiate between casual gaming and real money gaming platforms.
In short, an online casino shouldn't be regulated in the same way as, for example, a gaming platform offering a first-person shooter game with optional real money features. These games are widely different, and trying to fit them under one umbrella is a recipe for disaster.
The current bill is also missing a bunch of player protection aspects. There is no mention of KYC (Know Your Customer) or SOI (Source Of Income) processes, data protection, or responsible gambling practices. All aspects that we believe should come first when regulating a market.
Who am I to speak about Online Gambling Regulation?
That's right. I'm no lawyer, and these are, indeed, only my personal opinions on the matter.
However, one thing that I think is missing in the discussions on gaming regulation is people with hands-on experience of other regulated online gambling markets.
Even an aam aadmi person like myself, I have personal experience working with online gambling operators launching in regulated markets such as New Jersey (USA), Sweden, Denmark, Italy, Spain, and the UK, and not only have I witnessed the perks of these regulations, I've also seen what hasn't worked.
Sweden is, for example, still seeing issues with players seeking out unregulated online casinos due to some of their regulatory requirements being too strict, and the UK has seen many operators leave the market altogether due to them having some of the world's most stringent rules for marketing.
I might be tooting my own horn here (I can, it's my opinion piece), but I believe that people like Dean Kuriakose, the M.P. introducing the Online Gaming Regulation Bill, 2022, could use more insight from people with international regulatory experience like myself.
Regulating a market is no small feat, but if India wants to remain one of the upcoming tech countries in the world, it will have to revamp its gambling regulation sooner rather than later.
More Opinion Pieces