How to contact customer support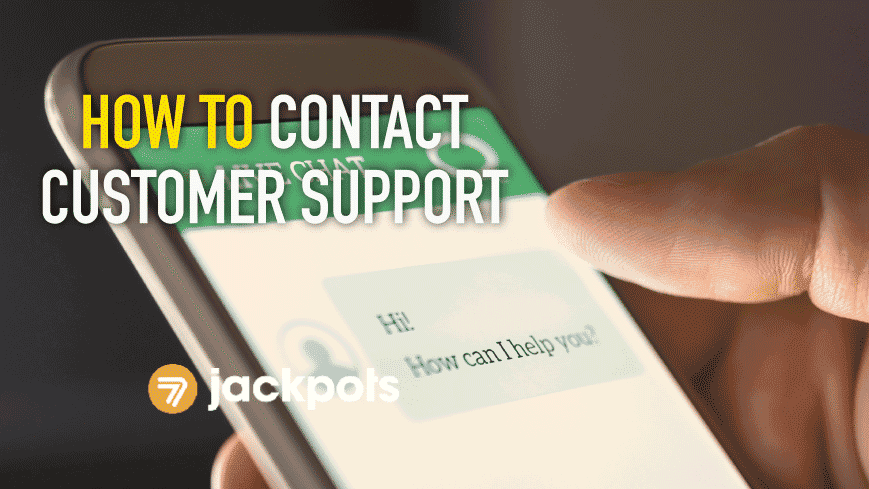 A casino's customer support is your key to resolving any issue or question you might have while gambling online.
Knowing how to contact customer support and also how to speak to them to get the best possible service will get you back to playing your favorite online casino games in no time!
When to contact customer support
There are many reasons why you'd want to contact customer support, as the support team is the direct human contact between you and the online casino where you are playing.
Not sure if you should contact customer support? Do anyway! There are no wrong questions you can ask them, but to help you, here are some cases that would need their assistance:
A withdrawal has been pending well over its stated processing time.
You wish to close or reopen your account.
A game isn't working as it should.
A game didn't pay you, although you won.
You wish to set responsible gambling limits and can't do so via your account.
You have a question to which you can't find the answer on the website.
You are experiencing issues with resetting your password.
You need to verify your account.
You want to withdraw, but none of the payment options offered is available to you.
You suspect that a minor is playing on the casino's website.
You suspect that another player has a gambling problem.
You are having questions or issues regarding a bonus or promotion.
How to contact customer support
There are three main ways to contact customer support at an online casino; live chat, email, and telephone.
Live Chat: The support live chat is found on the website or in the casino app of the operator and is usually found as a speech-bubble icon like the one shown below. Click the icon to open the live chat, where you'll be asked to briefly explain your query, after which you'll be connected with a customer support agent.
Email: The email address of an online casino is usually found in the "Contact Us" section of a casino's website. You'll also find the email address for the site within the casino review we have made of the operator.
Phone: Just like the email address, the phone number of a casino can be found on the "Contact Us" page. Unfortunately, telephone support is rare, and many Indian online casino sites won't offer the feature.
Support availability
An important aspect of an online casino is that you should be able to contact customer support during the time of day when you are playing.
In our reviewing criteria for Indian casinos, we value customer support that is available at all hours of the day and all days of the week. Still, we also understand that some casinos might not be able to offer such extensive service.
That said, it's always possible to send an email to the casino disregarding of their support opening hours. An agent will review your email as soon as possible.
Customer support via live chat
We prefer live chat when contacting a casino as it allows us to resolve any issues instantly.
Using the live chat is perfect for any type of smaller query where you have a question to ask and want to be helped immediately.
Some casinos even allow you to attach documents and images to your chat message, making it easy to send screenshots or verification documents directly.
Customer support via email
Any issue or query that requires a longer explanation should be sent via email. Email communication allows you to take your time when presenting your case.
One example of such a query could be if you have experienced an issue with the casino over a longer period of time, and you need to summarize the situation in full.
Another case could be whenever you are asked to verify your account with several documents.
Customer support via telephone
Similarly to live chat, a telephone call is a quick way to resolve simpler issues, where the customer support agent is able to assist you instantly while being on the phone with you.
That said, we actually don't recommend telephone support for two reasons; a conversation over the telephone won't be saved for you.
As in, there won't be any history of what you and the agent spoke about, meaning that you'll have to explain the situation all over again should you have to speak to another agent in the future.
Telephone support also opens for language barrier issues, where your or the agent's accent might cause misunderstandings.
Getting the best customer support service
To get the best customer support service possible, you'll want to ensure that you present your case in the best possible way.
These are our best tips for excellent support assistance:
Be kind: That's right, being a kind and nice person will maximize your chances of the support agent being nice to you back!
Be patient: While we'd love for all support agents to be super experienced, this is not always the case. If the agent misunderstands you, explain your question again. If they still aren't understanding you, don't hesitate to ask for your case to be escalated.
Be thorough: Make sure you explain the issue you are experiencing as clearly as possible. Have a withdrawal issue? Include what method you are withdrawing back to. Have an issue with the website? Include what device you are trying to play from and which browser you are using.
Be polite: Foul language will not resolve your problem any faster. Be polite, and thank the agent for helping you when they have resolved the issue.
More How To Guides