Top Roulette Online Casinos in India
What is Evolution Mini Live Roulette?
Evolution Gaming is a provider specializing in live casino games available on multiple platforms. Players can enjoy roulette, blackjack games, and other table games from a PC, phone, or tablet, and each game features customization options and is designed to ensure optimal play on a variety of devices.
Evolution has created several different variations of roulette including Slingshot Auto Roulette.
Evolution Gaming boasts dozens of standard and VIP versions of roulette, including European roulette and the "mini" variation. The latter is a live roulette game, so players share the table with other real users and interact with a real expert croupier. Evolution Gaming aims to deliver as close to an authentic experience as possible with Mini Roulette and all of its other live games. Plus, since the game is optimized for mobile devices, you don't have to be at your desktop to enjoy a few rounds of roulette.
Playing Features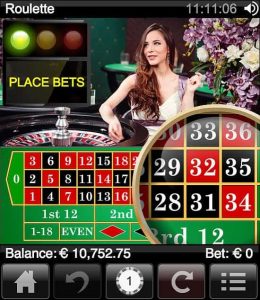 Evolution Mini Live Roulette is a type of roulette online real money game based on the European game — it's just played on a smaller screen. So, if you're familiar with the European rules, you'll feel right at home on this micro table.
Outside of learning which types of bets you can place, the only roulette rules you need to worry about are placing your wagers before the croupier closes the table for the round and staying in the minimum and maximum bet limits.
Since Evolution Mini Roulette follows European rules, you can place the same types of roulette bets. The simplest is even money wagers, which offer the best odds and lowest payouts in roulette. This includes bets like red or black and even or odd numbers. These and wagers like columns or plays on certain number ranges are called "outside bets" because you'll place your chips on the portion of the table outside of the red and black numbers.
Types of outside bets include:
Street bet: The checkered part of the table divides the numbers into several rows. You can place chips at the bottom of any of these three-number rows to wager that the ball will stop on one of those digits. This is a street bet.
Line bet: You can place a chip at the corner where two three-number rows meet to place a line bet. You win if the ball lands on any of those six digits.
Column bet: At the end of the checkered part of the table, you'll see three "2 to 1" pockets. If you place chips there, you're making a column bet and guessing that the ball will stop on one of the twelve numbers in that line.
Dozen bet: Underneath the number rows, there are three pockets for placing dozen bets. These are labeled "1st 12," "2nd 12," and "3rd 12." A dozen bet is a wager that the ball will stop on one the twelve numbers in the group.
Even money wagers: Six pockets line the bottom of the table nearest to the player. Place chips here to make an even money wager. This type of bet offers the best odds and includes red or black and even or odd wagers. You can also pick whether the ball will stop on numbers one through 18 or on 19 through 36.
"Inside bets" are those you place on the inside of the table directly on the red and black numbers. You can place chips on one number, for example, or place them between two numbers or on the corner where four numbers connect. In the latter two cases, you're betting that the ball will stop on any of the numbers your chip is touching.
One notable feature of the European Gaming's live roulette tables is its "Favourite Bets" menu. Here players can save up to 15 bets that they can use for all future rounds. This is great for experienced gamblers who use a roulette strategy where they make different plays each round. Simply store your favorite moves and place them with one click rather than having to drop individual chips with every spin of the wheel. These bets don't have to be basic, either; even if you have a complex strategy, you can save your intricate wagers in the Favourite Bets menu.
Location of Tables
Streaming is done from the provider's two studios (one in Latvia and one in Malta) and from real Indian casinos. This ensures that live games are always available and delivers as close to an authentic, high-end casino experience as possible for players around the world.
Key Benefits for Players
The key benefit of playing Evolution Gaming's Mini Live Roulette is the screen size. Since this is a live game, casinos can host Evolution Mini Roulette alongside sportsbooks, slots and other random-generation games, and other games and attractions. So, players can enjoy multiple games at once or play roulette while looking over other betting info (i.e., potential sports bets).
Format & Playing Interface
The format and playing interface emulates the standard European roulette table as closely as possible within the smaller window size. At the top of the screen, you'll see the green, yellow, and red light indicating when bets are open. Underneath that is the "Place Bets" button.
The majority of the screen is split between the live stream of the croupier in front of a physical table and the virtual board where you'll place inside and outside bets. The game has a magnifying glass feature to help place bets within the small screen space. Finally, at the bottom of the screen, you'll find buttons for returning to the home screen, removing a wager, adjusting the chip amount for your bets.
Our Verdict
Few roulette titles match the quality of what Evolution Gaming brings to the table. This version, in particular, is great, thanks to the small screen size, for players in India who want to multitask. Plus, since it's mobile friendly, you can play Evolution Mini Roulette on the go.
More Evolution Roulette Games