Guide to The Profitable Italian Lottery Dream – SuperEnaLotto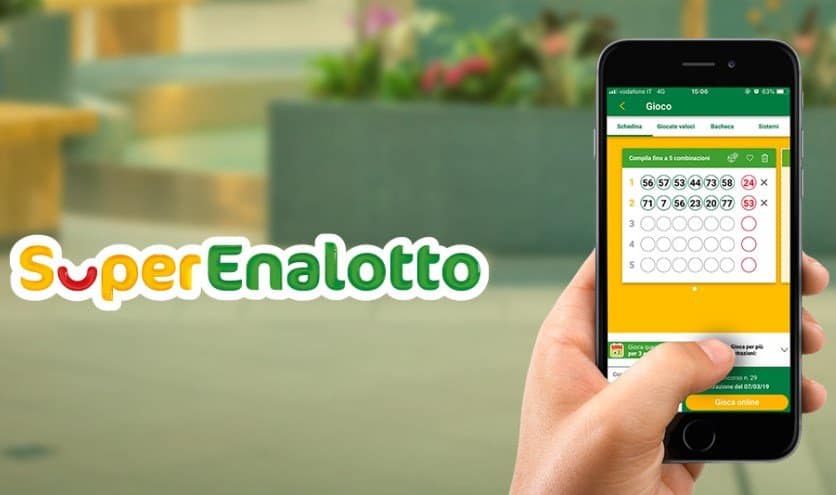 How to Play SuperEnalotto from India
Lotteries have always been the shortcut to big money, fame, and all the riches and joys that come with them. Similar to how we have the local lottery systems existing in Kerala and Mumbai, there are a lot of other international lotteries across the world with massive prize pool and impeccable odds.
The best part – we can play these lotteries right here, without any difficulties! In this article, we will take a look at the SuperEnalotto Lottery and how you participate in it from India.
SuperEnalotto is one of the most popular lottery systems in the world. Originating in Italy, it has attracted thousands of participants from all corners of this planet. Unlike other lotteries like EuroMillions, there is no cap on the jackpot amount. That is, if no one wins the jackpot in particular draw, the mega prize will roll over into the next draw and so on. This practically means that you can win hundreds and thousands of Euros by simply guessing a few the numbers right!
What is the SuperEnalotto Lottery?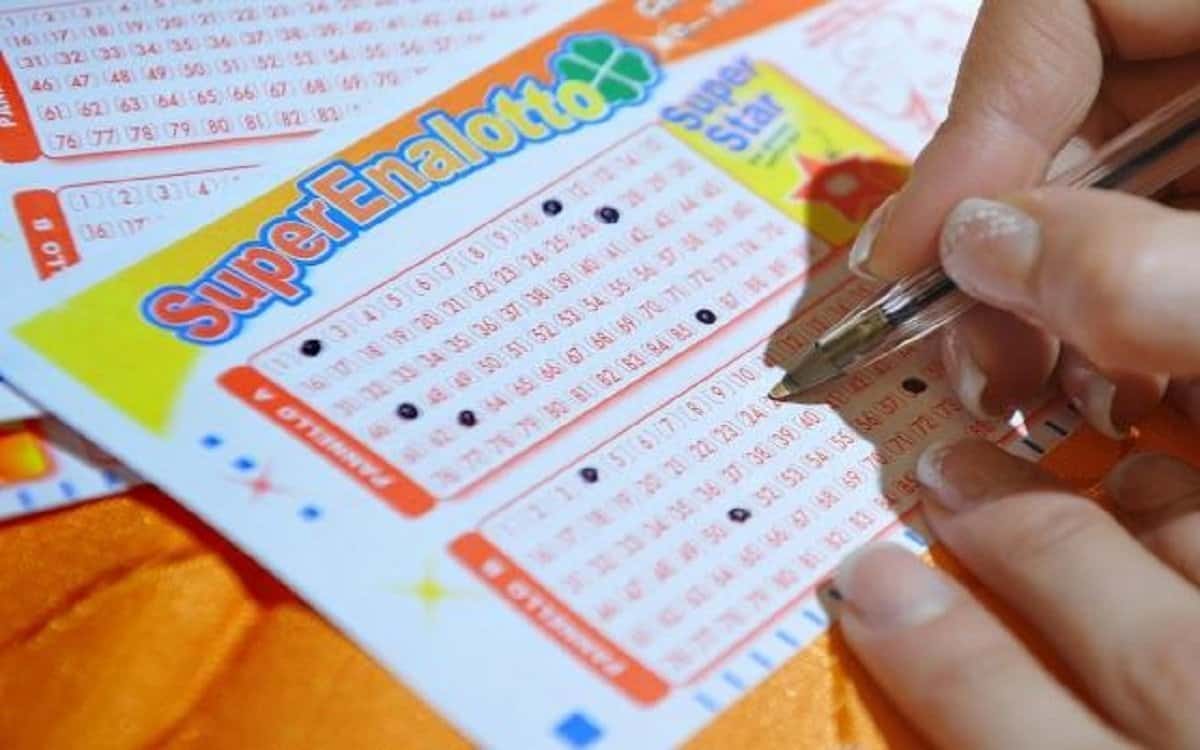 The SuperEnalotto Lottery is a lottery game, very much alike Powerball and its other counterparts, where you will need to select a series of numbers on a lottery ticket. Depending on how many of them you get right, you will win a prize! And needless to mention, if you guess all the numbers correctly, then you will, of course, win the jackpot and finally, buy the Mercedes that you have always dreamt of!
This particularly lottery traces its origins to Italy, where it was previously known as Enalotto. It has been around since the 1950s and is one of the most sought-after lottery games in the country. In the late 1990s, the lottery was revamped into SuperEnalotto. All things considered, playing the SuperEnalotto in India is something that you should give a try and here's why – it has one of the largest jackpots in the world with no limit to how much you can win!
Participating in the draw is very simple. As a player, you will be asked to pick six numbers between 1-90 when you buy an online lottery ticket. To maximise your chances of winning, you can purchase multiple tickets, also known as lines, with different combinations. The name of the game is simple: Match all six numbers out of the 90 you have chosen. You get that right and surprise, surprise – you have the jackpot! At the same time, you can win a prize even if you guess just two numbers correctly.
But that's not all – there is also a 'Jolly' number which comes into play for those who have matched five numbers. Think of it as the joker number – if you miss out on getting all six strikes by just one number, then this Jolly number may very well help you get the winning combination. However, in this case, the prize won't be the jackpot – it will be the second tier prize which is still a lot of money!
Jackpot is Where it Gets Real!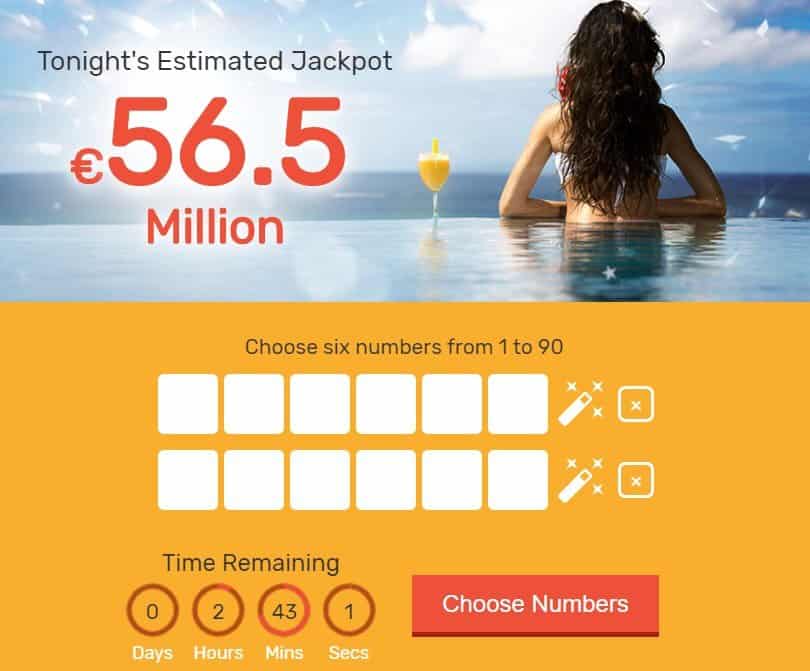 The SuperEnalotto Jackpot, as mentioned earlier, has no cap to it. The jackpot amount for every draw generally depends on the number of participants and the roll-over amount for the previous draw, if applicable. This jackpot can roll over for months at a time, increasing the top-tier prize money with every single draw until someone gets the perfect strike of all six numbers.
As of late August, the jackpot stands at close to €55.6 million! This number may increase in the future or reduce, depending on whether someone gets the perfect strike and wins it all.
Of course, winning this jackpot isn't that easy – you have better odds of winning in live casino games like blackjack, roulette, and even different online slot games! In fact, the odds of winning the SuperEnalotto jackpot are among the highest in the world for any offline or online lottery.
However, that isn't to say that it is not worth a try. The lottery tickets for SuperEnalotto cost just €2 (approximately Rs.160), which is a good investment given that the jackpot sum is massive!
The single biggest payout till date has been roughly close to €177.7 million, won by a group of 70 winners in October 2010. This jackpot sum was reached after a rollover of over eight months! If there were no winners then, there is a very good possibility that this amount would have increased further.
The Payout System
There are six prize tiers in SuperEnalotto, starting with getting as little as two main numbers right, moving all the way up to getting the mega strike of all six numbers. Being Italy's biggest lottery, the odds of winning it are incredibly high, as mentioned in the table below.
| | | | |
| --- | --- | --- | --- |
| Prize Tier | Match Type | Odds of Winning | Average Prize |
| 1 | 6 | 1:622,614,630 | Jackpot |
| 2 | 5 + 'Jolly Number' | 1:103,769,105 | – |
| 3 | 5 | 1:1,250,230 | € 28,80 |
| 4 | 4 | 01:11,9 | € 305 |
| 5 | 3 | 0,26875 | € 26 |
| 6 | 2 | 1:21.51 | € 5 |
As you can see, despite having high odds, you stand to win even if you guess a few numbers correctly! The best way to boost your chances of achieving this would be by purchasing multiple tickets at a time with different combinations.
Can You Buy SuperEnalotto Lottery Tickets in India?
Yes, you can. Thanks to the internet and all the wonderful providers of lottery services, it is more than possible to buy the SuperEnalotto Lottery tickets in India. All you need to do is find yourself an authorized, reputed agency/provider that specializes in this service – most of the time, it will be leading casino operators, bookmakers, and lottery sites like Multilotto.
To make things easy for you, we at Seven Jackpots have done the research and compiled a list of top operators where you can play the SuperEnalotto. Thousands of punters across the world have given preference to these sites. These are trustworthy, reputable, and bound by strict data protection laws. In other words, if you win, they will not take your money and run away – we can vouch for that.
Before you go about finding an operator of your choice, here are a few things that you may want to consider:
Review and reputation of the operator
Welcome bonuses and promotions offered; after all, who doesn't want to play with free money in India
If you like to bet on sports and casino games as well, look for an operator that specialises in all of the three. There are many leading players who offer all of the three on their platform
Site optimized for mobile use
Dedication to responsible gambling
Impeccable customer service
Diverse payment and withdrawal options
User-friendly site design with easy navigation
All of the operators we have reviewed below have been done by keeping these things in mind. Rest assured, you will find the right lotto partner for you in India.
How do you Play SuperEnalotto Online in India?
Playing the SuperEnalotto Lottery online in India is just as easy as ordering food on Zomato. Here's what you need to do:
Find yourself an operator that sells the SuperEnalotto tickets. Create an account and log in
Visit the SuperEnalotto page and make your picks. Select 6 numbers between 1 to 90 per ticket, priced at less than €2. You can also use the auto-generate system to randomly assign the numbers on your ticket.
You can purchase multiple tickets with different winning lines to maximise your odds of winning.
You may also opt for a subscription plan, that is, pay a small amount upfront or recurring, to participate in the lotto regularly. This way, the operator will purchase the ticket on your behalf without you having to do it manually.
Some operators may also allow you to opt for System Play or Group Play. The first one is more along the lines of picking multiple lines at a time while the latter focuses on splitting the cost of the ticket (and subsequent prize pool) with your friends and family.
The draw takes place thrice a week, every Tuesday, Thursday, and Saturday, at 8:00 pm CEST (11:30 pm IST during summer, 12:30 am IST during winters).
The SuperEnalotto ticket sales close an hour before the draw.
In the case of overlapping holidays, the draw is rescheduled.
And that's all folks! It is as simple as it gets. Be sure to track your numbers and results.
FAQ
I live in India, can I still play the SuperEnalotto Lottery?
Definite, you can! Just pick an operator from the list we have shown here and you are good to go.
What are my chances of winning?
Your chances of winning are quite tricky in SuperEnalotto, given its massive popularity. The odds of winning the jackpot – getting six numbers correct – is well over 1 in 600 million!
How much does a lottery ticket cost?
Each ticket is priced at less than €2.00 and you can buy multiple tickets for every draw.
How can I claim my winnings?
If you win, you will be notified immediately by the operator through text or email. The winning amount will be credited into your gaming account although, if you have won a big sum (over €5,200), then you will have to produce verification documents and undergo a lot of formalities. The offices of SuperEnalotto in Italy will check this documentation.
What is the maximum amount I can win?
There is no limit to how much you can win. Given that the jackpot can roll over multiple times, it will keep increasing until someone wins it. The highest it has gone is over €170 million!
What are the rules of the game?
There are no rules, per se. You need to be 18 years of age, at least and must have all the necessary identification and address proof documents.
More International Lottery Games