How to Lodge a Complaint against a Casino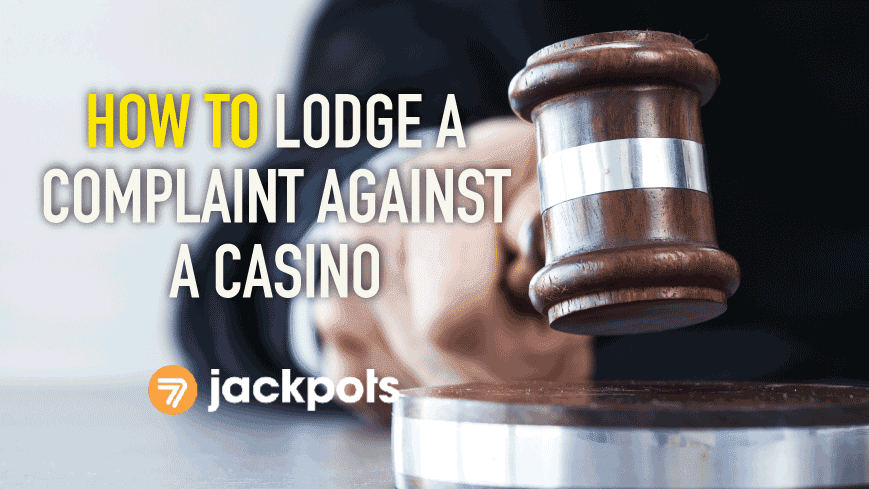 If you feel that you have been unfairly treated by a casino, and the operator isn't willing to resolve the matter with you directly, you might want to consider lodging a complaint against them.
Lodging a complaint against an online casino operator is essential, as it can help resolve the issue you are experiencing and ensure that the operator doesn't mishandle other players in the future.
Why lodge a complaint?
Lodging a complaint is a serious matter that shouldn't be done just because you disagree with something the casino tells you.
That said, you will want to make a formal complaint in some instances, such as:
If the operator refuses to refund your deposited funds, although you have not been in breach of their Terms and Conditions.
If the operator refuses to pay out winnings to you on claims that are unfair, false, or wrong.
If a bonus or promotion offered by the operator has misleading clauses in its terms and conditions.
If the operator has harassed you using derogatory, racist, misogynistic, sexist, homophobic, or otherwise foul language.*
If the operator has threatened or attempted to blackmail you.
If the operator has refused your request to permanently close your account due to problem gambling.*
*Can only be handled by the regulator, not by independent auditors.
How to resolve the issue with the casino operator
It is crucial that you attempt to resolve the issue with the casino operator before lodging a complaint externally.
External complaints will not be accepted if you haven't first tried to resolve the matter directly with the gambling site.
To resolve the issue with the casino operator, you will want to reach out to their customer support. We strongly recommend that you do so via email or live chat if you can obtain a transcript of your chat logs.
If a regular support agent cannot assist you, ask to be escalated to support management, which holds greater authority and knowledge over more complex cases.
Note that the support team may have to escalate your case further and that you may have to wait several days for a follow-up. The operator's terms and conditions should state the timeframe you can expect a reply.
How to resolve the issue with the licensing authority
If the dispute couldn't be resolved directly with the operator, you can lodge a complaint (also known as an "Alternate Dispute Resolution," or "ADR" for short) with the licensing authority of the casino.
For Indian online casinos, this means that you'll do so directly with the Malta Gaming Authority if the casino has an MGA gambling license, or with Curaçao eGaming if the casino holds a Curaçao license.
Filing your complaint with these two licenses is very easy; all you have to do is to fill in the form that is presented on their websites:
Filing a complaint with the MGA
STEP 1: On the MGA website page for Online Gaming Support, first enter your name, email address, phone number, and country of residence.
STEP 2: Fill in details regarding your dispute, a description of your claims, and any screenshots or other relevant documentation.
Filing a complaint with Curaçao eGaming
STEP 1: On the Curaçao eGaming website for filing a complaint with CEG, begin by reading the checklist, and then tap "Continue."
STEP 2: Enter the operator's website, your player ID, player email address, the disputed amount, and currency.
STEP 3: Shortly describe your claims, and select if you wish to upload documents or screenshots.
STEP 4: Agree to the terms, confirming that your claim is truthful, and that you have provided valid details.
How to resolve the issue with an external auditor
An alternative option for resolving disputes is to take help from an independent external auditor. While an external auditor like eCOGRA mainly tests and checks online operators' games and payment methods, they do also assist in what they call "Alternative Dispute Resolution (ADR)."
You can lodge an ADR with eCOGRA for the same reasons as you would with a regulator, except for issues that do not include financial means.
Disputes about harassment or wrongdoings from the operator's side from a responsible gambling standpoint must be dealt with by the regulator.
Filing a complaint with eCOGRA
STEP 1: Head on over to the Alternative Dispute Resolution (ADR) Form and start answering the question, "Do I have a valid claim?"
STEP 2: Answer the question "I have completed the site's internal complaints procedure."
STEP 3: Answer "Does my dispute relate to a transaction or misleading clause in the terms and conditions?"
STEP 4: Fill in your personal details, and a short description of your dispute.
STEP 5: Tick the three boxed that confirm that your claim is truthful and accurate, that you agree to eCOGRA's Alternative Dispute Resolution Policies and Procedures and their Privacy Policy, and that you understand that you will receive a response within three weeks of submitting your claim.
A gambling license matters
Without a gambling license, a casino operator has no obligation to keep your funds safe, provide you with fair games, or pay out any of your winnings.
In other words, since you voluntarily gave the website your funds despite being aware that the website doesn't have a gambling license, no regulator or external auditor will be able to help you.
It is, therefore, CRUCIAL that the online casino you play at holds a valid, legitimate gambling license. For your peace of mind, all of the Indian casinos we list here at SevenJackpots have gambling licenses.
That said, the level of protection you receive through the regulator depends on the license used by the operator.
Malta Gaming Authority (MGA)
MGA is one of the top-performing gambling licenses for Indian online casinos. The Malta Gaming Authority will allow you to lodge a complaint with them, and they will then review the operator further.
Online casinos breaching their own terms and conditions risk losing their gambling license altogether, and face legal implications in situations of fraud, money laundering, extortion, or other criminal activities.
Curaçao eGaming
The Curaçao eGaming license is the most commonly used online gambling license among online casinos in India. You can lodge a complaint with them directly, after which they will attempt to resolve the matter.
The regulator will allow you to present your case, after which they will reach out to the operator, allowing them to present their view. You will then have an additional possibility to present further information if necessary.
Isle of Man
While a gambling license from the Isle of Man is rare, it does accept complaints through its IOM Gambling Supervision Complaints Form.
All you have to do is to fill in the form with as much information as possible. The form is only available to players outside of the UK playing at a casino holding an Isle of Man license.
Gibraltar
Another rare but existing gambling license amongst Indian operators is that which the Gambling Commissioner in Gibraltar provides.
To lodge a complaint with this regulator, you will have to download their Complaint Resolution Request Form and email a completed version to [email protected].
Cyprus
The Cypriot gambling license is issued by the National Betting Authority (NBA), which also accepts reports of complaints and violations made by operators holding their license.
To submit a complaint to the NBA, you will have to send an email containing all documents, evidence, and description of the case, to [email protected].
Tips on how to win a complaint
The best way to ensure that your complaint has a fair chance at winning is to come prepared.
After all, you are seeking help from someone who hasn't been involved in the case before and could, therefore, not know what you have been through.
Follow a few important steps, and you'll have a strong case to bring to the regulator or auditor when filing your complaint.
Have screenshots
Having proof of the situation is key. You'll want to keep proof such as screenshots of email threads, live chat conversations, and possibly also bank statements to be able to show the full picture of the situation.
This is why we recommend that you avoid attempting to resolve issues with the casino over the phone, as it's not technically (or legally) possible to save the audio from that call.
Be factual
Leave your emotions at the door before writing your initial case description.
Your feelings of anger or sadness are valid, but they won't make for a more compelling case, nor will they speed up the handling process of your claim.
Keep to the facts and explain what happened as clearly as you possibly can.
Mind your language
Keep in mind that the regulator or auditor wants to help you and that they are doing so for free. These are real people taking their time to go through your case carefully, and in some instances, your complaint might not be strong enough for them to be able to help.
It's important to understand that gambling in any form always comes with a level of risk and that players sometimes receive results that they are not happy with. But that doesn't mean it is okay to use foul language toward those trying to help.
Cooperate
The auditor or regulator may reach out to you, asking for additional information. This could be in the form of questions or requests for more supporting evidence (screenshots, etc.)
In these cases, it's important that you cooperate as much as possible. Cooperation also means that you will provide the necessary details in a reasonable timeframe. The longer time has passed from the incident, and your complaint can be resolved, the less likely it is that it will work out in your favor.
IMPORTANT: Filing a complaint with a regulator or auditor means that you and the operator will forfeit your rights to take the other party to court.
More How To Guides