Bet Your Way to Win and Become the Monkey Warrior
In our post at Seven Jackpots, we had mentioned Monkey Warrior as one of the slots coming up in July. Finally, we get to review a game which offers you a chance to win big with extensive gameplay – Monkey Warrior.
Monkey Warrior is a new video slot developed by one of the top slot providers in the market, Pragmatic Play. This game offers you a chance to win a large sum of money up to 6000X. Monkey Warrior offers a number of other features and the gameplay is made to be simple to suit the needs of experienced professionals as well as new slot players.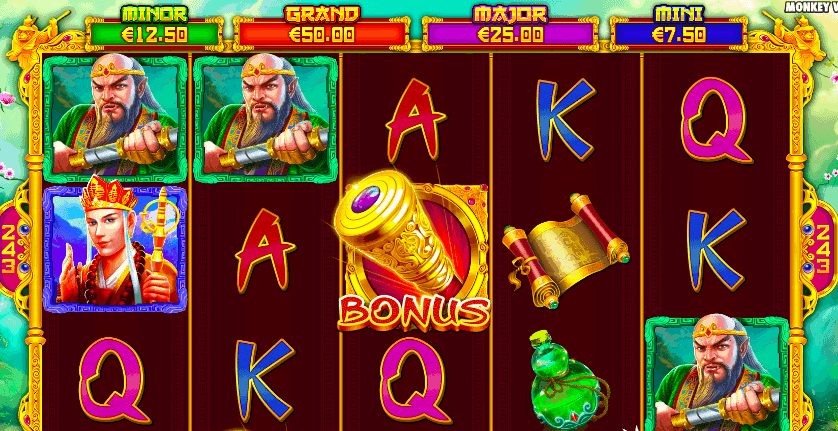 You can play Monkey Warrior for free on Seven Jackpots. However, if you wish to bet and cash in those BIG BUCKS, you can play Monkey Warrior with real money at our trusted online casinos mentioned below. So what are you waiting for?
Win Bigger with Unlimited Free Spins Feature
The slot game Monkey Warrior comes with essentially 5 symbols along with regular symbols of Ace, King and Queen and is wonderfully set in the backdrop of a Chinese Garden to cater to the theme of the Chinese folk tale. The game also comes with bonus symbols which trigger free spins and money symbols.
Even though this game is of medium volatility, with the free spins and re-spins feature, you have a chance to win a lot more than you bet. This online slot comes with 5 reels and 243 paylines.
The Free Spins feature is triggered when the Bonus symbol appears on the 2nd, 3rd, and 4th reel on the same spin. Once that happens, you will receive a payout of DOUBLE your bet. Not only that, after you receive that payout, you will go on to play 8 more free spins.
For these 8 free spins, the reels will only include the higher value symbols and the bonus symbols. If you are feeling lucky, the game might just offer you unlimited retriggers!

The High-Value Symbols

The Low-Value/Regular Symbols
The Re-Spin Feature – The Pathway to More Riches!
If you thought the free spins feature can earn you the big bucks, wait till you see the Respin feature!
The Money symbol is a symbol of a fruit and it consists of different money values in it. If you land 6 of these money symbols in the same spin, boy you're in for a treat!
These 6 money symbols trigger the Respin feature. Once you receive a payout from the Respin, the regular symbols in the game are removed in that spin and the fruit symbols take its place. Each fruit symbol will come with a cash value categorised into Mini, Minor, Major and a Grand Jackpot attached to it.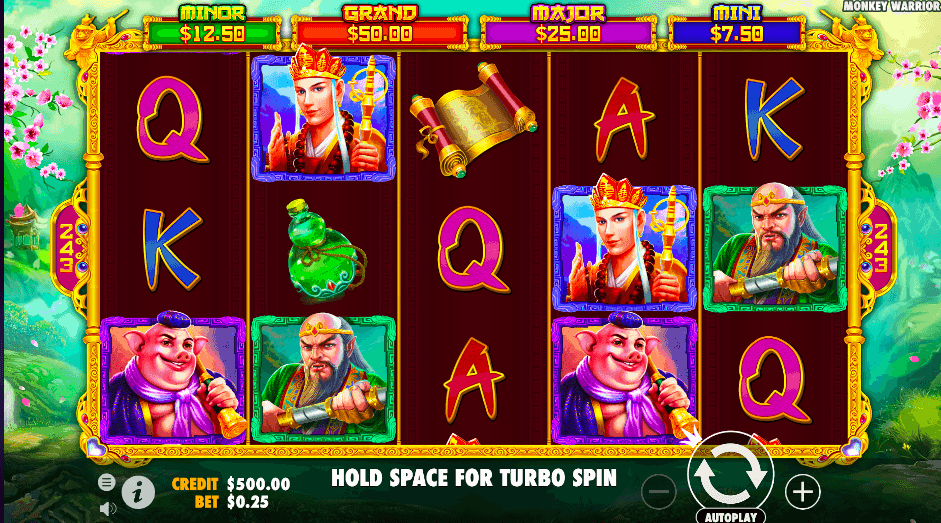 Once the reels feature only the fruit symbols and blanks, you will receive 5 respins where you can have a chance to win a GRAND JACKPOT!
A Spin to Win 200X Your Stake
Pragmatic Play always does wonders with its bonus payouts in their online slot games. In the Monkey Warrior casino slot, after a spin, the game might just offer you with 3 TREASURE CHESTS!
These three treasure chests can add to your total number of respins and this bonus feature continues to add on until you run out your respins or you have filled up the 15 reel positions.
Once either of these situations come up in the game, all the value symbols are added up together and the total amount will be what you stand to win on your bet. What's more, is that you manage to fill your screen with the fruit symbols, the total amount is DOUBLED!
The jackpot prizes in this game are equal to 30, 50, 100 up to 200 times your stake. With the game's respin feature, in the medium to high range, the payout you can earn is more than 6000X your bet amount.
Even if your luck doesn't favour you with continuous respins, if you manage to fill the reels with the high-value symbols, you stand a chance to win more than 4500X your bet!
Step into China with the Graphics and Sound
Pragmatic Play, with Monkey Warrior, transports you to China with its graphics and sound. Much like they transported you to Asgard, with their casino slot of Asgard with its simple yet elegant graphics.
In the slot game, you will see a background set in a Chinese garden with beautiful flowering trees on either seed and flower petals slowly falling. The sound in the game is incredibly peaceful and is synchronised to China and the theme of the game.
What we liked in this category is how the slot provider can make such a great game with not-so-flashy graphics and such simple sounds.
Symbols & other Graphics
Most of us playing Monkey Warrior at Seven Jackpots had difficulty in knowing and understanding IF, AT ALL, we hit the winning lines. It was confusing at first, however, we did get used to it eventually.
The distinction between the high paying and low paying symbols were very obvious so kudos to Pragmatic Play for that. Unfortunately, we did not get respins in the time we played so if some of you is sharing our pain, do not worry, it gets better.
The breakdown of the symbols as follows:
4 High paying symbols
4 Low paying symbols
Wilds with face of the Monkey King
Even though the characters of the game are not something we have seen before, there have been quite a few slot games which have been based on the same theme by different slot providers. However, the designers at Pragmatic Play has done an undeniably good job with the graphics.
Here's What We Think of Monkey Warrior
The sheer chance of winning in Monkey Warrior is why we think all of you must play the game with real money. Not many games offer its players with so many free spins and respins option along with a bonus resulting in a well balanced medium variance slot.
All in all, this video slot will be a delight to play for all kinds of players, especially slot enthusiasts to make the most of their bet!