Lottoland India: Dive into the Land of Lotto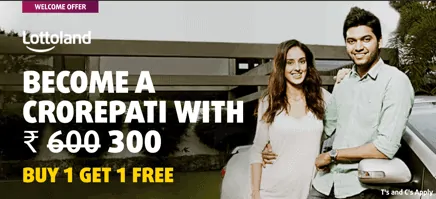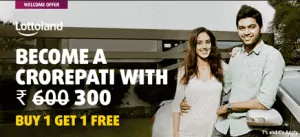 Lottoland is an online lottery and casino operator which has gained popularity throughout the years since their inception in 2013 for having an extensive website and offering Indian people opportunities to win big. This online operator offers a wide range of lotteries to participate in and not only that, but you can also play many online casino games as well.
One of the major features we at Seven Jackpots loved about Lottoland is that they have a separate website which caters to the Asian countries, mainly India. The banners on the website feature Indian people and the websites accept INR as a currency.
Exclusive Promotion for Seven Jackpots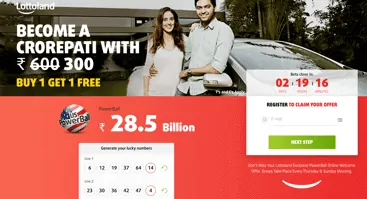 Our friends at Lottoland made a specialized discount for Seven Jackpots readers! Buy 1 Powerball lottery tickets and get 1 Powerball ticket free. As shown in the picture above. In the Powerball lottery you have the chance to win the staggering Jackpot of billions of Rupees!!
Apart from our exclusive promotion, there's also an ongoing campaign to buy 2 Powerball or MegaMillion tickets and get 1 for free.
However, there aren't any no-deposit bonuses or deposit bonuses for that matter which could help their players get started with. In this context, websites like Multilotto have an upper hand as they offer real money bonuses once you deposit.
Latest Promotions
Payment &Withdrawal Options
Lottoland does not offer a plethora of options when it comes to making payments and withdrawals. However, the options they do offer are basic and efficient. In India, you can choose from bank transfers, credit cards or debit cards, and e-wallet options such as Neteller and Skrill. One thing which stands out at Lottoland is that they are offering payments through Rupay card. The first and only lottery operator in India!
The payment and withdrawal options available on Lottoland are efficient. However, we at Seven Jackpots recommend you to opt for e-wallets as withdrawals can take up to 7 working days to be credited to your account through the credit cards.
Lottoland does not accept any kind of cryptocurrency for payments or withdrawals such as Bitcoin, Litecoin, etc.
Grab the Chance to Make Millions with Jackpot Games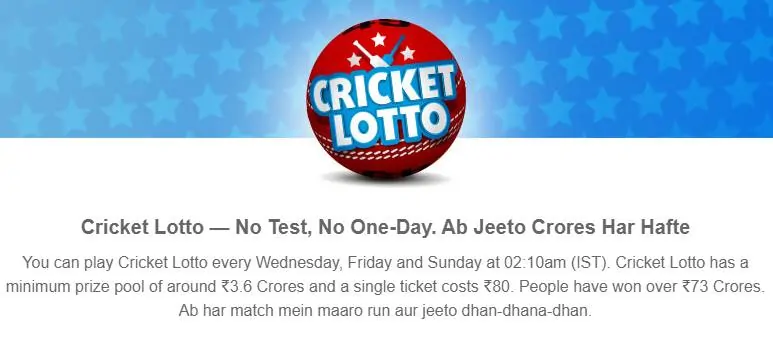 The jackpot games are the major crowd-puller for Lottoland since it is the land of LOTTO! The website offers many jackpots for players to participate in from all over the world. In India, to pull in the 'desi' crowd, Lottoland has also come up with a Cricket Jackpot which can be played every Wednesday, Friday and Sunday and has a prize pool of around Rs.3.6 crore! And the best thing is the price tag: Only Rs. 80 – which is the cheapest online lottery available.
Apart from this, there is also the Powerball, and also Jeeto Lotto which has a prize pool of almost Rs.40 million. In India, you can also participate in Mega Millions, Euro Millions, and many more where the jackpot win goes up to BILLIONS!
Enjoy More than 200 Casino Games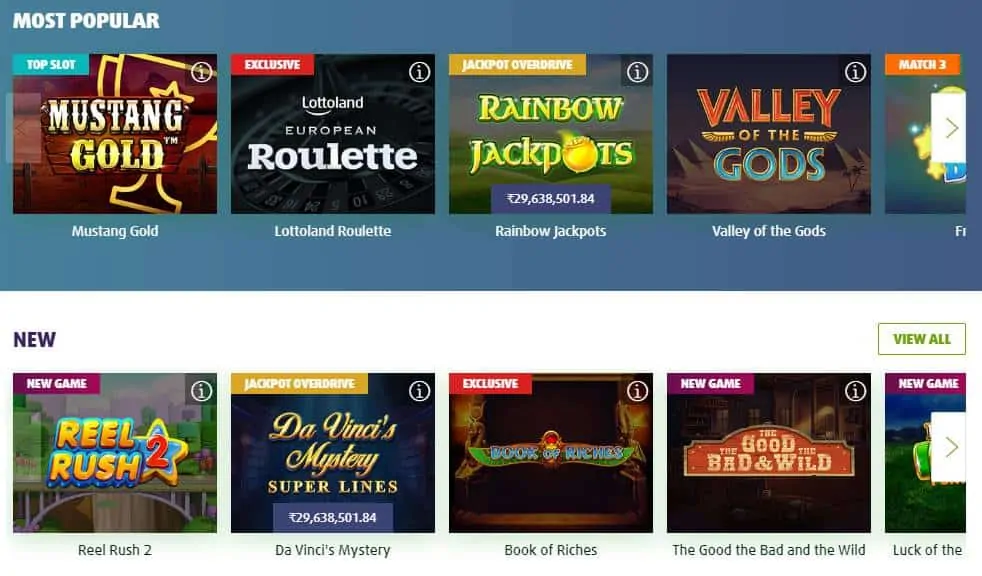 Even though Lottoland is a website operator offering online lottery tickets, we were surprised by the wide range of casino games they offer. There are slot games, jackpot games, live casino games, table games, and much more.
The games are divided into various categories which makes it easier for the customer to navigate from a type of casino game to another without any difficulty. The website features games from a range of game providers such as NetEnt, Microgaming, and other award-winning casino game providers.
Online Slots
Lottoland offers many different slot games which cater to all kinds of players, either novice or professional. There are many common names such as Starburst and a number of newer slot games as well which gives you a chance to win a lot of money if you get lucky!
If you click on the 'slots' tab while navigating through the website, the games are visible to you in rows and columns. There are many slot games which have a tag of 'Jackpot or 'Jackpot Overdrive' against it, which is a feature we haven't seen before.
In these slot games, the winnings are much bigger and the total winnings are shown in a numbered meter below the thumbnail which we thought is an amazing feature.
Table & Video Poker Games
Lottoland offers quite a few table games for those enthusiasts who love gambling on card games and use their skill and luck to the fullest. The website consists of around 35 table games such as Roulette, Blackjack, Poker, and most of their variations.
There is online blackjack games, Lottoland Blackjack which is an in-house special, Deal or No Deal Blackjack. There are also many variations of online roulette as well, among which Dark Mode Roulette caught our eye given the new obsession with 'Dark Mode' in the technological world.
Apart from these games, there are also a few variations of baccarat, along with Poker, Side Bet City and Lightning Dice.
However, for the newcomers out there, we think that a dedicated page containing the rules and regulations of these games would have been helpful like what Showlion has.
Be Mobile and Gamble with Lottoland's Mobile App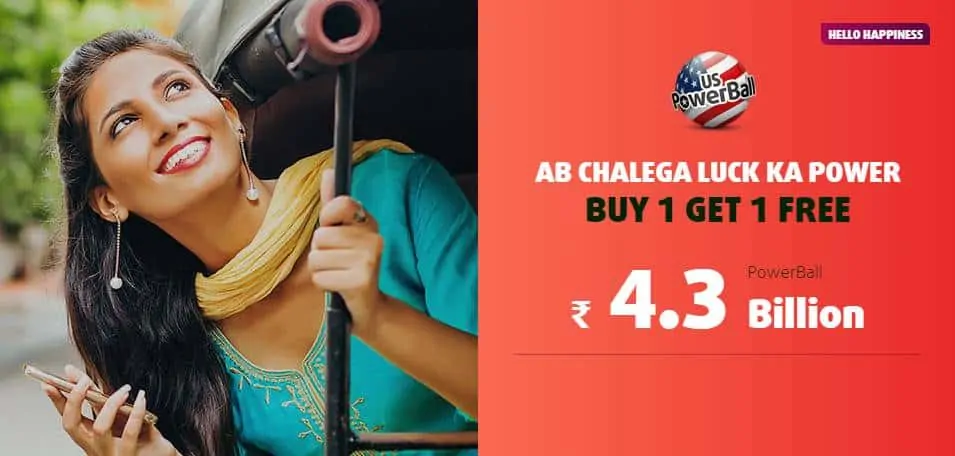 Lottoland has upped their game by not only offering customers to participate in lotteries, but they have also made it available in India as well. However, it is only available on Android phones and not on any Apple device.
You can search for the app on the Google Play Store and download the updated version of it. If you do not wish to download the app, Lottoland also provides a mobile website which brings you the website experience on the phone with all the features. As long as you have a good data network and a smartphone, you're good to go!
Solve All Your Queries with Lottoland's Customer Service
Like Multilotto and Lotto247, even Lottoland has a dedicated live chat option available for their customers who wish to get their queries resolved on an urgent basis. However, when we clicked on the live chat option, there was a separate window where you will have to enter your name, email ID and subject of your query.
Once done, you will be redirected to chat with a customer service representative. The response time is quick and most of the time, your queries will be answered without leaving any doubts.
However, if your queries or complaints are not answered adequately by the live chat customer representatives, you can send an email to them from the 'Support and FAQ' portal on the website.
Responsible Gambling
We were impressed with Lottoland as to the importance they have given to the aspect of gambling responsibly. If you visit the end of the website, there is a page dedicated to responsible gambling.
Lottoland acknowledged that often things can go out of hand and gambling can become a rather serious problem rather than it being recreational in nature. In order to help their customers, they have provided options for reducing the deposits and self-exclusion if the problem is severe.
Apart from this, Lottoland has a strict policy for not allowing anyone to gamble under the age of 18 and also has provided names of a few organisations who help with gambling addiction.
Top 5 Reasons to Play at Lottoland India
Easy to navigate the website.
They offer a varied range of slot games.
Dedicated website available for Indian players and accepts INR as currency.
Wide range of lotteries.
The company gives utmost importance to responsible gambling.
User Reviews
There are no reviews for this casino yet...